This sweet holiday martini has lots of peppermint and vanilla flavor, just like a peppermint marshmallow!
There is a terrible Christmas song called "Marshmallow World".  You may have heard of it.  You also may have noticed that I did NOT include it on the holiday playlist that I made for you.  That is because I really, really don't like it.  Probably because of the one year that I was working retail and it was on the Christmas CD that we had to listen to for three months straight.  It was a 4 hour long CD that we had to play on repeat from October through the end of December.  So I managed to listen to this song 2-3 times a day for three months.  Despite my lack of love for this song, it always runs through my head when I make this drink, and I even sing along.  That is because this drink will really make you feel like it is a marshmallow world.
So.  This drink doesn't actually have any marshmallows in it, but it tastes just like a peppermint marshmallow.  Or peppermint ice cream.  If you love peppermint you will love this drink.  I originally made this with peppermint schnapps, but I decided to try it with a homemade peppermint vanilla syrup this time instead.  The main reason is because I never, ever use peppermint schnapps except for this drink, and I didn't want to buy a huge bottle and then have it lying around for years and years.  The other reason is that when you use peppermint schnapps in this cocktail, it makes it a really, REALLY strong drink.  Like, maybe too strong.  I know, I can't believe I'm saying it either.
The peppermint vanilla syrup is easy to whip up, it is just a simple syrup with some vanilla and peppermint extract added.  I realized that the peppermint extract I have is actually peppermint OIL, which leaves some small oil pools in the drink.  If you don't want that, be sure you use peppermint extract and not peppermint oil.  The peppermint oil has a great flavor, but the oil may be a little off-putting for some people.
I used crushed candy canes to rim the glass, which is optional but gives the drink some flair since it is all white.  I just crushed up some mini candy canes in my mini food processor (everything was mini!!).  Oh, and I bought those mini candy canes intending to hang them on the side of the drink which I then totally forgot to do (facepalm). Is it Friday yet?  Oh, wait, it is Friday!  BRB, gonna go have another peppermint marshmallow martini.
| | | |
| --- | --- | --- |
| Peppermint Marshmallow Martini | | Print |
Prep time:
Total time:
Ingredients
2 ounces whipped vodka (or marshmallow or vanilla)
2 ounces half and half
1 ounce peppermint vanilla syrup (see below)
Crushed candy canes for garnish, optional
Instructions
To garnish glass, dip rim in peppermint vanilla syrup, then dip in crushed candy canes.
To mix drink, combine all ingredients in a cocktail shaker with ice. Shake until cold, pour into martini glass and serve.
| | | |
| --- | --- | --- |
| Peppermint Vanilla Syrup | | Print |
Prep time:
Cook time:
Total time:
Ingredients
1 Cup Sugar
1 Cup water
1 teaspoon peppermint extract
1 teaspoon vanilla extract
Instructions
Combine sugar and water in a sauce pan, bring to a simmer.
Stir to make sure all sugar has dissolved.
Remove from heat and allow to cool. Add vanilla and peppermint extract.
Store in a sealed container in the refrigerator.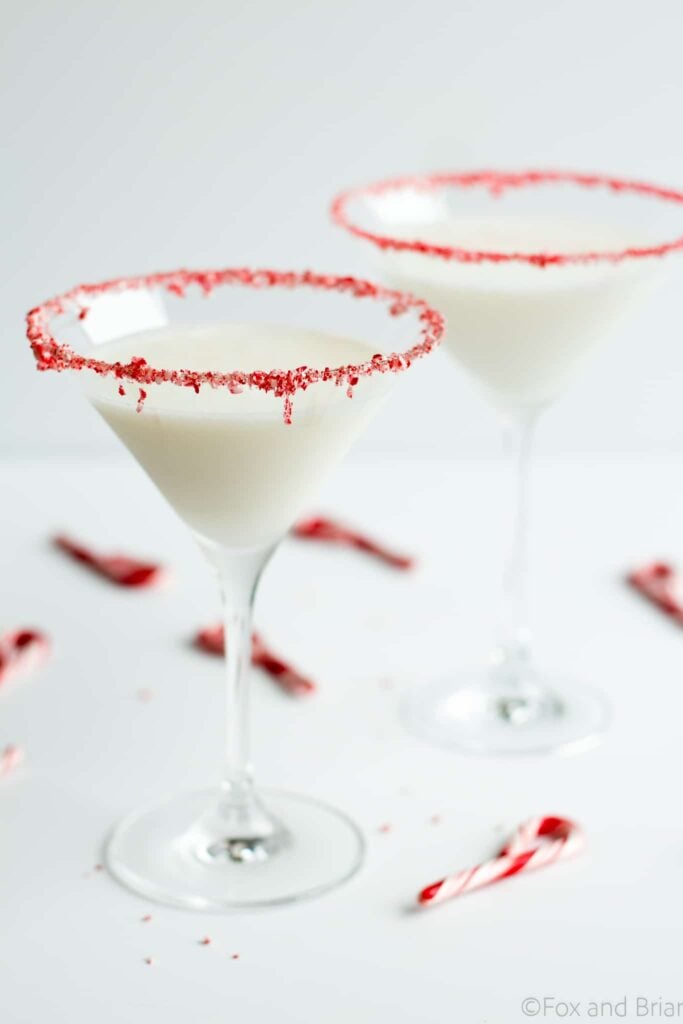 What kinds of fun things do you have planned for this week?  Does it involve cocktails?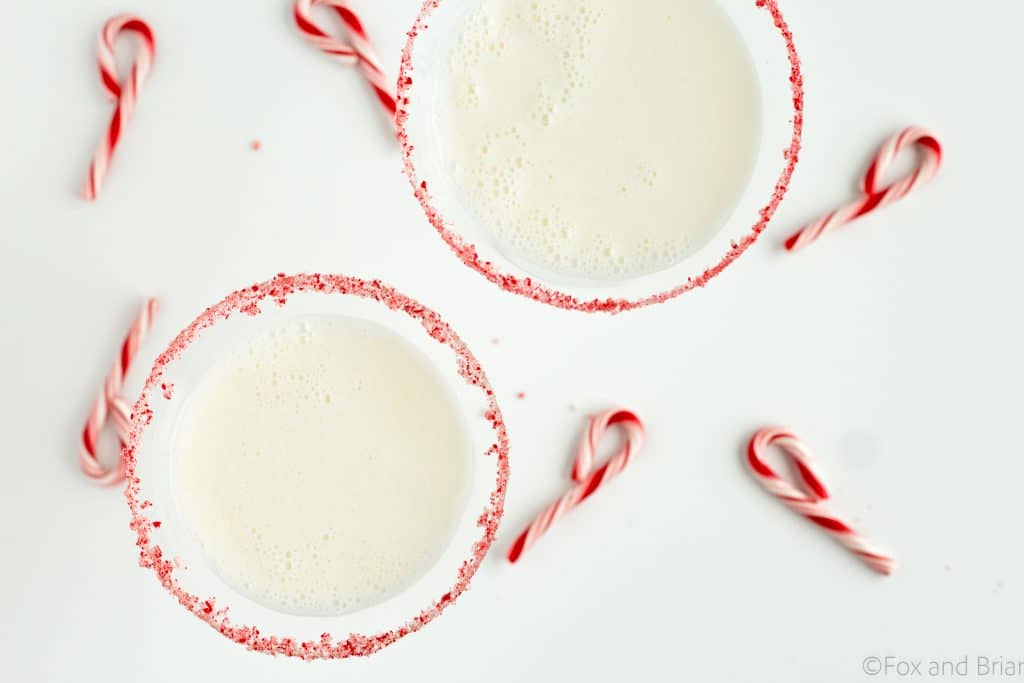 If you like this recipe, don't forget to PIN it!  Follow me HERE on pinterest for more great recipes.  If you make this recipe, snap a photo and tag it #foxandbriar on instagram or @foxandbriar on facebook!  I love seeing what you make.
Disclosure: This post contains affiliate links, which means that if you purchase the items I recommend through the links I provide, I get a small commission. For more info, please see my disclosure policy. I only recommend products if I actually love them. Thanks for supporting Fox and Briar!