This Red Wine Beef Stew is rich and hearty, with tender beef and a velvety, savory sauce that you will not believe!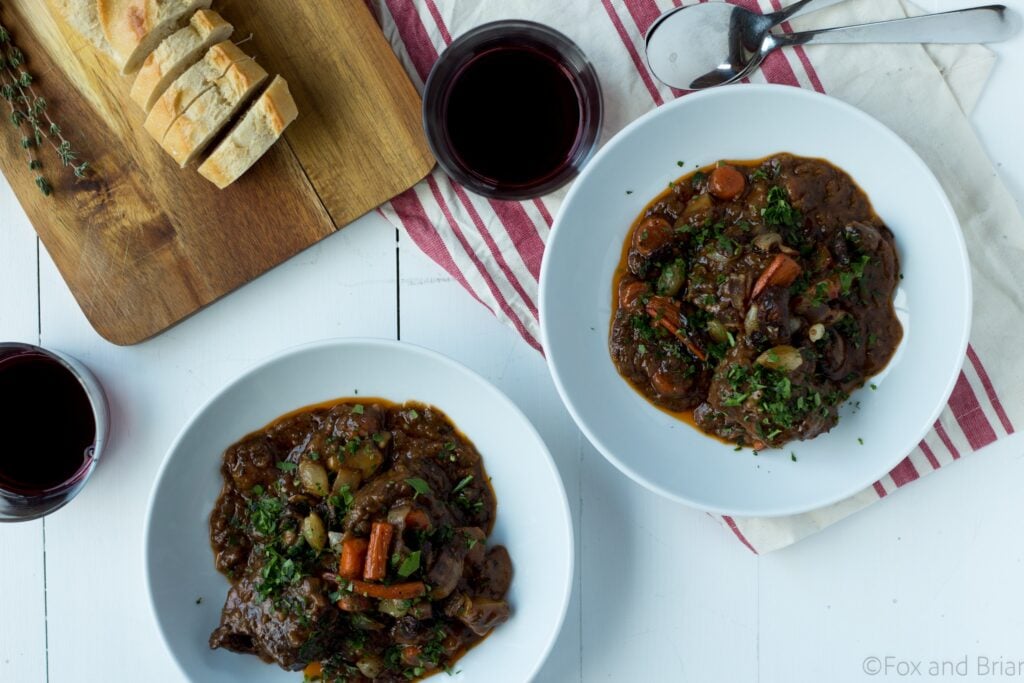 This stew, you guys, YOU GUYS.  I am so happy with it.  Don't you hate it when you imagine a savory, beefy, velvety stew but you end up with a watery broth full of tough chunks of beef?  Yeah, me too, which is why I worked on this stew until it was exactly how I wanted it.  I wanted a rich, savory, velvety sauce.  I wanted beef I could cut with a spoon.  This is it, people.  This is that stew.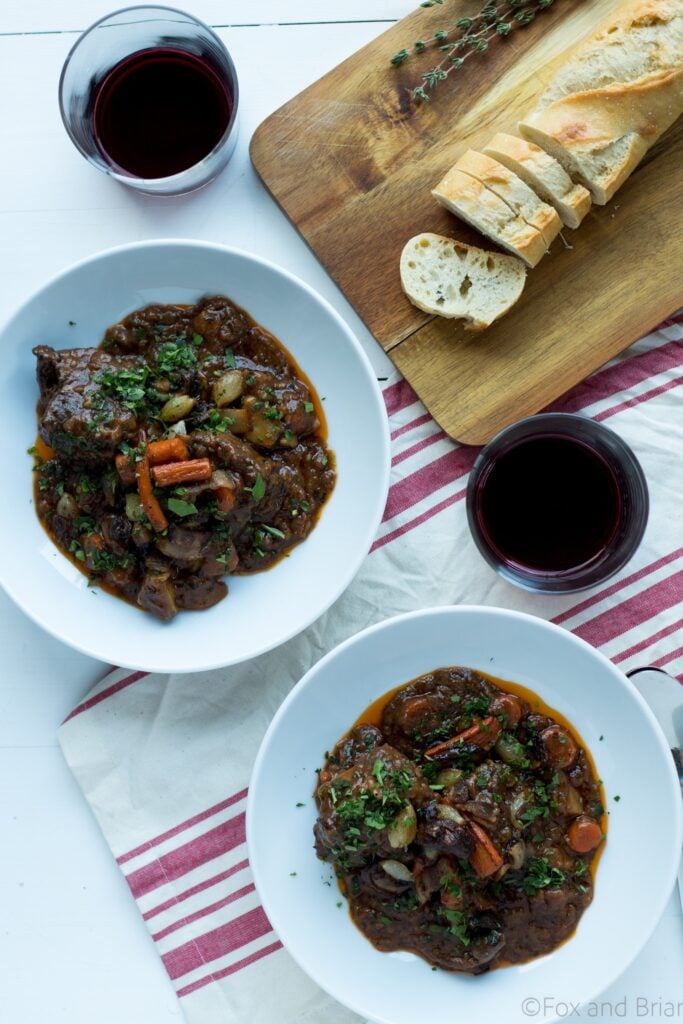 When Mr. Briar and I had only been dating for a few months we went to a fantastic restaurant in Portland called Little Bird.  PS – if you are ever looking for a great restaurant in Portland, try Little Bird, it is so, so good.  Not that you need to look hard for good restaurants in Portland, seriously.  ANYWAY.  I think it was actually Valentine's day, and I ordered something called Pot Au Feu, which is a french beef stew and means something like pot on the fire.  And it was A-MAZING.  Being an Irish girl I am not a stranger to beef stew, and although I liked it I was never overly excited about it. THIS?  This was something to be excited about.  With a rich sauce and tender, fall apart beef and caramelized vegetables.  This is what all stew strives to be.  Right away I set out to try to replicate it at home.
Over the last few years I have tried recipes that were really good, but until I decided I wanted to share it on the blog I had never really tried to perfect it.  So, three rounds later I finally have a stew that I am IN LOVE with.  I don't want to over sell it.  But you should make this, like ASAP is all I'm saying.  And don't forget to have some crusty bread on hand to dip in all that sauce.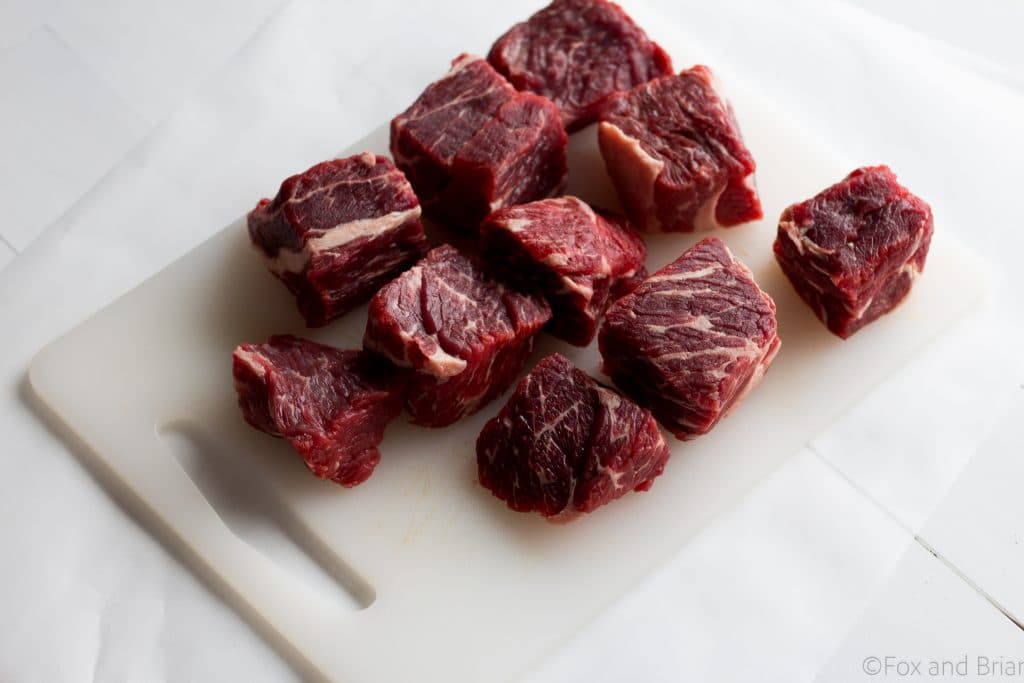 There are a few components of this stew that are important to note.  One is the quantity of red wine.  I have made recipes for stew that call for an entire bottle of wine, and although that is good, I think it becomes overpowering, and to be honest I would rather have that wine in my glass than in the stew.  SOME wine makes this stew fantastic though.  So 1 cup of wine to 3 cups of broth seems to be a pretty winning ratio.  The rest of the bottle can be for drinking while you make and eat this stew.  Also, don't be tempted to just use a whole box of stock because stock comes in 4 cup boxes and what are you going to do with that extra cup?  I know, that is how I think too.  But it ends up being too much liquid, and the beef doesn't cook right.  Just trust me.  3 cups of stock, 1 cup of wine, OK?
Which brings us to the second component.  TIME.  We use beef chuck in this stew, which is a cheap and tough cut of beef.  Do you know what turns this from tough chewy meat into tender perfection?  TIME does that.  Let me tell you a story about how wonderful time is.  The first time I made this stew, I cooked if for a total of an hour and a half.  The stew was good, but I was not happy with how tender (or not tender) the beef was.  The second time, I cooked it for 2 and a half hours, and the beef was much more tender, but still not as tender as I would have liked.  The third and final time I cooked this, it was for 2 hours and 45 minutes.  And the beef was PERFECT.  Cut it with a spoon perfect.  Not mushy, not tough, perfect.  So, please don't be tempted to cut the time short on this, even though it smells amazing and you are starving.  It is worth the wait.  And it is EVEN BETTER the next day.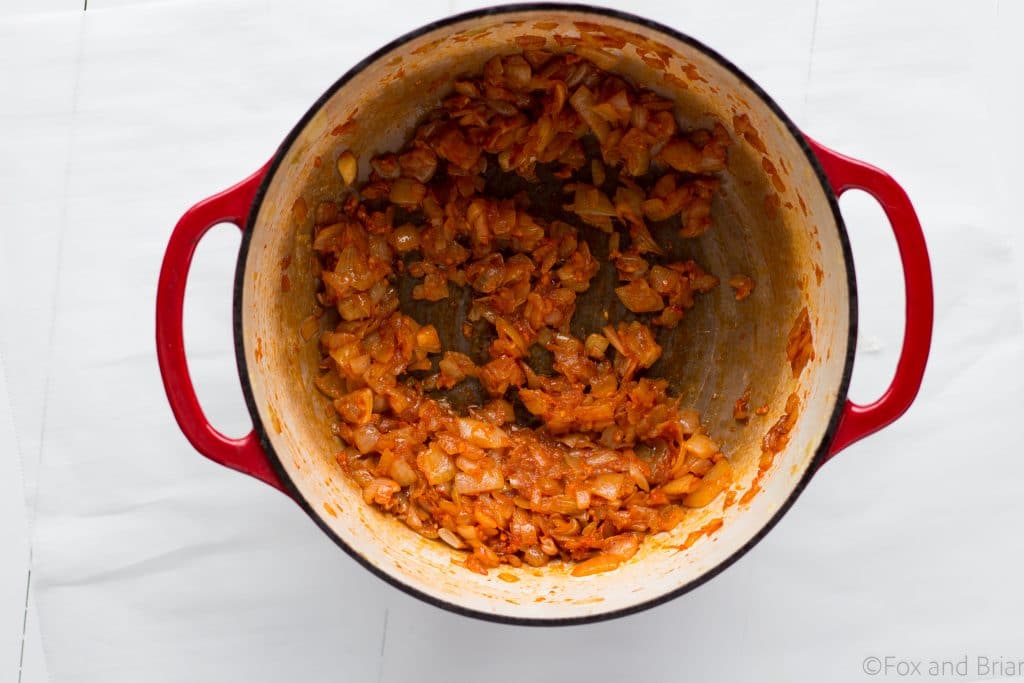 But here is a cool and sort of different thing:  You don't brown the beef beforehand!  I know!  I'm pretty sure that most of us are conditioned to think that you have to brown the beef ahead of time, but this is a little trick I learned from Americas Test Kitchen.  Instead of browning the beef beforehand, you cook the stew uncovered and the beef that is sticking out of the stew will brown in the oven.  The reason you brown meat is to develop flavor.  Instead of doing that beforehand, you do it while the stew is cooking.  You will notice that a brown "fond" (I've already told you how I feel about that word) develops on the side of the dutch oven – the brown bits that start to caramelize on the side of the pan.  Normally you would be scrubbing these off when you wash the pot, but we don't want that!  There is so much flavor there, we want that IN the stew, not down the drain.  So, when you take the pot out of the oven to add the potatoes and carrots, just use a spoon to scrape the brown bits off the side and back into the stew, where it belongs and will develop delicious flavor.  Do it again when you remove the pot when the stew is done.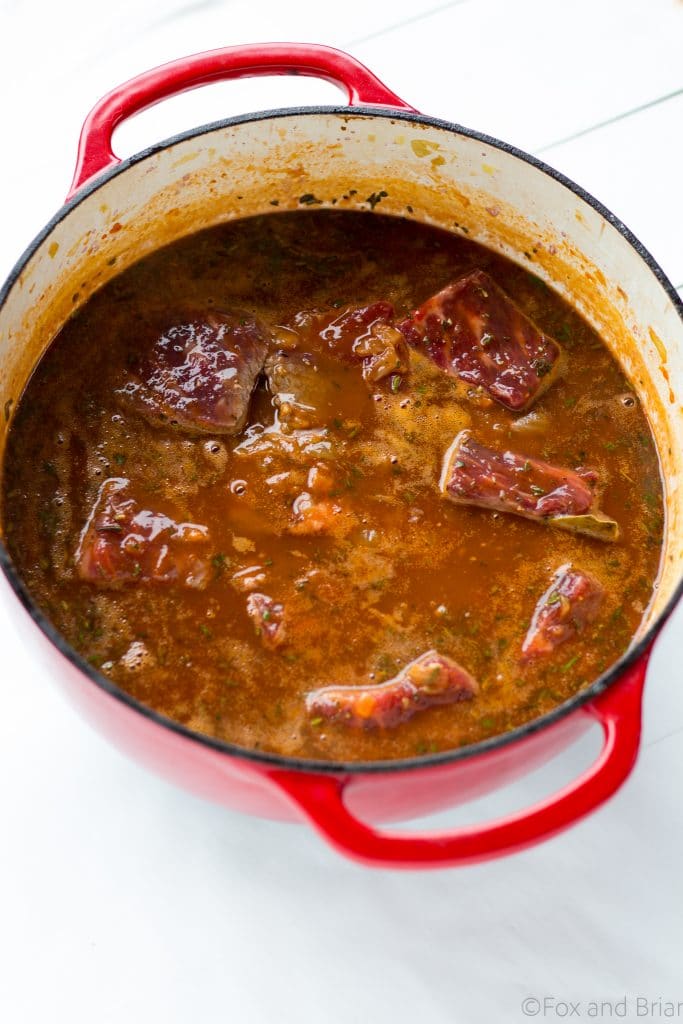 Last of all, there are a few vegetable tricks.  The first thing is adding some carrots and potatoes to the stew, but only in the last hour.  If you throw everything in there at once, the vegetables will be mush by the time the stew is done.  Don't do that!  You just add them at in the last hour so that they are perfectly tender when the stew is finished.  The other thing is that I like some nice, caramelized vegetables with my stew.  The problem is that they don't get that way IN the stew.  So what we do is cook them OUTSIDE of the stew and use them as a topping.  An amazing, flavorful, caramelized topping that just takes this stew from really good to AMAZING.  I know I'm being dramatic, and, like, it's just stew, but also I'm serious.  The caramelized veggie topping is extra work (not that much) but it is worth it.   I think it is my favorite part.  I use pearl onions in the topping, although if you can find them cipollini onions are great too.  They can be pretty difficult to find sometimes, so using frozen pearl onions is totally fine.  And bonus, frozen pearl onions are already peeled!
So, this is obviously a Sunday dinner type of stew.  This is a cook for the entire afternoon stew.  It's not a quick, middle of the week meal, but it is something that will nourish you on a cold day, fill your house with delicious smells and make everyone who eats it insanely happy.  You are going to LOVE it.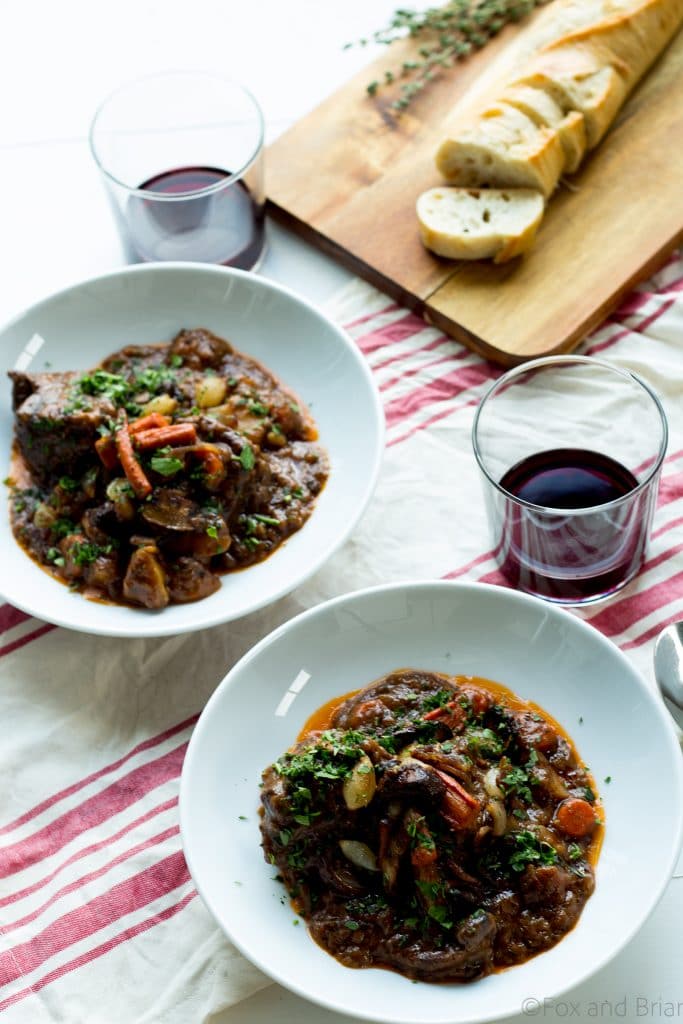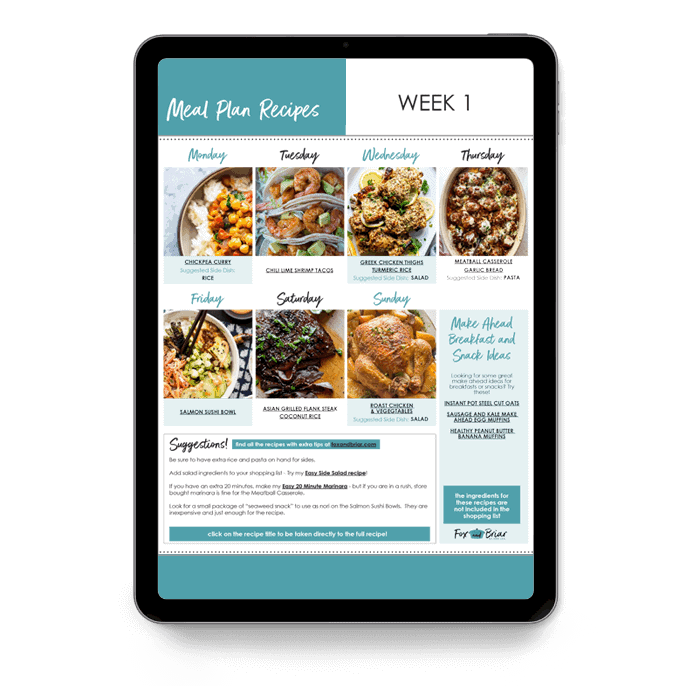 This Red Wine Beef Stew is rich and hearty, with tender beef and a velvety, savory sauce that you will not believe!
Ingredients
2 ½

pounds

beef chuck roast

cut into one and a half inch chunks.

2

onions

diced

3

tablespoons

olive oil

1

tablespoon

tomato paste

2

cloves

garlic

pressed or finely minced

1

tablespoon

fresh thyme

1

tablespoon

fresh rosemary

chopped

1-2

bay leaves

1

cup

red wine

such as syrah or zinfandel

3

cups

beef stock

1/4

cup

flour

1

yukon gold potato

cut into 1 inch cubes

2

carrots

cut into 1/2 inch coins

kosher salt

fresh ground black pepper

chopped fresh parsley for garnish

optional
For The Topping:
1

cup

pearl onions

or cipollini onions

2-3

carrots

cut into 1 inch pieces

8

crimini mushrooms

thickly sliced

2

slices

of bacon

cut into 1 inch lardons
Instructions
Heat 3 tablespoons of olive oil in a dutch oven over medium high heat. Add onions and season with kosher salt. Cook, stirring often, until golden brown, about

20 minutes

.

Add tomato paste and garlic, cook, stirring constantly for about

2 minutes

, until rust colored.

Add flour and stir, cooking for about

1 minute

.

Whisk in broth slowly, then wine.

Add herbs and bay leaves and bring to a simmer, about

3 minutes

.

Stir in beef and return to a simmer.

Transfer to oven and cook, uncovered for

1 hour and 45 minutes

.

Remove from oven and using a spoon, scrape down the brown bits that have formed on the side of the pot. Add the potatoes and carrots to the stew, stir and rearange meat so that it is on top of the vegetables and sticking out of the sauce as much as possible (this way it will brown in the oven)

Return to oven and cook uncovered for another hour or until potatoes and carrots are tender.

While stew is cooking, prepare topping.

In a medium saute pan, add just enough water to cover the bottom of the pan.

Add bacon pieces, cover pan and turn heat on to medium high. Bring to a boil.

When water is boiling, remove lid and add pearl onions and carrots. Cook, stirring often, until water has evaporated.

Add mushtrooms and season with just a little salt (remember, bacon is already salty!). Reduce heat to medium low.

Cook, stirring often, until vegetables are nicely browned,

20

-

30

minutes. Depending on how much fat your bacon releases, you may need to add just a little olive oil to the pan to coat the vegetables.

When stew is done, remove from oven, stir and again scrape browned bits from the sides into the stew. Taste stew and season with salt and pepper if needed.

To serve, spoon stew into bowl and top with some vegetable topping and fresh parsley, if desired.

Serve with bread (optional, but strongly advised).
Notes
When preparing the beef, cut off any large pieces of fat. 1 and a half inch chuncks may seem like really large pieces, but that helps them to stick out of the broth and get browned.
Nutrition information is automatically calculated, so should only be used as an approximation.
Did you like this recipe?
Please comment, rate and share! And don't forget to tag me on Instagram @foxandbriar AND #foxandbriar so I can see what you made!
If you like this recipe, don't forget to PIN it!  Follow me HERE on Pinterest for more great recipes.