This Roasted Shrimp and Asparagus is a quick one sheet pan meal that can be made in about 20 minutes and is tasty and healthy!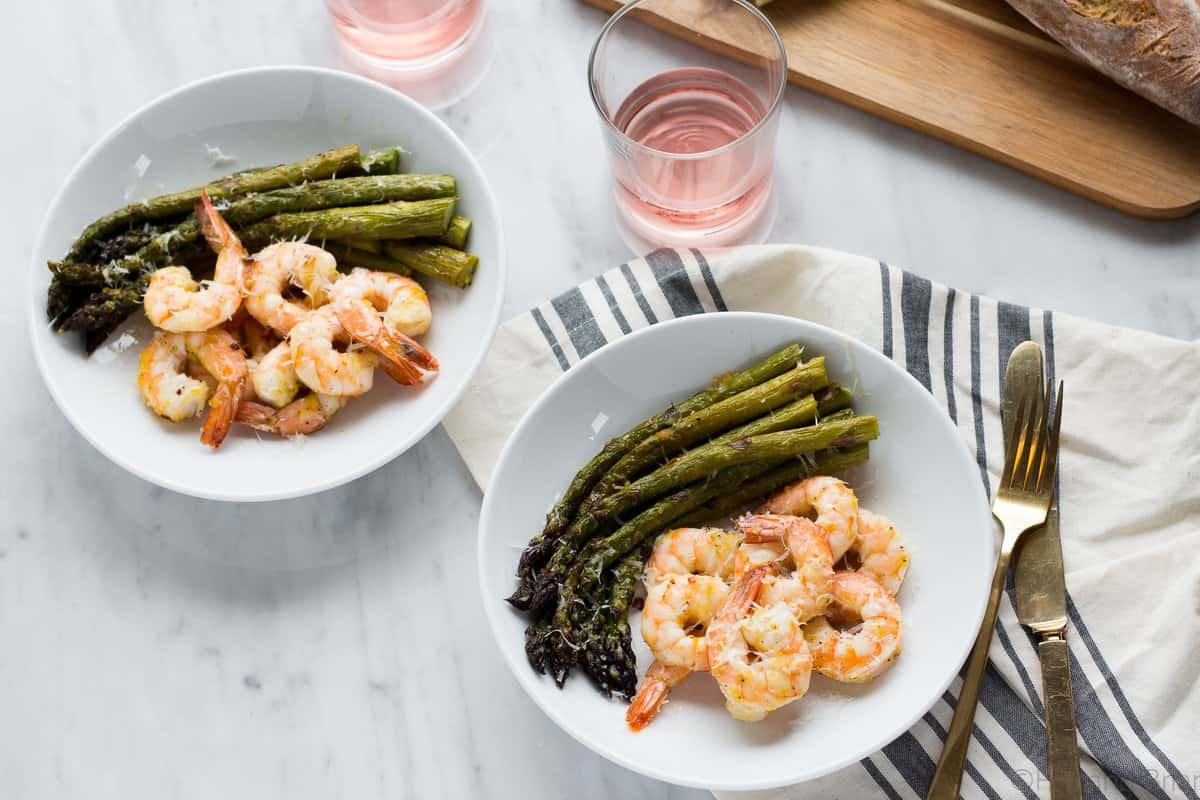 Whew.  How was your weekend?  I realize it's Wednesday and you are already looking forward to the NEXT weekend, but cut me a little slack here.  I mentioned in my last post that I was heading to Portland last weekend.  I went down for a food blogger conference/photography workshop/birthday extravaganza. If you follow along on snapchat or instagram, you may have noticed that it was packed with activities.  And eating and drinking and MORE eating and drinking.  Totally worth it but the combination of conference brain overload and food coma gave me the need for a few days of recovery time.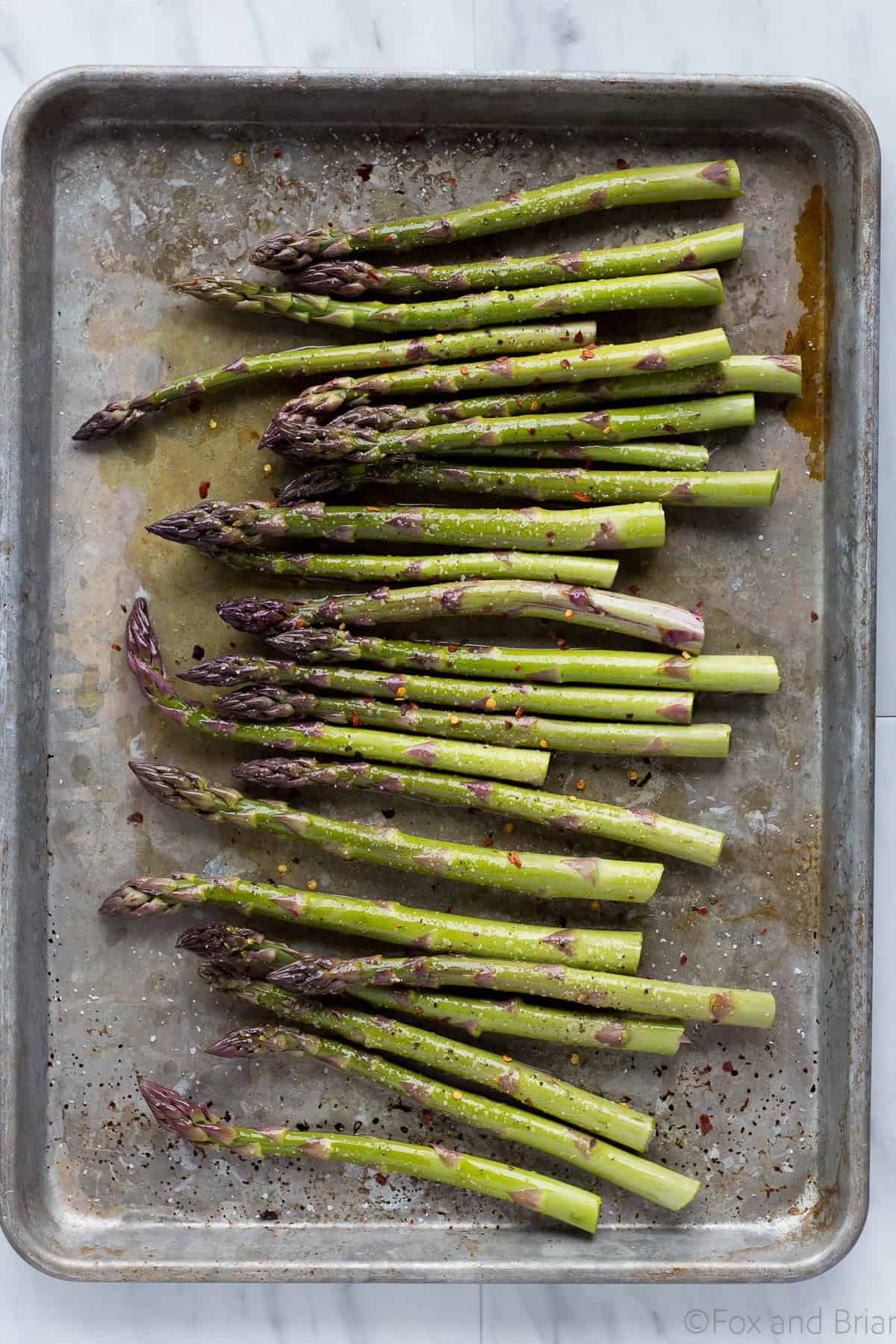 Jump to recipe
Even though I would have liked to spend a few days lounging around in recovery mode (who wouldn't?), this blog does not run itself.  I had emails to respond to, comments to answer, and oh yeah, food to cook and photograph!  It is kind of hard to skip making dinner when cooking is the main part of your job.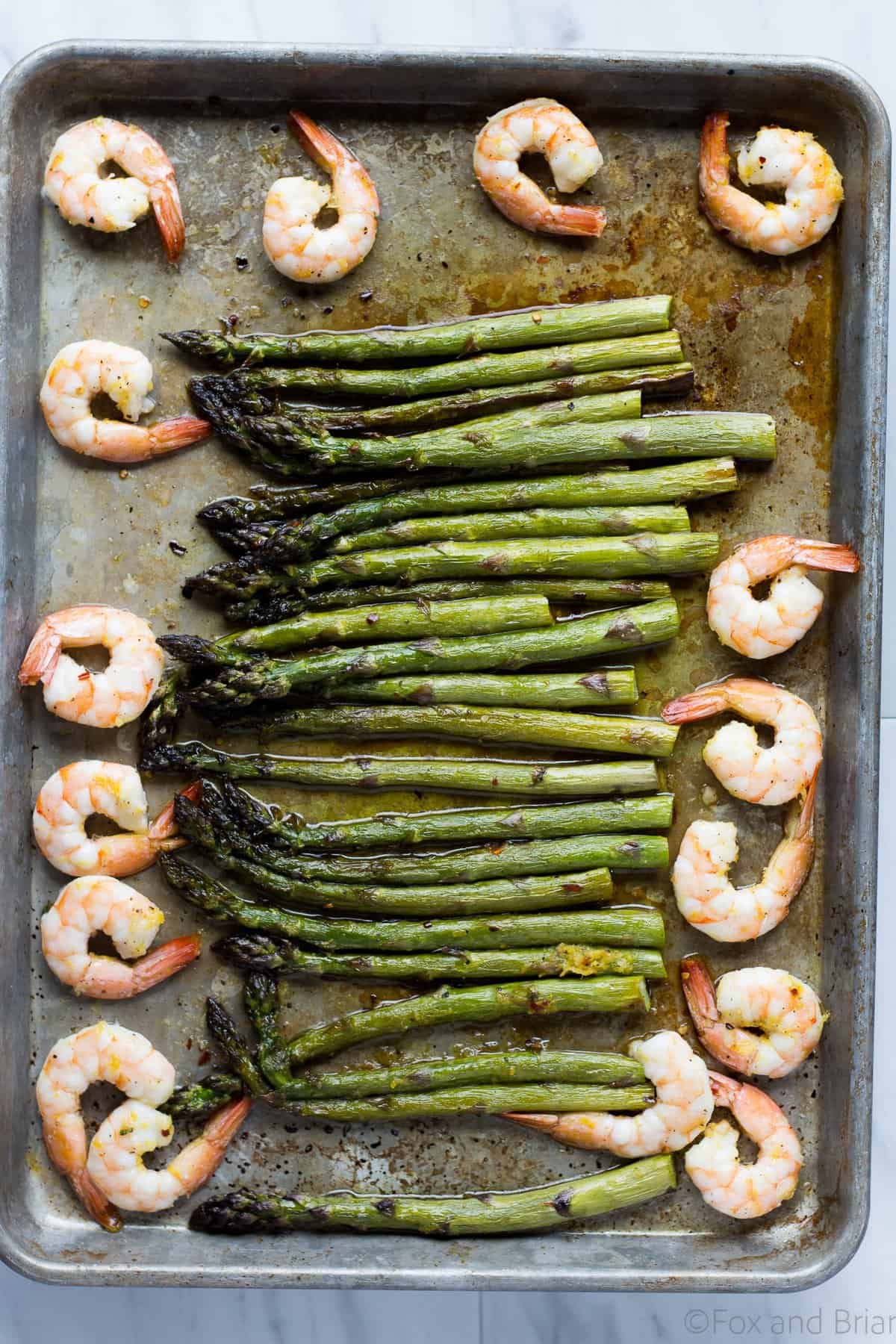 Luckily I was already planning on sharing this easy one pan dinner with you.  If you are a regular reader of this site you know that I love easy, flavorful dinners.  I also love that this is lighter in the calorie department, especially after a weekend of indulging!  I was able to throw this together in 20 minutes.  This was based on a dinner I make ALL THE TIME in my house, the roasted shrimp and broccoli from The Amateur Gourmet.  If you have ever spent ANY time on pinterest, I'm sure you are familiar with this recipe.  It has been an old standard in my house for years.  Last week I needed a quick and easy dinner and I had shrimp and asparagus, so this dinner was born.  And asparagus cooks even faster than broccoli, so that makes this dinner even faster.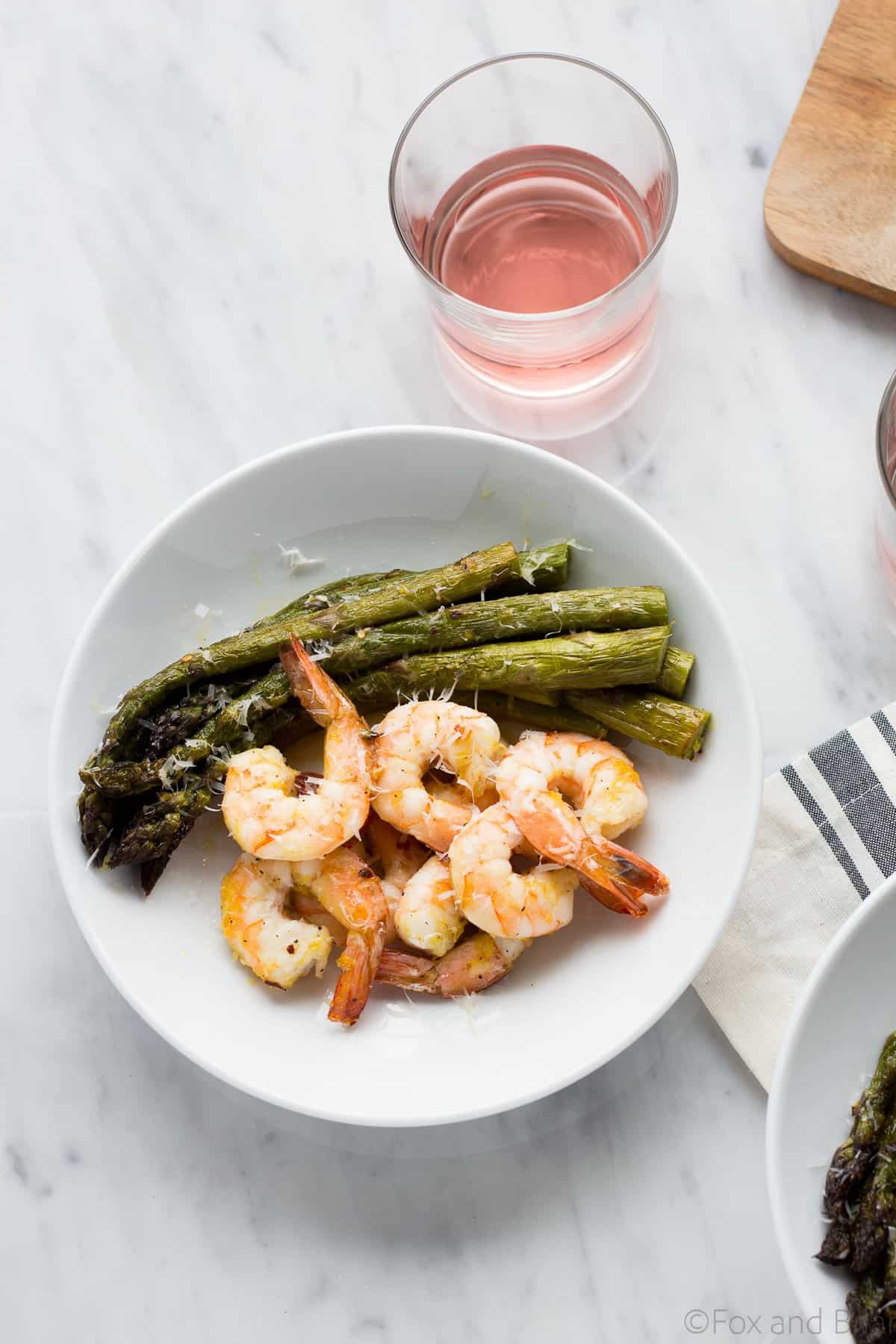 I love that this Roasted Shrimp and Asparagus is a one pan dinner and cooks in twenty minutes!
You can serve it on its own, but I like to serve it with rice.  Depending on what kind you use, cooking the rice might take longer than cooking the rest of dinner!  If you are one of those smart people that makes a big pot of rice at the beginning of the week you can just heat that up and you have made dinner appear like a magician.  Look at you, winning at life.
If you like this you may also like…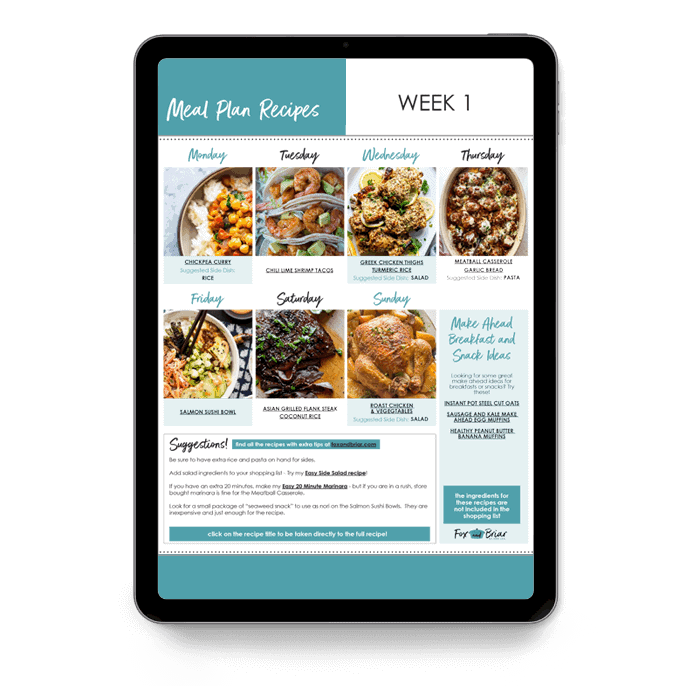 Roasted Shrimp and Asparagus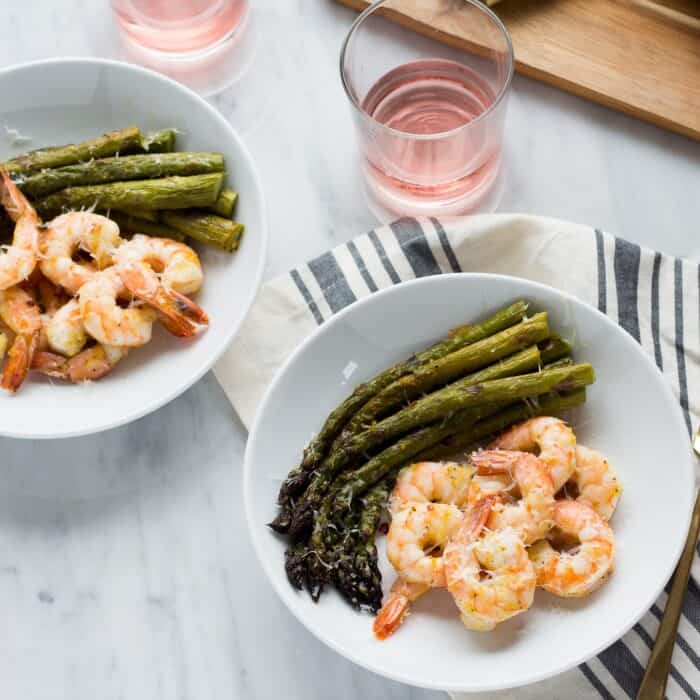 This Roasted Shrimp and Asparagus is a quick one sheet meal can be made in about 20 minutes and is tasty and healthy!
Ingredients
1

pound

raw shrimp

I like 21-25 count size

1

pound

asparagus

3

tablespoon

olive oil

Parmesan cheese for topping

about 1 ounce

zest of one lemon

kosher salt

pepper

red pepper flakes
Instructions
Remove woody ends of asparagus by bending each stalk until the end snaps off.

Arrange asparagus on a baking sheet, drizzle olive oil (1-2 tablespoons), season with salt, pepper and a pinch of red pepper flakes.

Meanwhile, toss the shrimp with 1 tablespoon of olive oil, lemon zest, salt, pepper and red pepper flakes. Allow to marinade while asparagus is roasting.

After asparagus is cooked but not quite done (10-15 minutes usually), carefully add the shrimp to the pan, arranging around the asparagus.

Roast for about

5 more minutes

, until shrimp are pink and cooked through.

Remove from oven and top with freshly grated parmesan.
Nutrition information is automatically calculated, so should only be used as an approximation.
Did you like this recipe?
Please comment, rate and share! And don't forget to tag me on Instagram @foxandbriar AND #foxandbriar so I can see what you made!
Adapted from The Amateur Gourmet