This Buffalo Chicken and Broccoli Bowl is fast, easy and flavorful.  Chicken and broccoli in a buffalo sauce, served over cauliflower rice makes a gluten-free, low carb, high protein, paleo and whole 30 friendly meal!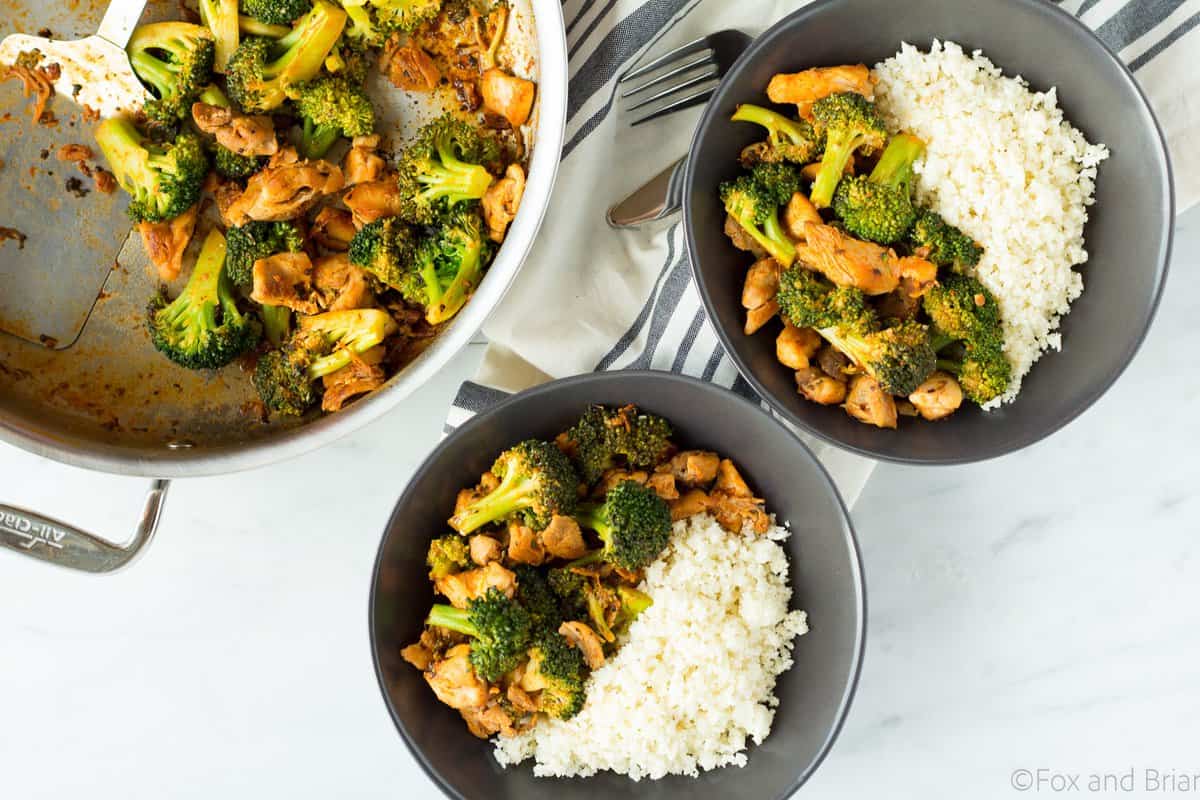 Hey, hey, it's Friday!  And a three-day weekend for some people.  Mr. Briar and I were talking about going on a trip this weekend, and then being the complete slackers that we are, completely failed to plan anything.  Therefore, no plans this weekend.  What about you?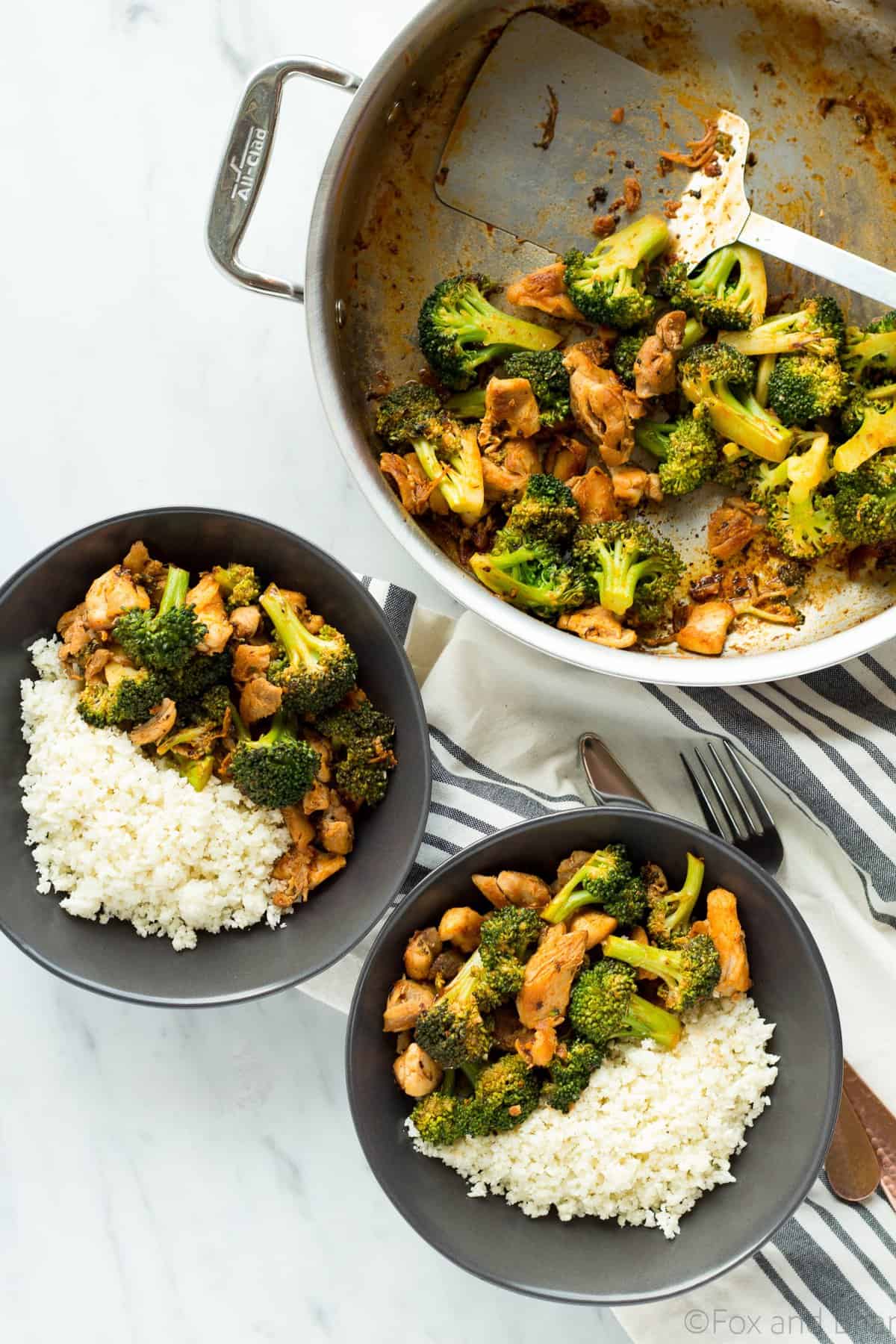 So, as I have mentioned one or two or 47 times, one of the ways I trick myself into eating more veggies is by replacing a carby thing with a vegetable.  Like replacing pasta with zoodles or spaghetti squash, or eggplant.  Recently I discovered cauliflower rice, and it is pretty cool.  I mean, as cool as cauliflower can be.  I know cauliflower has a reputation for being kind of boring, but just look at this gorgeous thing right here.  I mean, how can you call that boring?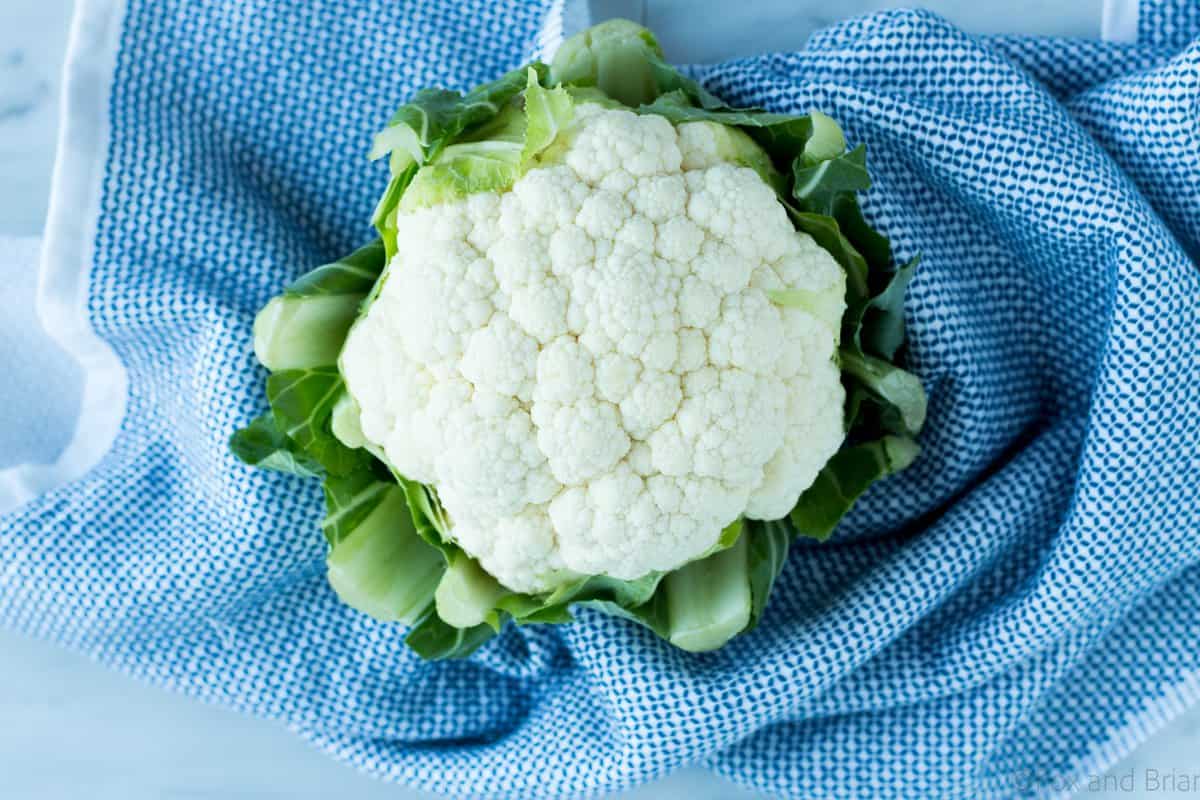 Yeah, I get excited about food, even cauliflower.  I was so enamored with this cauliflower that I had to put it on instagram and yell at everybody about how beautiful it was.  I say was, because after this guy got his photo shoot, it turned into cauliflower rice.  What is cauliflower rice, you may ask?  Well, it isn't actually rice at all.  It's cauliflower.  That looks like rice.  Aren't you glad I explained that to you?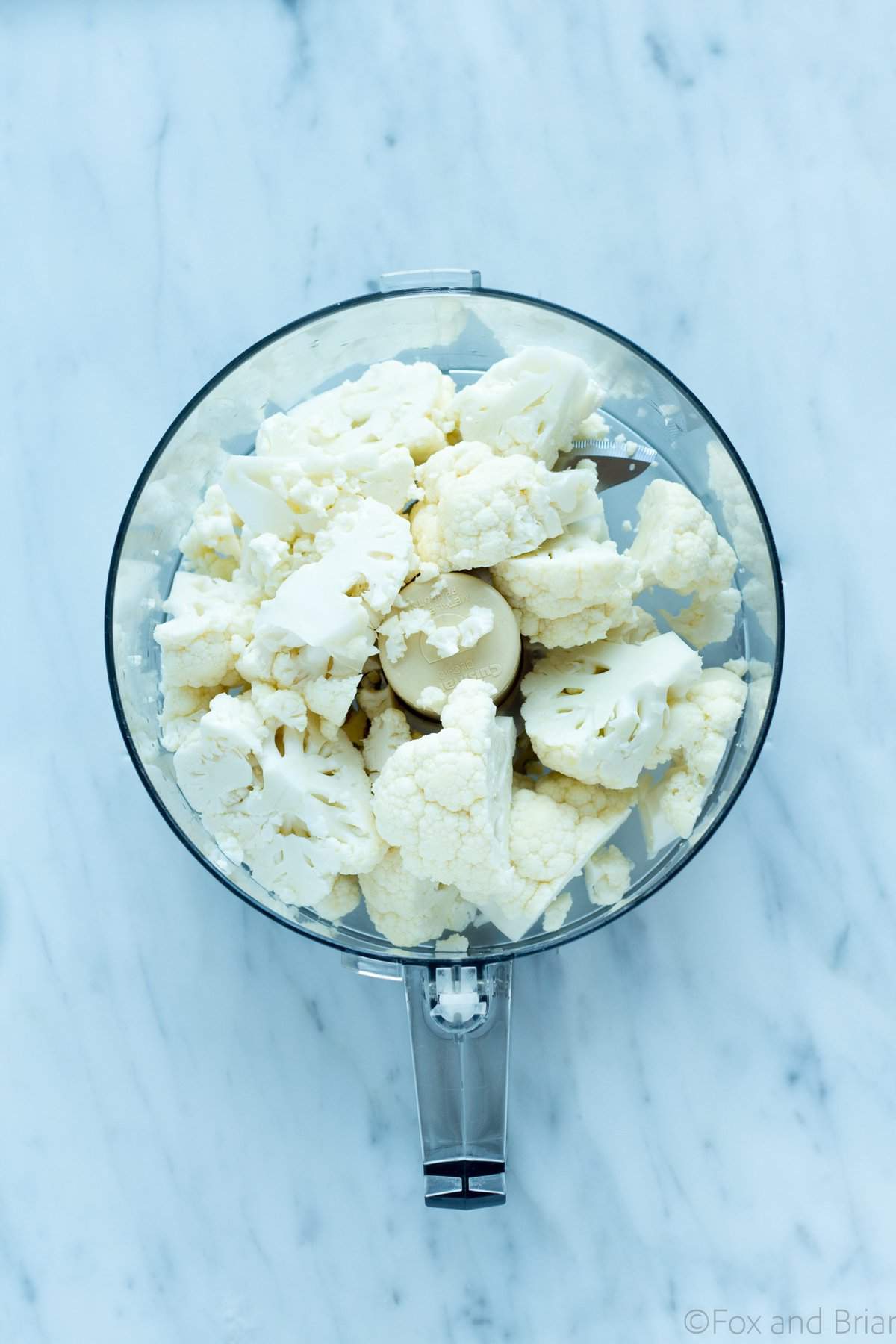 Now, don't get me wrong, I love rice and I don't plan on ever giving it up.  But I like that I can use this trick to get more veggies in my life. Plus if you are counting calories you get way more bang for your buck, so to speak.  If you want to skip the cauliflower rice and serve this Buffalo Chicken and Broccoli Bowl with regular rice, just scroll down below for the rest of the recipe.  I have served it with both regular rice and cauliflower rice and it is great both ways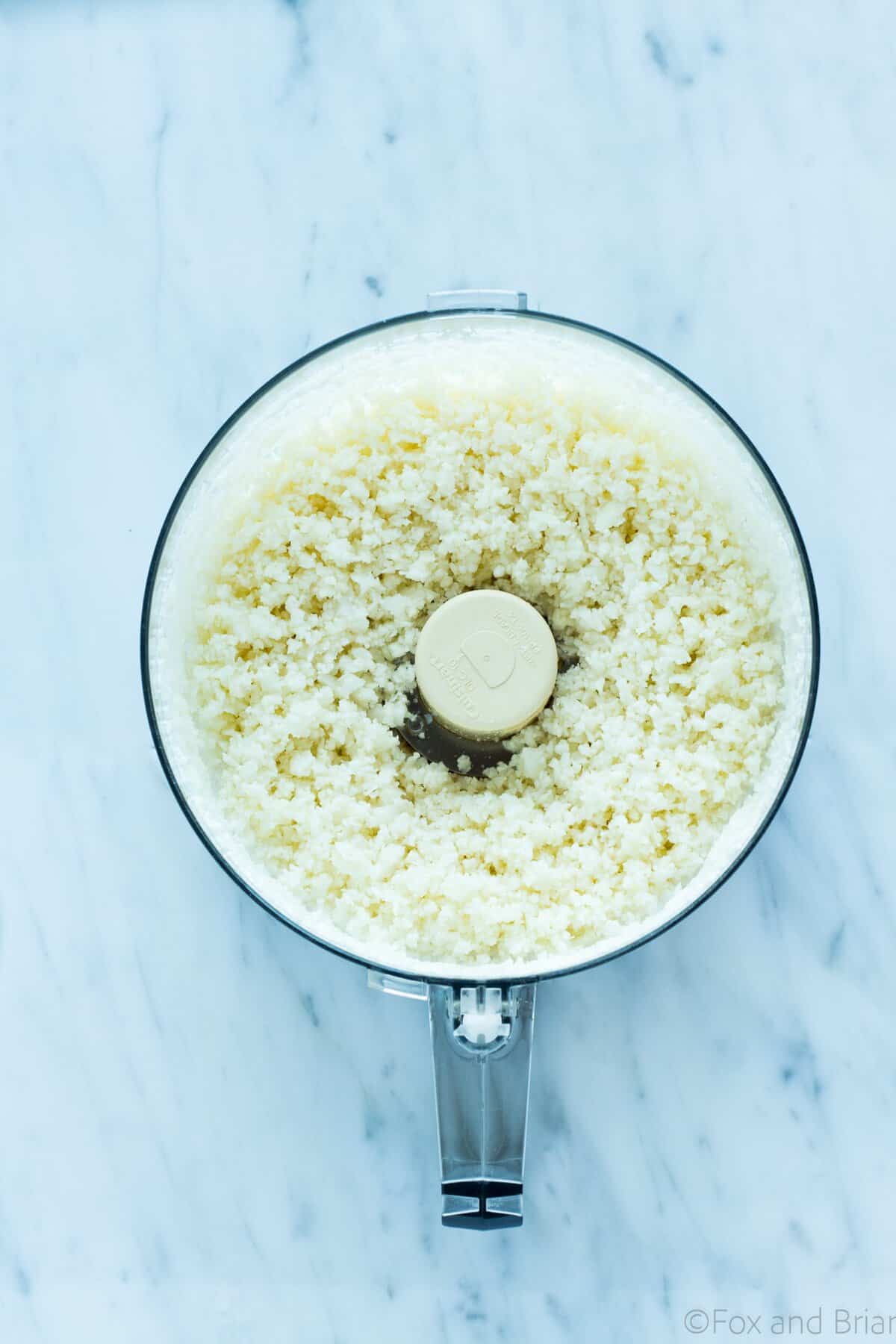 .A few tricks I learned that make the cauliflower rice turn out a little better.  When cutting the cauliflower into florets, be sure to cut them into uniform pieces and remove any large chunks of the stem, as it does not break down as well.  I use my food processor to break down the florets into "rice".  It works better if you do it in two batches, because if the food processor bowl is too full it will not break them down as evenly and you will get some really big chunks and some parts that are pulverized into mush.  If it is overprocessed you will have something more like cauliflower mash, which is not terrible, but it doesn't have the consistency of rice.  I found that working in two batches and pulsing my food processor about 20 times gave me the texture I was looking for.  Basically, you want the pieces to be about the same size as rice.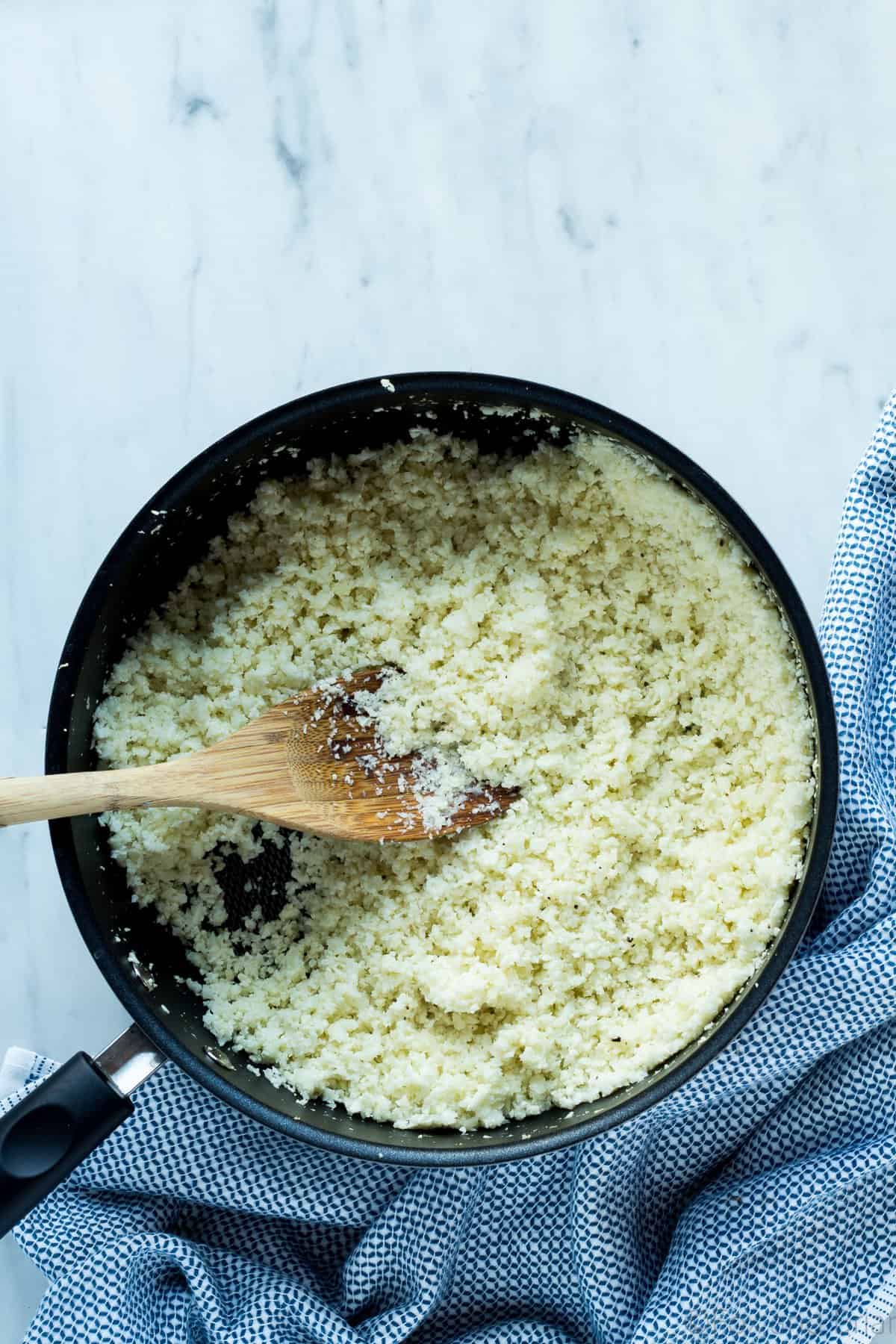 Also, be sure not to overcook it, or it will be a little mushy.  To cook, heat a tablespoon of olive oil in a skillet or saute pan over medium heat.  Add the cauliflower rice, season with salt and pepper and saute 5-8 minutes, until it reaches your desired tenderness.  And good news!  You can freeze cauliflower rice and reheat it in a skillet.  That is, if you have any leftover, which I almost never do.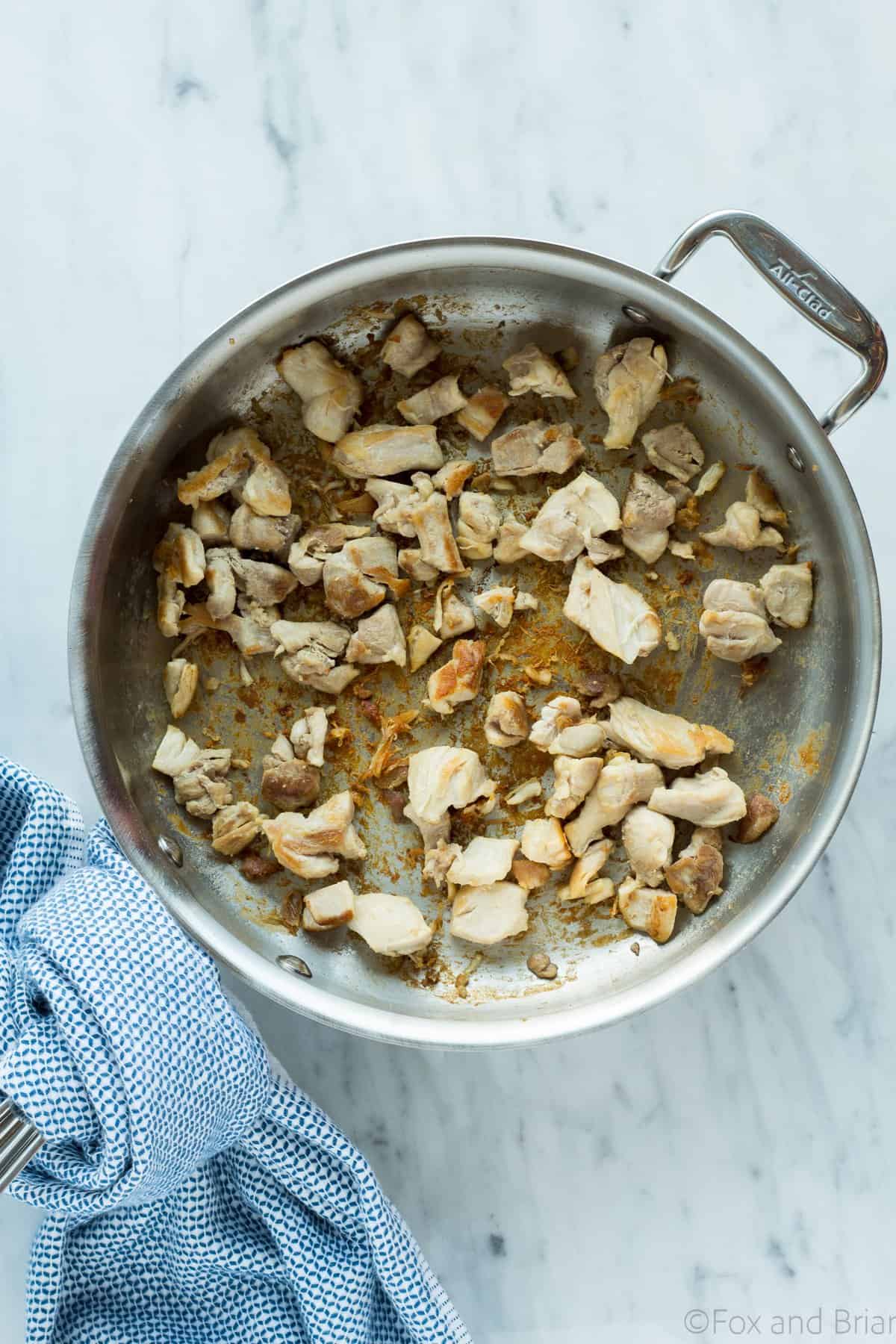 This Buffalo Chicken and Broccoli Bowl is a great weeknight meal because it is quick, easy and healthy.
Now this Buffalo Chicken and Broccoli Bowl – this is a great weeknight meal because it is really quick and easy, plus you can check all the boxes for a healthy meal: Low Carb!  High Protein!  Full of Veggies!  Gluten Free!  Paleo!  Whole 30!  (I'm not paleo or whole 30, but it does fit these diets if you sub coconut oil or ghee for the butter). I use boneless, skinless chicken thighs because that is what I always keep on hand.  Chicken thighs are the best because they taste better and are harder to overcook.  Thighs >breasts, just saying.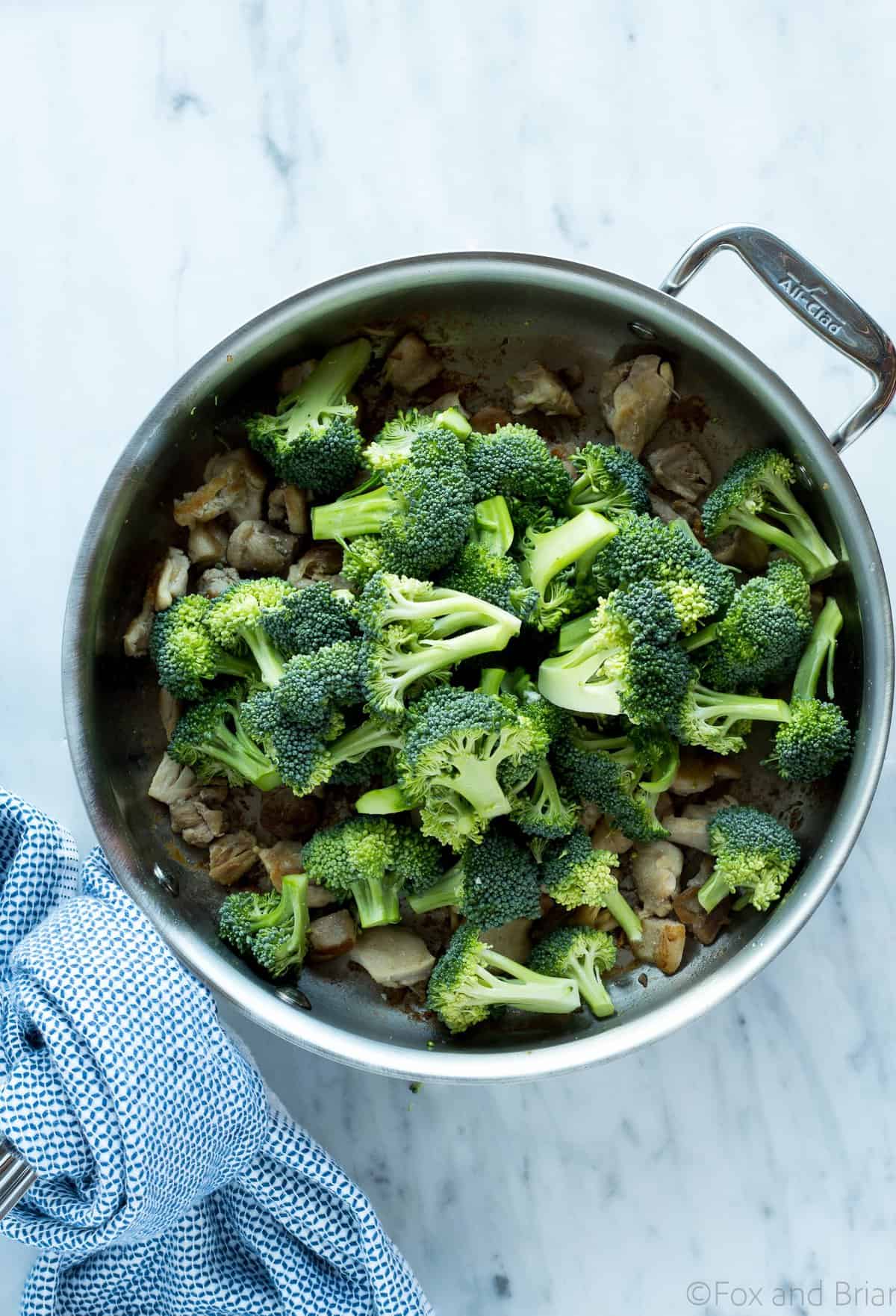 Cut the chicken into bite sized pieces and cook in a saute pan over medium high heat, 4-5 minutes per side, until nicely browned and cooked though.  When the chicken is no longer pink, add the broccoli, give it a quick stir and cover.  This will allow the broccoli to steam.  Allow to steam until florets are tender and still bright green. Depending on how large the broccoli florets are, it should take 5-10 minutes.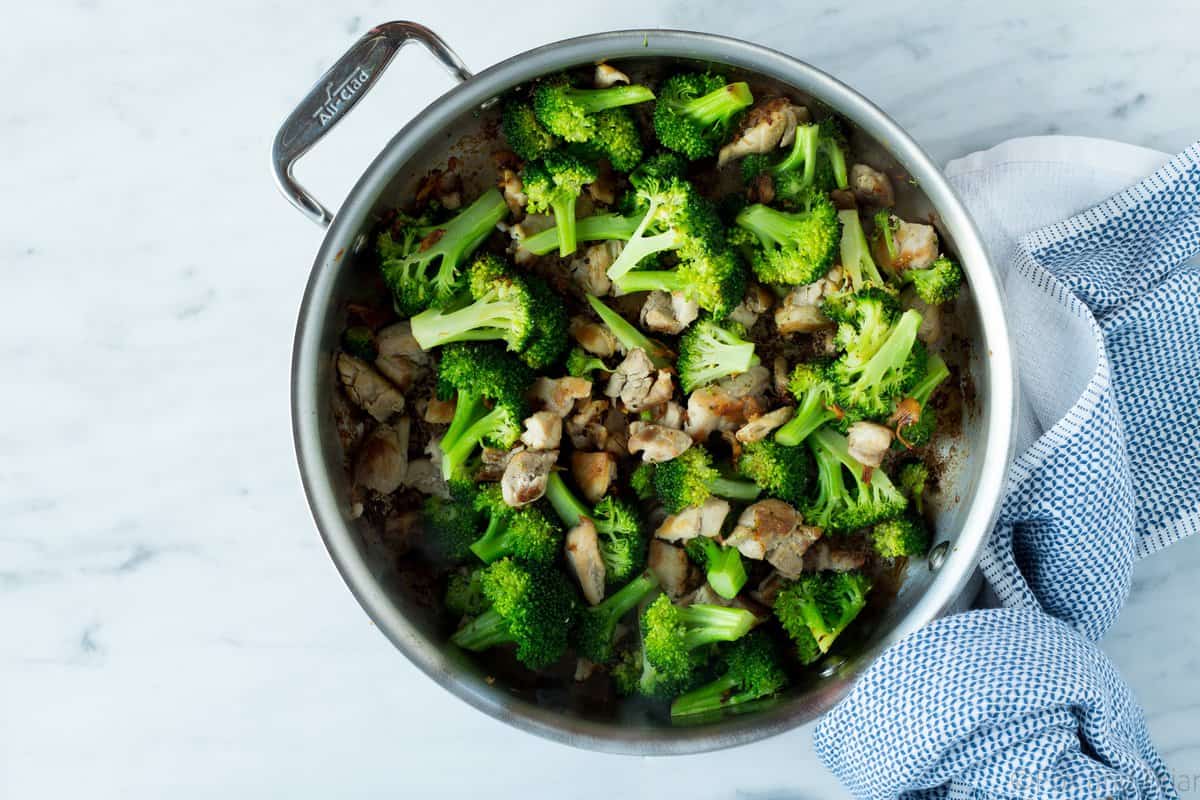 I prefer my broccoli to be a little underdone, still slightly crisp and bright green.  Overcooked broccoli is the worst, amirite?  When the broccoli is done, just pour on the buffalo sauce, which is a simple mixture of hot sauce and butter.  Was anyone else super surprised when they found out how easy buffalo sauce is to make?  Like, you melt butter with hot sauce and then you are done.  Also, I really like Frank's Red Hot for the hot sauce.  I use the original.  It is the perfect flavor, not too spicy but just spicy enough.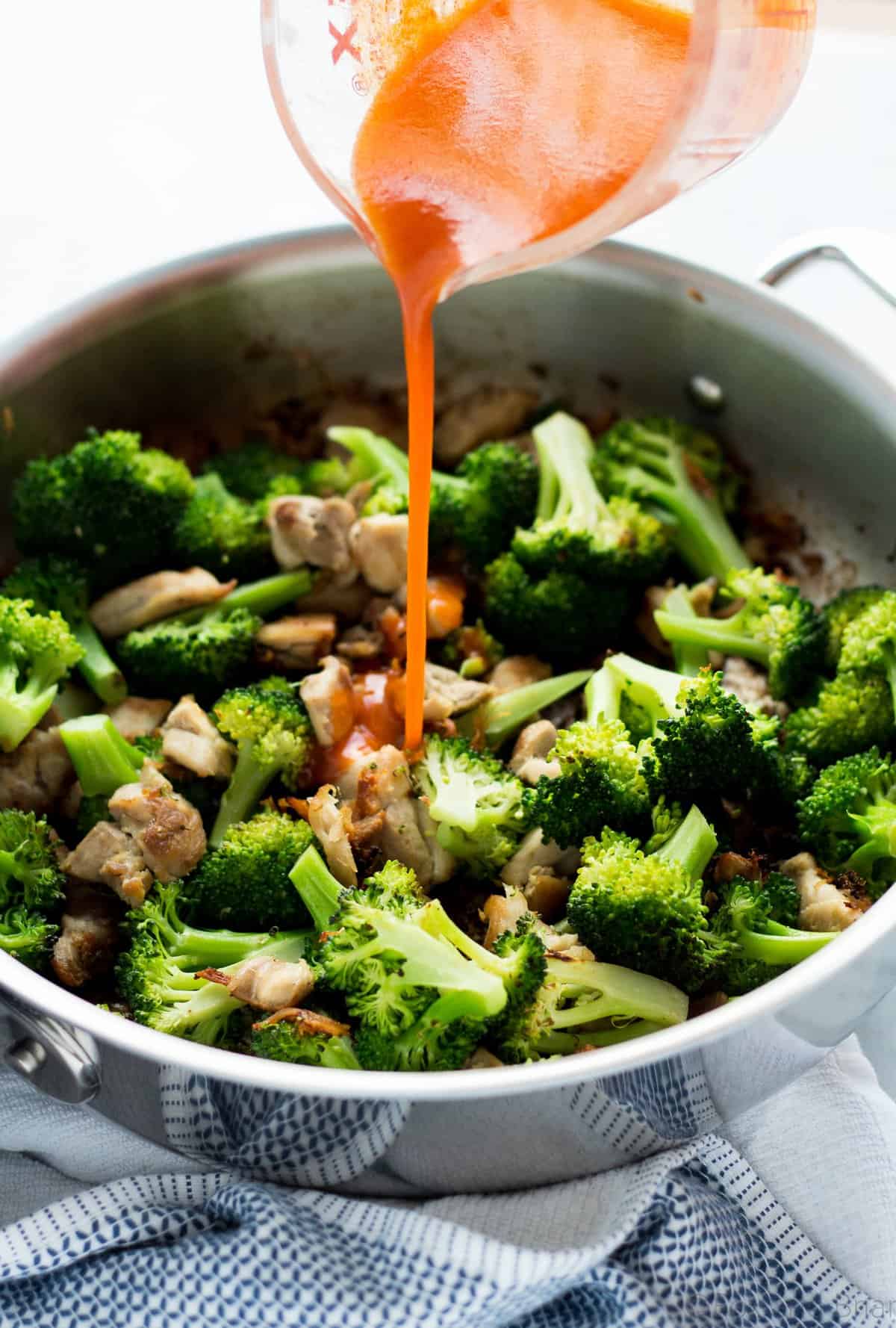 Toss everything together to get it fully coated in the sauce, then serve right away over the rice, cauliflower or regular.  So fast, so easy, so good.  The cauliflower rice can be a little on the bland side, so I like to let it soak up the some of the buffalo sauce to give it a punchy flavor.  I use about a quarter cup of hot sauce and two tablespoons of butter, but if you like things saucier you can use more hot sauce.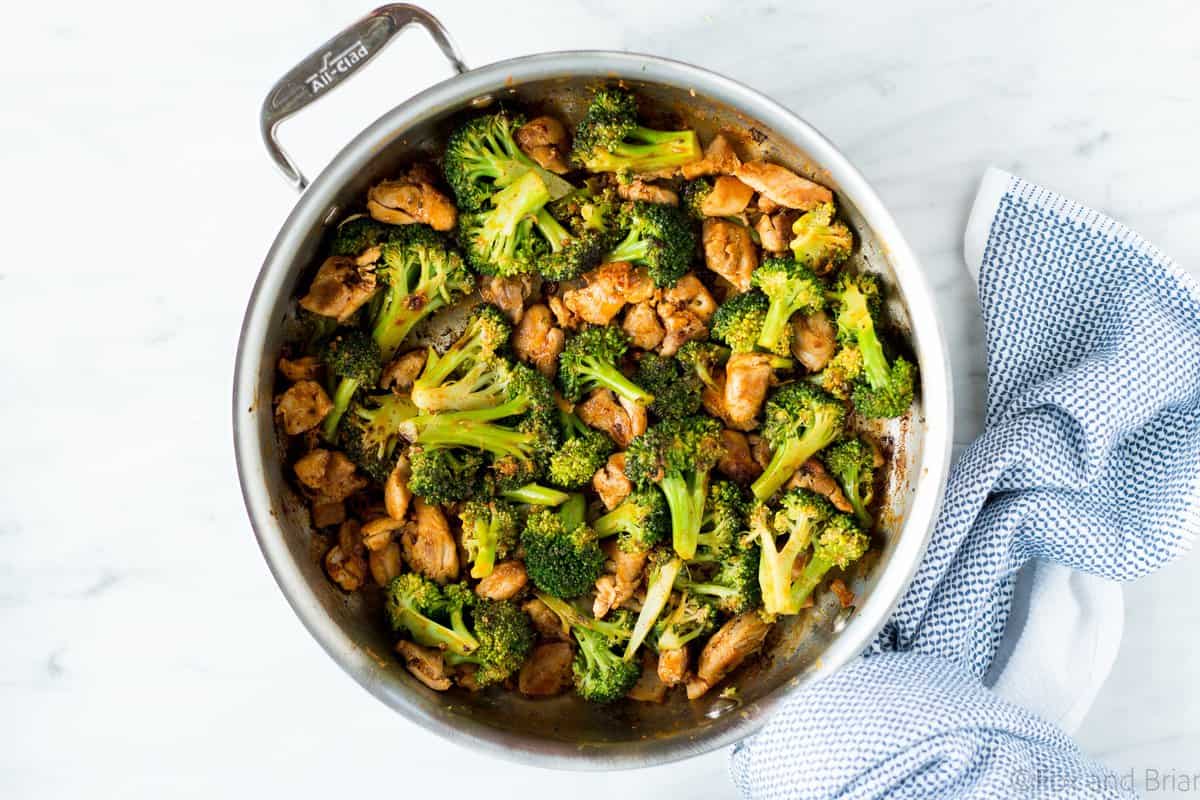 Oh yeah, I really wanted to make this a one pot meal, because less dishes is always a good thing.  That was why I steamed the broccoli in the same pan with the chicken.  Of course, the rice will take up another pan, so I'm not calling this one pot.  But I saved you one pan to wash at least.  I got your back.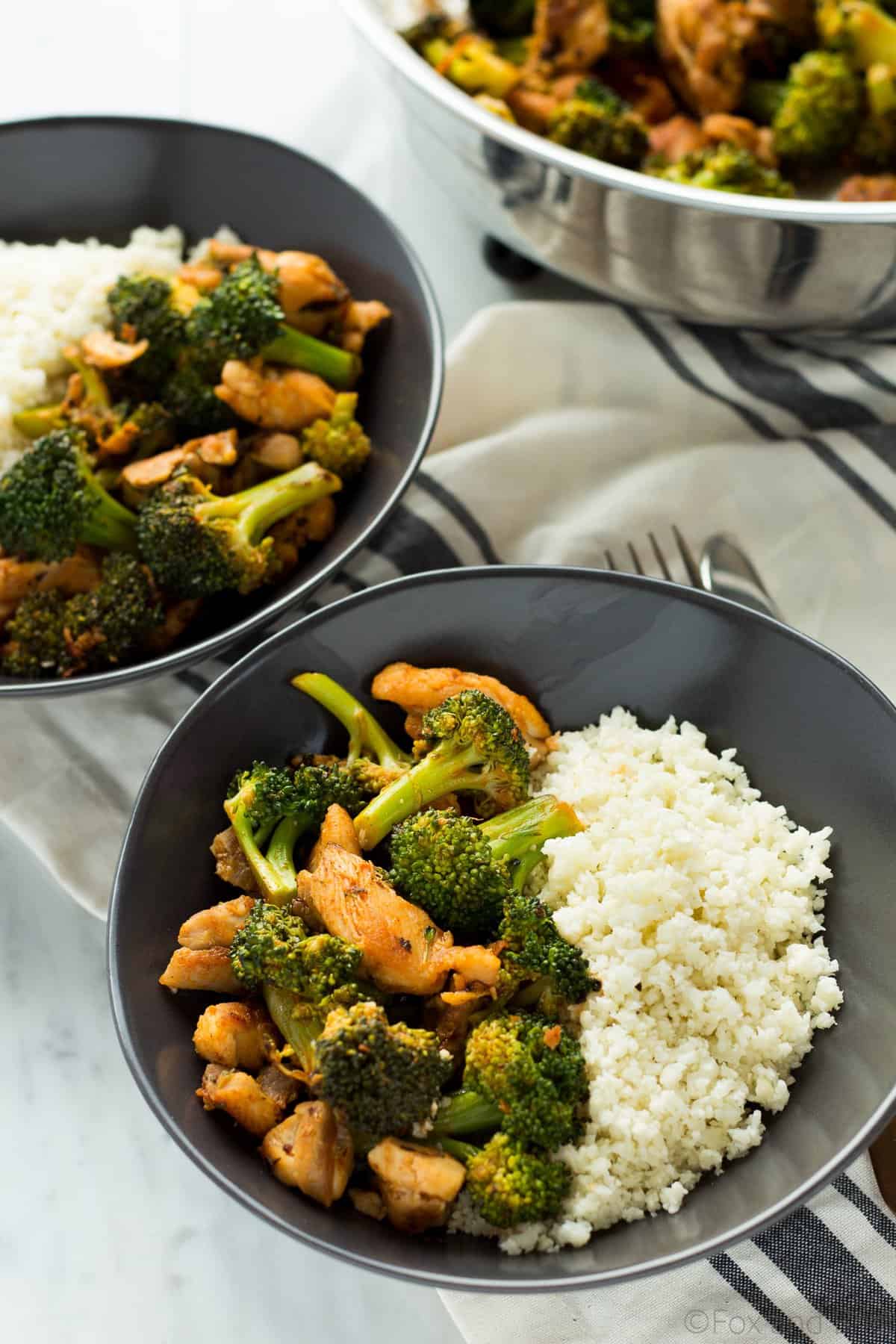 If you like this recipe, you may also like…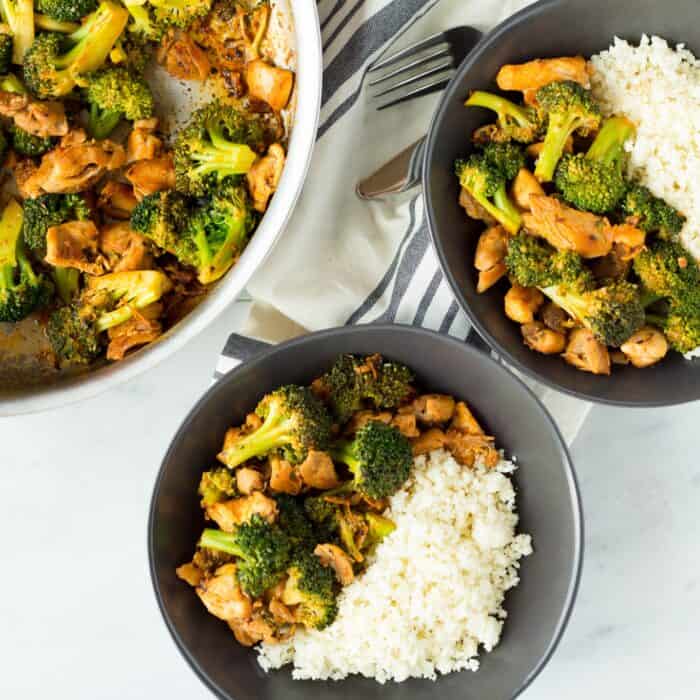 Buffalo Chicken and Broccoli Bowls
This Buffalo Chicken and Broccoli Bowl is fast, easy and flavorful. Chicken and broccoli in a buffalo sauce, served over cauliflower rice makes a gluten free, low carb, high protein, paleo and whole 30 friendly meal!
Print
Pin
Rate
Ingredients
For The Cauliflower Rice:
1

head

cauliflower

1

tablespoon

olive oil

salt

pepper
For The Buffalo Chicken and Broccoli:
1

pound

boneless skinless chicken thigh

cut into bite sized pieces

about 1

pound

of broccoli

cut into small to medium florets* (I used two large crowns)

1

tablespoon

oil

for the pan, optional**

1/4

cup

hot sauce

I used Frank's Red Hot***

2

tablespoons

butter****

salt

pepper
Instructions
To Make The Cauliflower Rice:
Cut cauliflower into medium to small sized florets, removing the green leaves and any tough stem.

Working in batches, place florets into the food processor and don't fill the bowl more than halfway. Pulse until the cauliflower resembles grains of rice, about 20 pulses. Try not to over process or you will have cauliflower mash!

Heat a skillet or sauté pan over medium heat with olive oil. Add cauliflower and season with salt and pepper. Sauté until tender

5

-

8

minutes.
To Make The Buffalo Chicken and Broccoli:
Heat a skillet or sauté pan that has a lid over medium high heat. Add oil if using, and when hot add chicken. Season with just a little salt. allow to cook on one side until browned, then turn and brown the other side. Cook until no longer pink,

4

-

5

minutes per side.

When chicken is cooked, add broccoli to the pan and cover. Allow to steam until tender

5

-

10

minutes. You can give the pan a stir a few times if you want to keep the chicken from browning too much. Broccoli is done when easily pierced with a knife and still bright green.

Meanwhile, prepare the buffalo sauce. Melt 2 tablespoons of butter with the hot sauce and whisk to combine.

Pour the sauce over the chicken and broccoli, toss to coat everything in the sauce.

Serve over cauliflower rice or regular rice.
Notes
* Make sure the broccoli florets are not too large and are of even size. This will allow them to cook faster and also make sure that they are all done at the same time.
**If using a pan that is not non-stick, I would suggest using a little oil when cooking the chicken. Otherwise it may stick to the pan.
***If you prefer more sauce, just increase the amount of hot sauce you use.This amount makes enough to fully coat everything but doesn't leave much extra sauce.
****If paleo or whole 30, use coconut oil or ghee instead of butter
Nutritional information is an estimate for your convenience. If you have strict nutritional needs, please do your due diligence to make sure this recipe fits your needs.
Did you like this recipe?
Please comment, rate and share! And don't forget to tag me on Instagram @foxandbriar AND #foxandbriar so I can see what you made!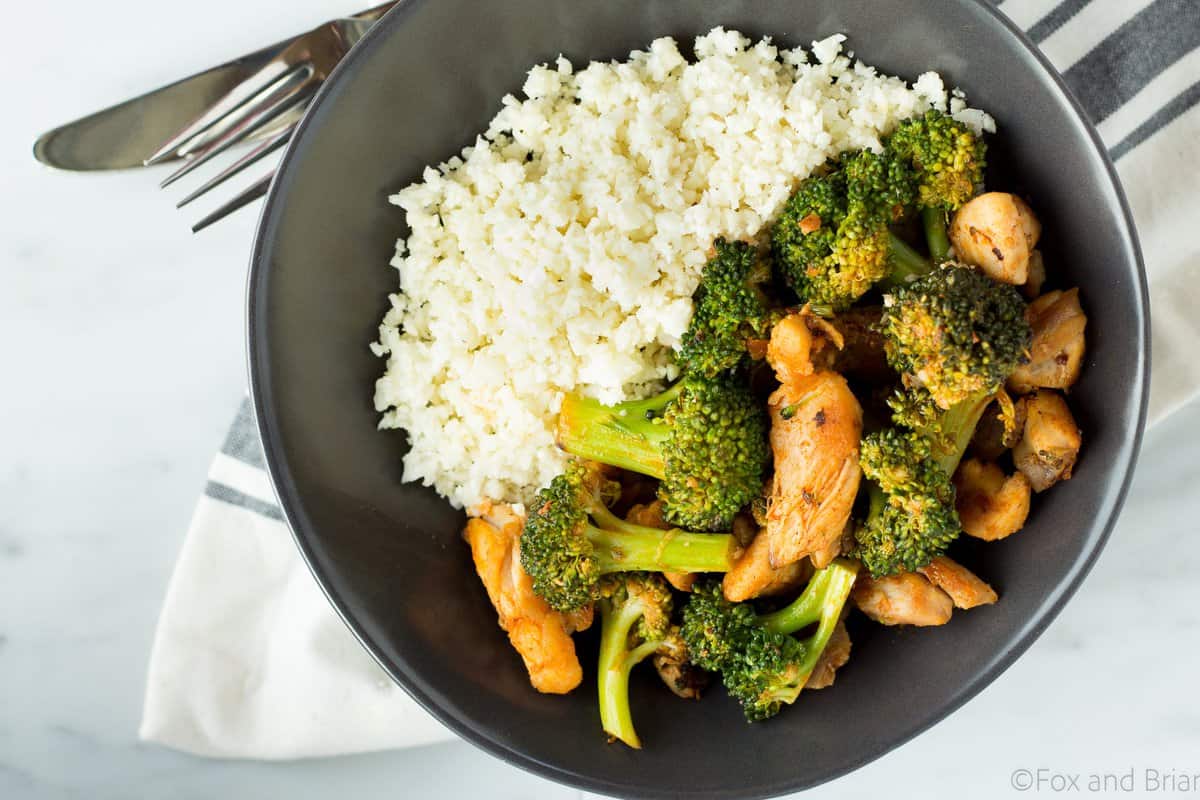 So what are you doing this weekend?  Did you do a better job of planning than I did?
Tools I used for this recipe:
Affiliate link

Disclosure: This post contains affiliate links, which means that if you purchase the items I recommend through the links I provide, I get a small commission. For more info, please see my disclosure policy. Thanks for supporting Fox and Briar!