These sausage and kale make ahead egg muffins are a low carb, grain free, high protein breakfast that you can make ahead and store in the fridge. On busy mornings, just heat them up and have a quick healthy breakfast.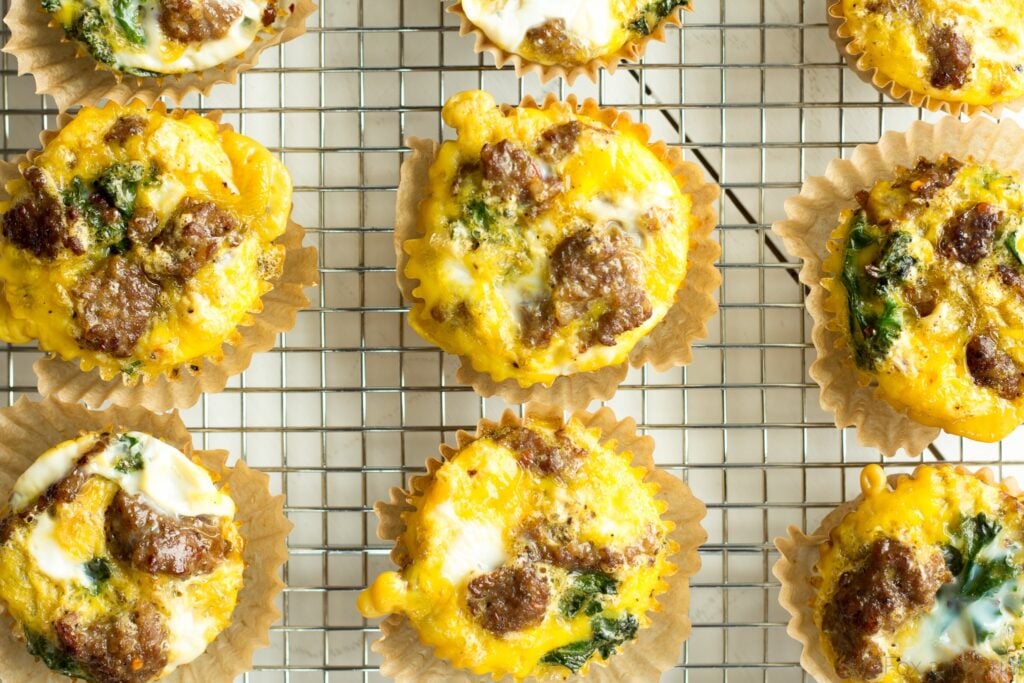 Oh hey guys, heeeeey.  How was your holiday season?  Well, technically it is still the holiday season, I guess, we do still have New Years.  I have to say that as much as I love the holidays, I am pretty ready for the new year.  I'm ready for vegetables and exercise and routine.  Yeah, I'm ready for that NOW, ask me again in two days how I feel and I will most likely tell you that I am ready for bacon wrapped dates and wine.  And a cookie, probably.  Again, it is a good thing that we still have New Years, let's ease back into this whole "healthy lifestyle" thing, OK?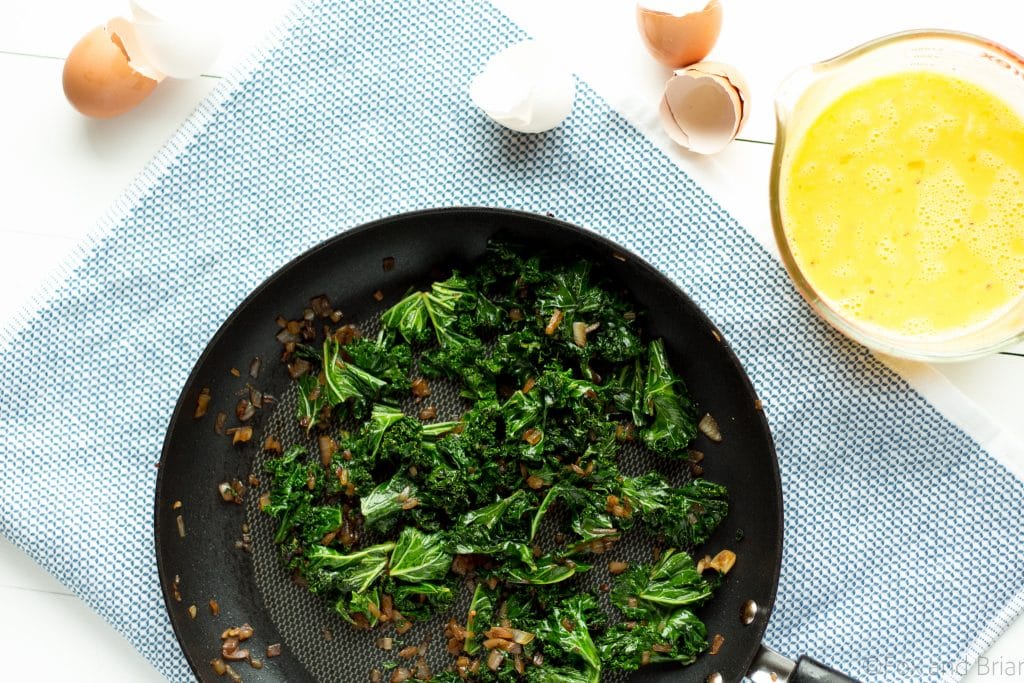 So, I will be bringing you a cocktail and an appetizer this week, but we are going to start out with a healthy breakfast option to start mulling over for the new year.  You don't have to make it now, but you might want to make it next weekend so that you can start January off with a bang.  My make ahead egg muffins are actually one of the most popular recipes on this site, and for good reason.  How many times have you skipped breakfast because you were running late and just didn't have time?  And then you were starving at 10am so you went to the coffee shop and bought the biggest pastry you could find? Yes, that is me, and yes, more times than I would like to admit.  Mr. Briar and I started making these make ahead egg muffins a few years ago and it seriously changed our life.  Well, our weekday breakfast life, which is still kind of big deal.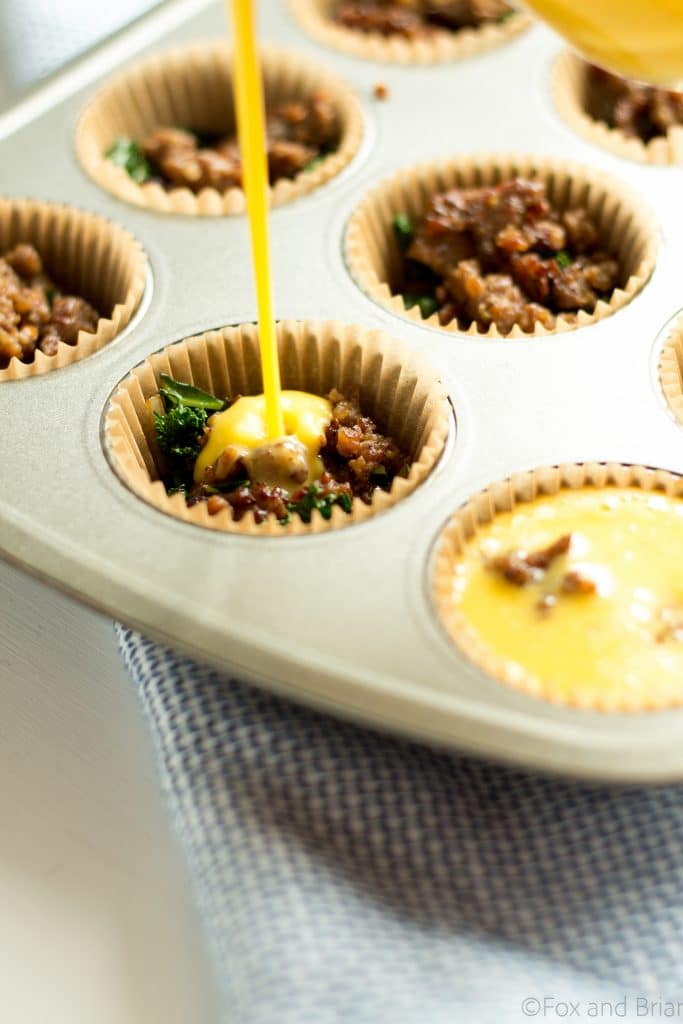 The recipe I shared a few months ago is our go to recipe, but I wanted to add a little variety in there so I came up with this variation.  And OF COURSE it was sausage and kale because sausage and kale were MFEO (Que Meg Ryan in Sleepless in Seattle grimacing while saying "MADE for each other").  This variation is nice because it amps up the protein and lets you get some greens in the morning, which is especially nice if green smoothies aren't really your thing.
These are just as convenient as the original recipe though, and it is super easy to whip up a batch and then have a grab and go breakfast at the ready for the entire week.  I store mine in the fridge and they are usually good for about five days, I can't say if they last longer than that.  I am also going to freeze a few to see how they hold up, I will report back on the results.  In the morning, we just microwave them for 30 seconds and have an instant hot breakfast to bring with us as we run out the door.  I always make 10 muffins so that Mr. Briar and I can have 1 each day Monday though Friday.  You can of course alter this to make as many or as few as you want, it is really easy to do because 1 egg = 1 muffin.  So how ever many muffins you want, that is how many eggs to use.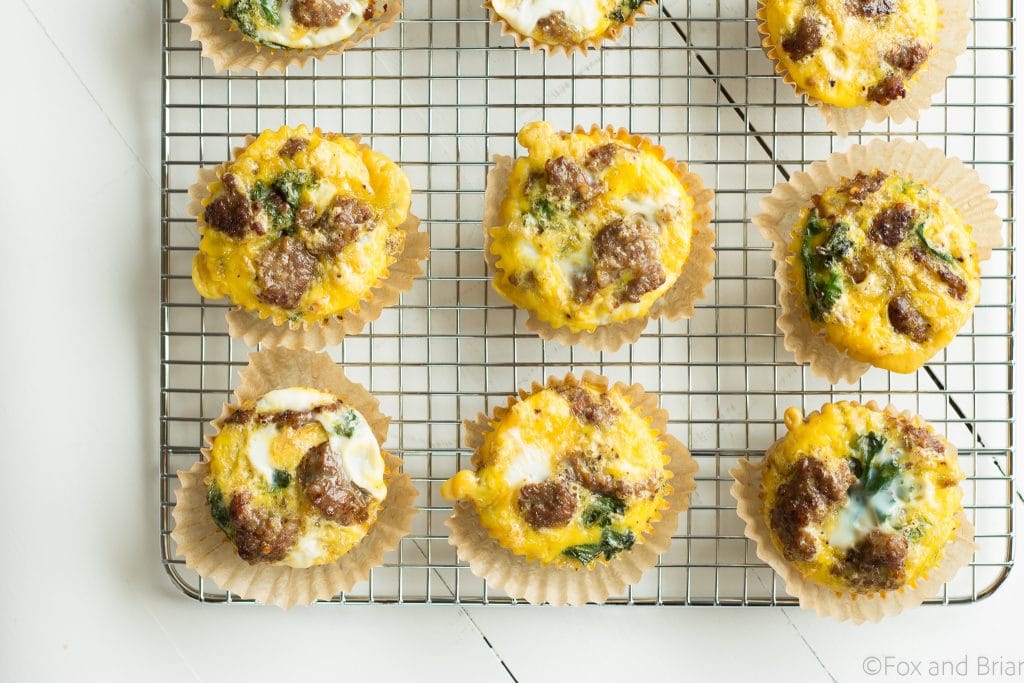 AND I mentioned this in my other post, but I do highly recommend using THESE parchment paper baking cups.  I always use them and they work amazingly well.  The one time I ran out of them and tried to use regular paper cupcake wrappers it was a disaster.  The eggs totally stuck to the paper and it was horrible.  The parchment paper wrappers come right off, they are amazing (and they work great for muffins and cupcakes too).  I have a hard time finding these in the regular grocery store, so I always order them on Amazon. (PS – that is an affiliate link).  I would NOT recommend using regular paper liners for this recipe, as I have not had good results with them.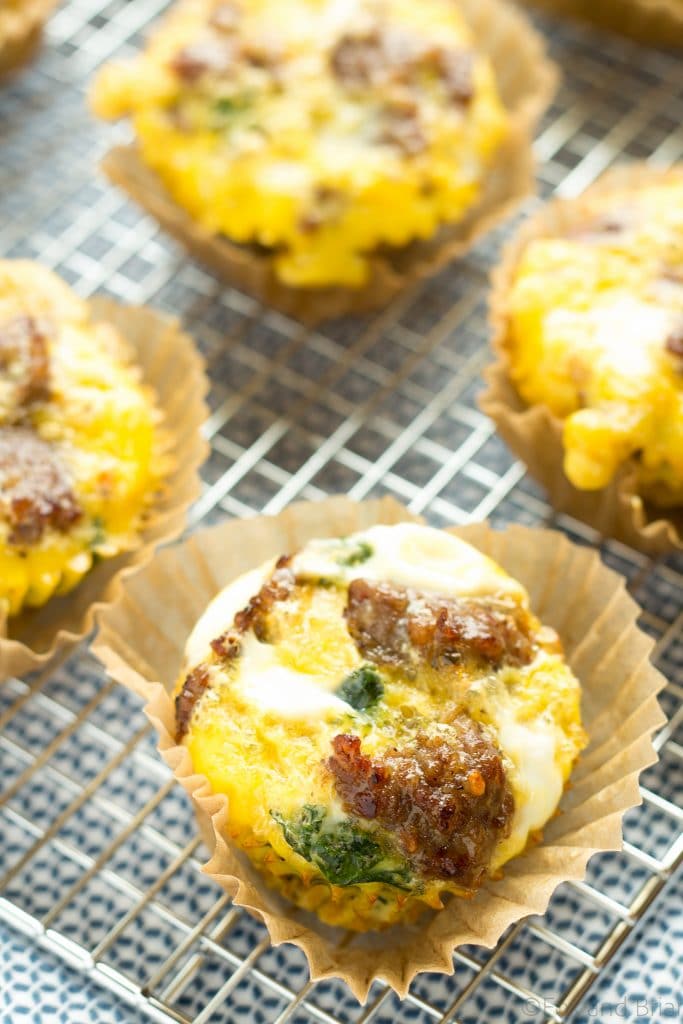 For the preparation of the filling, I ended up using about 1/3 of a pound of sausage and about 4 cups of chopped kale.  I normally hate using such arbitrary amounts of ingredients, but you want there to be enough room in each muffin tin for the egg, so fill each muffin tin only about halfway with the sausage and kale. I decided to keep the sausage and the kale separate so that I could control how much of each was in each muffin, but that is up to you, you might not be as much of a control freak as I am.  If I were making these (and I did) I would just brown the whole pound of sausage and cook the whole bunch of kale and save the leftovers for my dinner, like, oh, I don't know, in THIS maybe?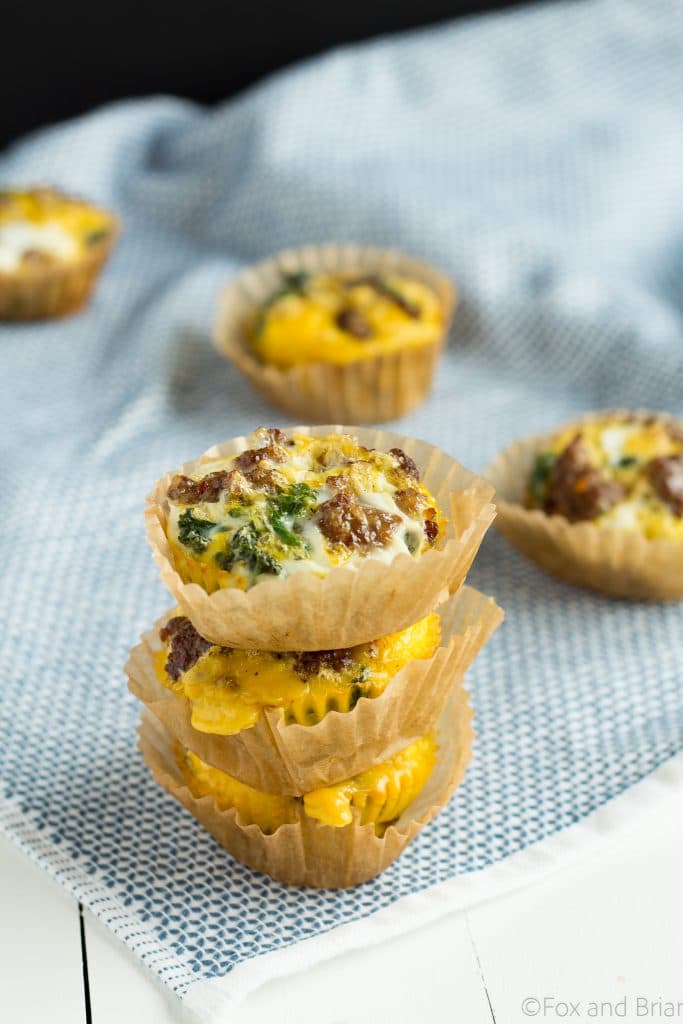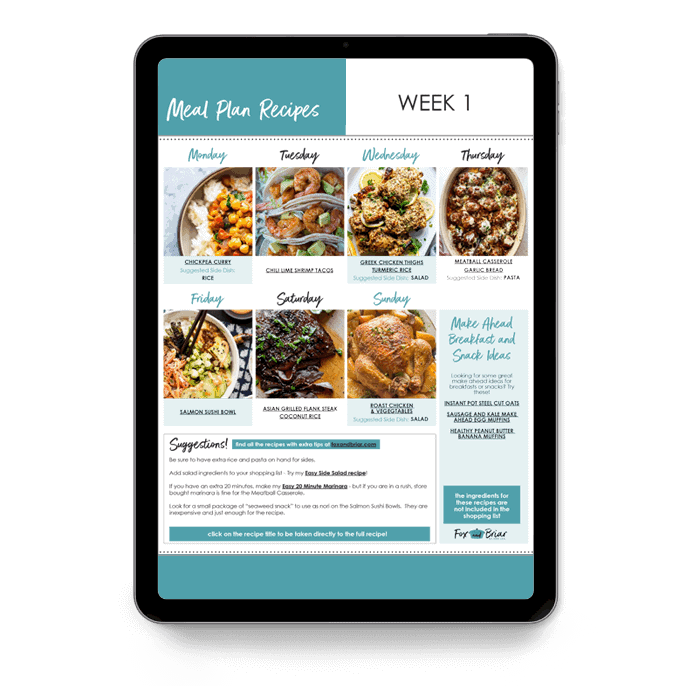 Sausage and Kale Make Ahead Egg Muffins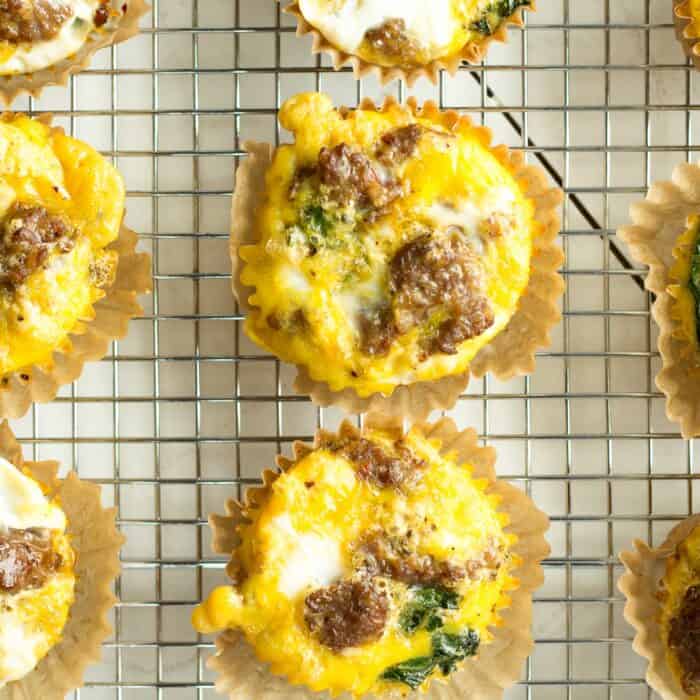 These sausage and kale make ahead egg muffins are a low carb, grain free, high protein breakfast that you can make ahead and store in the fridge., On busy mornings, just heat them up and have a quick healthy breakfast.
Ingredients
1/3

pound

hot italian sausage

4

cups

kale

roughly chopped

1

shallot

finely chopped

10

eggs

scrambled, seasoned with salt and pepper

salt

pepper
Instructions
Line a muffin pan with parchment paper liners, set aside.

In large pan over medium high heat, brown sausage until cooked through.

Reduce heat to medium. Remove sausage from pan, reserve about 1 tablepsoon of the fat from the sausage to cook the shallot. If there is not enough fat from the sausage, add about 1 tablespoon of oil to the pan. Add the shallot and cook for a few minutes, until starting to soften, about

2 minutes

.

Add the kale and a pinch of salt, carefuly stir to mix with the shallot. Cook until kale is wilted down but still bright green, about five minutes. Remove from heat.

Evenly divide the shallot and kale mixture between the muffin liners, then top each with some sausage. Each muffin liner should be about halfway filled with the kale and sausage.

Pour the scrambled eggs into each muffin liner, evenly dividing between each. It is OK to fill them to the top, just be careful not to go over the edge.

Bake for

15

-

20

minutes, until the muffins are puffed up and set on top (they may be shiny, but will no longer be liquid).

Remove from oven and immediately remove from the muffin tin and cool on a wire rack.

Allow to cool completely before transfering to the refrigerator. Store in the refigerator for up to five days.

To reheat, microwave for about

30 seconds

.
Notes
*I do NOT recommend using paper muffin liners. Use parchment liners if at all possible. If you can't use parchment liners, you may try very liberally greasing the pan, but in my experience the parchment liners work best.
**For gluten free, be sure your sausage is gluten free!
***These can bre frozen, but I prefer to make enough for the week and store in the fridge. These keep in the fridge for up to five days.
Nutrition
Calories:
130
kcal
|
Carbohydrates:
3
g
|
Protein:
9
g
|
Fat:
9
g
|
Saturated Fat:
3
g
|
Cholesterol:
175
mg
|
Sodium:
183
mg
|
Potassium:
239
mg
|
Fiber:
1
g
|
Sugar:
1
g
|
Vitamin A:
2915
IU
|
Vitamin C:
32.7
mg
|
Calcium:
68
mg
|
Iron:
1.4
mg
Nutrition information is automatically calculated, so should only be used as an approximation.
Did you like this recipe?
Please comment, rate and share! And don't forget to tag me on Instagram @foxandbriar AND #foxandbriar so I can see what you made!
Adapted from my Make Ahead Egg Muffins
Are you ready to get back into the swing of things, or do you want the holidays to last forever and ever?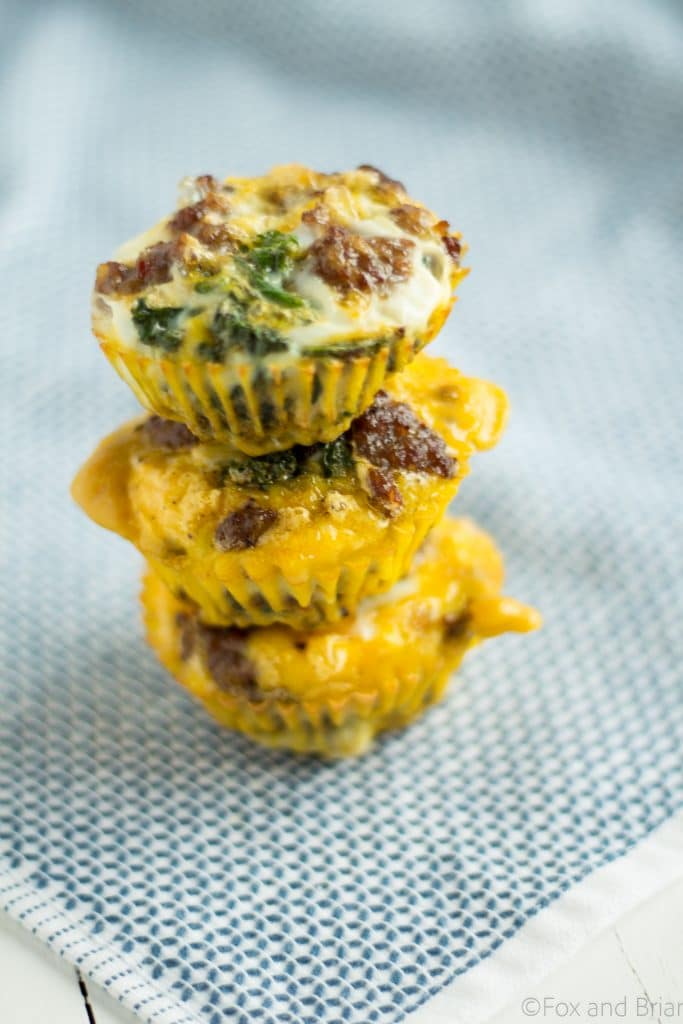 If you like these, you may also like…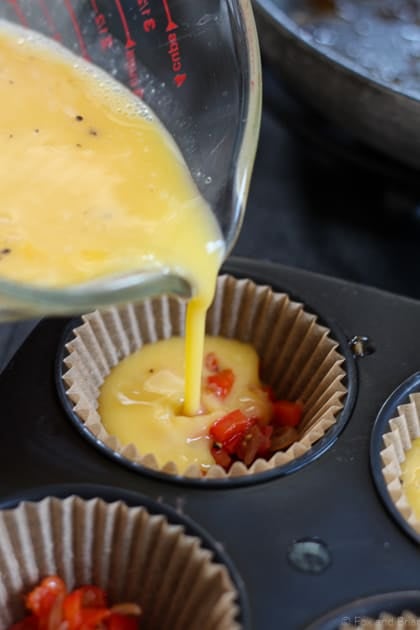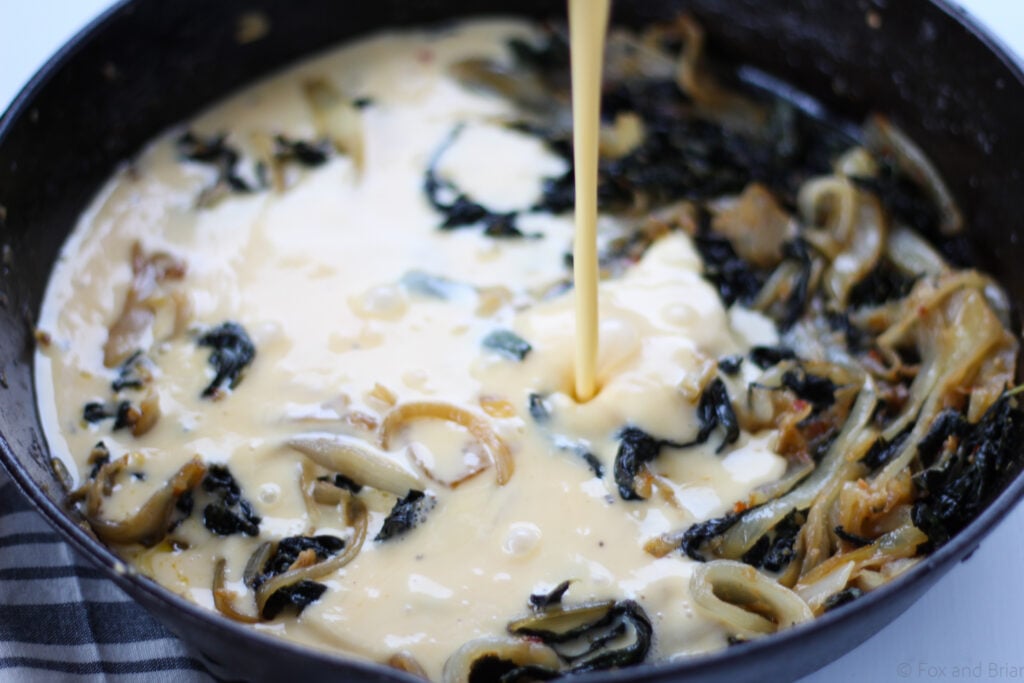 Caramelized Kale and Onion Frittata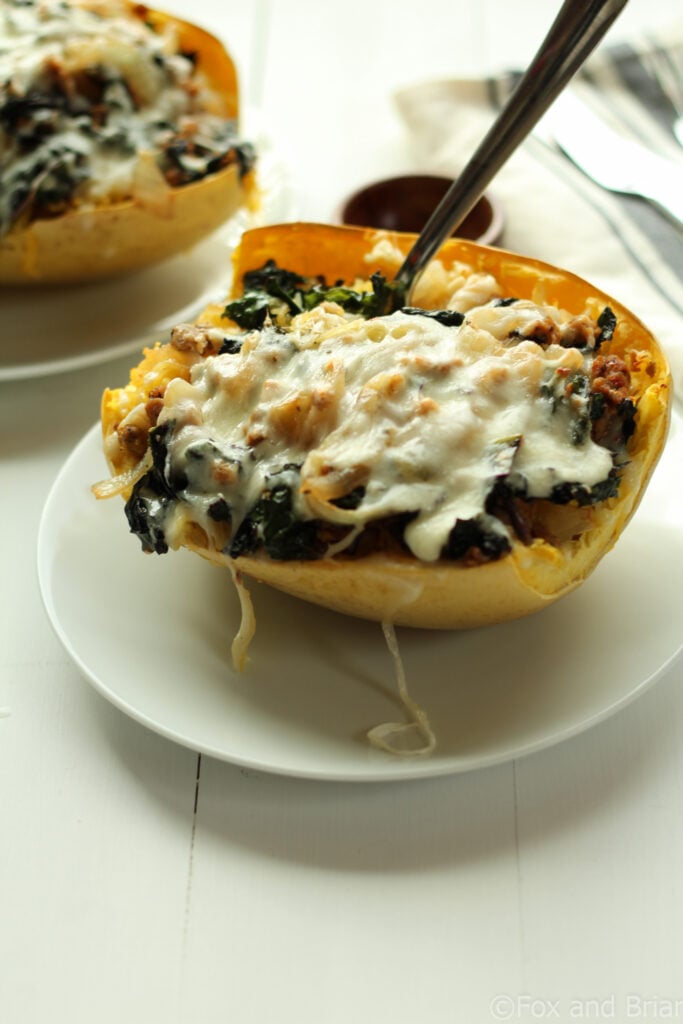 Sausage and Kale Spaghetti Squash Boats
Disclosure: This post contains affiliate links, which means that if you purchase the items I recommend through the links I provide, I get a small commission. For more info, please see my disclosure policy. Thanks for supporting Fox and Briar!