Mmmm. these boats.  Melty, gooey, hearty, savory comfort food.  And it is seriously turning to comfort food weather around here.  Is this happening everywhere else?  It's like the weather looked at the calendar and said "Welp, it's November, better start getting chilly".  As I write this I am bundled up in my warm PJs and slippers, covered in a fuzzy blanket (my cats and I are big fuzzy blanket fans) and sipping hot tea.  AND I just turned up the heat.  It is getting cold out there.
Cold weather means wanting cozy meals to warm us up, and that is just what this spaghetti squash boat is.
So, by now it is no secret that I love spaghetti squash.  And kale.  These spaghetti squash boats were actually adapted from a pizza that we made a few weeks ago.  Here is what happens.  We plan on eating tons of vegetables.  All vegetables all the time.  I make a meal plan that is veggie-centric.  We eat that way for a few days.  Then someone gets tired of cooking and someone else suggest pizza and then it is a carb-fest.  And then we swear off pizza and decide to eat veggies again.  So on one of our pizza weakness nights, we made an AMAZING pizza that had sausage, kale and onions.  You would probably know all this if you followed me on snapchat, I put the whole pizza making process on there (search for foxandbriar to add me!).
So, a week or so later, I started thinking about how I could make that pizza again, but also NOT eat a bunch of processed flour.  And when the spaghetti squash boat idea came to me I thought "Why didn't I think of this sooner?"  This is basically the toppings of the pizza and the melty cheese in a boat instead of on a crust.  We all love a good crust, I know, but sometimes the crust has to go for awhile.  But this is spaghetti squash, guys, and spaghetti squash is magic.  One thing I loved about the topping is that the sausage and kale get all crispy in the oven and crispy kale is really just my favorite way to eat kale.  I used chicken sausage here, but regular sausage is also awesome.  And I went with whole milk mozzarella so that it would be super gooey and melty.
First you prepare your spaghetti squash your favorite way.  My favorite way is in the microwave, and I have detailed instructions on how to do that HERE.  Mix 1 tablespoon of olive oil and the minced garlic together in a small dish and set aside.  This will give the oil time to get infused with the garlic flavor.  Set it aside for a few minutes while you start to brown your sausage. After the sausage has started to brown but isn't cooked all the way, add the onions.  Then cook the sausage and onions together for 8-10 minutes until the onions have softened.  Add the kale and the garlic/olive oil combo – at this point it will seem like the kale won't fit in the pan, but it will wilt down quite a bit.  Carefully mix to combine, and cook, stirring often, until kale is wilted, about 5 minutes.
Remove half of the mixture from the pan and set aside.  Mix the spaghetti squash strands into the remaining kale/sausage mixture until combined.  The reason I did it this way is that I really wanted some of the kale mixture right on top so it could get crispy in the oven.  Fill the two spaghetti squash shells with the spaghetti squash mixture.
Top with 2 ounces of shredded cheese.  
On top of that, evenly divide the remaining kale/sausage mixture on top of the cheese.
Sprinkle about an ounce more of cheese on top of that.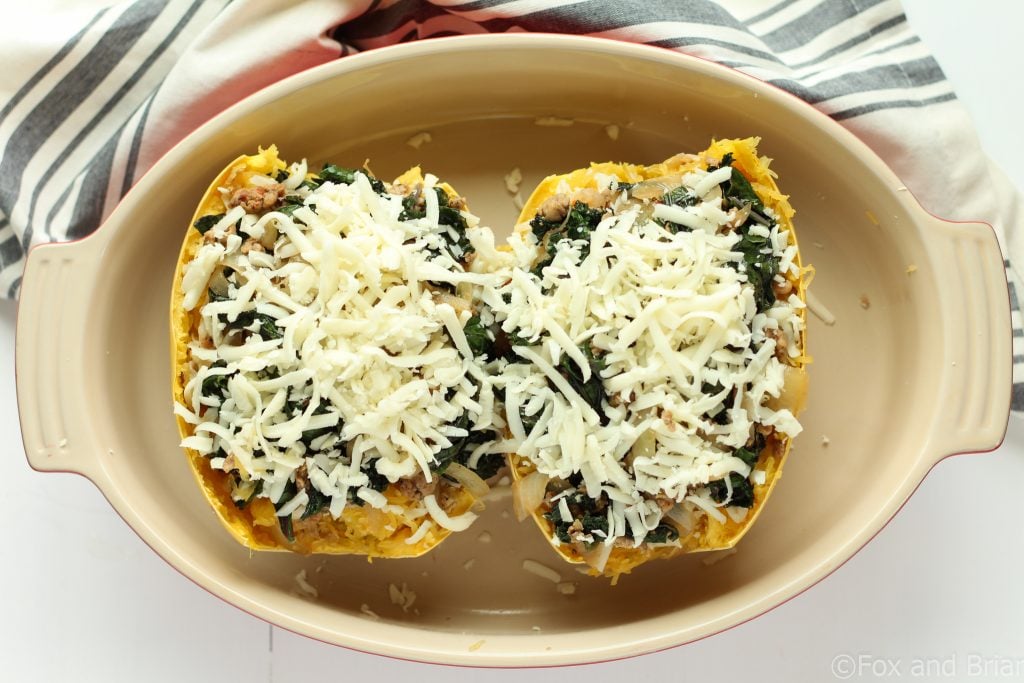 Bake in the oven for about 10 minutes, and finish under the broiler for a minute or two until the cheese is bubbly and starting to brown.  Keep in mind that one boat is two servings.  There is a huge portion in one boat.  We usually just eat half the boat and save the rest for lunch the next day.  The other option is cutting each boat in half before serving, OR you can skip the spaghetti squash shell altogether and bake the whole mixture in a baking dish.
The boats are just cute, really.
Sausage and Kale Spaghetti Squash Boats
Sausage and Kale Spaghetti Squash Boats! So good! And healthy! Spicy Sausage and Garlicky Kale all topped with melty cheese make this low carb and gluten free meal perfectly satisfying.
Print
Pin
Rate
Ingredients
1/2

pound

spicy Italian chicken sausage

pork sausage will also taste great!

1

bunch

kale

center rib removed and torn into pieces (about 6 cups prepared)

6

ounces

whole milk mozzarella cheese

shredded

1

large onion

sliced

1

tablespoon

olive oil

2

cloves

garlic

pressed, grated or very finely minced

kosher salt
Instructions
Combine 1 tablespoon olive oil and the garlic in a small dish so that the garlic starts to infuse the oil. Set aside.

Cut both ends off of spaghetti squash and then cut in half in half. Scoop out the seeds. Microwave for

12

-

20

minutes or until flesh can easily shred into "noodles" with a fork. When cooled, shred all the flesh into noodles and scoop them out of the shells. Set "noodles" and shells aside.

In a large sauté pan, brown the sausage over medium high heat for

3

-

4

minutes, until starting to brown but not cooked all the way through.

Add the sliced onion and cook together with the sausage for about

8 minutes

, until the onion is softened. (depending on how lean your chicken sausage is, you may have to add a little oil to the pan at this point. With the chicken sausage that I used, no oil was required).

Add the kale, garlic and olive oil mixture and a pinch of kosher salt to taste (more or less depending on how salty your sausage is).

Sauté for

3

-

4

minutes or until the kale is wilted.

Remove half of the kale/sausage mixture from the pan and set aside.

To the remaining sausage kale mixture in the pan, add the spaghetti squash "noodles" and mix to combine.

Place the two empty spaghetti squash shells in a baking dish large enough to hold them.

Fill each shell with the spaghetti squash/kale/sausage mixture.

Top each boat with about 2 ounces of mozzarella cheese.

On top of the cheese, evenly divide the remaining kale/sausage mixture between the two boats.

Top each boat with a little more cheese (about 1 ounce each).

Bake in the oven for

10 minutes

. Finish under the broiler, if desired, for about

1 minute

, or until the cheese is bubbling and starting to brown.

Each boat is two servings.
Nutrition
Calories:
384
kcal
|
Carbohydrates:
7
g
|
Protein:
19
g
|
Fat:
31
g
|
Saturated Fat:
13
g
|
Cholesterol:
77
mg
|
Sodium:
695
mg
|
Potassium:
375
mg
|
Fiber:
1
g
|
Sugar:
2
g
|
Vitamin A:
3535
IU
|
Vitamin C:
42.7
mg
|
Calcium:
283
mg
|
Iron:
1.4
mg
Nutritional information is an estimate for your convenience. If you have strict nutritional needs, please do your due diligence to make sure this recipe fits your needs.
Did you like this recipe?
Please comment, rate and share! And don't forget to tag me on Instagram @foxandbriar AND #foxandbriar so I can see what you made!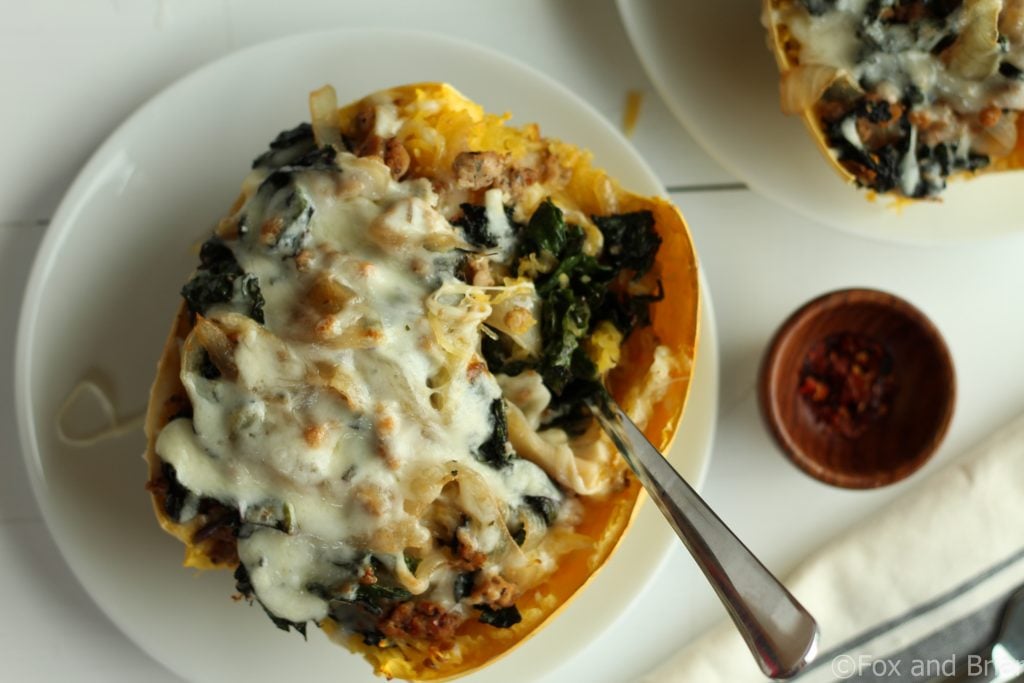 Is everyone getting into winter mode?  How are you dealing with it – full resistance, or are you embracing it with slippers and comfort foods?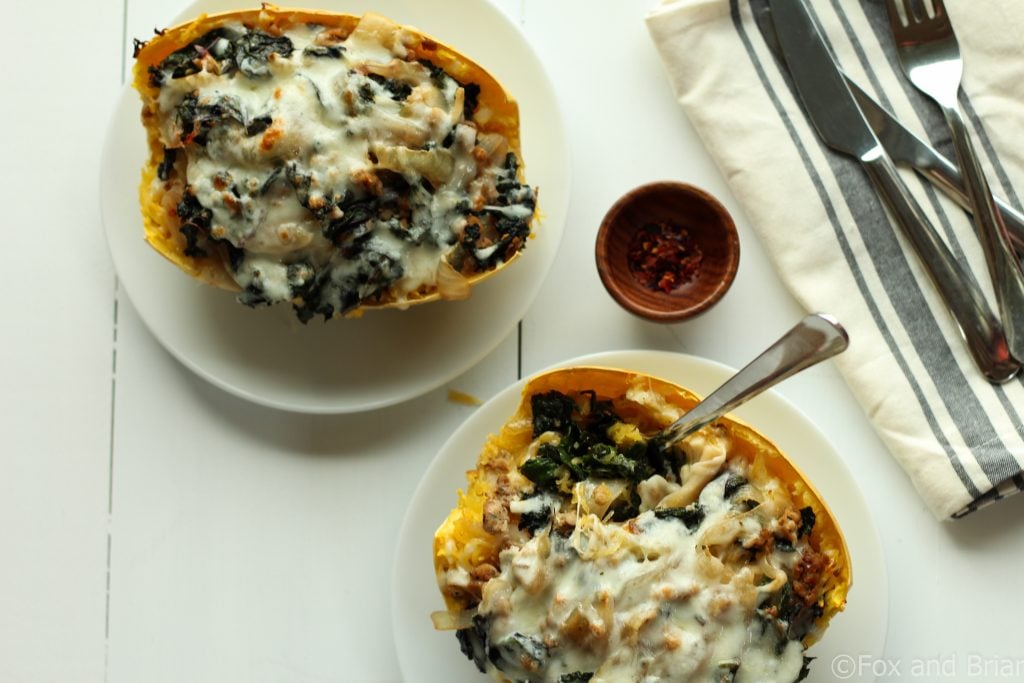 I am linking up this post with the ladies from Saucy Saturdays!