These Roasted Shrimp and Brussels Sprouts are a quick and easy dinner. Lemon and garlic make this a flavorful sheet pan dinner you can make in about 20 minutes!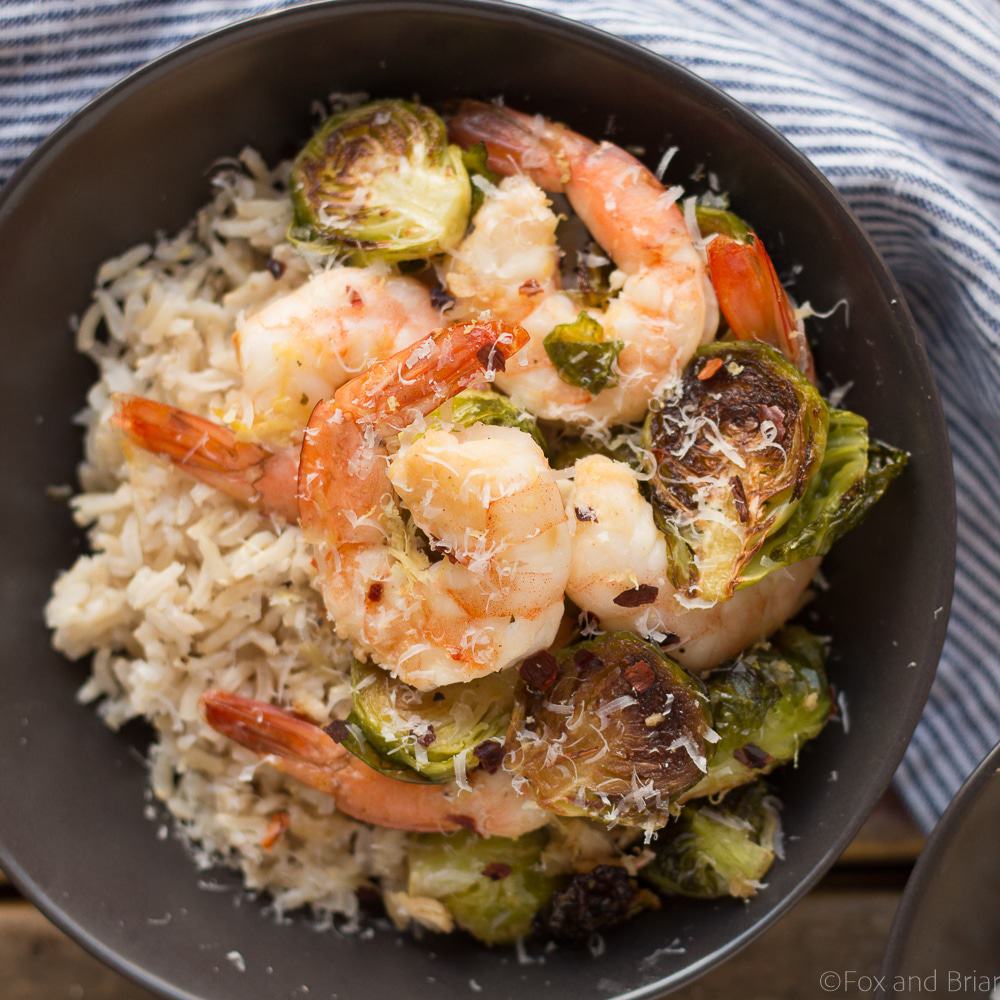 Oh hey – Happy Easy Dinner Monday! That isn't really a holiday, I just made it up. But I figure if there is ever a day of the week you need an easy dinner, it is Monday. You all know I love a quick and easy dinner, and that frozen shrimp are my go-to protein for fast dinners. That is because 1.) They thaw out quickly – no need to remember to pull them out of the freezer in the morning. and 2.) They cook quickly – like 5 minutes fast.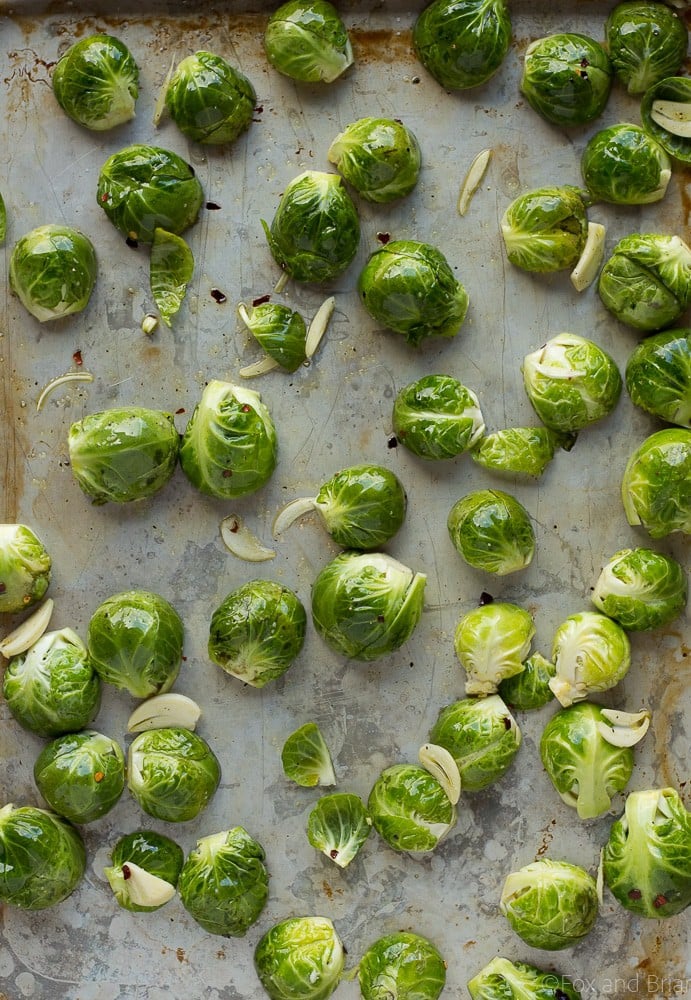 This is a wintery variation of the Roasted Shrimp and Asparagus that I shared in the spring. Brussels sprouts are so delicious when they are tossed with olive oil and sliced garlic and then roasted.  I like to slice them in half and place the cut side down on the baking sheet so they get nice and caramelized.  The brussels sprouts take longer than the shrimp to cook, so in the meantime the shrimp get a quick marinade with lemon zest, olive oil, salt and pepper.  After the sprouts have been roasting for about 15 minutes, the shrimp join them for the final few minutes of roasting.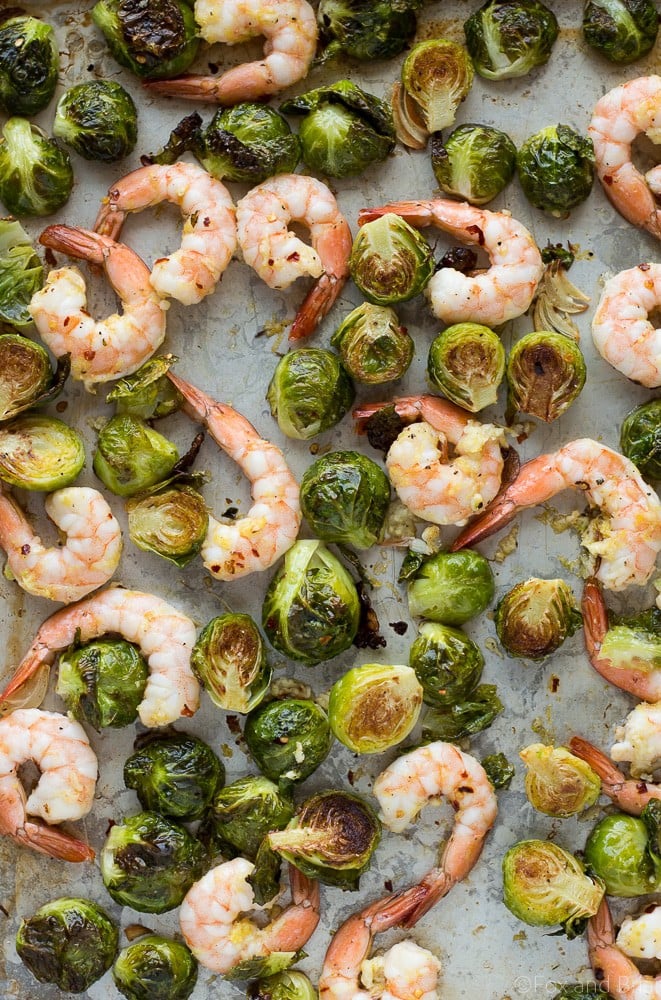 Shrimp cook very quickly, and overcooking them will make them rubbery and just generally not appetizing.  But the nice thing about them is you can tell they are done when they turn from grey to pink.  I normally use quite large shrimp, 21-24 count per pound, and they usually take about 5 minutes to cook.  Cooking time will vary depending on the size you use, so just keep a close eye on them.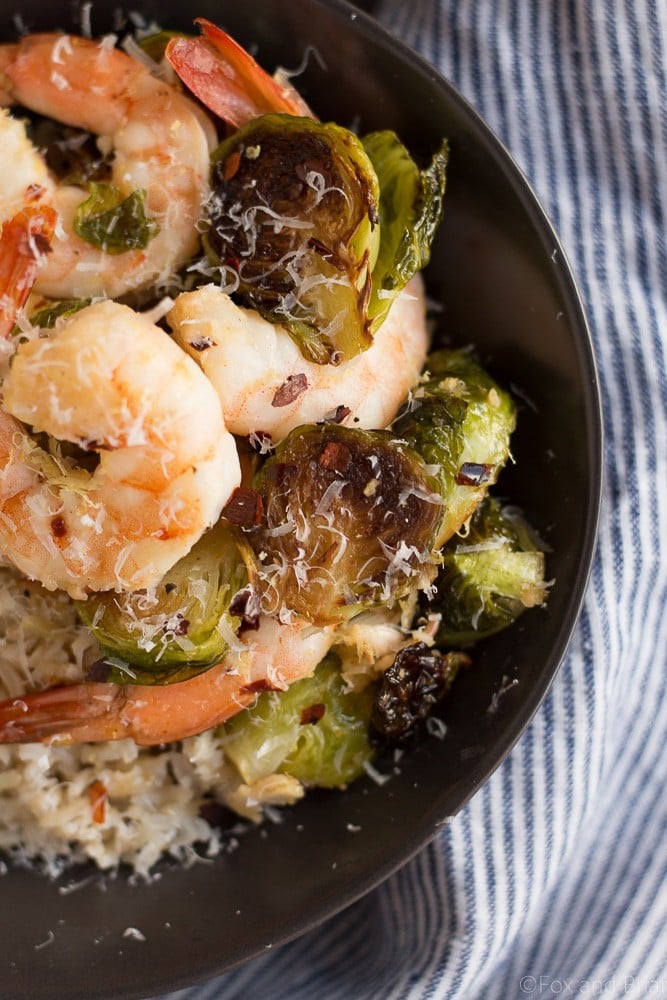 After they come out of the oven, I like to give them a dusting of parmesan cheese, squeeze some lemon juice over them and serve with rice. This is one of my favorite weeknight dinners because it is so fast, healthy and delicious.  Perfect for a Monday, right?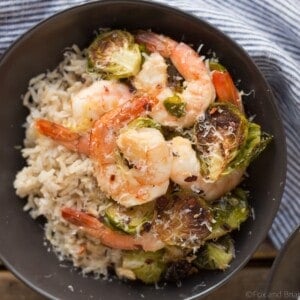 Print
Roasted Shrimp and Brussels Sprouts
Yield 4 servings
Ingredients
1 pound Brussels sprouts, trimmed and cut in half
3/4 pound shrimp, peeled, with tails on
4 Tablespoons olive oil, divided
4 garlic cloves, divided, 2 sliced and 2 minced
1 lemon, zested and sliced
parmesan cheese for topping (about one ounce)
pinch red chili flakes
salt to taste
pepper to taste
Instructions
Preheat oven to 425
In a small bowl, combine shrimp, 1 tablespoon of olive oil, the zest of one lemon, the minced garlic, a pinch or red chili flakes, salt and pepper.  Stir to combine and set aside to marinade for 15-20 minutes.
While shrimp are marinating,  toss the brussels sprouts with 3 tablespoons of olive oil, the sliced garlic, a pinch or red chili flakes, salt and pepper on a large sheet pan.  Make sure sprouts are completely coated.  Turn them so that the flat sides are facing down.  Roast for 15 minutes.
Remove from oven and use a spatula to turn the brussels sprouts.  Pour the shrimp and marinade onto the sheet pan and stir to coat everything in the marinade.  Arrange everything in a single layer. Return to the oven and roast for about 5 more minutes, or until shrimp are cooked through.
When done, remove from oven and squeeze 1-2 lemon slices over shrimp and brussels sprouts, then grate parmesan cheese over everything.  Serve with more lemon slices.
Courses Dinner
Adapted from Roasted Shrimp and Asparagus
If you make this recipe don't forget to tag it @foxandbriar and #foxandbriar on instagram and facebook! I really love to see what you make and you may be featured in our weekly Reader Feature!