How to spend a 3 day weekend in San Francisco – the best places to eat and the best things to see and do!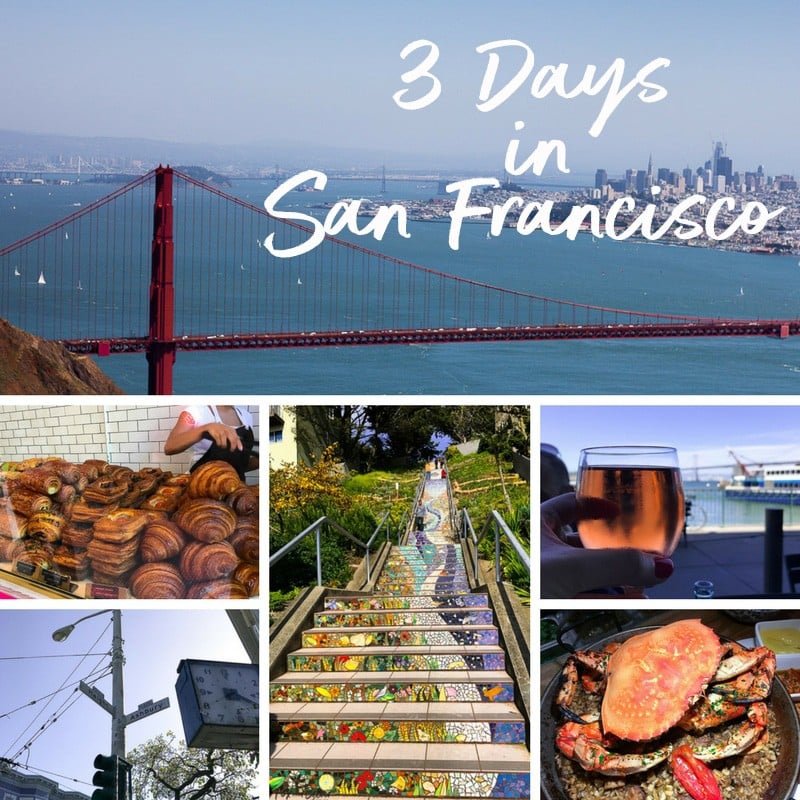 Welcome to our next installment of The Ultimate Weekend Guide! This month we are talking about what to do in San Francisco. I have been wanting to visit San Francisco FOREVER, and we finally got it together and went for a long weekend. One thing I love about San Fran is that it is such a distinctive city. So many cities these days all look alike, and San Francisco maintains its own unique culture. So many of the buildings have those iconic bay windows, and there are actually trolleys! Not to mention fantastic food, beautiful parks and must see landmarks (Golden Gate Bridge, anyone?). Here is how we spent our weekend, and I can honestly say I think we hit all the highlights.
If you just want a few quick recommendations, here is what I suggest based on my experience – for more details, continue to read to see everything that we did on our 3 day weekend in San Francisco.
TOP RECOMMENDATIONS FOR WHAT TO SEE IN SAN FRANCISCO: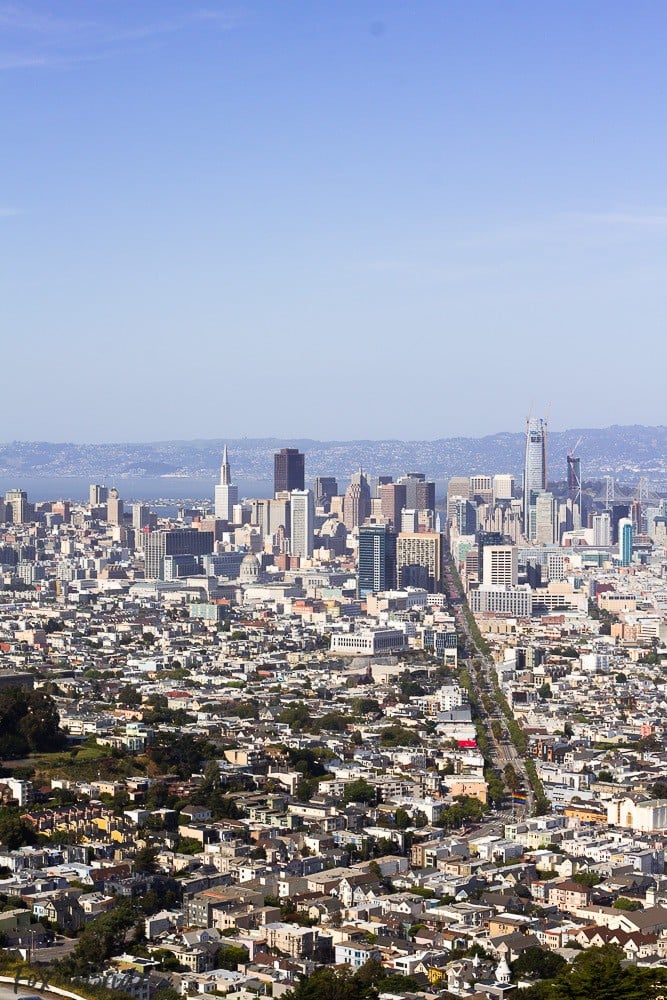 TOP RESTAURANT RECOMMENDATIONS IN SAN FRANCISCO:
TIP: Always make reservations before you go!
WHERE TO STAY IN SAN FRANCISCO:
We stayed at The Alise Hotel which was quite fancy and in a great location as far as being close to most of the things we wanted to do. One thing to note is that although this hotel is technically in the Nob Hill Neighborhood, it is right on the border of the seedy Tenderloin District, which is an area known for its higher crime rate and drug use. We didn't have any problems, but be aware that San Francisco in general has a huge problem with homelessness and this is something that you will notice in the city.
DAY 1:
After checking into our hotel, we walked to the Ferry Building, stopping to see Union Square on the way. Union Square was more of a pass through attraction for me, so I was glad that we could see it on the way to something else. Once at the Ferry Building, we had lunch at Hog Island Oyster Co. – the food was fabulous and we were able to sit outside on a nice day with a view of the Bay Bridge.
After lunch, we walked through the Ferry Building, which reminded me of a smaller version of Chelsea Market in NYC. There are many shops and restaurants, including a small Heath Ceramics. But we are going to the big Heath location tomorrow, so don't spend too much time here!
After touring the Ferry Building, we decided to head back to the hotel for a rest. We hopped on a trolley for that authentic San Francisco experience!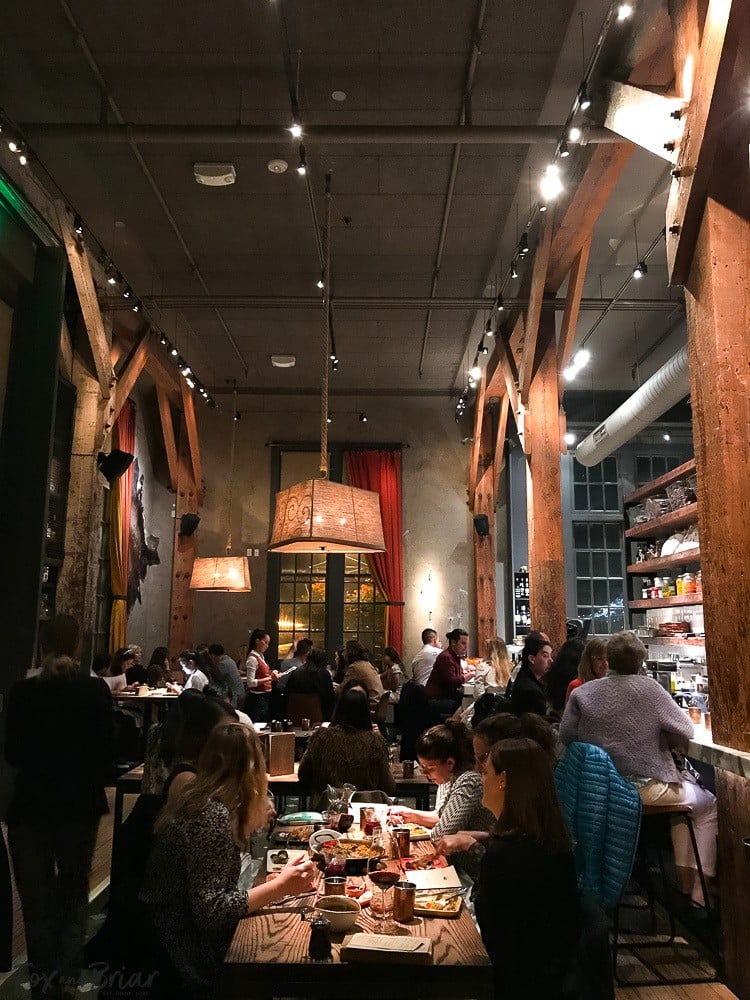 For dinner that evening, we went to Coqueta, a tapas restaurant back at the Ferry building. Everything about this place was amazing and I highly recommend it! Be sure to make reservations before you go. I usually use Open Table to make reservations BEFORE I go on a trip. One restaurant I would have loved to check out was Liholiho Yacht Club, however there was no availability even when I tried to make a reservation several weeks in advance. So it is always best to make your reservations as early as possible!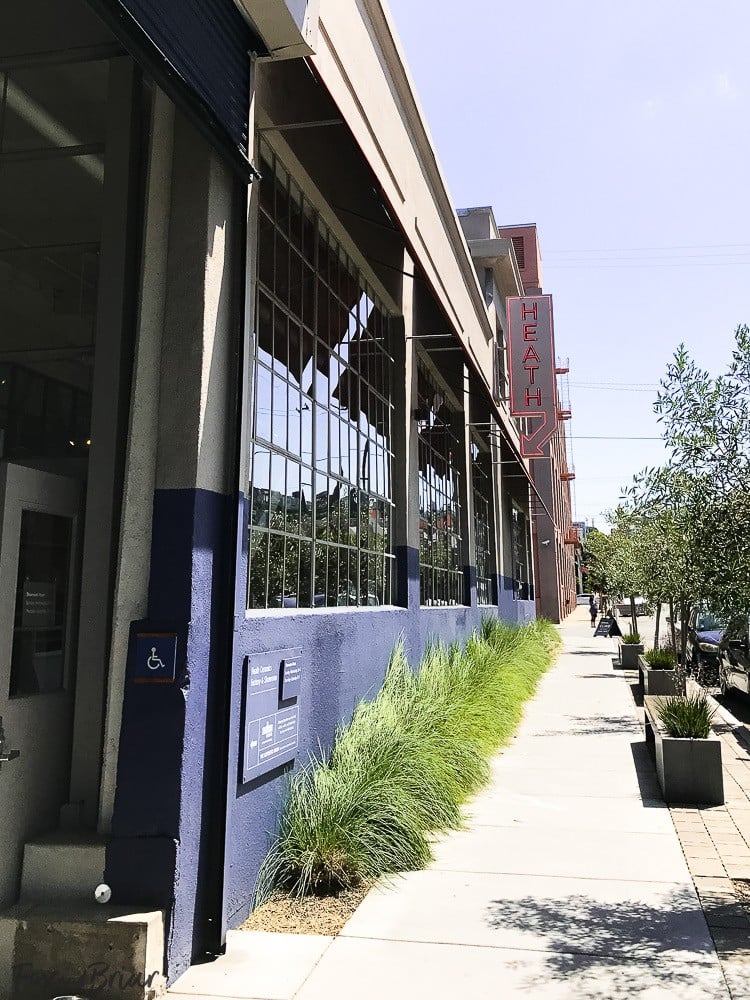 DAY 2:
In the morning, we walked over to MyMy Coffee Shop for breakfast. This is not a fancy place, but the food was decent. One thing I liked about it is that for a table for two, the line moved very quickly, although parties of more than two seemed to wait much longer.
After breakfast, we took an Uber to Heath Ceramics and Tartine Manufactory in the Mission. We just happened to walk in when a tour of the factory was starting, which was free! Heath Ceramics is a beloved ceramics company that makes beautiful dinnerware and tiles. I really enjoyed the tour, and the retail and factory space is beautiful. I picked up a few plates to use in my photos.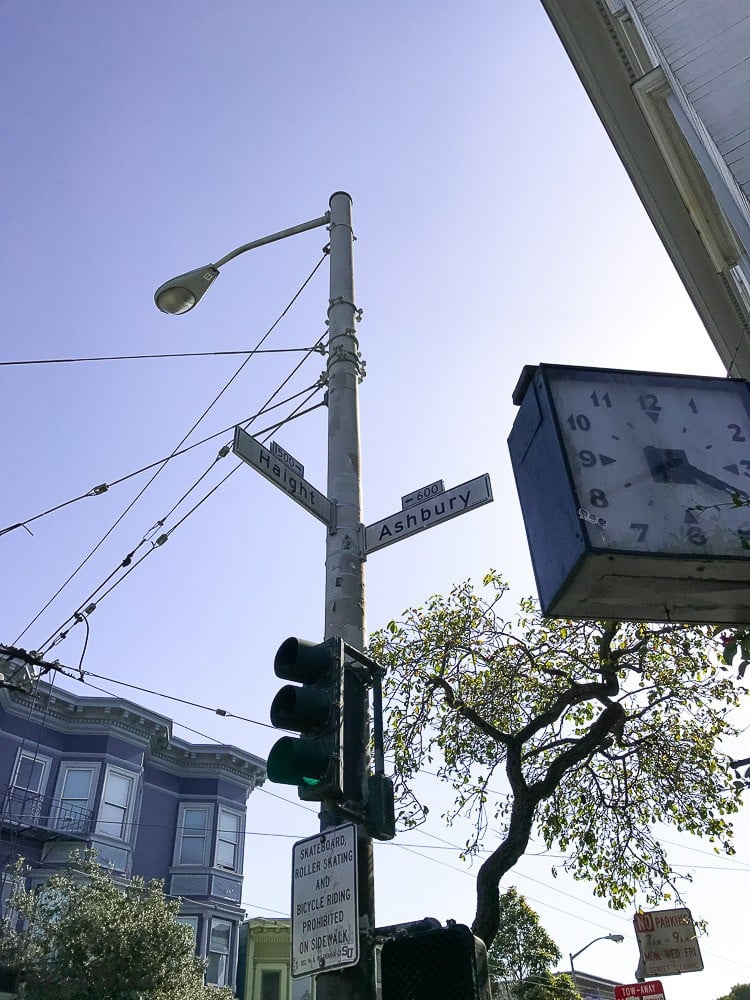 After we finished at Heath, we walked to Mission Dolores Park which has an expansive view of the city. It seemed that the entire city of San Francisco was at the park. Walking there gave us a chance to explore the Mission neighborhood, and after stopping at the park we walked to the Castro neighborhood. I personally wasn't a fan of the Mission neighborhood, although many people enjoy it and it is famous for its many murals.
After having lunch at Finn Town in the Castro, we took an Uber to Haight-Ashbury, the famous neighborhood that was the center of the hippie movement. Although I'm sure this neighborhood was vibrant and unique at one point, it seems to have become more of a tourist trap these days. We walked through the neighborhood and I snapped a photo of the iconic street signs – there was a group youths (seriously I could not think of a word to describe them that didn't make me sound like an old lady)  across the street that would cheer/yell every time a tourist took a photo of the sign 😂. That was enough for me, so we walked to Golden Gate Park. Golden Gate Park is huge, lush and gorgeous! Definitely worth checking out if you have time.
For dinner we went to Bellota – yes, another tapas restaurant. This restaurant was lively and we sat at the chef's counter. This allowed us to watch the chef prepare the famous paella and even chat with him a bit. We ordered the most amazing crab paella – it was really a show stopper and so delicious!
DAY 3:
For our last day, we decided to rent a car so we could visit some of the further away attractions. First we drove to Devil's Teeth Baking Company and stood in a long line to order the Special Breakfast Sandwich and since it was Sunday we also were able to order some beignets, which are served hot and fresh only on Sundays. Despite not being fans of waiting in line, we thought the food was delicious and worth the wait. One thing to note is that there really isn't much seating here, so most people sit on the benches outside to eat their food. After eating, we walked a few blocks to the beach to see the ocean.
Then it was time to see the Main Attraction – the Golden Gate Bridge! We drove across the bridge to the Sausalito side – the most epic view of the Golden Gate Bridge was from Battery Spencer. IMPORTANT  NOTE – there is NO parking for this. My husband dropped me off and drove up the road, then came back and picked me up. It did seem that you could park somewhere below and hike up to the bridge. The benefit of no parking is that the viewpoint wasn't very crowded. You can also drive further up the road for a view of the whole bridge from further away. You may be able to pull over and park on the side of the road for a photo op.  Afterwards, we drove to Fort Baker, for another view of the bridge, this time below. This was also an uncrowded area. There is a marina here and even a little dive bar with a tiny deck, the Travis Marina Bar. Part of the deck has a partial view of the bridge – why they don't take better advantage of their amazing view is beyond me. But I had a glass of wine for $7 and drank it while viewing the Golden Gate Bridge, so I won't complain!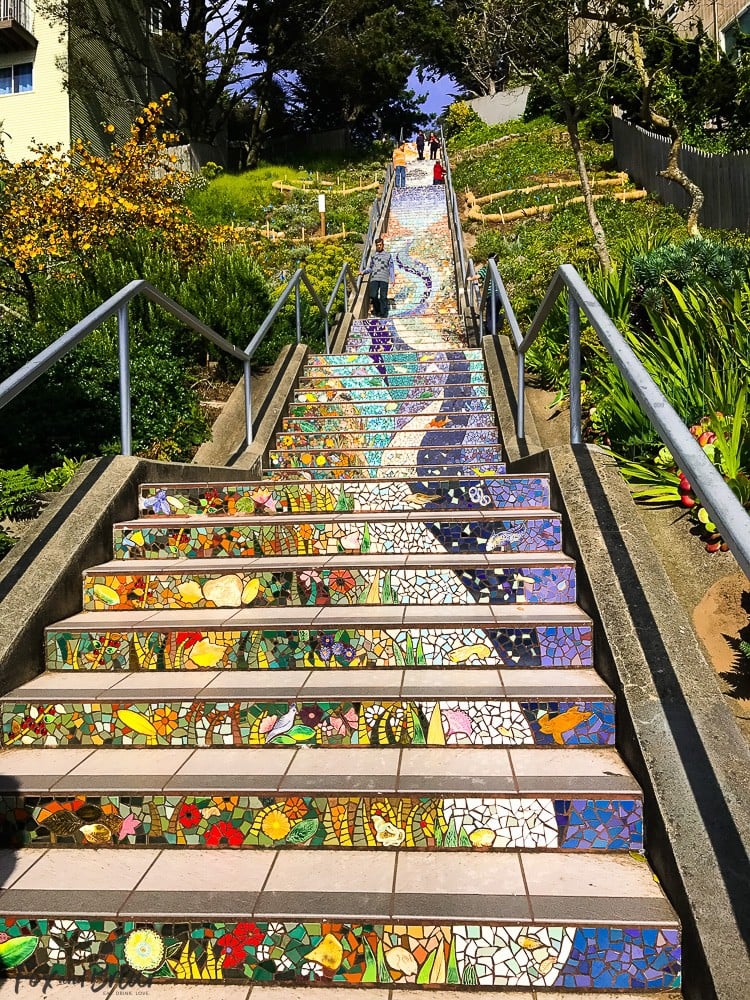 We then drove to Twin Peaks for another great view of the city, then over to see the 16th Avenue Tiled Steps. You may have seen these gorgeous steps on Pinterest. Not only is the mosaic work something to see, but when you climb the steps you get a great view of the city. After climbing the steps, if you cross the street and walk up another set of steps you will be rewarded with an even better view of the city!
For dinner that night we went to Trestle, which is a creative restaurant that serves a prix fixe meal with 2 choices for appetizer, entree and dessert, with an option to add a pasta dish for $10. The food is seasonal and really fantastic. We didn't have a bad meal in San Francisco, and this may have been our favorite!
With just a little time in the morning before heading to the airport, we walked over to the famous Mr. Holmes Bakehouse, known for their "Cruffin" (croissant muffin). Luckily since it was Monday we didn't have to wait in line, but if you go on a weekend get there early to ensure they don't run out of cruffins – and expect to wait in line. We got a box to go, then went back to our hotel to eat them as Mr. Holmes doesn't have any seating. Then it was time to go home!
There are so many things to do, see and eat in San Francisco that it is impossible to do all of them, but I was so happy with our trip.  Have you been to San Francisco before?  What are your favorite things to do, and did I miss anything?
Did you like this post?  If so, please share it!  Check out my other travel guides HERE.