This Asparagus and Morel Pizza with Garlic Confit is the perfect way to use your spring produce!  Garlicky and cheesy, packed full of flavor and vegetarian!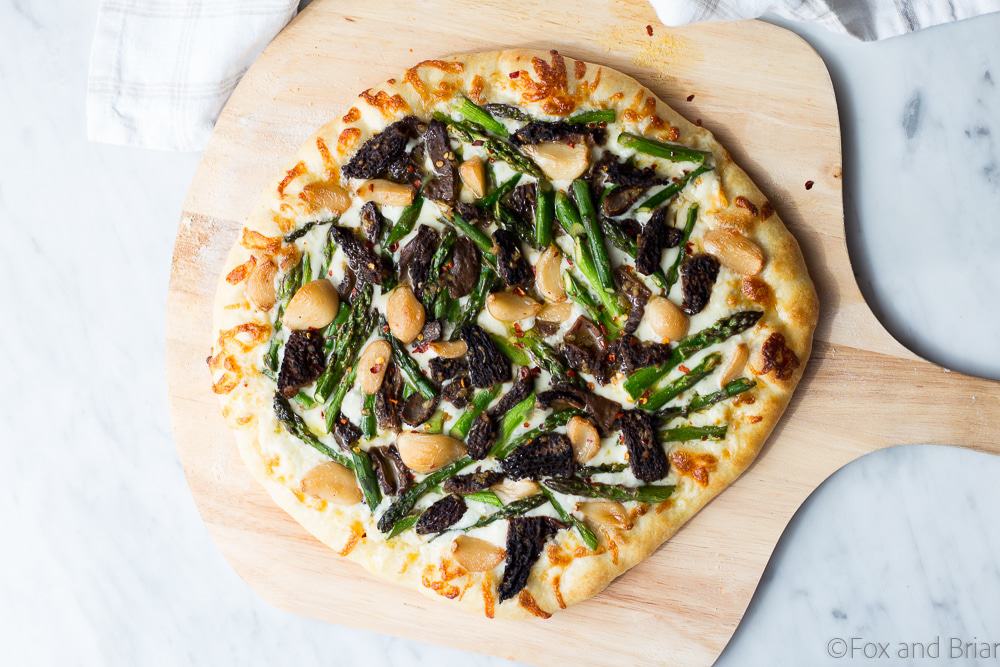 We're getting fancy up in here.  Also sorry for saying "Up in here", I'll try not to ever do that again.  And I know I am pushing it with the seasonal appropriateness of this, asparagus and morels being spring produce and us now officially in SUMMERTIME.  But to be fair, I started developing this recipe in the Spring AND I did see asparagus at the farmers market this weekend, so I'm not totally off.  This Asparagus and Morel Pizza with Garlic Confit was born because I had some beautiful spring produce that I needed to use, and pizza was the first thing that sprang to mind.  Isn't it always?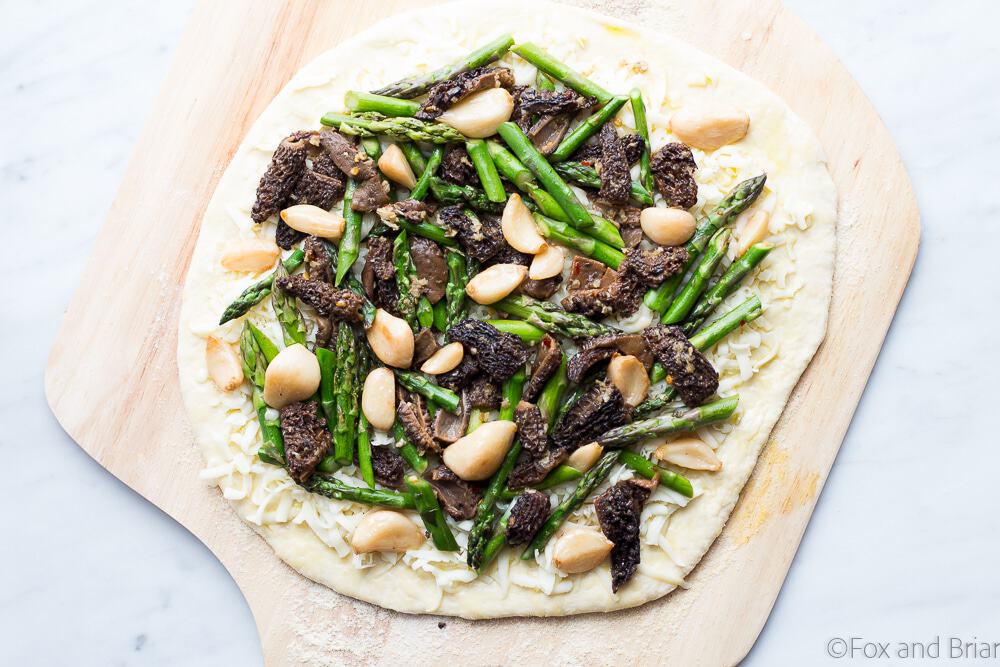 But what about that "garlic confit"?  That sounds fancy, right?  Everything sounds fancier in French.  "Confit" just means "cooked slowly in its own fat" – usually it is a method used for duck, but sometimes other meats.  In this case we are slow cooking the garlic in olive oil.  It will flavor the oil with garlic and make the garlic cloves tender and mild.  Then we use the same oil on the pizza, because this has an olive oil base instead of a red sauce.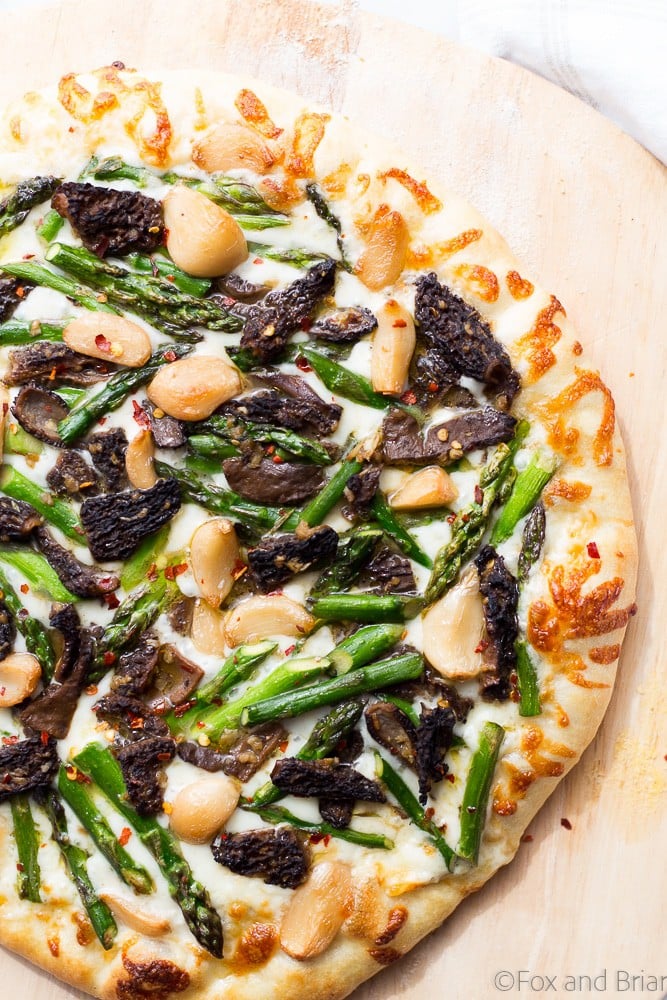 Ok, so when it comes to pizza making at home, there are a few things we need to talk about.  A few years ago we got a pizza stone (affiliate) as a wedding gift (Thanks Sergei and Jai!) and I seriously don't ever want to make pizza without it!  You CAN make pizza in the oven without it, but you won't get the same results.  If you make pizza at home it is a great thing to have and I really recommend it.  And if you use a pizza stone, you are going to be heating it in the oven so it will be SUPER HOT.  Which means you need a pizza peel (affiliate) to transfer your pizza onto it.  It may seem like a useless tool, but it is pretty hard to transfer the pizza onto the hot stone and nothing else really works.  I have read that some people use the back of a cookie sheet, but I have never done that myself.  I strongly recommend getting a pizza stone and peel, once you do you will probably never order pizza delivery again!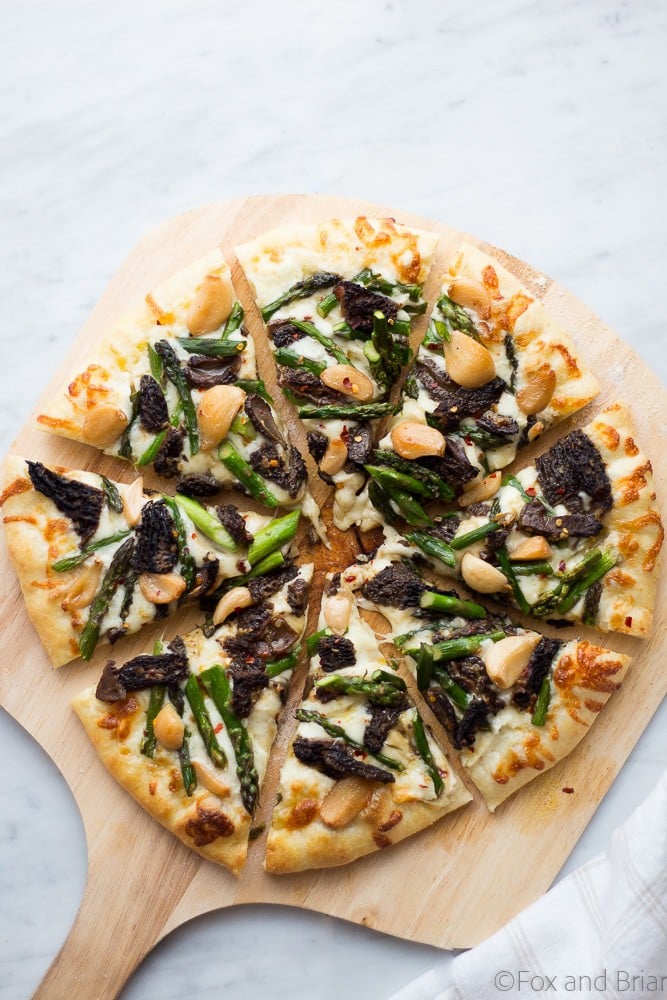 Now, I will admit that it can be a little intimidating working with the hot pizza stone and transferring the pizza from the pizza peel to the pizza stone.  Usually it is a two person job, and it takes a little practice but I can offer you a few tips to help make your experience go smoothly.  First of all, cover your pizza peel generously with cornmeal.  I have a bag of cornmeal in my pantry that I use almost exclusively for this purpose, since I don't cook with cornmeal much.  You can also use flour, but cornmeal works better, and then you don't have that floury taste.  The cornmeal helps keep the dough from sticking (dough stuck to the pizza peel can spell disaster when transferring to the stone) and also helps dough slide from the peel to the stone a little easier.    When you are shaking the pizza dough onto the stone, you need to be quick and deliberate.  If you are nervous, it helps to have someone standing by with a spatula or another heat proof tool to help guide the pizza into place.   Once the dough hits the hot stone it is pretty much set, so you can't move it. When it is time to remove the pizza, sometimes it helps to use a spatula to help get it back on the peel.  If you are very fast and well-practiced, you may not need the help anymore!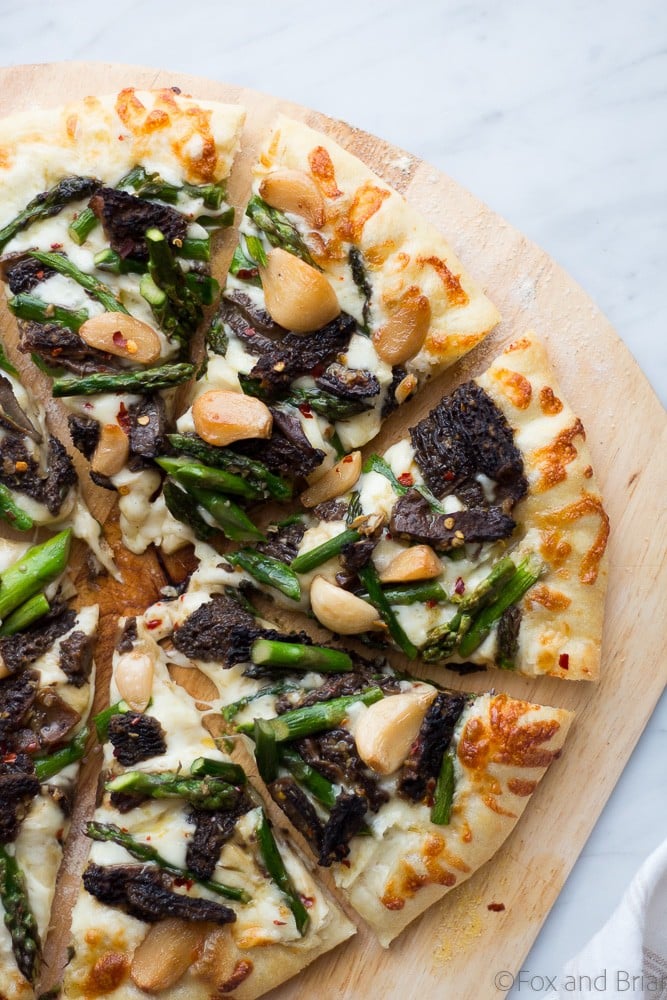 This Asparagus and Morel Pizza with Garlic Confit is the perfect way to use your Spring farmers market produce!
Tools I used for this Recipe…

You may also like….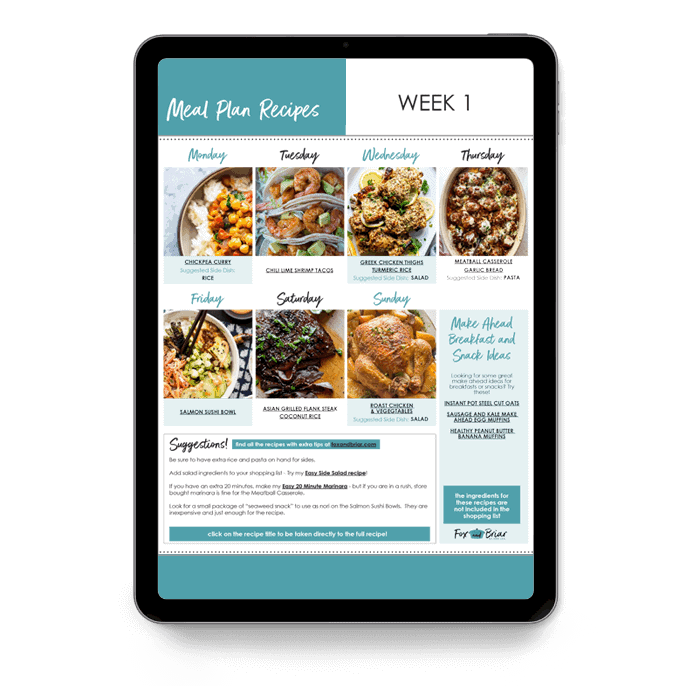 Asparagus and Morel Pizza with Garlic Confit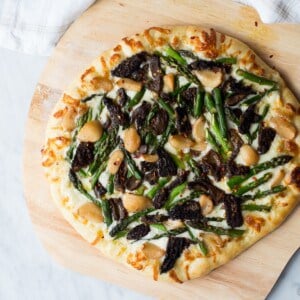 This Asparagus and Morel Pizza with Garlic Confit is the perfect way to use your spring produce! Garlicky and cheesey, packed full of flavor and vegetarian!
Ingredients
For Pizza:
16

ounces

Pizza Dough

enough for one 12 inch pizza (store bought or make your own)

1

pound

asparagus

ends trimmed and cut into and a half inch pieces

1

pint

morel mushrooms

stems removed and cut into bite sized pieces

4

garlic cloves

minced

2

cups

shredded mozzarella cheese

1

teaspoon

red pepper flakes

plus more for topping (or to taste)

truffle salt*

can use plain kosher salt if you don't have truffle salt

Garlic Confit

see below

cornmeal

for pizza peel
For The Garlic Confit:
1

head

of garlic

cloves separated and peeled (about 24 whole garlic cloves

1/4

cup

olive oil

or more, enough to cover garlic
Instructions
To Make The Garlic Confit:
Place garlic cloves in a small saucepan and cover with olive oil. Garlic cloves should be submerged.

Bring oil to a simmer over medium heat but do not boil. As soon as it comes to a simmer, reduce heat as low as possible and cook for about

45 minutes

, until garlic is soft and tender.

Remove garlic with a slotted spoon and set aside. Save oil for use on the pizza.
To Make The Pizza:
Place oven rack in the very top position of the oven and place pizza stone on it. Heat oven to 550°F.

If refrigerated, set pizza dough on the counter for at least

half an hour

.

Take one tablespoon of the oil from the garlic confit and place in a large sauté pan with the 4 cloves of minced garlic and the red pepper flakes. Heat until fragrant, then add the morel mushrooms and a good dash of the truffle salt and sauté for a few minutes. Add the asparagus and another dash of salt and cook for

3

-

4

more minutes, until bright green and still crisp.

Remove from heat and taste mixture, adjust seasoning if needed.

Spread cornmeal on to pizza peel. Use your hands to work the pizza dough ball into a disc, when it gets to be 6-8 inches across, place on the pizza peel and continue to spread into a 12 inch disc. If the dough starts to spring back and gets to difficult to work with, let it sit for

10

-

15

minutes and it should relax. When pizza dough has been shaped into a 12 inch flat disc, give the pizza peel a shake to make sure the dough is not sticking to it.

Use a pastry brush to brush one tablespoon of the garlic confit oil all over the crust. Spread the shredded cheese all over the dough, leaving about an inch of space all around the outside edge of the crust. Cover with the morel/asparagus mixture. Arrange the garlic confit cloves on top. Sprinkle with a little more truffle salt and pinch of red pepper flakes.

Give the pizza peel another shake to make sure the dough is not sticking in any places.

Now comes the tricky part! Transferring the pizza from the peel to the hot pizza stone. This is why you want to make sure your dough isn't sticking to the peel. Open the oven and pull the rack out about halfway so that you have easier access to the hot stone. Quickly, carefully and deliberately, shake the pizza from the peel onto the hot stone, then close the oven. It helps to have two people involved, and for the second person to have a spatula or other heat proof utensil to help guide the pizza onto the stone it needed.

Cook for

8

-

10

minutes, until crust is golden and cheese is bubbly. Carefully transfer pizza back to pizza peel to remove from oven (again, the second person standing nearby with a spatula is helpful for this).
Notes
*Use truffle salt if at all possible, the flavor is amazing! But if you can't find it, regular kosher salt will work.
Nutrition
Calories:
321
kcal
|
Carbohydrates:
35
g
|
Protein:
14
g
|
Fat:
15
g
|
Saturated Fat:
5
g
|
Cholesterol:
22
mg
|
Sodium:
604
mg
|
Potassium:
404
mg
|
Fiber:
4
g
|
Sugar:
5
g
|
Vitamin A:
690
IU
|
Vitamin C:
4.7
mg
|
Calcium:
189
mg
|
Iron:
10.2
mg
Nutrition information is automatically calculated, so should only be used as an approximation.
Did you like this recipe?
Please comment, rate and share! And don't forget to tag me on Instagram @foxandbriar AND #foxandbriar so I can see what you made!
Garlic Confit method from The Kitchn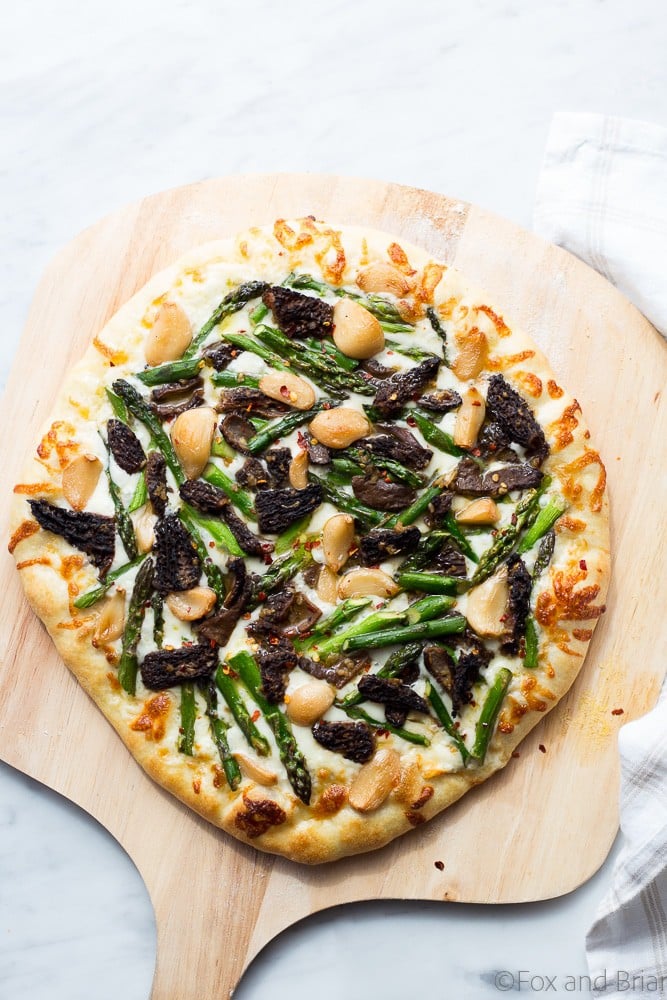 Disclosure: This post contains affiliate links, which means that if you purchase the items I recommend through the links I provide, I get a small commission. For more info, please see my disclosure policy. Thanks for supporting Fox and Briar!