Chipotle Lime Fish Tacos with crunchy jalapeno lime slaw and creamy avocado crema are an easy and flavorful weeknight dinner!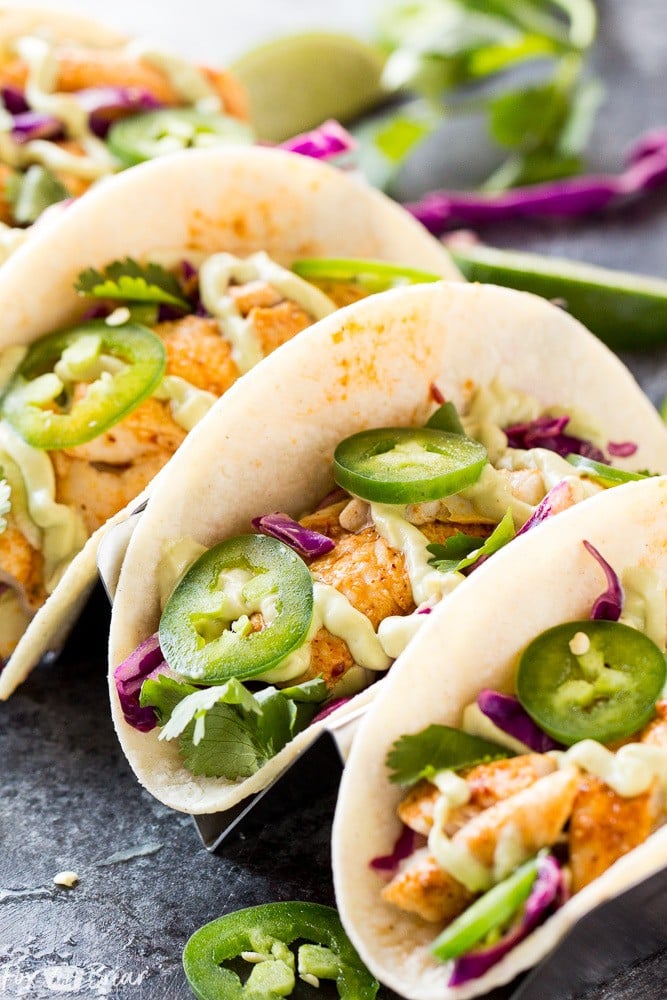 Hey everyone!  Here I am, back with another taco recipe.  I just can't stop. #sorrynotsorry – I don't think you can stay mad at me because I am giving you Chipotle Lime Fish Tacos with Jalapeno Lime Slaw and Avocado Crema – I mean, how can you be mad about that?


Since you guys love Chili Lime Shrimp Tacos and Honey Lime Steak Tacos so much, I am bringing you another riff – still spicy and zesty but with the added flavor boost of chipotle peppers.

The marinade for these is slightly more labor intensive than the Chili Lime Shrimp Tacos – and really, only slightly.   I decided to pulse it all together in a food processor to make a smooth marinade.  The chipotle pepper really adds another dimension of flavor, which the fish needs.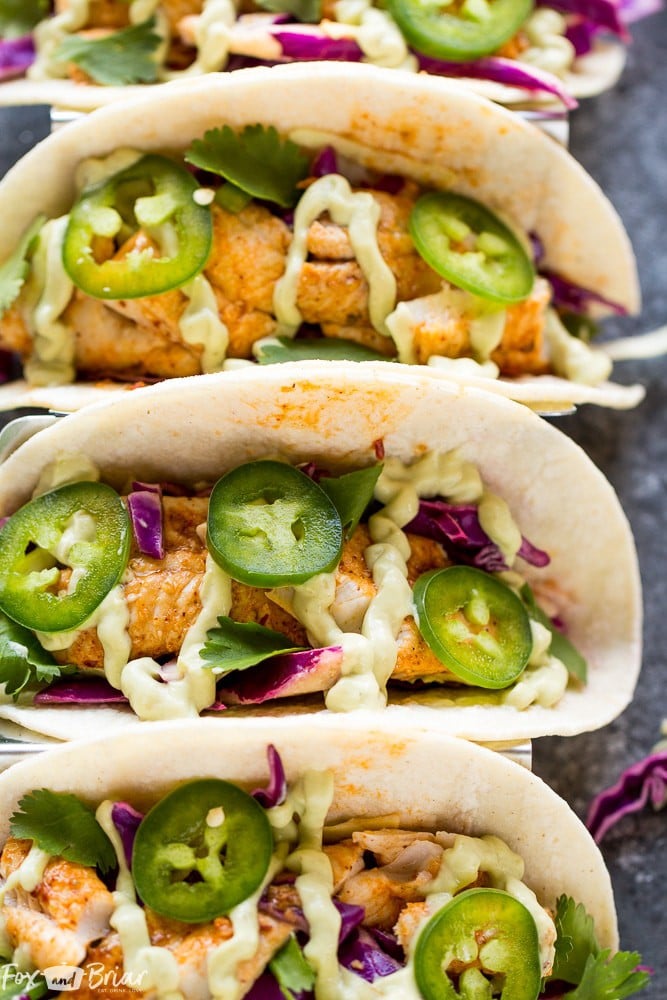 Then you have the contrasting textures of the crunchy lime slaw, the creamy avocado crema.  You can throw some jalapeno on top for some extra heat – I also like to put a little salsa on there for extra flavor, and drizzle it with more lime.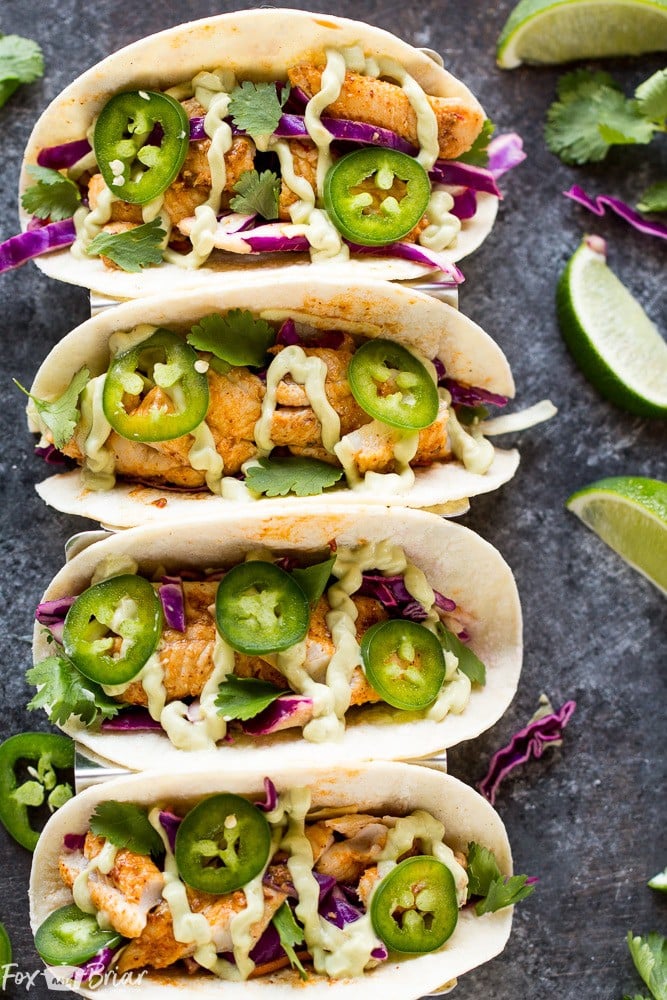 Make these easy Chipotle Lime Fish Tacos for Cinco de Mayo or your next Taco Tuesday – or Taco Thursday, or really, any day.  Because tacos shouldn't be restricted to Tuesday, right?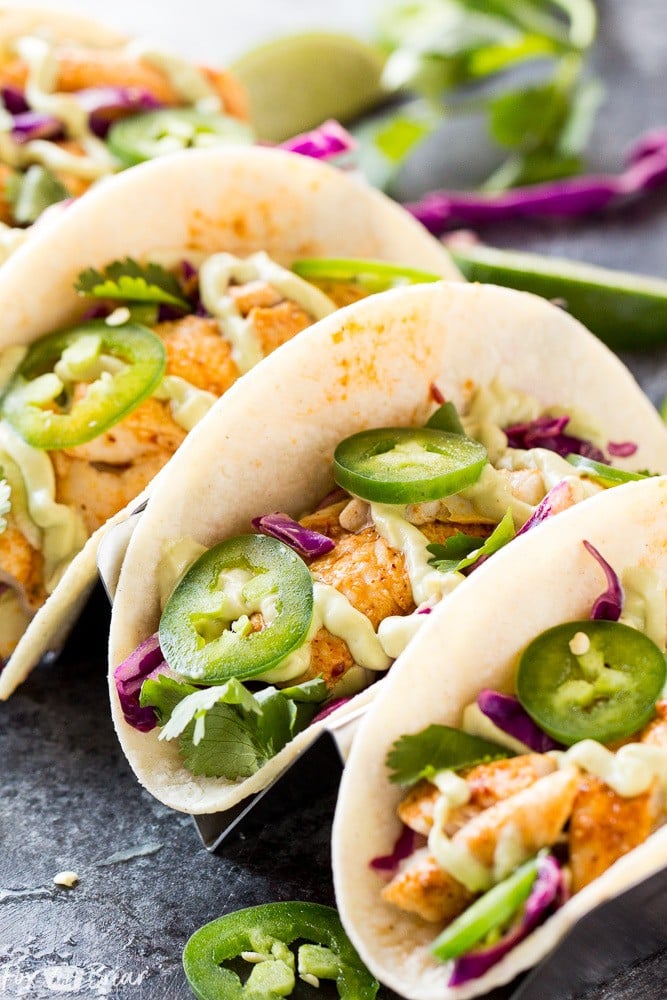 Print
Chipotle Lime Fish Tacos
Yield 8 Tacos
Ingredients
For Chipotle Lime Fish
1 pound mild white fish (such as tilapia, flounder or Dover sole)
2 tablespoons olive oil
1 lime, zested and juiced (plus more lime for serving)
4 garlic cloves, minced
1/2 teaspoon paprika
1/2 teaspoon chili powder
1/2 teaspoon kosher salt
1 chipotle pepper in adobo sauce
For Lime Slaw
4 cups sliced cabbage or slaw mix
1/2 jalapeno, diced (more or less to taste)
1 tablespoon lime juice
pinch of salt
For Avocado Crema
1 medium avocado
1/4 cup sour cream
2 tablespoons lime juice
1/4 teaspoon kosher salt
For Tacos
8 small corn tortillas
Salsa
extra lime wedges
Cilantro (optional)
Instructions
Combine the olive oil, lime zest and juice, garlic, paprika, chili powder, salt and chipotle pepper in a mini-food processor or blender and pulse until smooth.  Place fish in a large zip top bag and pour sauce over it.  Use your hands to move the fish around until fully coated in the sauce.  Allow to marinate for 15 minutes. (I don't recommend leaving the fish in the marinade much longer because the lime juice can start to break down the fish and give it a weird texture)
When ready to cook, heat a large saute pan over medium heat, add some oil to the pan to keep fish from sticking.  Sear fish on one side, 1-2 minutes, then flip and sear on the other side until cooked through  (cooking time will depend on the thickness of the fish, it is done when opaque and easily flaked with a fork.  My fish was very thin and only took 1-2 minutes per side) 
To prepare the slaw, toss together the cabbage mix, lime juice, salt and jalapeno, set aside until ready to eat.
To prepare the avocado crema, add the avocado, lime juice, sour cream and salt to a food processor, pulse until creamy.
Warm the tortillas by spraying with cooking oil and heating in a large skillet, flipping as needed, until starting to brown and crisp on both sides.
To assemble tacos, fill tortillas with some slaw and fish.  Top with avocado crema and salsa. Drizzle with lime juice and garnish with cilantro (if using, optional)  Enjoy!
Courses Dinner
Cuisine Tacos
If you make this recipe don't forget to tag it @foxandbriar and #foxandbriar on instagram and facebook! I really love to see what you make and you may be featured in our weekly Reader Feature!