This Easy Chicken Ramen can be made at home in about 30 minutes!  A flavorful broth with chicken and noodles, and don't forget the ramen egg!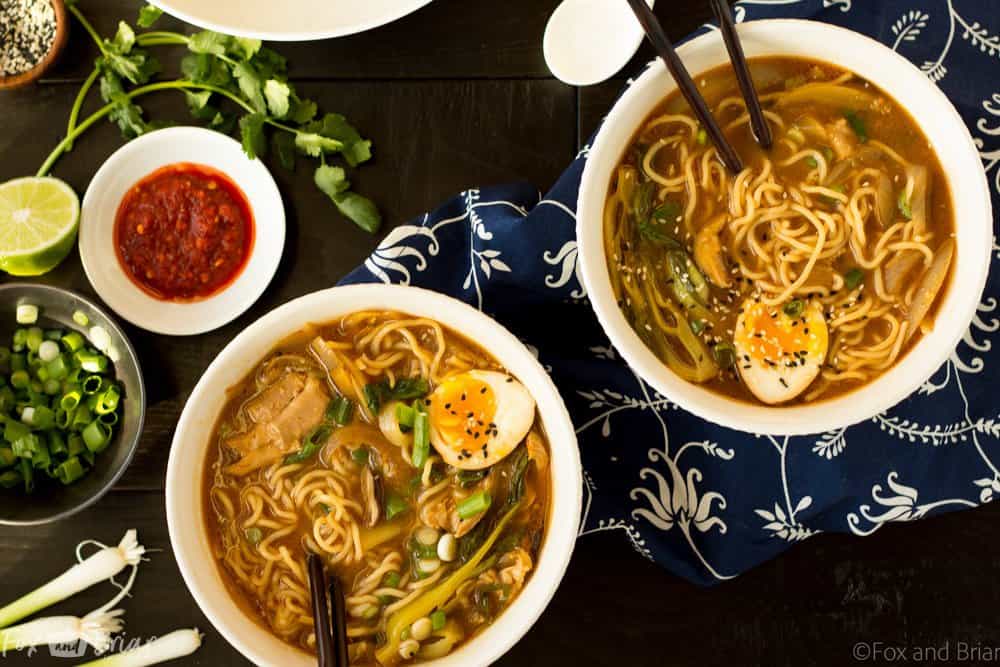 Disclosure: This post contains affiliate links, which means that if you purchase the items I recommend through the links I provide, I get a small commission at no extra cost to you. For more info, please see my disclosure policy. Thanks for supporting Fox and Briar!
Let's talk about ramen.  And I'm not talking about the ten for a dollar packs beloved by college students the world around.  I'm talking about the good stuff.  It has been all the rage for quite a few years, but for some reason I had never bothered to get myself to a ramen house for a bowl until recently when my cousins invited me to try it with them.  I had a feeling I would love it and I was not wrong.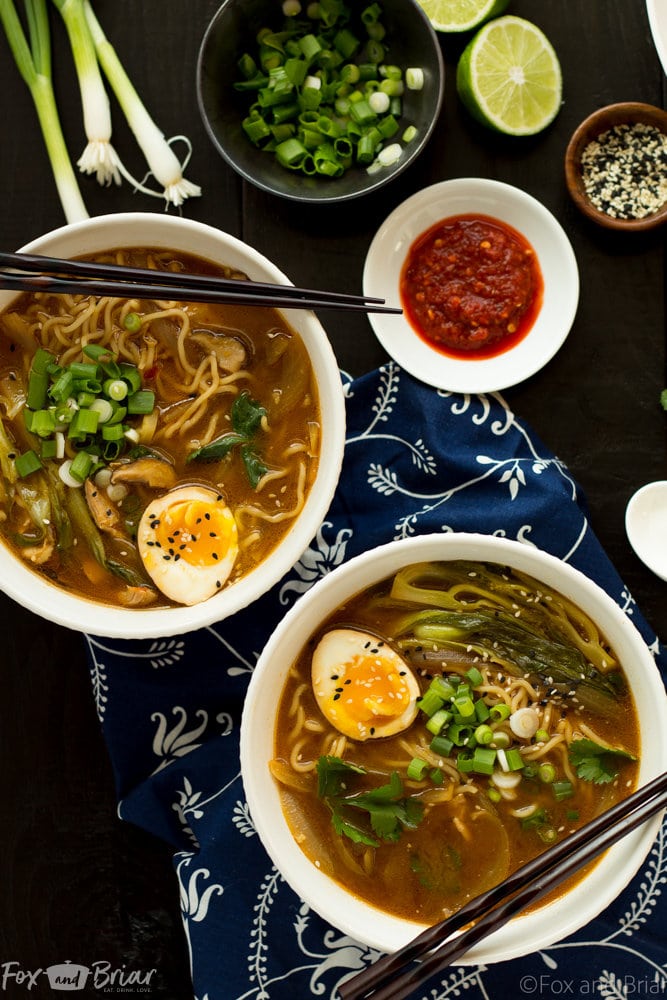 A bowl of ramen is a total flavor bomb, filled with a rich, flavorful broth, tender meat, noodles, and topped with the crowning glory if you ask for it – the ramen egg.  And there is a reason that ramen is so flavorful.  It is pretty time-consuming to make a broth that complex.  I have been craving ramen prettty much every day since the first time I had it, but there isn't a restaurant convenient to my house that serves it.  I thought about embarking on the task of making my own real, authentic ramen, but after reading a few recipes I decided that was best left for another time.  What I really wanted was to be able to whip up a super flavorful soup but in not very much time.  Oh, and I still wanted that ramen egg, it is EVERYTHING.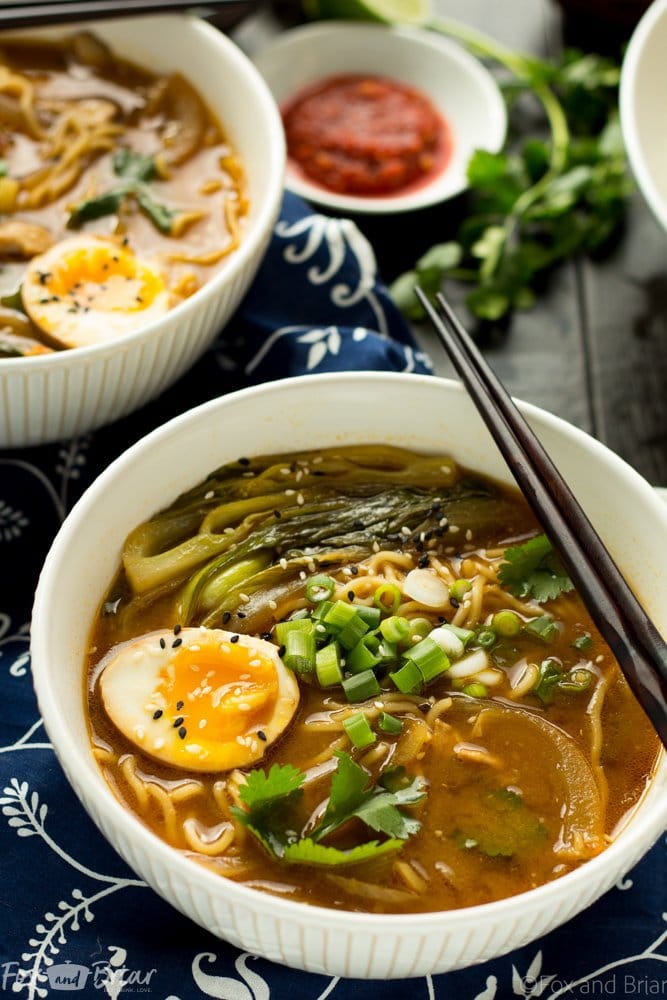 So, this is not an authentic ramen recipe.  But it is a bowl full of flavor, and you can make it in about 30 minutes.  Also I have made it four times in the past few weeks, soooo, I've been eating A LOT of it and am not sick of it yet.
This Easy Chicken Ramen is a bowl full of flavor, and you can make it in about 30 minutes.
I learned a few things while making this recipe, and the most important one is about the noodles.  I used fresh yakisoba noodles because I wanted that fresh noodle texture.  But here is the thing.  You can't just cook the noodles in the broth and call it good.  I really wanted to cook them in the soup because that makes sense and I didn't want an extra step of cooking noodles separately.  But the problem is that if you cook the noodles in the soup, they release a bunch of starch which thickens up the broth AND they start sucking up all the liquid in the soup.  Then you are left with a bunch of soggy noodles and a soup with hardly any broth.  It is not good.  I mean, it isn't bad.  I still ate it.  But it isn't ideal  Plus, if you reheat the leftovers the noodles pretty much dissolve.  Nope, best to just cook the noodles separately , then serve them individually and pour the soup over them.  Bonus points:  You are totally in control of your noodle portion.  Lots or just a few, it is your choice.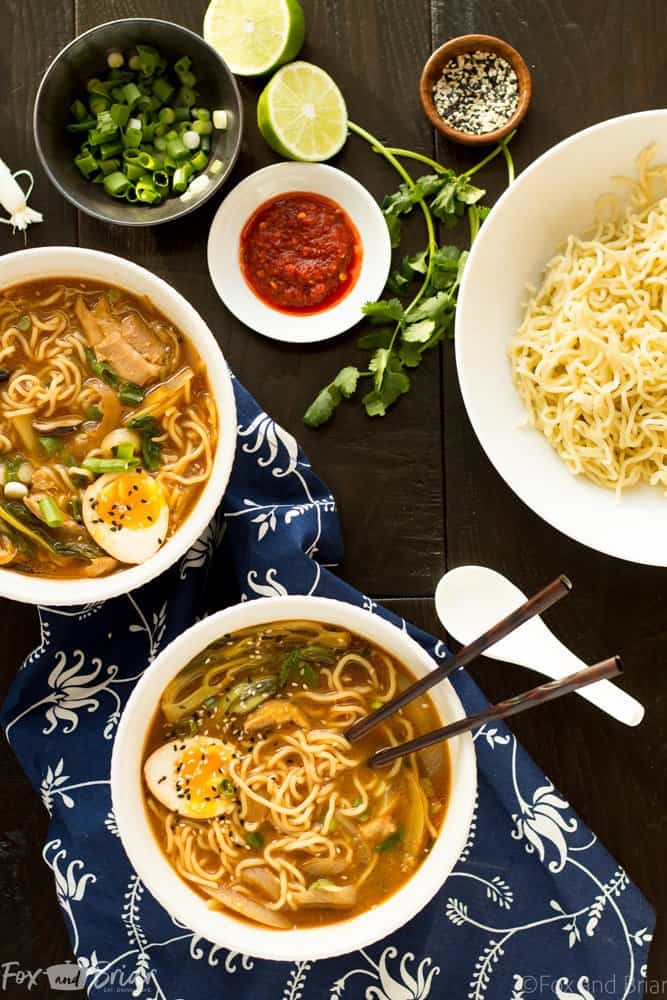 And let's talk about the ramen egg. I now have an INSTANT POT RAMEN EGG RECIPE on the blog! For stovetop directions, I followed the instructions over at Just One Cookbook  – except I subbed rice vinegar for mirin because that is what I keep on hand.  I marinated them overnight and then just reheated them in soup.  If you can't be bothered with the marinating, you can just make a soft boiled egg and skip the marinating.  Or even use a poached or fried egg!  But really, I do recommend using an egg, it just takes the whole thing up another level.  And if you happen to have the time to make the eggs the night before and marinate them, it is really good.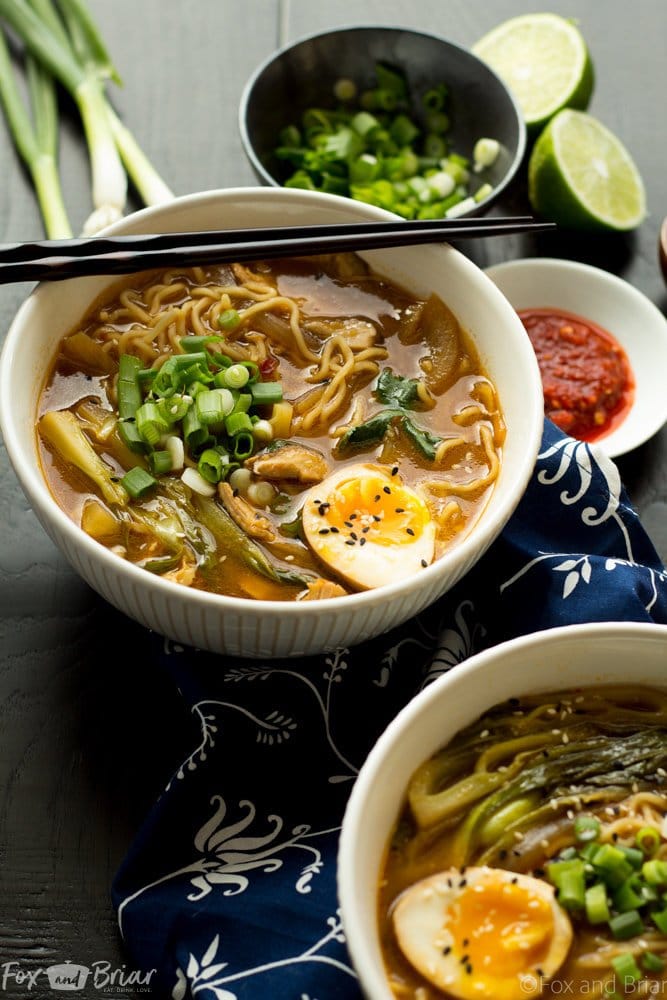 If you have an Instant Pot or electric pressure cooker, I have a recipe for the Ramen Egg in the Instant Pot HERE.  You may also like my recipe for easy chicken ramen in the instant pot – see that recipe HERE.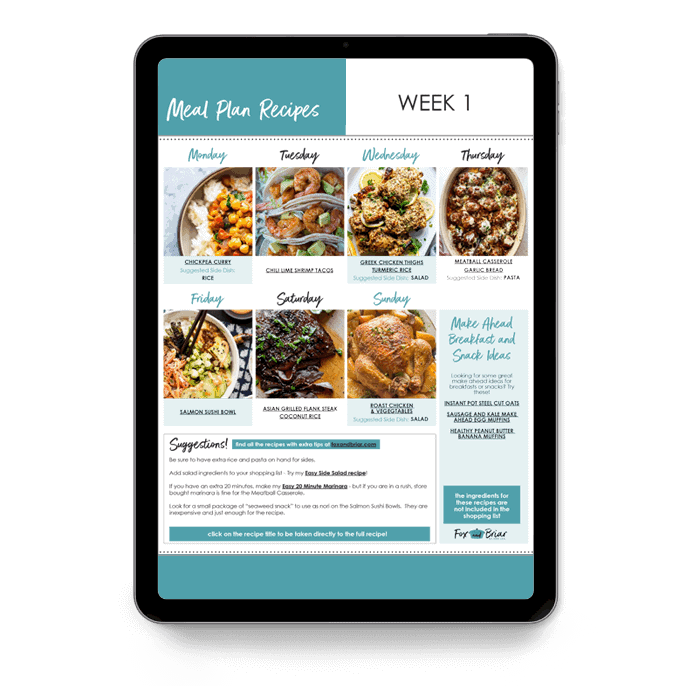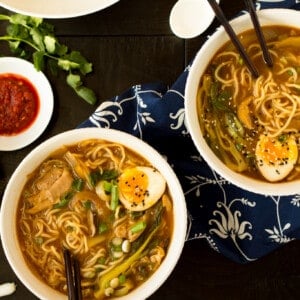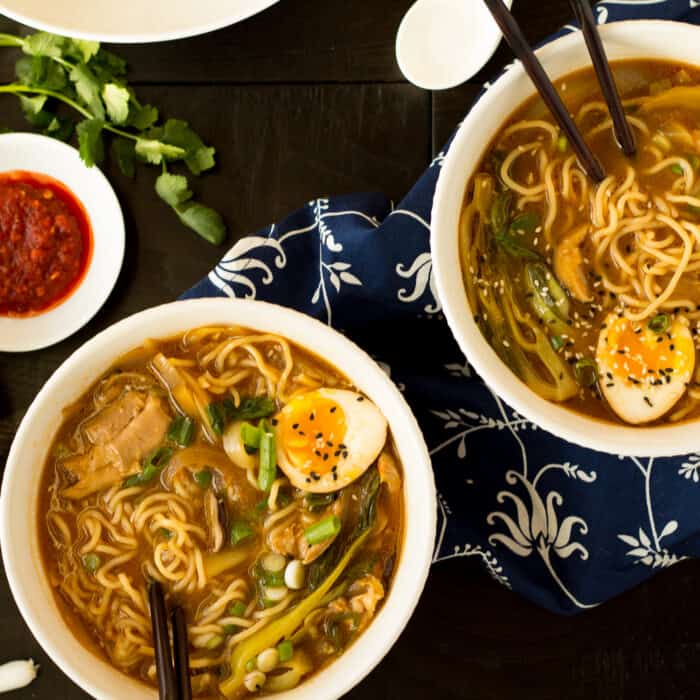 This Easy Chicken Ramen can be made at home in about 30 minutes! A flavorful broth with chicken and noodles, and don't forget the ramen egg!
Ingredients
For The Soup:
1

tablespoon

oil

1

onion

sliced

1

tablespoon

fresh grated ginger root

4

garlic cloves

pressed or finely minced

1

tablespoon

chili garlic sauce

2

tablespoons

oyster sauce

1

tablespoon

fish sauce

1/2

cup

low sodium soy sauce

1/4

cup

rice vinegar

4

ounces

shiitake mushrooms

stems removed and sliced

1/2 - 3/4

pounds

baby bok choy

sliced into quarters lengthwise

1

pound

boneless

skinless chicken thighs

4

cups

low sodium chicken broth

1

cup

water

1-2

packages

fresh yakisoba noodles*

one package is about 7 ounces. Use two packages if you like lots of noodles. Fresh noodles are usually found in the produce section of the grocery store
Additional Toppings (Optional)
sliced green onion

cilantro

sesame seeds

lime wedges
Instructions
To Prepare The Ramen Egg:
Whisk together the 1/4 cup of soy sauce, 1/4 cup of rice vinegar and 3/4 cup water, set aside.

Prepare an ice bath by filling a bowl with ice and water.

Bring a pot of water to boil (make sure there is enough water to cover the eggs). When boiling, carefully lower the eggs into the water using a slotted spoon or spider. Reduce heat if necessary to keep the water just barely boiling. Cook for

7 minutes

, then remove from pot and place eggs in the ice bath. Leave in the ice bath for

3 minutes

. Remove from ice bath and gently peel (egg will be soft). Place peeled eggs in the marinade and make sure they are completely covered with the marinade. Leave in the marinade for several hours or overnight. If keeping longer, discard the marinade and store in the refrigerator up to 3 days. Reheat the egg in the ramen broth (don't leave in the broth very long before serving or the egg will overcook).
To Prepare The Noodles:
If using fresh noodles:

Bring a pot of water to a boil. When boiling, add the noodles and simmer for

3 minutes

. Strain and rinse with cold water. Toss with just a little oil if necessary to keep them from sticking (mine already had a little oil on them, so I didn't need to). Set aside.

(If using another type of noodle, follow package instructions)
To Prepare The Soup:
Heat a large pot or dutch oven over medium high heat. Add the onion and sauté until starting to soften, about

5 minutes

. Add the sliced mushrooms and sauté for another

2

-

3

minutes. Add the garlic and ginger and stir fry for about

30 seconds

, just until fragrant so that they don't burn. Add the chicken broth and 1 cup of water, soy sauce, rice vinegar, oyster sauce, fish sauce, chili garlic sauce, stir to combine. Bring back to a simmer.

When broth reaches a simmer, add the chicken thighs. Simmer for

15

-

20

minutes until chicken is cooked through and reaches a temperature of 165°F.

Remove the chicken and shred it with two forks. Add it back to the broth along with the bok choy and cook for

3

-

5

minutes. Remove from heat and serve.
To Serve The Ramen:
In a bowl, place a serving of noodles, then pour the soup over them. Top soup with ramen egg, sliced green onions, cilantro and sesame seeds if desired.
Notes
*Keep the noodles seperate from the soup until just before serving. For leftovers, store the broth and noodles seperately.
**The egg is optional but I really recommend it. If you don't have time to marinade the egg, you can just skip the marinading step. You can also serve with a fried or poached egg if you prefer.
Nutrition
Calories:
369
kcal
|
Carbohydrates:
18
g
|
Protein:
41
g
|
Fat:
14
g
|
Saturated Fat:
3
g
|
Cholesterol:
235
mg
|
Sodium:
2694
mg
|
Potassium:
925
mg
|
Fiber:
3
g
|
Sugar:
6
g
|
Vitamin A:
6545
IU
|
Vitamin C:
66.7
mg
|
Calcium:
218
mg
|
Iron:
4.1
mg
Nutrition information is automatically calculated, so should only be used as an approximation.
Did you like this recipe?
Please comment, rate and share! And don't forget to tag me on Instagram @foxandbriar AND #foxandbriar so I can see what you made!
*NOTES: Many readers love the broth as is. However, some people find it too salty. This may depend on the brand of ingredients being used and personal taste. If you find the broth is too salty for your taste, add 1-2 cups of water to the broth.
Ramen Egg adapted from Just One Cookbook
HELPFUL EQUIPMENT: Dutch Oven