These Honey Roasted Carrots with thyme are cooked in the oven, giving them a beautiful glaze.  This is one of the best carrot recipes I have ever eaten! Make these simple oven roasted carrots for an easy but impressive side dish for Easter or any other dinner.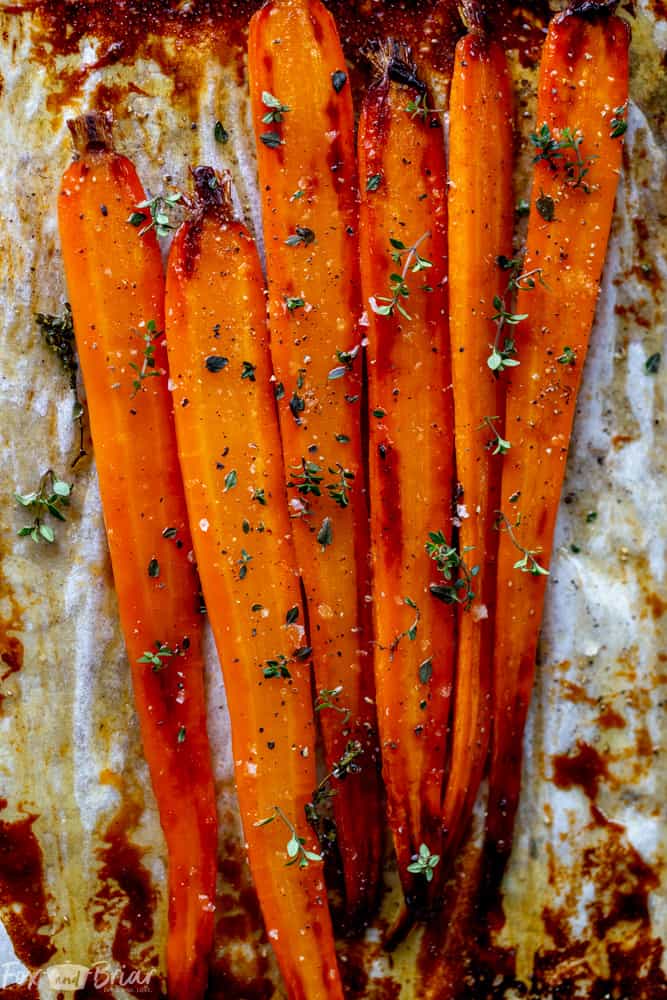 Disclosure: This post contains affiliate links, which means that if you purchase the items I recommend through the links I provide, I get a small commission at no extra cost to you. For more info, please see my disclosure policy. Thanks for supporting Fox and Briar!
Spring is in the air!  I'm ready to start working on Spring recipes, and nothing says Spring like beautiful carrots!  I wanted to make a show stopping side dish for Easter or any other special dinner, so I decided to make these Honey Roasted Carrots.  This oven roasted carrot recipe is the best one I have tried by far!
What is the best way to cook carrots?
I believe that roasting in the oven is the best way to cook most vegetables.  Of course, the same is true for carrots.  Oven roasted carrots are so good!  The high heat allows the carrots to brown and caramelize, making them sweet and tender.  Adding honey, butter and thyme just takes them over the top!  The carrot top!  Hahaha…Ok, sorry.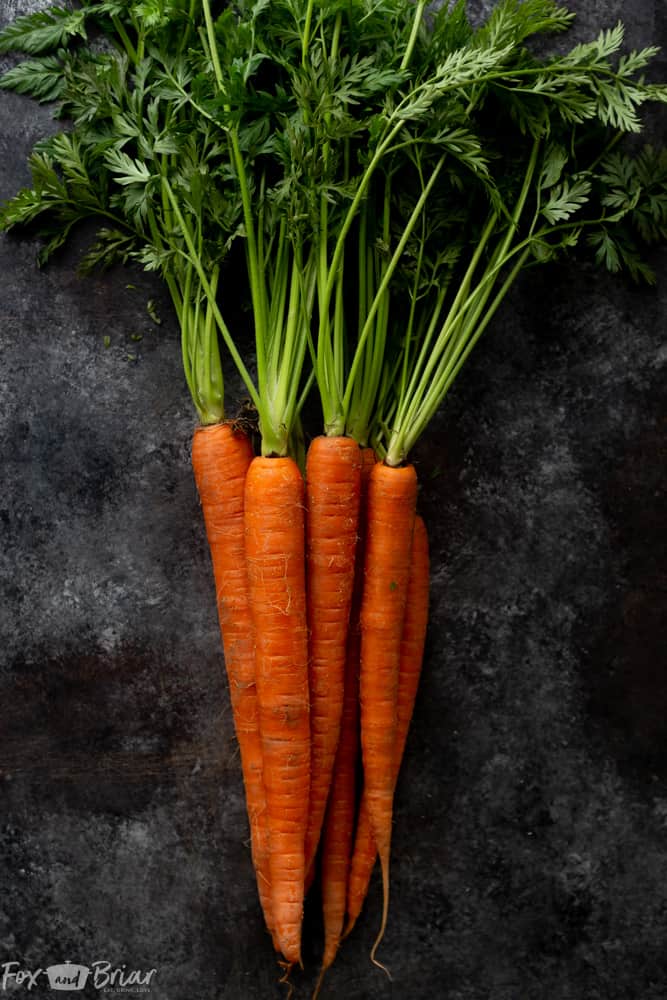 Are carrot tops edible?
Yes, carrot tops are edible!  Carrot tops can be used to make carrot top pesto, carrot top chimichurri, added to stock or used as a garnish.
How to store Carrots
Although the tops are edible, it is best to remove them from the carrots as soon as possible, before storing in the fridge. Otherwise, they drain the moisture from the carrot, making it limp. To keep them crisp, you can store the carrots in an open plastic bag in the crisper drawer, or in a shallow dish filled with water.  Be sure to keep the carrots away from high ethylene producing fruits and vegetables, such as apples, pears, figs and melons.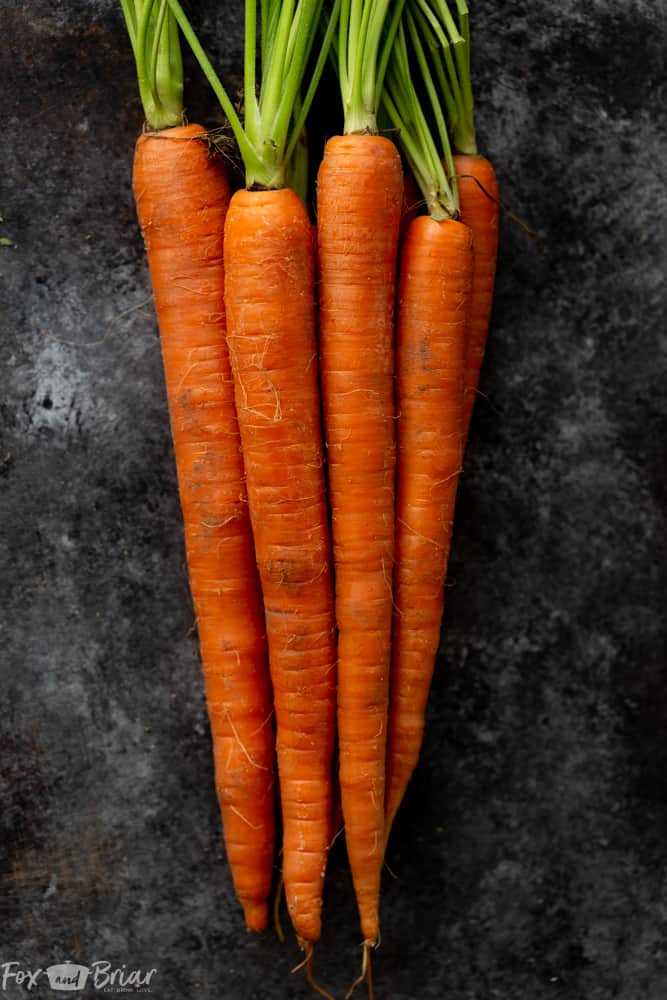 Do you peel carrots before roasting?  What is the best way to peel carrots?
You do not need to peel carrots before roasting, as carrot peels are edible.  I chose to peel my carrots often because the peel can dry out, or can be hard to clean.  The best way to peel carrots is to use a vegetable peeler.  THIS is my absolute favorite vegetable peeler!  It makes peeling carrots (and lots of other things!) extremely easy!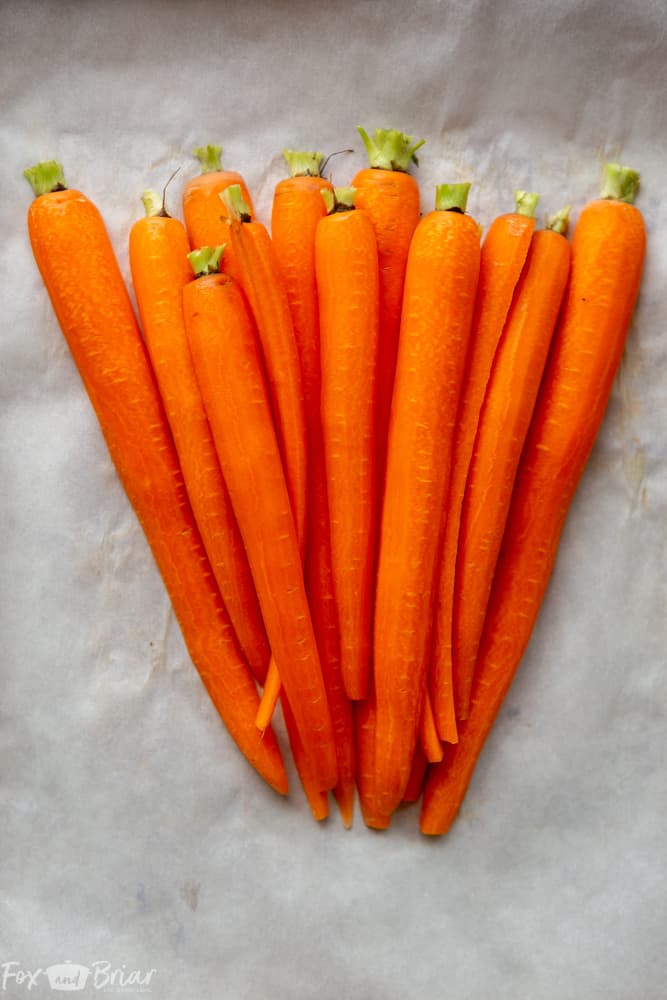 How to roast carrots
The key to roasting carrots (and most vegetables) is to roast at a higher temperature – such as 425 degrees Fahrenheit.   Be sure not to over crowd the pan or you will end up steaming the carrots instead of roasting them.  One trick to getting nicely browned vegetables is to roast them cut side down.  The flat surface area will be against the hot pan and get nice and golden brown – which we all know is delicious!
All you really need to roast carrots is oil, salt and pepper.  But I decided to take it up a notch and make these honey butter thyme roasted carrots.  Instead of just oil, I tossed the carrots in a honey butter sauce and roasted them in the oven. The sauce turns into a wonderful glaze, making these carrots sweet and tender.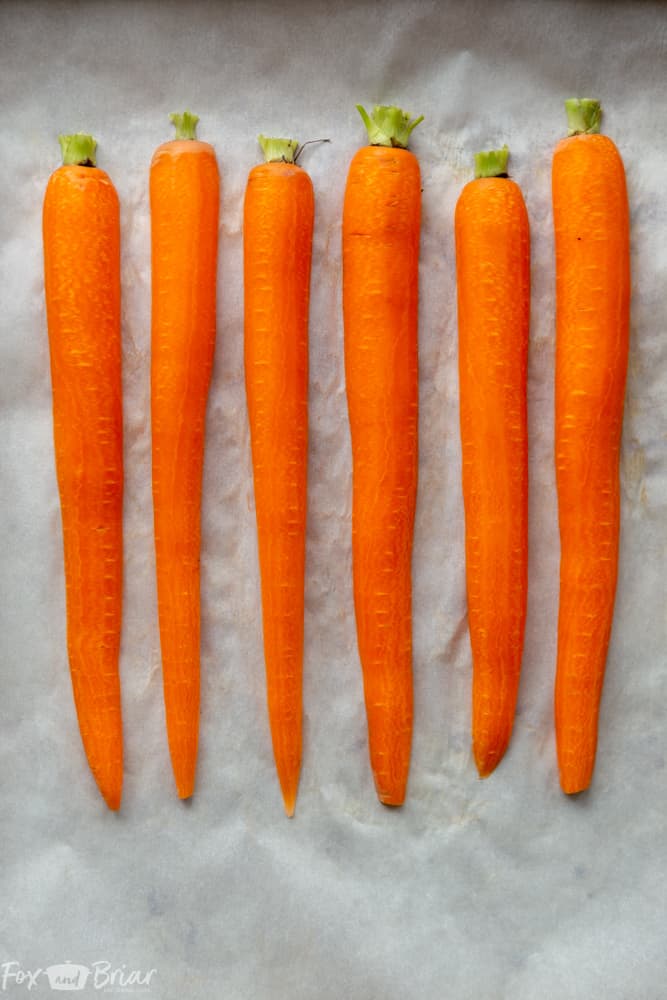 How long to roast carrots in the oven?
The length of time to roast carrots will vary depending on how thick they are.  Medium sized carrots will take about 20 minutes to roast in a 425 degree oven.  Carrots are done when they are tender and browning.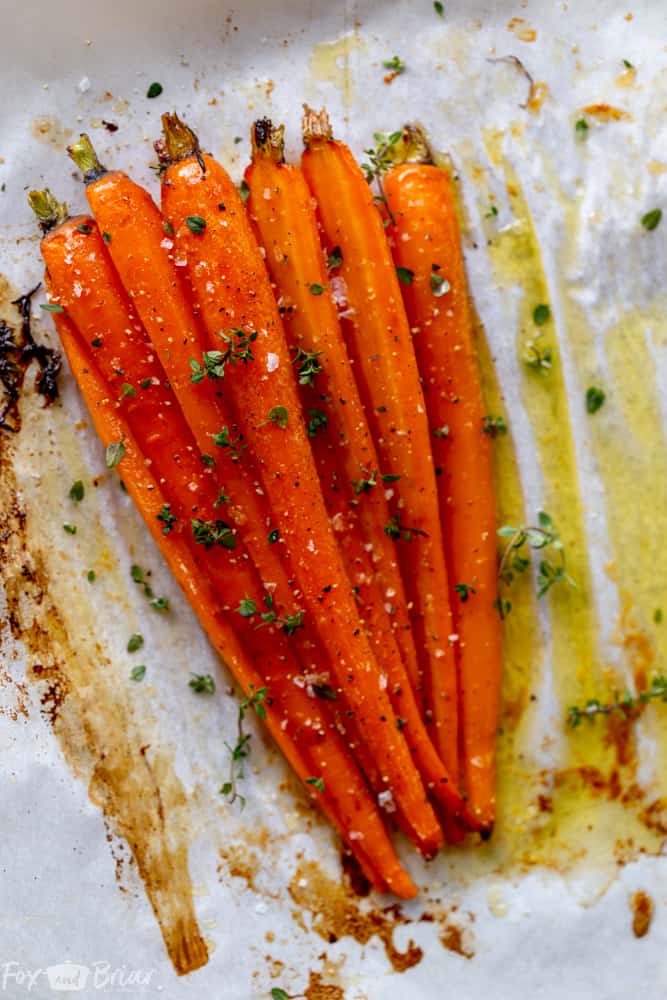 How do you reheat glazed carrots?
For these honey glazed carrots, I reheated them in the oven at 325 degrees for about 5 minutes, or until heated through.  You can also reheat them in the microwave, but be careful not to overcook them or they will be mushy.
Looking for more roasted veggie recipes?
Parmesan Lemon Roasted Broccoli
Crispy Garlic Rosemary Potatoes
And more recipes for a holiday dinner:
Easy Herb Butter Roasted Turkey
Fresh Herb Roasted Leg of Lamb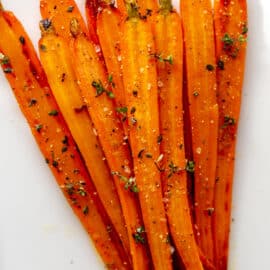 Honey Roasted Carrots
These Honey Roasted Carrots with thyme are cooked in the oven, giving them a beautiful glaze.  This is one of the best carrot recipes I have ever eaten! Make these simple oven roasted carrots for an easy but impressive side dish for Easter or any other dinner.
Print
Pin
Rate
Ingredients
1 ½

pounds

carrots

4

tablespoons

butter

3

tablespoons

honey

1

tablespoons

fresh thyme

plus more for garnish

1/4

teaspoon

kosher salt

plus more to taste

black pepper

to taste
Instructions
Preheat oven to 425°F. Line 2 baking sheets with parchment paper, set aside.

Trim tops and bottoms of carrots - I left a little bit of the green stem on for looks, but that is optional. Peel carrots if desired, and cut in half lengthwise. Arrange on the baking sheets, using both sheets if needed to avoid overcrowding.

In a small saucepan, melt the butter with the honey and thyme. When butter is melted, whisk to combine.

Pour half of the honey butter sauce over the carrots, reserving the rest of the sauce for later. Season the carrots with salt and pepper. Arrange the carrots so that they are flat side down if possible - this will help them with browning.

Place the baking sheets in the oven on two separate racks. Bake for

15

-

20

minutes, until tender and browning.  Remove from oven, drizzle with remaining honey butter sauce, then roast for an additional

5 minutes

.

Remove from oven, season with more salt and pepper if desired.  Garnish with more thyme. Serve immediately. 
Notes
Cooking time will vary depending on the size of the carrots.  Thinner carrots will cook faster, thicker carrots will take more time. Check after about 15 minutes to make sure your carrots don't burn. Leftovers can be stored in an airtight container in the fridge for up to two days.  Leftovers can be reheated in the oven or microwave.
Nutrition
Serving:
1
Serving
|
Calories:
147
kcal
|
Carbohydrates:
20
g
|
Protein:
1
g
|
Fat:
8
g
|
Saturated Fat:
5
g
|
Cholesterol:
20
mg
|
Sodium:
242
mg
|
Potassium:
370
mg
|
Fiber:
3
g
|
Sugar:
14
g
|
Vitamin A:
384.7
%
|
Vitamin C:
10.4
%
|
Calcium:
4.4
%
|
Iron:
3.3
%
Nutritional information is an estimate for your convenience. If you have strict nutritional needs, please do your due diligence to make sure this recipe fits your needs.
Did you like this recipe?
Please comment, rate and share! And don't forget to tag me on Instagram @foxandbriar AND #foxandbriar so I can see what you made!