Oven Roasted Asparagus with Garlic, Lemon and Parmesan – this quick and easy side dish is the best way to cook asparagus, and it is ready in under 30 minutes!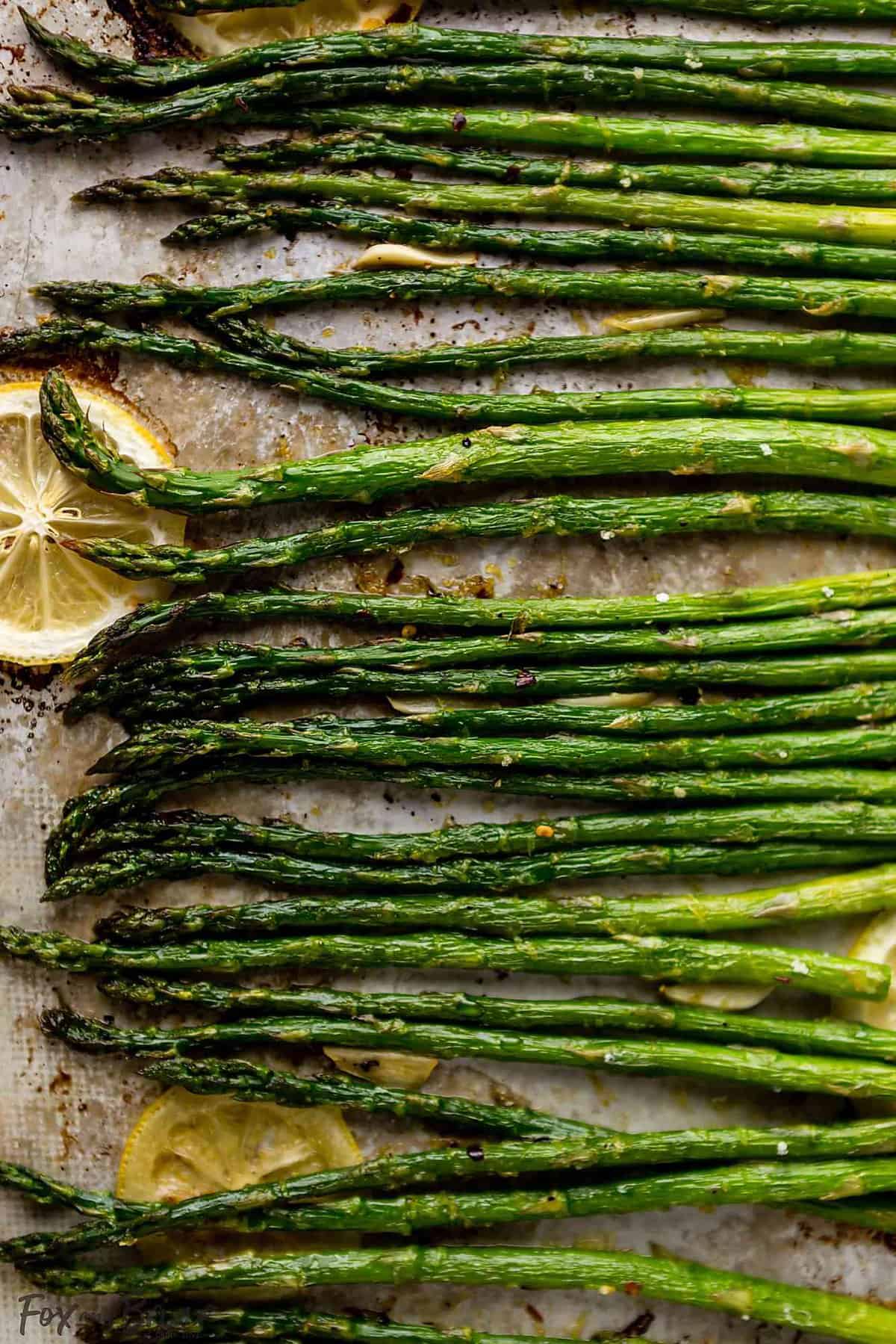 Oven Roasted Asparagus with Garlic, Lemon and Parmesan
Today I wanted to share with you my favorite spring side dish.  Asparagus roasted in the oven, with garlic, lemon and Parmesan.  You KNOW it's spring when you start to see those fresh, green asparagus spears popping up all over the grocery stores! Oven roasted asparagus is such a simple and easy side dish.  Read on to see my tips for how to make the best roasted asparagus.
Can you cook asparagus in the oven?
Yes, you can cook asparagus in the oven – and you should!  I think baking or roasting is THE BEST way to make asparagus.
MY LATEST VIDEOS
How long do you bake asparagus?
This will depend on how thick your asparagus is.  Some asparagus is very thin and will cook quickly, some is very thick and may take a few minutes longer.  A good starting point is to roast asparagus for 15-20 minutes.  Allow it to cook for a few more minutes if needed.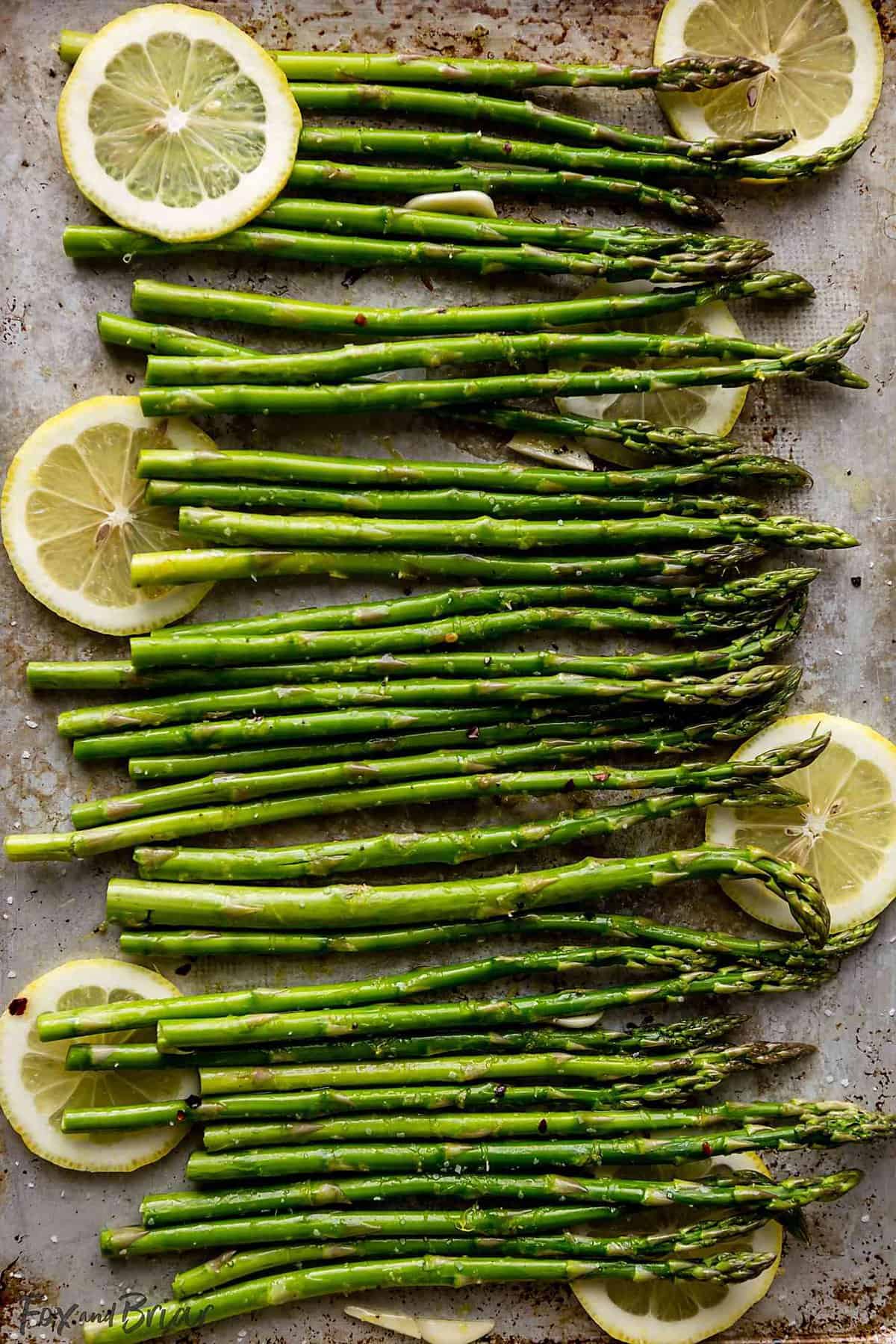 What temperature do you roast asparagus at?
Roast asparagus in the oven at 425 degrees.
How do you know if asparagus is good?
Asparagus should be crisp and firm.  If the tips get mushy, the asparagus has gone bad.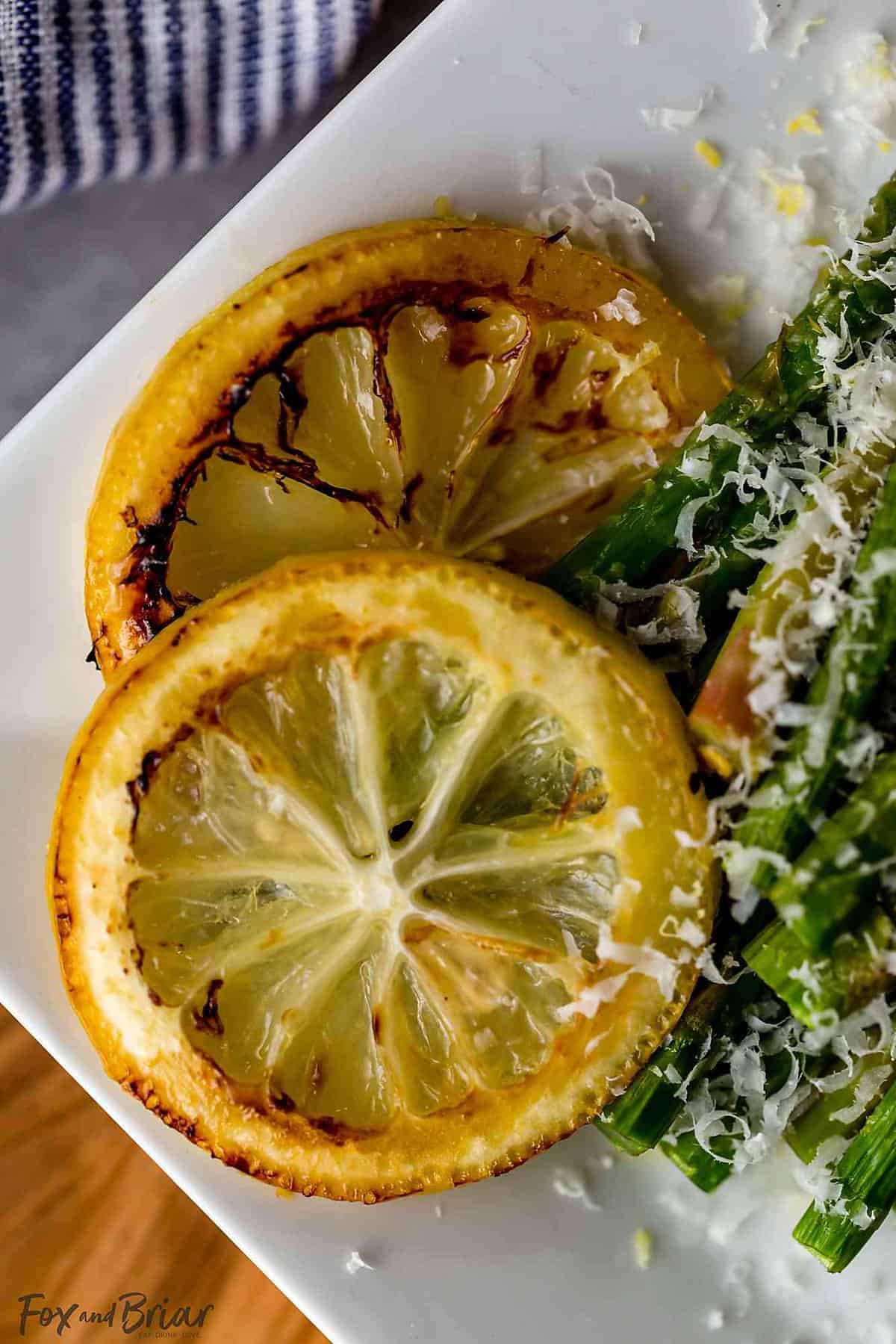 How to Roast asparagus with garlic, lemon and Parmesan
Roasting asparagus with garlic, lemon and parmesan is easy.  Slice the garlic, rather than mincing it, as minced garlic may burn in the hot oven.  Lay lemon slices under and over the asparagus spears.  Toss the asparagus with lemon zest for a more lemony flavor. Finally, grate fresh Parmesan over the asparagus after it is cooked.
If you like this recipe, you might also love my Roasted Shrimp and Asparagus or my Ginger Chicken and Asparagus Stir Fry!
Print
Roasted asparagus
Yield 4 servings
Ingredients
1 pound of asparagus
2 Tablespoons olive oil
1 lemon, zested then sliced
3 garlic cloves, sliced
2 Tablespoons freshly grated Parmesan
Salt to taste
pepper to taste
pinch of red pepper flakes, or to taste (optional)
Instructions
Preheat oven to 425 degrees
Trim asparagus.  Grab both ends and bend asparagus until the woody end snaps off.  Do this with all the asparagus spears.  Discard the woody ends.
Transfer the asparagus spears to a baking sheet.  Drizzle them with the olive oil, lemon zest, salt, pepper and red pepper flakes.  Toss to make sure the asparagus is fully coated.
Arrange the asparagus in a single layer.  place the lemons sliced under and over the asparagus spears.
Roast asparagus in the oven for 15-20 minutes, or until bright green, tender, with the ends starting to brown.
Remove from the oven and grate Parmesan over the asparagus.  Serve.
Notes
Nutritional information is an estimate for your convenience. If you have strict nutritional needs, please do your due diligence to make sure this recipe fits your needs.
Courses Side Dish
Nutrition Facts
Serving Size 1/4 of recipe
Amount Per Serving

Calories 93

% Daily Value

Total Fat 7.6 g

12%

Total Carbohydrates 4.6 g

2%

Dietary Fiber 2.4 g

10%

Protein 3.5 g

7%
* Percent Daily Values are based on a 2,000 calorie diet. Your daily values may be higher or lower depending on your calorie needs.
If you make this recipe don't forget to tag it @foxandbriar and #foxandbriar on 
instagram
 and 
facebook
!  I really love to see what you make and you may be featured in our weekly Reader Feature!