Tender and juicy Slow Roasted Prime Rib is the best main course for a special occasion dinner! Read on to find out how to cook the best prime rib roast!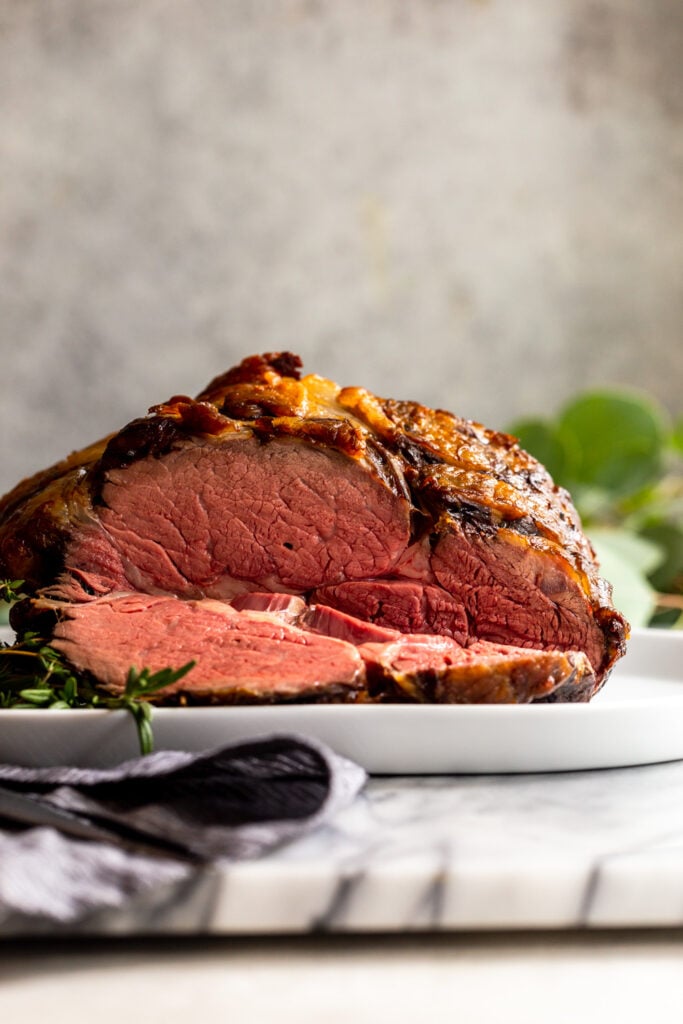 Prime Rib, sometimes called a standing rib roast, is our family tradition for Christmas dinner. It is such a special main course, and we look forward to it every year. Today I am showing you how to cook prime rib in the oven. This method will give you tender, juice and evenly cooked roast beef, ensuring that your holiday dinner is perfect!
Why is slow roasting the best way to cook prime rib?
Many recipes start the prime rib in a hot oven and then reduce the heat. The problem with that method is that it encourages uneven cooking. The outside of the roast cooks faster than the inside, leading to a thick "grey ring" of overcooked meat on the outer layers of the rib roast. Slow roasting will cook the prime rib more evenly, giving you tender, juicy, end to end pink meat.
Is prime rib always prime grade beef?
Although a standing rib roast is called "prime rib" that does not necessarily mean it is USDA Prime. The USDA rates beef starting with "Prime" as the best, "Choice" is the next best, followed by "Select". Prime beef is the best for marbling and flavor, and also the most expensive. Fortunately, you can still find delicious prime rib that is rated as "Choice".
How to buy a standing rib roast
When buying a prime rib roast, there are two distinct types of cuts. The first is called the loin end, also sometimes called the "first cut" or the "small end", and is located from ribs 10-12. This is the more preferable cut because it has the larger rib eye muscle and is less fatty, but tender.
The "second cut" is located closer the the chuck end and has more muscles, and is more fatty. This cut is located from ribs 6-9. Although this is still an excellent roast, it is considered the less desirable cut of the prime rib.
When buying a standing rib roast, I like to ask the butcher to remove the bones from the roast, then tie them back together. This allows you to season the meat under the bones, and makes carving the roast after cooking much easier. However, you will still be able to roast the prime rib on the bones, which will insulate the roast while cooking to help prevent over cooking. It also arguably adds more flavor to the meat, and there are always people who enjoy eating the ribs!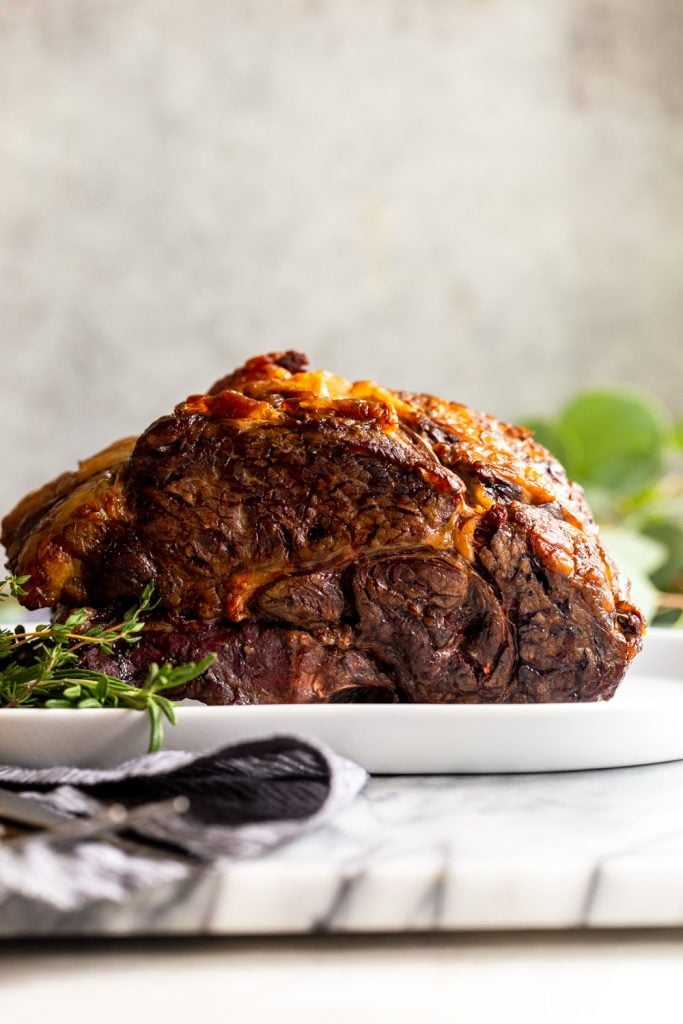 How much prime rib do I need per person?
For a bone-in rib roast, plan on 1 pound per person, or one rib for two people.
What temperature should I cook prime rib at?
For this Slow Roasted Prime Rib we cook the roast at 225 degrees F. If you have a convection oven, use 200 degrees F.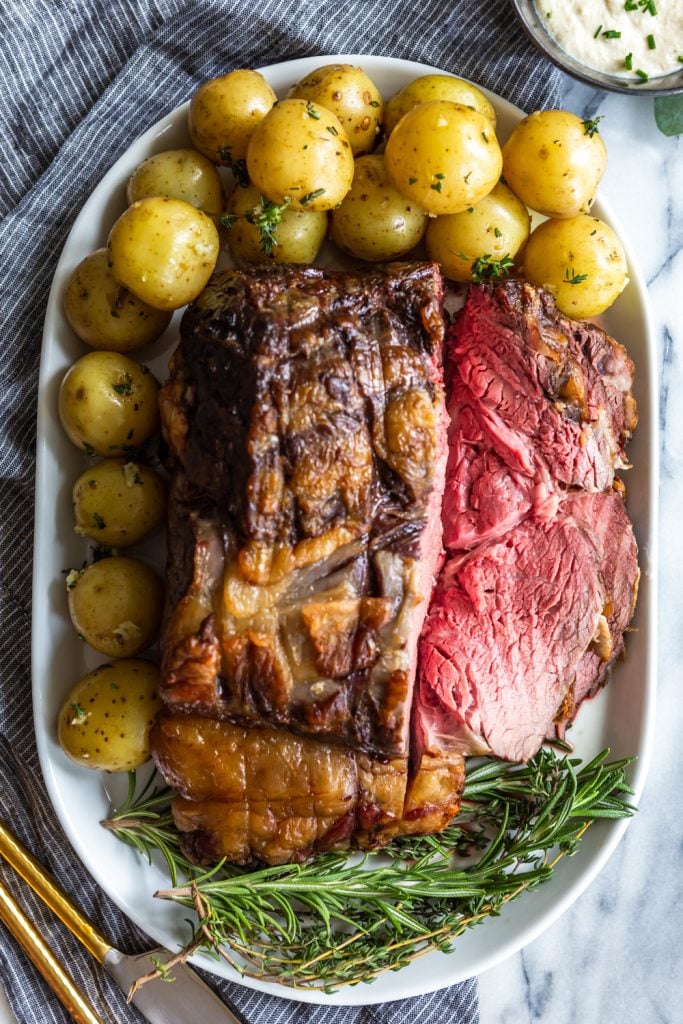 How do I know when a prime rib is done?
There is only ONE way to know that your roast has reached the right temperature, and that is with an instant read thermometer. Prime Rib is an expensive cut of meat. Protect your investment by buying an inexpensive meat thermometer. Once you start using one, you will use it all the time!
I absolutely love our Thermapen and we use this Thermoworks BBQ Alarm to let us know exactly when the meat has reached the right temperature. However, if you want to start out with a less expensive option, this thermometer is very highly rated on amazon, has tons of great reviews and is under $20! And THIS highly rated wireless digital thermometer is a lower cost option that allows you to keep the probe in the meat while it is cooking, so you know exactly when it is done.
What should the internal temperature be for prime rib?
You should take the roast out of the oven 5-10 degrees BEFORE it reaches your desired temperature. The roast will continue to cook after removing it from the oven due to heat carryover.
Prime rib temperature chart – when to take the roast out of the oven.
Rare – take out of the oven at 115 degrees
Medium Rare – take out of the oven at 120 degrees
Medium – Take out of the oven at 125 degrees
Medium Well – Take out of the oven at 130 degrees
Well Done – Take out of the oven at 140 degrees (Please don't do this. I don't recommend cooking the roast over medium!)
How to make the best slow roasted prime rib
Buy a bone in prime rib roast and separate the bone from the roast. You can ask your butcher to do this when you buy it.
Season the roast all over with kosher salt, then place in the fridge on a rack, uncovered for 24 hours, up to three days.
Always use an instant read thermometer when cooking prime rib to ensure it is cooked to the correct tempurature.
Sear outside of roast in a pan with oil over medium high heat. When all sides are seared, place on top of bones and tie together.
Roast at 225 degrees until internal temperature reaches 110 degrees. Turn off the oven and allow internal temperature to reach 115 for rare, 120 for medium rare.
After removing from oven, loosely tent with foil and allow to rest for 30 minutes before carving.
What to serve as a side dish for Slow Roasted Prime Rib
Looking for side dishes for prime rib? Try my Crispy Smashed Potatoes or my Roasted Garlic Mashed Potatoes. Most people will also want to serve a vegetable side dish with a prime rib. Try my Honey Roasted Carrots, Roasted Asparagus or my Roasted Brussels Sprouts.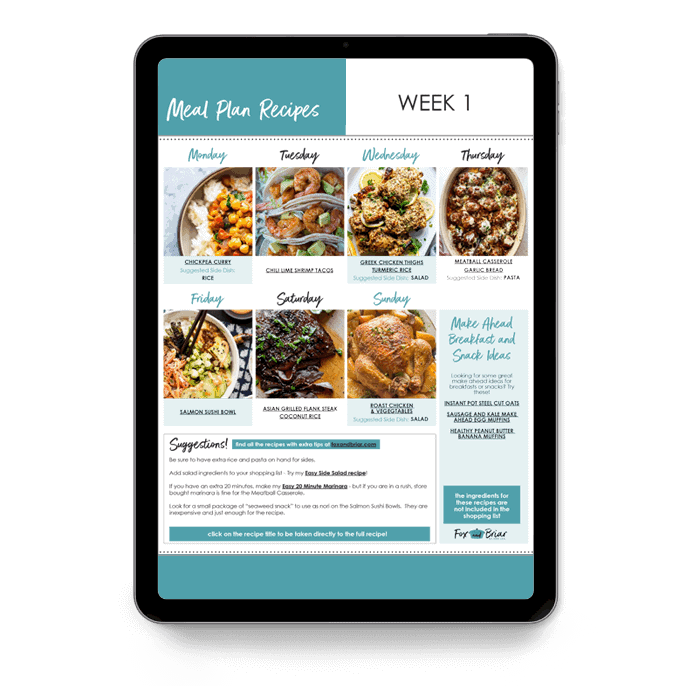 Slow Roasted Prime Rib Recipe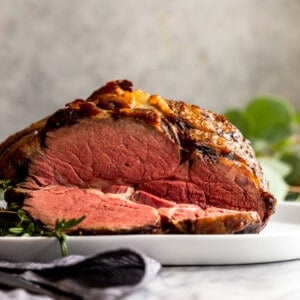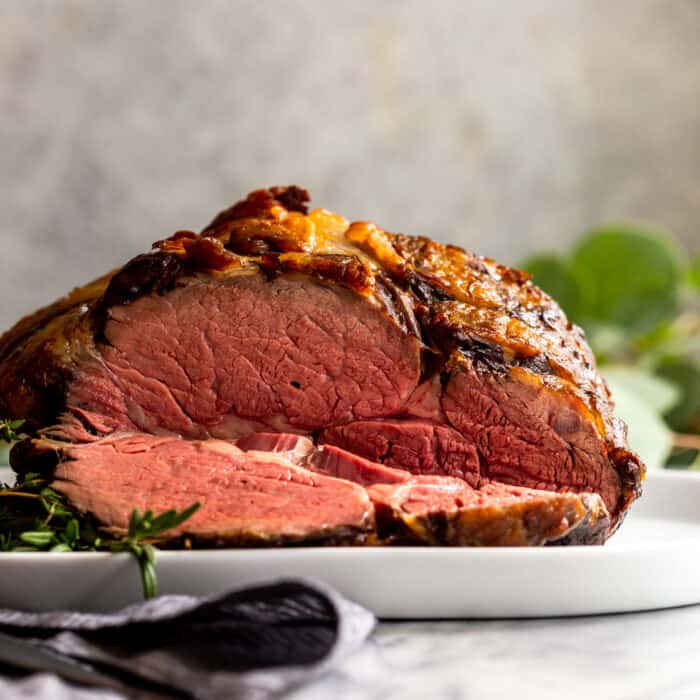 Ingredients
6

lb

Bone In Standing Rib Roast

Kosher salt

2

TBSP

canola oil
Instructions
Separate roast from rib bones (you can ask your butcher do this).

Trim fat cap but leave a layer of fat (you can also ask your butcher to do this). Use a knife to slice slits into the fat cap in a crosshatch pattern. Cut though the fat but not the meat. Season liberally with kosher salt all all over the surface of the meat.

Place roast back on the bones. Set roast on a sheet pan fitted with a rack in the fridge for at least 24 hours up to 3 days, uncovered.

Preheat oven to 225 F (if using a convection oven, use 200 F).

Heat a large skillet with oil over medium high heat. Brown the sides and top of the roast. After browning, place roast back on to bones and tie together with kitchen twine. . Season with pepper if desired.

Set on a rack fitted to a baking sheet and roast uncovered until internal temp registers 110 degrees – this should take about 3-4 hours. Turn off the oven. Let it sit in the oven uncovered until internal temp hits 115 for rare, 120 for medium rare. (temperature will continue to rise after removing from the oven. Broil if desired. After removing from the oven rest for 30 minutes loosely tented with foil.

After resting, remove roast from bones for easy carving. Slice the ribs and slice roast into 3/4 inch slices. Season slices with salt before serving.
Nutrition
Serving:
8
ounces
|
Calories:
773
kcal
|
Protein:
51
g
|
Fat:
62
g
|
Saturated Fat:
25
g
|
Cholesterol:
188
mg
|
Sodium:
143
mg
|
Iron:
6
mg
Nutrition information is automatically calculated, so should only be used as an approximation.
Did you like this recipe?
Please comment, rate and share! And don't forget to tag me on Instagram @foxandbriar AND #foxandbriar so I can see what you made!