Green Bean Casserole is an iconic Thanksgiving dish. This recipe for Fresh Green Bean Casserole improves the classic dish with fresh green beans and a homemade mushroom cream sauce. If you never liked Green Bean Casserole, you just might change your mind after trying this one!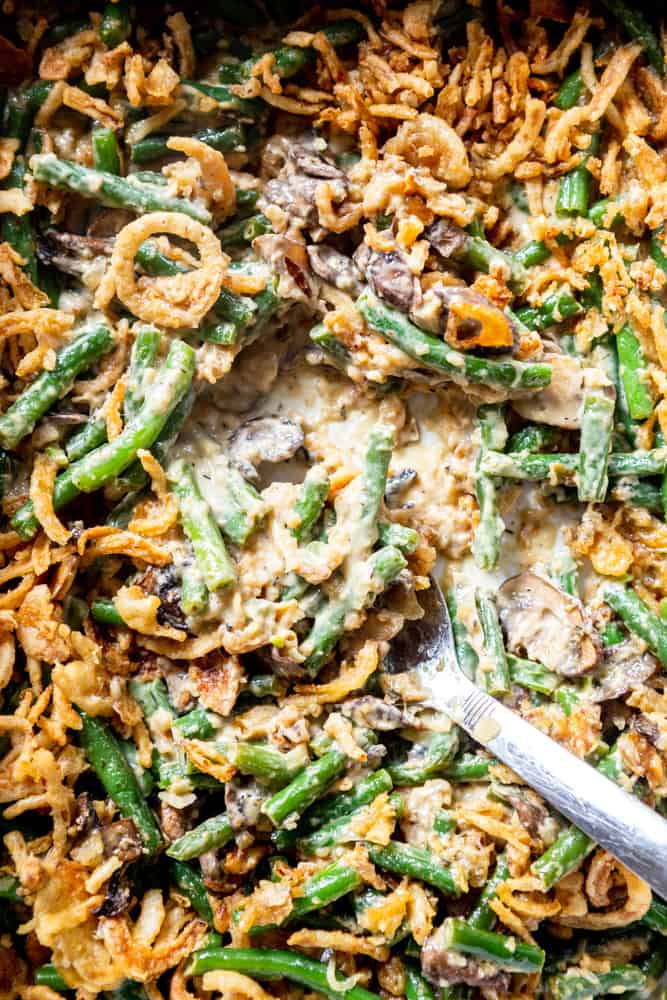 I've never been a big fan of the traditional Green Bean Casserole. Canned green beans and condensed soup are just not that appetizing to me. But fresh, crisp tender green beans a a luscious, velvety creamy mushroom sauce, topped with crispy fried onions? Yeah, that sounds amazing.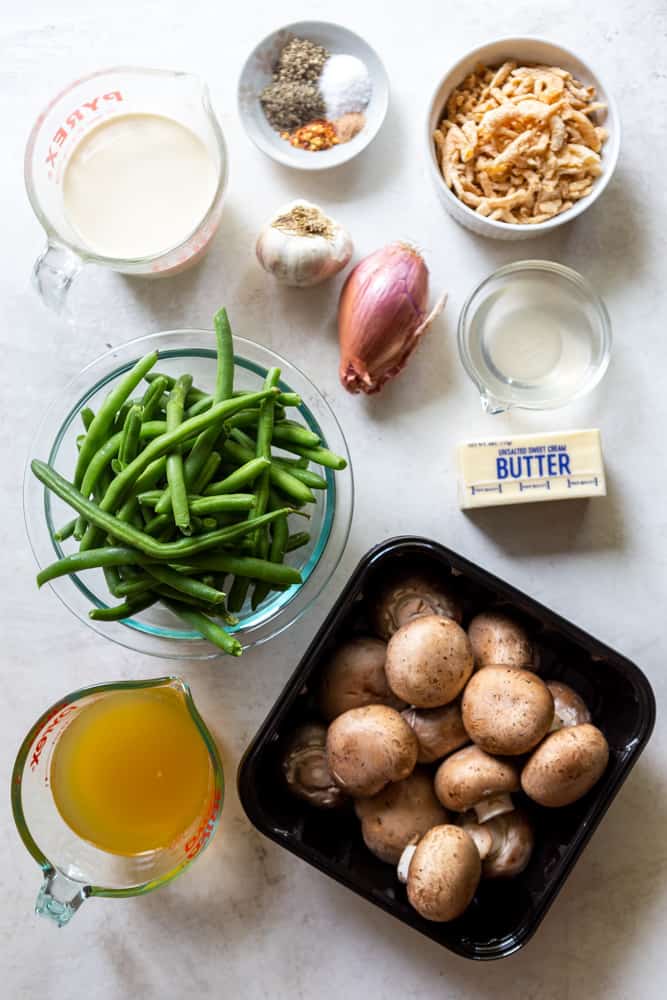 I set out to make a delicious fresh green bean casserole that delivered on flavor but was manageable enough to make for Thanksgiving when you are trying to make multiple dishes. For that reason, I decided to forgo homemade fried onions, as I felt it complicated the recipe. Instead, I stuck with the traditional store bought French fried onions. So this is a bit of a "semi-homemade" green bean casserole. If you want to fry your own onions or make crispy baked onions, absolutely go for it, I'm sure it will taste fantastic!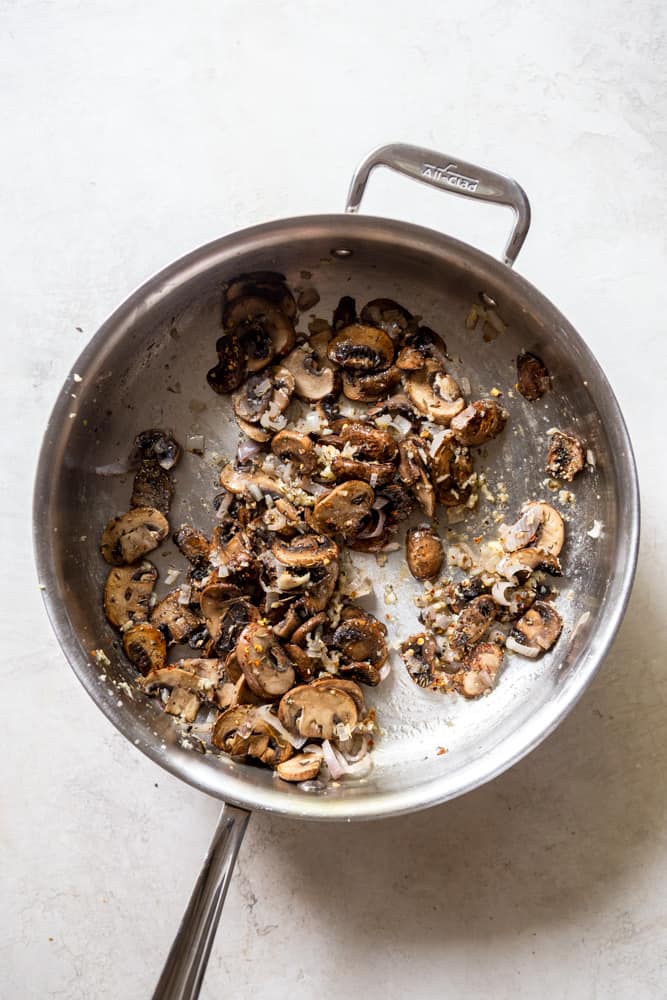 How to make Fresh Green Bean Casserole
One of the problems with traditional green bean casserole is that the canned green beans get mushy. The way to keep your green bean casserole from getting soggy? Use fresh green beans! Fresh green beans are trimmed and cut, then quickly blanched. After that, they are immediately plunged into ice water to stop the cooking. This allows them to retain their vibrant, bright green color and stay crisp but tender.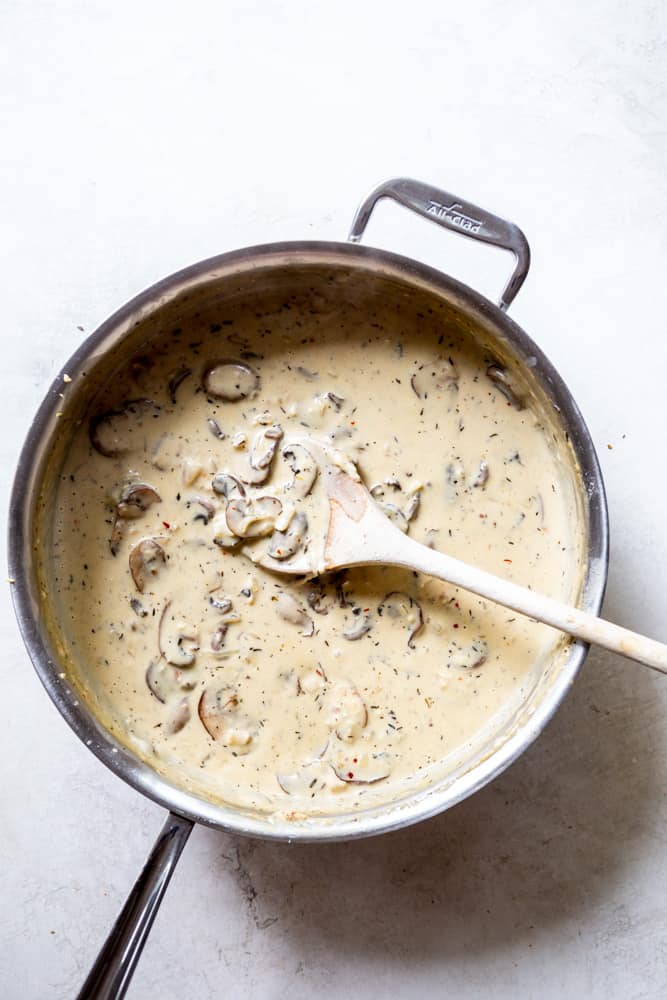 Another secret to the best fresh green bean casserole is how we cook the mushrooms. I use the dry sauté method, which means the mushrooms are added to a hot pan with nothing else – no oil or butter. They will release their liquid, and then it will evaporate. This really intensifies the flavor of the mushrooms and also gives them a nice texture.
Can I make Fresh Green Bean Casserole ahead of time?
Yes, Fresh Green Bean Casserole can be made one day ahead of time. I would recommend assembling the casserole up through step 10 – After pouring the green bean mixture into the casserole dish but before baking. Cover and refrigerate overnight. Remove from fridge about an hour before baking. Bake as directed, and serve.
You may also be able to bake, cool and refrigerate the day before, but hold off on adding the fried onion topping until right before serving or they will get soggy. Remove from fridge an hour before baking, top with fried onions and bake until warmed through.
Time Saving Tips
If you want to make the casserole the day of serving, some steps can be done ahead of time to cut down on time the day of. Green beans can be blanched, shocked in ice water, drained and refrigerated in a covered container the day before.
Mushrooms can be cut and dry sauteed the day before, then stored in a covered container in the refrigerator the day before.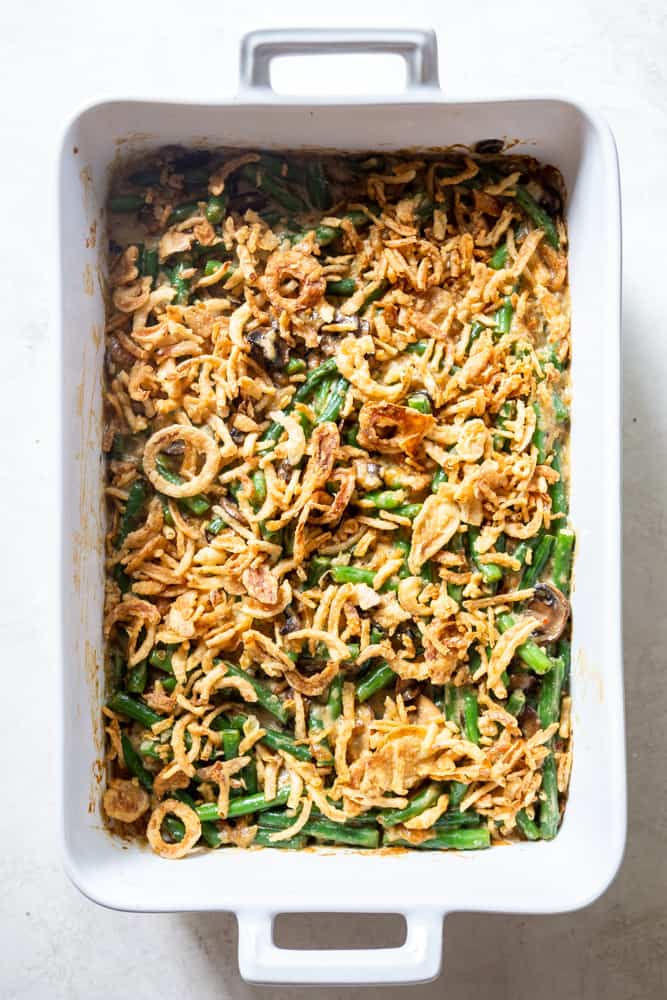 How to store leftovers for green bean casserole
Leftovers can be stored in the fridge in a covered container for up to 3 days. Reheat leftovers in the oven. Cover casserole and bake at 350 degrees for about 20 minutes, or until hot (cooking time will vary depending on size of leftovers. Check every 5 minutes until hot and bubbly).
Can I freeze green bean casserole?
I don't recommend freezing green bean casserole, as it can cause the green beans to get mushy and "break" the sauce.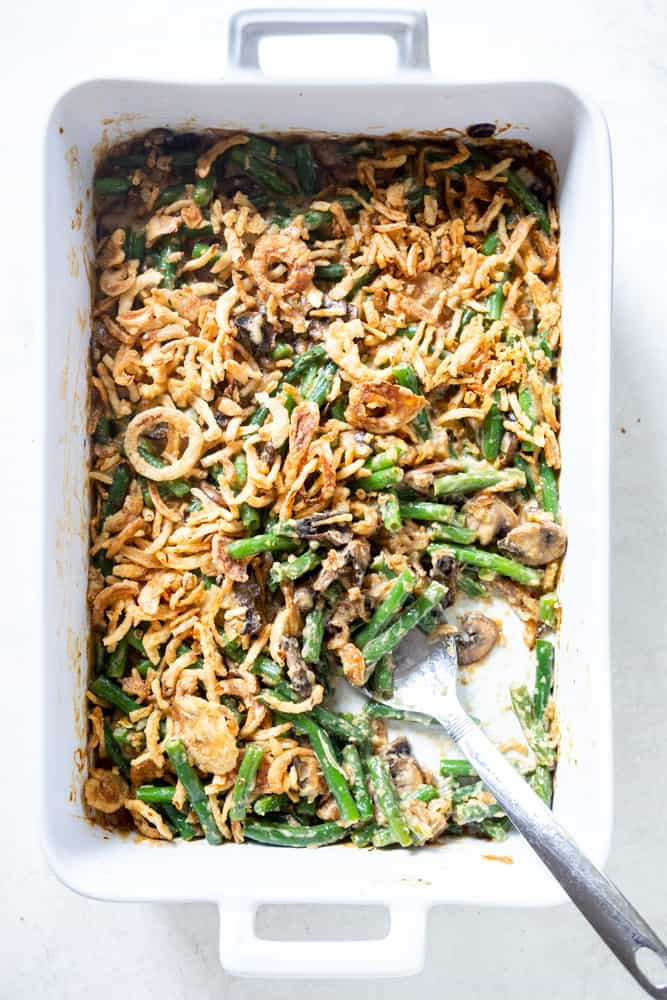 Helpful Equipment
Affiliate links
More Thanksgiving Recipes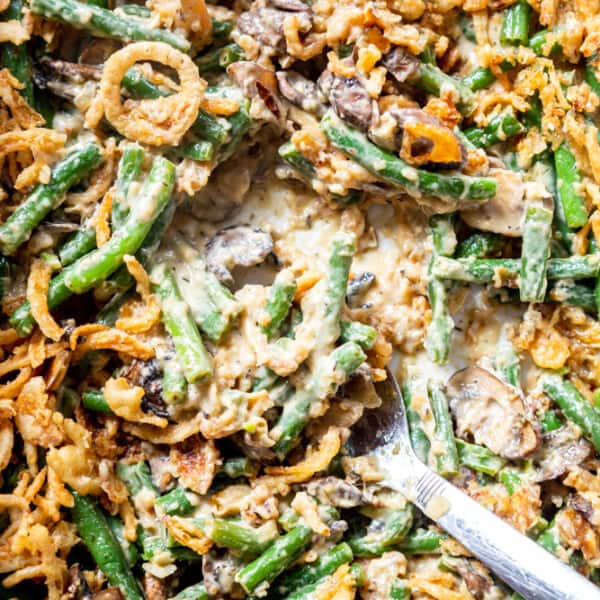 Ingredients
2

tablespoons

plus 1 teaspoon kosher salt

divided

1.5

pounds

fresh green beans

rinsed, trimmed and cut in half

2

tablespoons

unsalted butter

16

ounces

mushrooms

trimmed and cut into 1/2 inch pieces

1/2

teaspoon

freshly ground black pepper

4

cloves

garlic

minced

1

shallot

minced

1/4

teaspoon

freshly ground nutmeg

¼

tsp

red pepper flakes

1

tsp

dried thyme

2

tablespoons

all-purpose flour

1

cup

low sodium chicken broth

¼

cup

dry white wine

such as pinot gris or chardonnay

1

cup

heavy cream

½

cup

Parmesan cheese

grated

2

cups

French fried onions
Instructions
Preheat oven to 375 degrees.

Bring a gallon of water and 2 tablespoons of salt to a boil in an large saucepan. Prepare a large bowl of ice water and set aside.

When water is boiling, add the beans and blanch for 5 minutes. Drain beans and immediately plunge them into the bowl of ice water to stop the cooking. Drain and set aside.

Heat a 12 inch sauté pan over medium high heat. Add the mushrooms and nothing else to the pan. Dry sauté mushrooms until they release their liquid and it evaporates from the pan, about 5 minutes. Remove mushrooms from pan.

Add the butter to the pan and allow it to melt. When melted, add the shallot, cook until starting to soften, 2-3 minutes. Add the garlic and cook for 1-2 more minutes. until fragrant but not starting to burn.

Add the mushrooms salt, pepper and spices, and continue to cook for another 1 to 2 minutes.

Sprinkle the flour over the mixture and stir for 1 minute.

Add the wine and simmer about 1 minute scraping up the bits on the bottom of the pan. Add the broth and simmer for 1 minute.

Decrease the heat to medium-low and add the heavy cream. Cook until the mixture thickens, stirring occasionally, approximately 6 to 8 minutes.

Remove from the heat and stir in parmesan cheese. Stir until combined. Add ¾ cup of the onions and all of the green beans. Pour green bean mixture into a 9 x 13 casserole dish, spreading into an even layer.

Place casserole into the oven and bake until bubbly, approximately 20 minutes. Remove from oven, stir to recoat everything with the cream sauce. Sprinkle the remaining onions on top, return casserole to oven for 5 – 10 minutes. Until casserole is bubbling and onions are golden brown and fragrant.
Nutrition
Serving:
1
serving
|
Calories:
300
kcal
|
Carbohydrates:
18
g
|
Protein:
7
g
|
Fat:
23
g
|
Saturated Fat:
13
g
|
Polyunsaturated Fat:
1
g
|
Monounsaturated Fat:
4
g
|
Trans Fat:
1
g
|
Cholesterol:
45
mg
|
Sodium:
1988
mg
|
Potassium:
448
mg
|
Fiber:
3
g
|
Sugar:
5
g
|
Vitamin A:
1185
IU
|
Vitamin C:
13
mg
|
Calcium:
138
mg
|
Iron:
2
mg
Nutritional information is an estimate for your convenience. If you have strict nutritional needs, please do your due diligence to make sure this recipe fits your needs.
Did you like this recipe?
Please comment, rate and share! And don't forget to tag me on Instagram @foxandbriar AND #foxandbriar so I can see what you made!
Disclosure: This post contains affiliate links, which means that if you purchase the items I recommend through the links I provide, I get a small commission at no extra cost to you. For more info, please see my disclosure policy. Thanks for supporting Fox and Briar!