These Leftover Cranberry Sauce Crumble Bars are a sweet and tangy treat that you can make the day after Thanksgiving.  They are a great way to use Thanksgiving leftovers, but are so good that I would make a new batch of cranberry sauce just so I can make them again!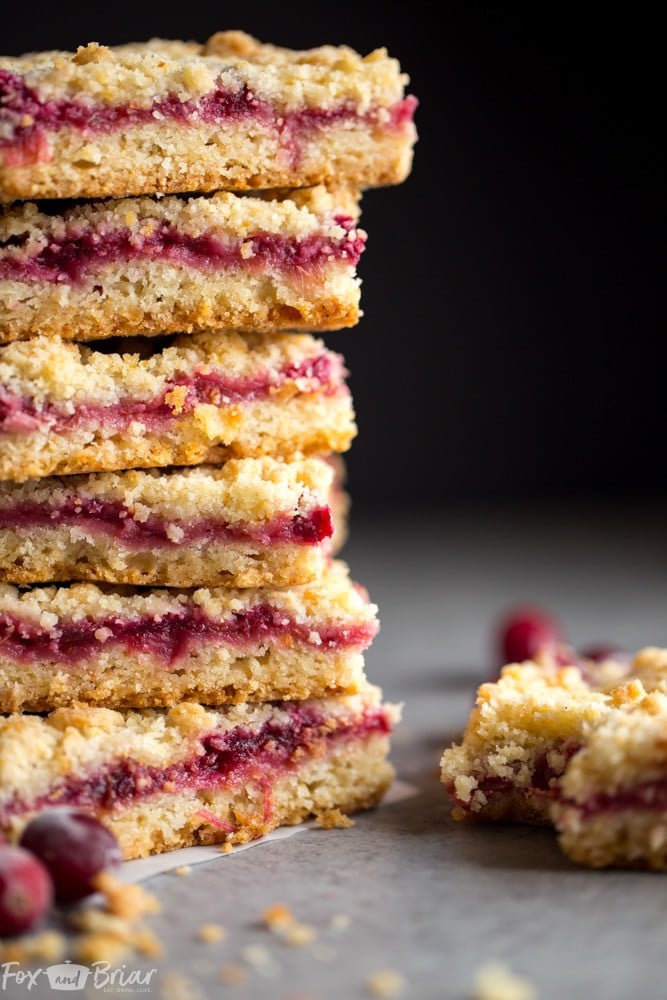 Happy almost Thanksgiving!  Thanksgiving is great, but if you are like me, by Friday you are asking yourself "What can I make with these Thanksgiving Leftovers?".  I mean, the day after Thanksgiving turkey sandwich is great and all, but it can get old.  Don't worry, I have a TON of leftover recipes for you, including these Leftover Cranberry Sauce Crumble Bars!  If you have more leftovers, check out my Citrus Kale Salad ( a lighter way to use up turkey), cranberry sauce muffins, and a whole roundup I did last year of creative ways to use up your leftovers.  Oh, and if you had ham instead of turkey, these super easy Ham and Cheese Croissants are a great way to use up leftover ham!
These Leftover Cranberry Sauce Crumble Bars are so easy!  It just takes a few minutes so stir together the dough.  Then you press half of the dough into a pan, top with cranberry sauce, and crumble the rest of the dough on top.  Pop in the oven and you are done!
These make a great treat, the tangy cranberry sauce balances the buttery crumble crust.  And they totally work for breakfast too, just saying.
Print
Leftover Cranberry Sauce Bars
Yield 12 bars
Ingredients
1 cup granulated sugar
1 teaspoon baking powder
3 cups all-purpose flour
1/4 teaspoon salt
Zest of one orange
1 cup (8 ounces) cold unsalted butter, cut into chunks
1 large egg
2 and 1/2 cups cranberry sauce
Instructions
Preheat the oven to 375 degrees. Grease a 9×13 inch pan.
In a medium bowl, stir together 1 cup sugar, 3 cups flour, baking powder, salt, and orange zest. Use a fork or pastry cutter to blend in the butter and egg.  You can also use a food processor.  Pulse ingredients together until just combined. Dough will be crumbly. Pat half of dough into the prepared pan.
Spread the cranberry sauce over the first layer.  Crumble the rest of the dough on top.
Bake for 45-55 minutes, or until top is slightly brown. Cool completely before cutting into squares.
Notes
If you don't have enough cranberry sauce, making a new batch is easy!  Try my recipe HERE.
Recipe adapted from Smitten Kitchen
Courses Dessert
If you make this recipe don't forget to tag it @foxandbriar and #foxandbriar on instagram and facebook! I really love to see what you make!