These decadent Molten Chocolate Lava Cakes for Two are quick, easy and perfect for date night! Skip the restaurant and have a romantic dessert at home!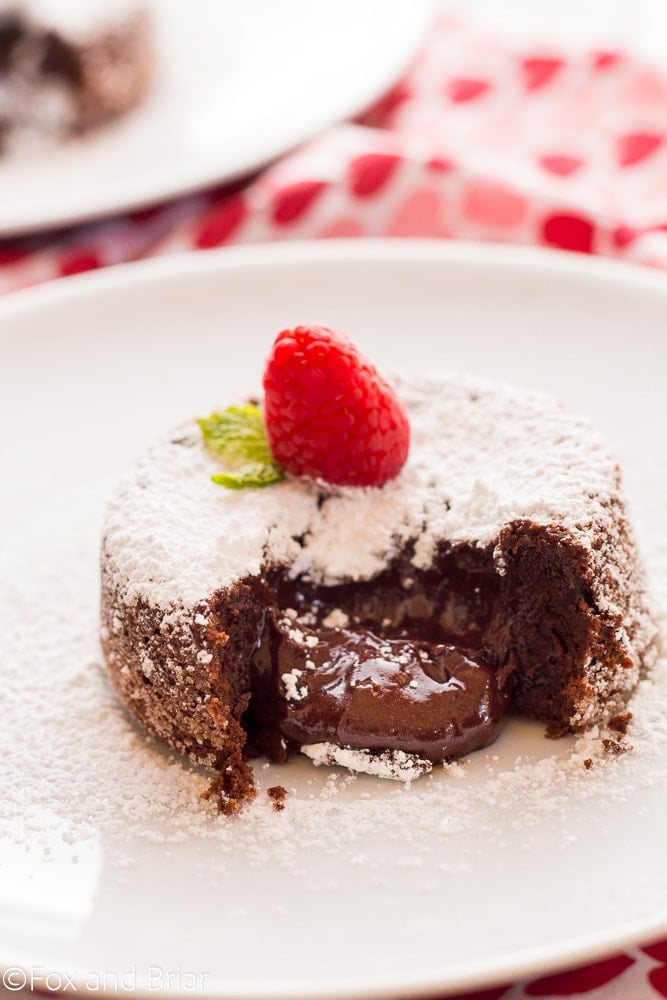 Molten Chocolate Lava Cakes have to be one of my favorite desserts.  When it comes to dessert, I am a chocolate girl all the way.  If there is chocolate on the menu, you better believe I'm ordering it.  And when it comes to a rich chocolate cake with a melty center, I can't resist!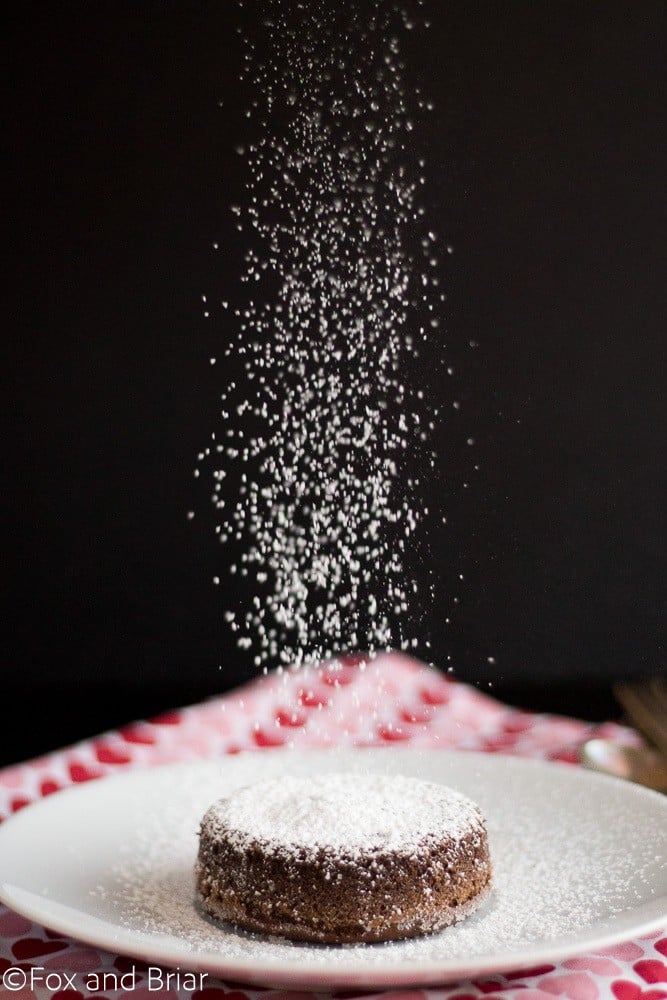 Molten Chocolate Lava Cakes for Two
Although Mr. Briar and I do love going out to a nice dinner, there is one night of the year that we avoid going out – Valentine's day.  Stressed out staff, crowded restaurants, the kitchen running out of ingredients – no thanks!  We would rather have a nice, relaxing night at home.  But that doesn't mean we will skip the chocolate!  Last year I shared my Easy Chocolate Fondue, which is something we have had for the last few Valentine's days.  But these Molten Chocolate Lava Cakes for two might have taken over!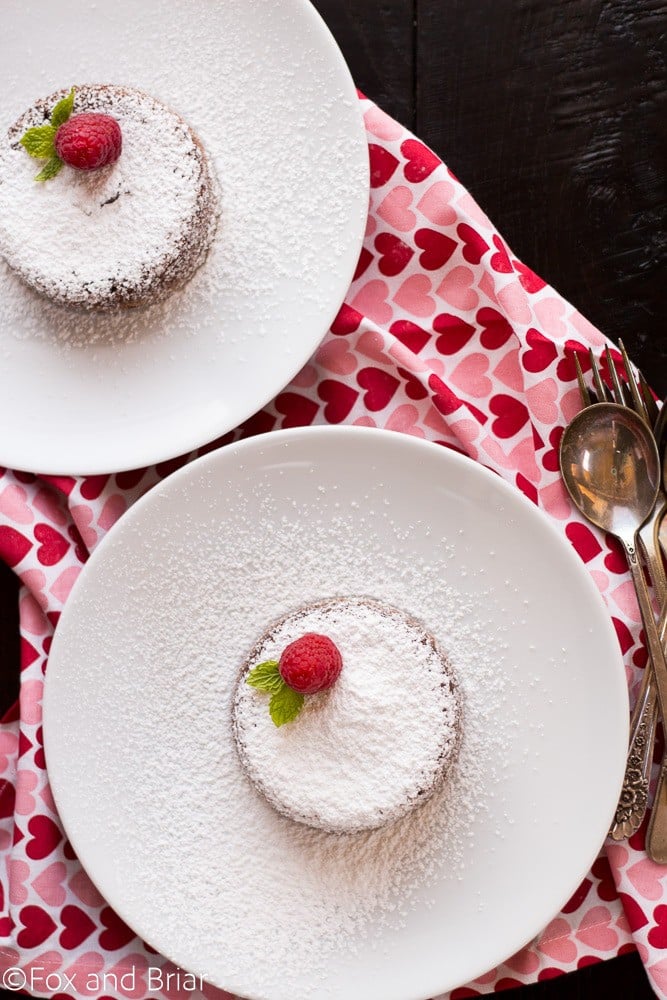 MY LATEST VIDEOS
the perfect Valentine's day
What I love about these cakes are that they are super easy to make, and are so rich and decadent.  It really feels like you are having a restaurant quality dessert.  If you start the meal with my Creamy Bacon Mushroom Pasta and end with these Molten Lava Cakes you can't go wrong!  Add some wine and your favorite netflix show and you might have just had the perfect Valentine's day.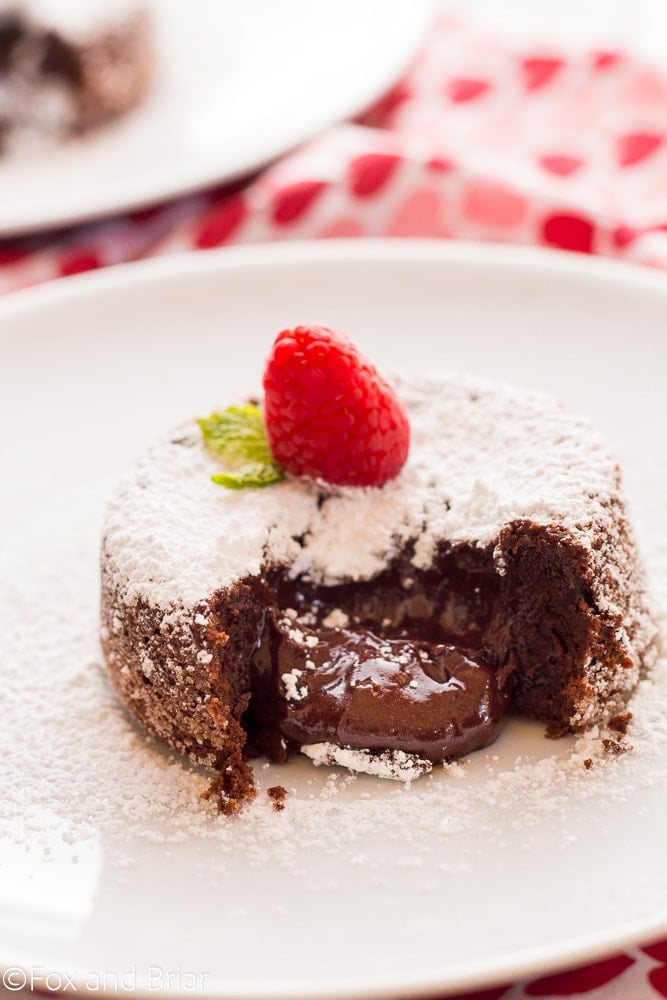 What about you? Do you like to go out on Valentine's day, or do you prefer to stay in?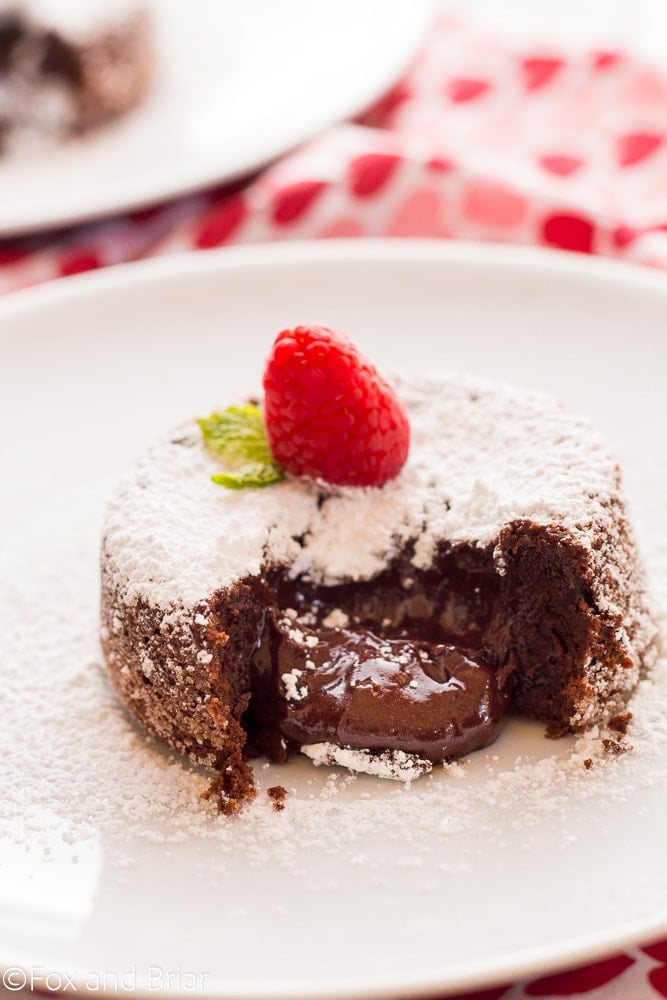 Print
Molten Chocolate Lava Cakes for Two
Yield 2 Servings
Ingredients
4 ounces dark chocolate, chopped
2 Tablespoons softened unsalted butter, plus more for greasing ramekins
2 Tablespoons sugar, plus more for coating the ramekins
1 egg plus 1 egg yolk
2 Tablespoons all purpose flour
1/2 teaspoon instant coffee (optional, but intensifies chocolate flavor, see notes)
1/8 teaspoon kosher salt
Instructions
Preheat oven to 425 degrees
Generously butter the inside of two 6-8 ounce ramekins or custard cups.  Place a small spoonful of sugar in each, and turn the cup to fully coat the inside with the sugar.  Dump out any excess.  Set aside.
In the microwave, melt the chocolate, stopping every 30 seconds to stir (should take a total of 60-90 seconds).  Don't overheat, and take out when just melted.  Set aside. (You can also do this over a double broiler).
Cream together the butter and the sugar in a medium bowl.  You can do this by hand or use a hand mixer.
Add the egg and egg yolk, beat until fully combined and starting to get foamy.
Add the flour, salt and instant coffee, beat until just combined.
Add about 1/3 of the melted chocolate to the mixture, stir until combined.  Then add the rest of the chocolate, stir to fully mix.
Divide evenly between the two ramekins.  Bake for 10-11 minutes, until the tops are just set (they should look slightly under baked)
Allow to sit for 5 minutes, then use a butter knife to run run around the edges of each cake. Turn upside down onto a plate and give the top a tap, the cake should fall out onto the plate.
Serve right away.  I like to serve mine with ice cream, but you an also serve with berries, whipped cream, or just plain.
Notes
The instant coffee does not give the cakes a coffee taste, but it does intensify the chocolate flavor. 
Adapted from Buzzfeed
Courses Dessert