This easy chocolate fondue is a fun dessert for a romantic Valentine's Day dinner or party. It is rich and chocolatey and doesn't even require a fondue pot!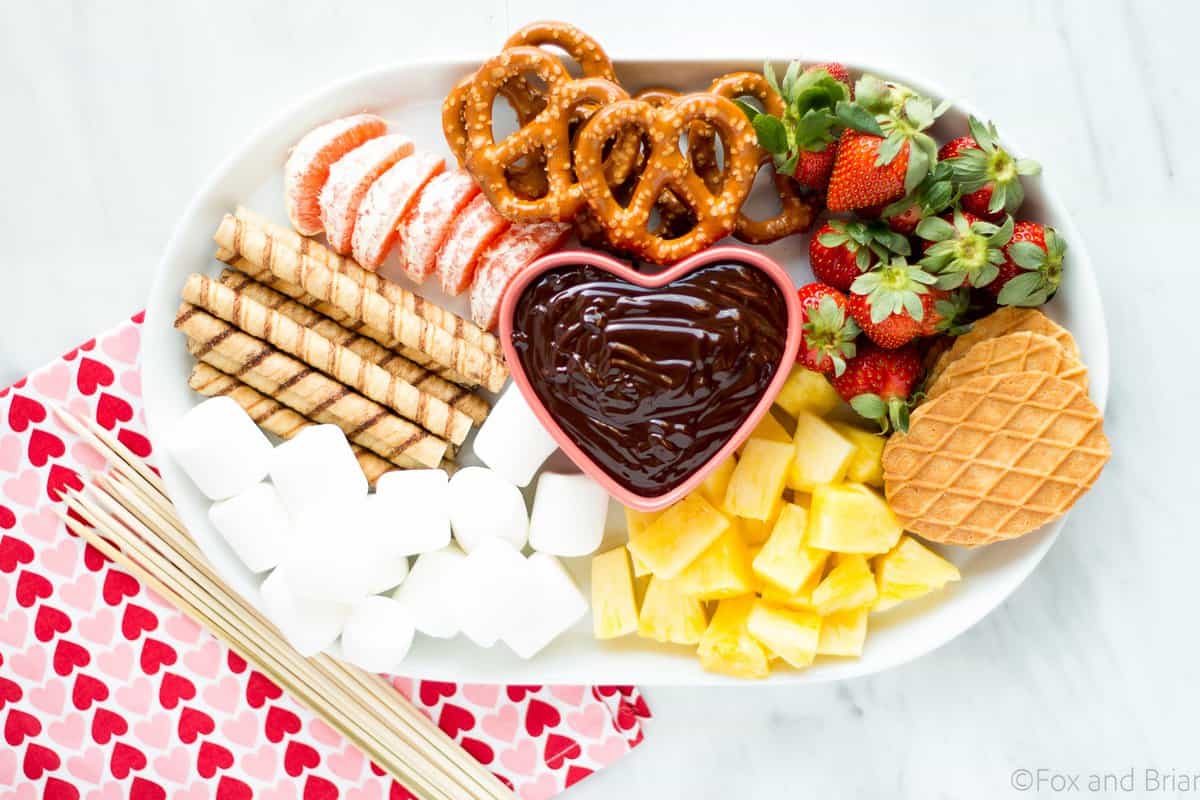 Hey, we made it to February!  I don't know about the rest of the country/world, but the PNW is feeling awfully springy these days.  Which is fine by me, Spring is my favorite season.  Flowers and sunny days and birds chirping, what's not to love?  I know I already posted a Valentine's Day treat on Friday, but I couldn't help but share one more.  As I mentioned in that post, I usually prefer to stay in on Valentine's Day to avoid the crowds.  A few years ago I whipped up this easy chocolate fondue as part of our Valentines' Day dinner, and I couldn't believe how easy but decadent it was.  
Since this fondue is so simple, it is important to use high quality chocolate.  I bought Lindt Sweet Dark Chocolate bars from Fred Meyer when I was picking up the other ingredients.  All you do is melt the chocolate with some half and half (you can also use milk or heavy cream).  Something with a high cocoa content is going to give you a better flavor and consistency.
I almost bought a fondue pot for this post, but then I decided it wasn't necessary.  I mean, I guess if you make fondue regularly it would be worth it to own a fondue pot.  But I don't, and I don't need another kitchen tool cluttering up my cupboards (I have plenty of that already, trust me).  This chocolate fondue stays smooth and dippable long enough that I didn't feel I needed a fondue pot, just using a ceramic dish was fine.
The fun part about the fondue is the dipping, and you get to include whatever you want for that.  I like a variety of fruit, sweet stuff and one or two salty things can balance it out.  For this time around I went with strawberries, pineapple, orange slices, a few store-bought cookies (waffle crisps and piroulines), marshmallows (I used store-bought here, but my homemade strawberry marshmallows would be awesome too!), and some jumbo pretzels.  Some other things that would work great as dippers: banana slices, shortbread cookies, pound cake cut into squares, brownie chunks or cheesecake squares.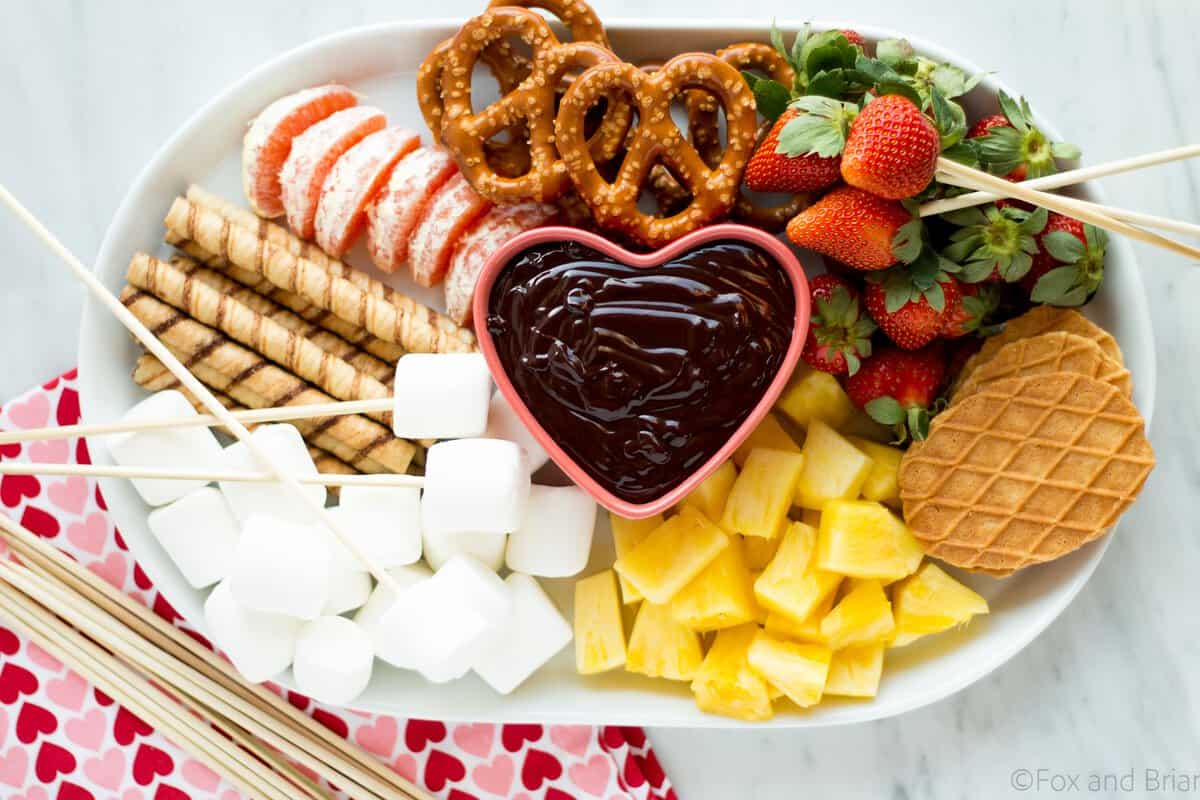 For the dippers, no fancy equipment needed there either.  I just used bamboo skewers, available at most grocery stores.
For this Easy Chocolate Fondue, one trip to the grocery store, 5 minutes of cooking and you have yourself a fancy dessert that will impress your Valentine for sure.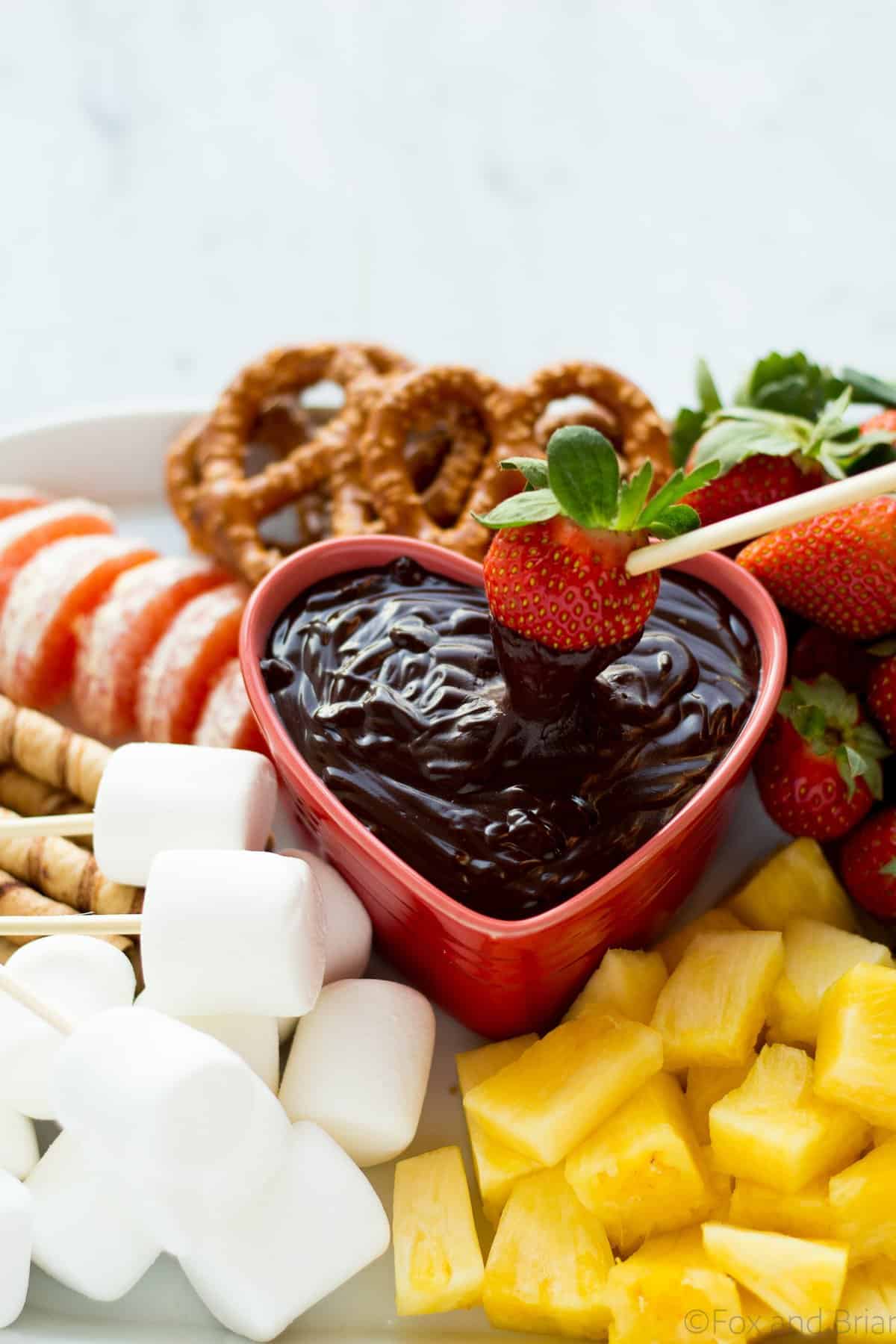 Looking for more easy Valentine's day recipes?  Check out my Raspberry Swirl Brownie Sundae for Two and my Molten Chocolate Lava Cakes for Two!

Prep time:
Cook time:
Total time:
This easy chocolate fondue is a fun dessert for a romantic valentine's day dinner or party. It is rich and chocolaty and doesn't even require a fondue pot!
Ingredients
14 ounces high quality dark chocolate
½-3/4 cup half and half*
Strawberries
Pineapple chunks
Orange Slices
Marshmallows
Wafer Cookies
Pretzels
Instructions
Chop the chocolate into chunks and melt, whisking often, in a double broiler with ½ cup of half and half. Add up to ¼ cup of additional half and half if needed to thin chocolate to desired consistency.
When chocolate is melted and smooth, pour into a serving bowl and serve with dippers. Include bamboo skewers to easily dip them into the chocolate.
Notes
*I used the full ¾ cup of half and half to get the consistency I wanted.
**Leftovers can be stored in the fridge in a covered container for up to 5 days. Chocolate will harden but can easily be melted again in the microwave.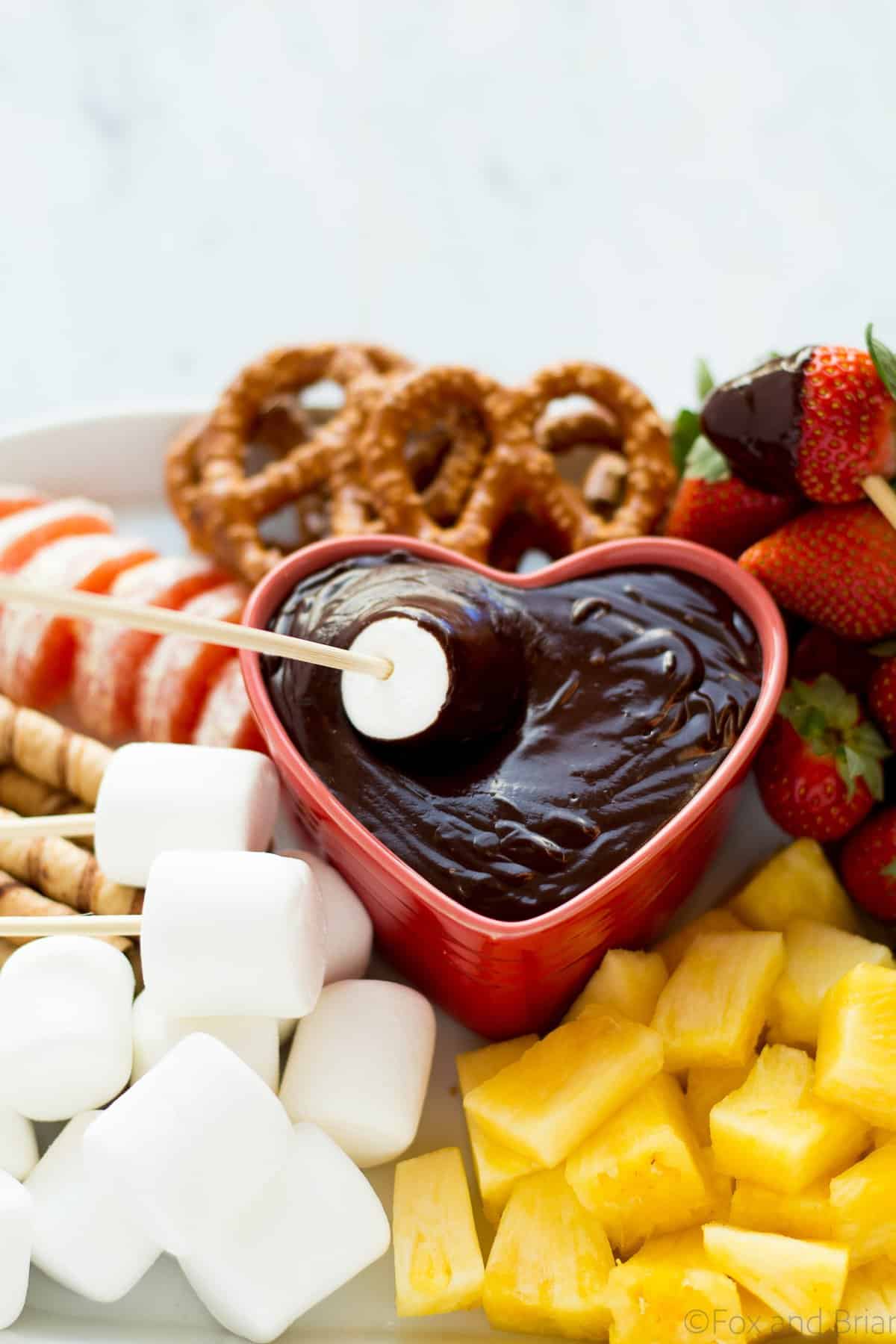 OK, I know I just posted two desserts in a row, I promise to bring you some real food on Wednesday!  In the meantime, what are your plans for Valentine's Day?  If you make this recipe don't forget to tag it @foxandbriar and #foxandbriar on instagram and facebook!  I really love to see what you make!
If you like this, you may also like….
Homemade Strawberry Marshmallows
Disclaimer: I was compensated by Fred Meyer to share my experience with them, however, my opinions, as always, are 100% my own.  Integrity is important to me, and I only share brands and products that I think are awesome.