These Skinny Brownie Bite Ice Cream Sandwiches are a bite sized treat that won't break your calorie budget.  They use luscious low calorie ice cream and low fat mini brownie bites, but you won't even be able to tell they are low in calories!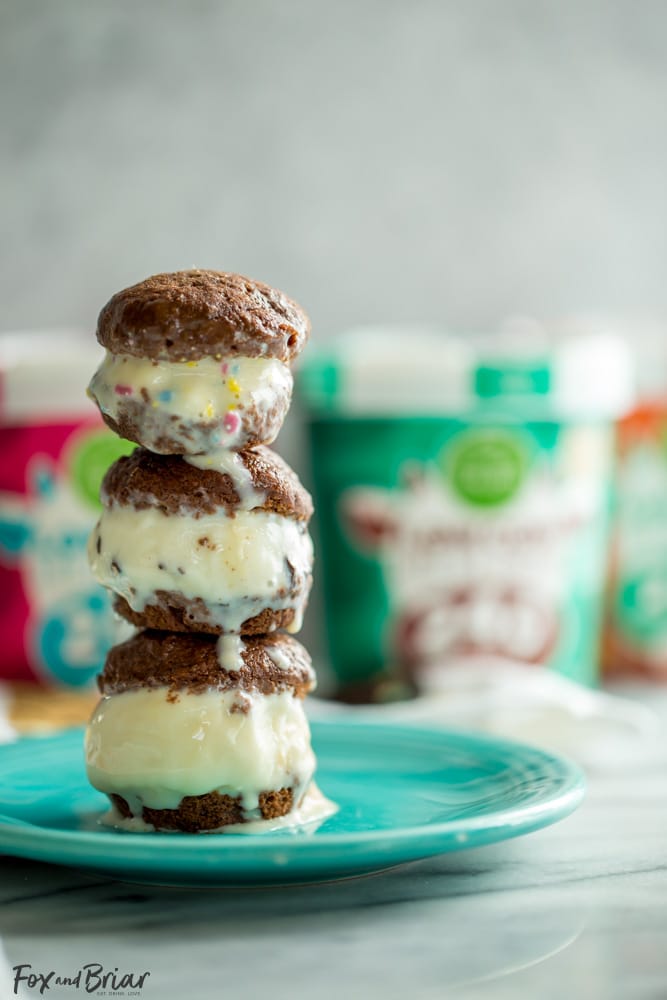 This is a sponsored conversation written by me on behalf of Kroger. The opinions and text are all mine.

If you are anything like me, you might have a reoccurring sweet tooth every evening.  Sometime after dinner I start to get a craving for something sweet, and usually that something needs to involve chocolate.  Having a nightly dessert is not always friendly to the waistline, though, so I came up with these Skinny Brownie Bite Ice Cream Sandwiches – both the brownie bites and the ice cream are lower in fat and calories than their standard counterparts.  Kroger just released their new Simple Truth Low Cow Ice cream and you NEED to try this stuff!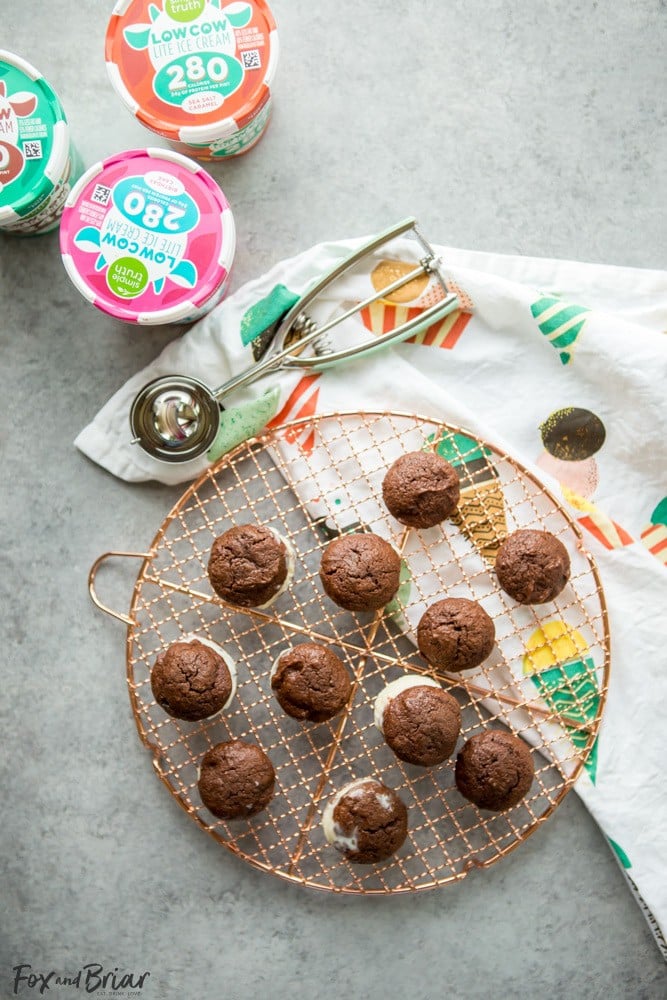 Normally I am wary of low calorie/low fat foods, but I have to say I was pleasantly surprised by how good the Low Cow Ice Cream was.  Of the six flavors, I tried four – Chocolate, Sea Salt Caramel, Birthday Cake and Mint Chocolate Chip – they also have Vanilla Bean and Lemon Cake.  I really couldn't choose a favorite, they are all delicious, rich and creamy.  Being a low calorie ice cream I was worried there would be a weird texture or aftertaste, but there was none of that!  Only deliciousness.  Low Cow is low cal (get it!?!) with 80% less fat and 60% fewer calories than regular ice cream, and also has 24 grams of protein per pint!  And speaking of pints,  who likes to sometimes sit down with a pint and a spoon and just go to town?  A whole pint of the Low Cow Birthday Cake Ice Cream will only set you back 280 calories – some of the other flavors are only 240 calories per pint.  Not too shabby!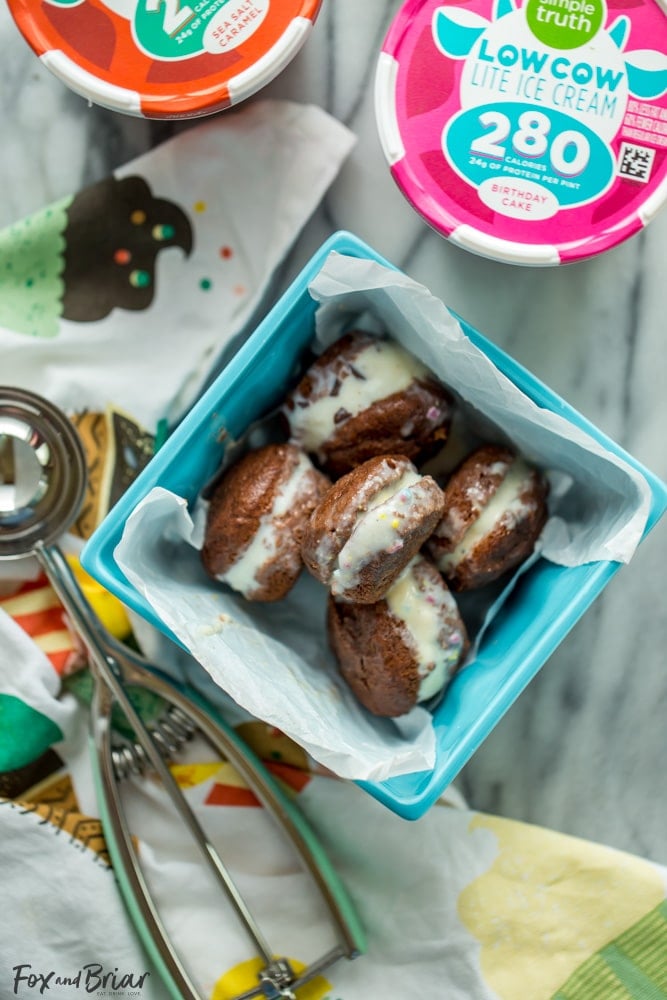 I worked on perfecting my skinny brownie bites so that they were as close to regular brownies as possible.  I didn't want them to taste like a "diet" treat.  I ended up making five or six batches until I felt like they were really good.  On their own they are great, but paired with the Low Cow Ice Cream they are fabulous! I love being able to reach into my freezer for a frozen treat that won't break my calorie budget.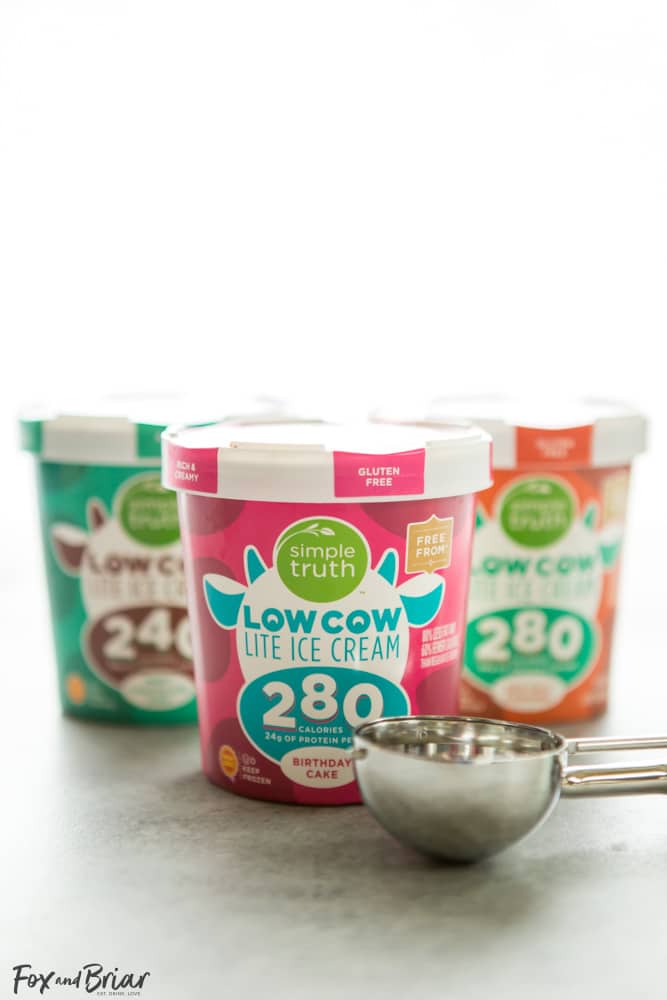 Simple Truth Low Cow Ice Cream is only available at Kroger owned stores – I picked mine up at my local Fred Meyer.  I love that it is made by their Simple Truth brand, so I know I can trust the quality of ingredients.  That also means it is less expensive than other brands.  Have your Skinny Brownie Bite Ice Cream Sandwich and eat it too!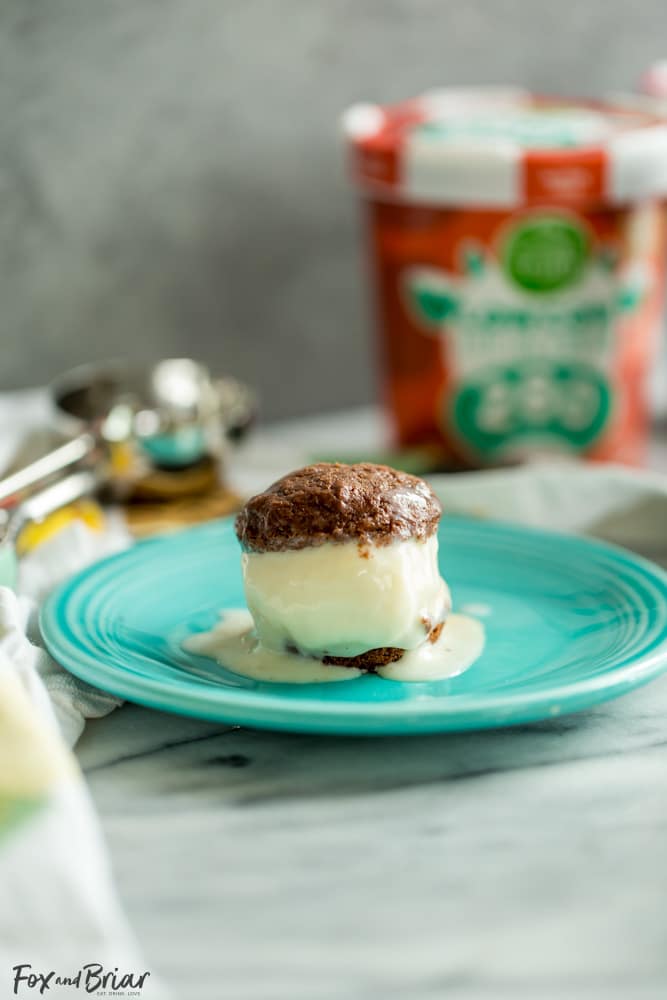 Print
Skinny Brownie Bite Ice Cream Sandwiches
Yield 12 Servings
Ingredients
For Ice Cream Sandwiches
Simple Truth Low Cow Ice Cream (use whichever flavor you prefer.  I used Birthday Cake, Sea Salt Caramel and Mint Chocolate Chip)
12 Skinny Brownie Bites (recipe below)
For Skinny Brownie Bites
1/2 cup All-Purpose Flour
1/3 Cup Cocoa Powder
1/4 teaspoon baking powder
1/4 teaspoon salt
1/4 cup (1/2 stick) melted butter
1/2 cup brown sugar
1/4 cup unsweetened natural applesauce
1 large egg
1 teaspoon vanilla extract
Instructions
To make the Skinny Brownie Bites
Preheat oven to 350 degrees.  Spray a mini muffin tin with cooking spray, set aside.
Sift the flour, cocoa powder, salt and baking powder together, whisk to combine.  Set aside.
In a separate bowl, mix the butter, sugar, applesauce, egg and vanilla.  Whisk until well combined.
Pour the wet ingredients into the dry ingredients, stir until just mixed (don't over mix).
Divide the batter evenly among the muffin cups.  Bake for about 12 minutes, until centers are set.  Remove from pan and cool on a wire rack.
To Make Ice Cream Sandwiches:
Make sure brownie bites are completely cool.
Remove Low Cow Ice cream from freezer and allow to soften slightly, until it can be scooped easily.
Cut each brownie bite in half.  Spoon 1-2 tablespoons of Low Cow Ice Cream one half of each brownie bite.  Top with the other half of the brownie bite.
Can serve immediately or freeze for later.  If not serving right away, wrap each brownie bite with plastic wrap, then store in a freezer bag in the freezer.
Courses Dessert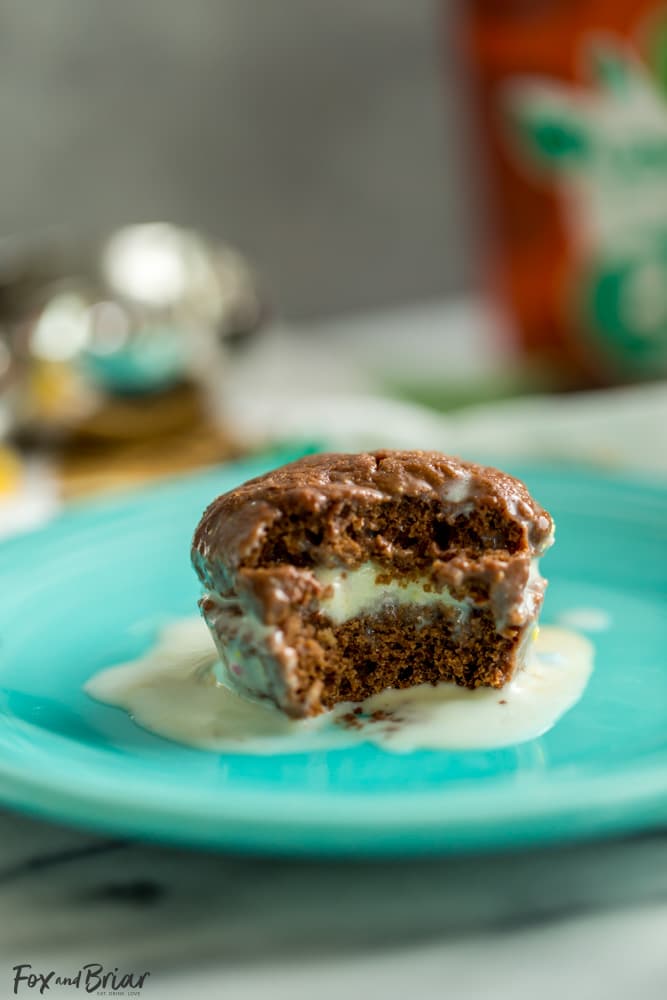 This is a sponsored conversation written by me on behalf of Kroger. The opinions and text are all mine.