A quick video tutorial showing you how to truss a turkey. This quick and easy step will help your turkey cook more evenly and it will also be much prettier when you serve it to your guests!

It's almost Thanksgiving! Are you in charge of the turkey this year? If so, I have some turkey tips for you to make sure you have the best turkey ever! And I made you a little video showing you how easy it is to truss your turkey – that is, bundle it up with kitchen twine to help it cook more evenly and hold its shape. Scroll down for more tips and the video.
Disclosure: This post contains affiliate links, which means that if you purchase the items I recommend through the links I provide, I get a small commission at no extra cost to you. For more info, please see my disclosure policy. Thanks for supporting Fox and Briar!
First of all, there are a  few key Thanksgiving essentials that I think everyone needs in order to make roasting a turkey a breeze.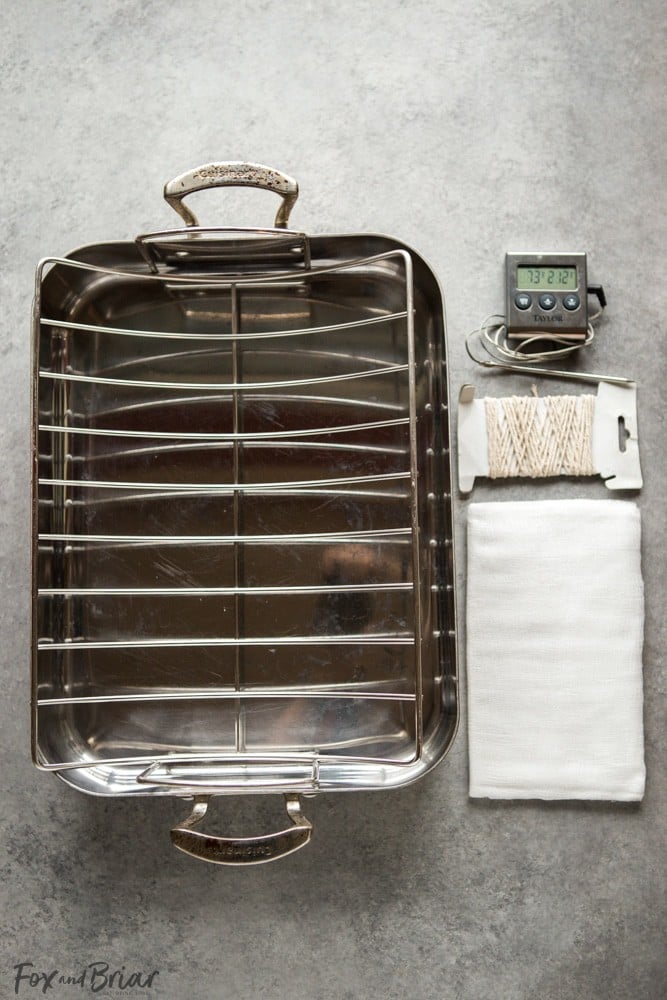 Turkey Tips!
How to thaw your turkey: unless you order a fresh turkey, you will probably have a frozen turkey on your hands.  Be sure you give yourself more than enough time to let it thaw in the fridge.  A frozen turkey needs AT LEAST 24 hours for every 4 pounds, however I recommend that you give yourself a a day or two longer than that.Once thawed, a turkey can stay in the fridge for another two days before it needs to be cooked.
You can also try a quick thawing method if you have a frozen turkey emergency.  Leave the turkey in the wrapper and completely submerge in cold water.  Change the water every thirty minutes.  Thawing will take about thirty minutes per pound.
Be sure to check the turkey cavity AND the neck cavity for the giblets!  Sometimes the heart and liver are in the neck cavity and you don't want to accidentally leave them in there when you roast the turkey!
How much turkey per person?  Plan for 1 to 1 1/2 pounds of turkey per person and you will have plenty.
Throw some aromatics in the bottom of the roasting pan – roughly chopped onion, carrots and celery.  Not only will it add some flavor to the bird, but combined with the turkey drippings they will make a nice base for pan gravy.
Don't stuff the stuffing!  Trying to cook the stuffing in the turkey creates all kinds of food safety hazards.  By the time the stuffing reaches a safe temperature, the turkey will be overcooked and dry.  Instead, put some more aromatics in the cavity to give the turkey more flavor – a few pieces of onion, carrots and celery, and some extra herbs.
The USDA recommends cooking your turkey to an internal temperature of 165 degrees.
And my favorite tip – truss your turkey!  What is trussing?  It is just using some kitchen twine to hold the turkey in a compact shape.  This will not only help the turkey cook more evenly, but it will also make your turkey much prettier when it is finished cooking.  Don't know how to truss a turkey? Don't worry, it's easy!  See my quick video below.
Be sure to check back for my Herb Butter Roasted Turkey soon!