I've put together a list of ten perfect gifts for the aspiring cook in your life.  At least some of these 10 kitchen essentials are on every cooking enthusiast's wish list.  Make sure Santa brings them what they want!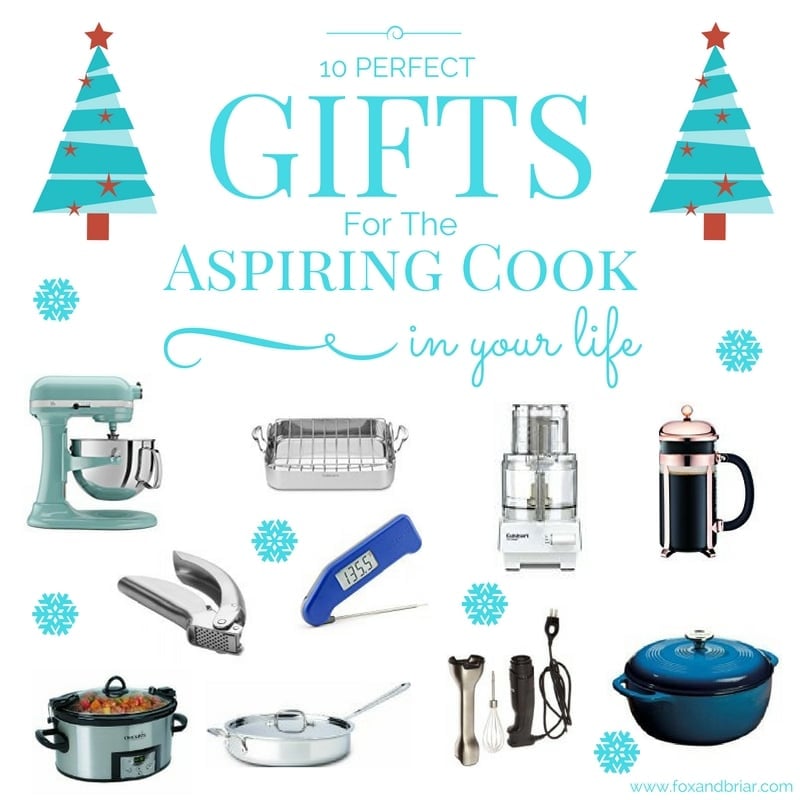 With Christmas just around the corner (48 days and counting!) it is time to start thinking about holiday gifts.  The holidays are a great time to splurge on those big-ticket items that you or your loved one has been eying all year.  This list has items at all price ranges, but some of the items are definitely splurges! Each of these items are things that I own and consider essential items in my kitchen.  I can't recommend them enough!  I will be putting together another list of inexpensive items that would be great as stocking stuffers, so look for that coming soon!
Disclosure: This post contains affiliate links, which means that if you purchase the items I recommend through the links I provide, I get a small commission at no extra cost to you. For more info, please see my disclosure policy. Thanks for supporting Fox and Briar!
French Press
A French press is one of the best ways to make great coffee at home.  I recently got this copper french press from Bodum, and I love it!  Copper is a huge trend this year, and I just love the way this looks.  It is available in stainless steel as well, however, if copper isn't your thing.  If you really want to complete the gift, get a burr grinder as well, the best way to grind coffee for a French press.

All-Clad Stainless Steel 3-Quart Saute Pan
A really high quality pan is a thing of beauty.  It might seem ridiculous to spend this much money on a pan, but it really is worth it.  The tri-ply bonded metal gives even heating, and I like the high sides because I am less likely to make a mess while cooking!  An investment, but this is my go-to pan.

Enameled Cast Iron Dutch Oven, 6-Quart
A Dutch oven is a kitchen essential that everyone should have.  Most people wish that they could have a Le Creuset (including me!) but I have had this Lodge Enameled Cast Iron Dutch Oven for over five years and it works wonderfully.  I use it for everything, from soups and stews to braising and frying. I have even baked bread in it!  Plus, it is about 1/4 the price of the Le Creuset, so you really can't beat that!


The Kitchen Aid is the ultimate gift for anyone that loves to cook or bake.  I am super lucky because I have the Kitchen-Aid that my grandmother bought over 30 years ago! And it still works perfectly.  That should tell you about the quality of this item.  This is great for baking of course, but it also has optional attachments for making pasta, grinding meat and more.

Garlic Press
The garlic press is not the coolest item in the cooking world.  There are many chefs and cooks who scoff at the garlic press.  But I'm not going to lie, I LOVE mine.  I use my garlic press almost every day.  I upgraded to this one after wearing out my old one, and this has got to be the best garlic press ever.  The press mechanism flips up to make it super easy to clean, which is essential for a garlic press.

Cuisinart 7-Cup Food Processor
I don't have a fancy blender.  The reason I don't need one is that I have a food processor.  This is the workhorse of my kitchen.  I use it several times a week, for things like making my own nut butter, pizza dough, cauliflower rice, shredding carrots and cheese, making all kinds of sauces, grinding meat…  Honestly it would take me forever to list all the uses.  If you don't have a food processor yet, get one ASAP!  I have had this model for about 7 years and I have never had any problems with it.

ThermoWorks Cooking Thermometer
A good meat thermometer is the only way to get perfectly cooked meat.  I use this all year, when grilling steaks, roasting chicken, and of course when making the turkey on Thanksgiving.

Cuisinart MultiClad Roaster with Rack
Speaking of roasting meat – a good roasting pan makes all the difference.  I bought my first roasting pan when I was hosting Thanksgiving for the first time, but I use it year round.  I often make roasted chickens as a Sunday dinner, and it is also perfect for a standing rib roast or any other large roast.  This pan is very high quality, so if you are cooking vegetables under the meat they cook perfectly as well.

Immersion Blender
A hand blender is essential for making blended soups and sauces.  Although the cordless versions are appealing, they tend not to have as much power.  That was why I opted for this corded, highly rates Breville Hand Blender.  Creamy smooth soups for everyone!

Crock-Pot 6-Quart Programmable Slow Cooker
A Crock-Pot isn't the sexiest gift, but they sure are convenient.  Being able to throw some ingredients in the pot in the morning and come home to a delicious, hot dinner just can't be beat.  I recently used mine to make this Slow Cooker Beef Pho.  This is a similar version to what I have, although this one has clasps  to keep the lid closed if you are traveling with it.