This Honey Sesame Shrimp and Broccoli is a quick and easy dinner.  Shrimp and broccoli are quickly sautéed in a sweet and savory sauce that everyone will love! This is great served over rice or noodles, or you can use cauliflower rice or zoodles for a lower carb dinner.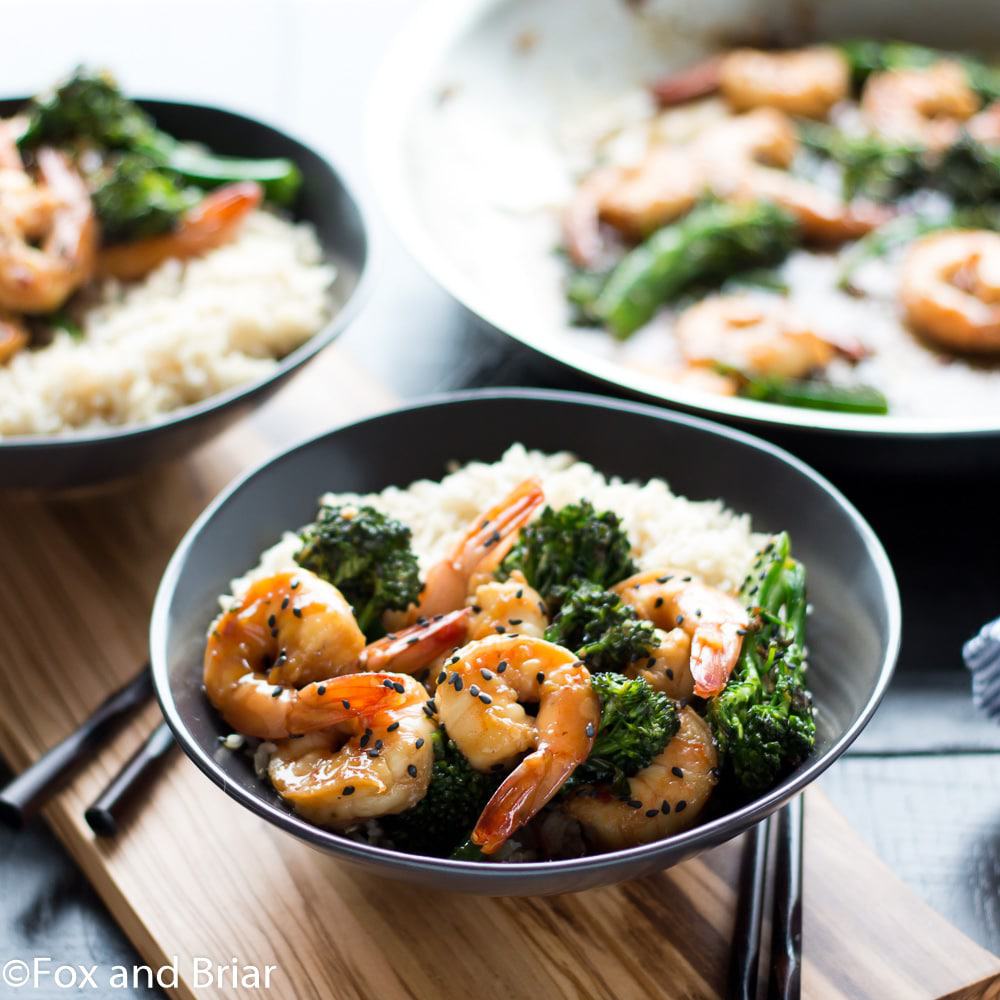 Hi friends, how is January treating you?  Still on the healthy eating train?  I don't know about you, but I am always on the lookout for easy, quick and healthy dinners, no matter what month it is.  I can tell that I'm not the only one, judging by how popular my New Years Roundup of 31 Healthy Dinners that take 30 minutes or less was!  I aim to please, so today I am bringing you another easy, quick and healthy dinner – Honey Sesame Shrimp and  Broccoli!
You know I love shrimp recipes, from Roasted Shrimp and Asparagus to Garlic Shrimp, I can't help myself.  I love this recipe because the sauce is a little sweet and spicy, and the recipe is so fast!  Whisk together a sauce, pour half of it on the shrimp to give it a quick marinade – 15 minutes will do.  Then saute some broccoli, then the shrimp, then they all go back in the pan together with the reserved sauce.  Serve over rice – or cauliflower rice for fewer carbs.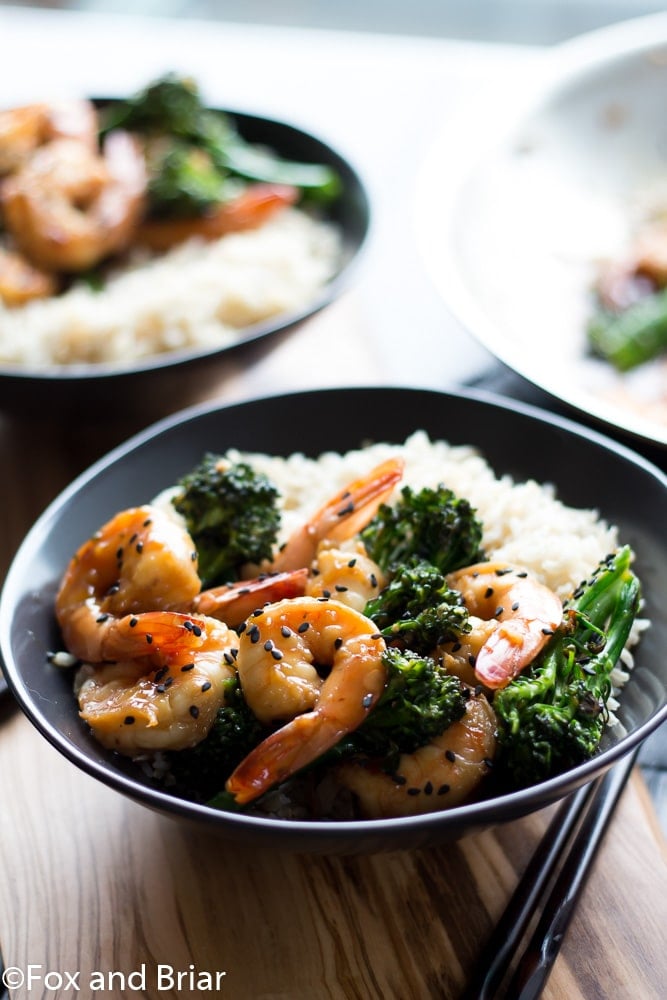 Garnish with a few sesame seeds if you want – they are really just for looks, so don't worry if you don't have them on hand.  And dinner is served!
Print
Honey Sesame Shrimp and Broccoli
Yield 4 Servings
Ingredients
For the Stirfry
1 pound shrimp (I like 21-25 count size)
1 pound broccoli, cut into small florets
1 tablespoon Olive Oil
Honey Sesame sauce (see below)
sesame seeds for garnish (optional)
For The Sauce
1/3 cup soy sauce (reduced sodium)
1/3 cup honey
4 garlic cloves, finely minced
1 tablespoon fresh grated ginger root
1 teaspoon sesame oil
1 teaspoon chili garlic sauce (or to desired spiciness)
1 tablespoon cornstarch
Instructions
Whisk together all ingredients for the sauce EXCEPT the cornstarch.  Pour half of the sauce over the shrimp, reserve the other half of the sauce.  Marinade the shrimp for at least 15 minutes in the refrigerator.
Add the cornstarch to the reserved sauce, whisk to combine.  Set aside.
Heat a large skillet over medium high heat.  Add the oil.  When hot, add the broccoli and stir fry until crisp-tender and bright green, about 5 minutes.  Remove broccoli from pan.
In the same pan, add the marinaded shrimp.  Sear on one side until starting to turn pink, 1-2 minutes, flip and repeat on other side.  Remove from pan as soon as shrimp are pink and cooked through.
Wipe out pan.  Return the broccoli to the pan.  Pour the reserved sauce over the broccoli and toss to fully coat the broccoli in the sauce.  Return the shrimp back to the pan.  Toss to coat everything in the sauce, continue to cook for about a minute, or until sauce has thickened and everything is heated through.  Remove from heat.
Garnish with sesame seeds and serve.
Notes
We don't put the cornstach in the marinade because it will make the shrimp very soft.  The cornstarch added to the reserved sauce will help it thicken.
Courses Dinner
Adapted from Homeade Hooplah
If you make this recipe don't forget to tag it @foxandbriar and #foxandbriar on instagram and facebook! I really love to see what you make and you may be featured in our weekly Reader Feature!