These Salted Caramel S'mores in the oven are a fancy version of the classic s'more!  You don't need a campfire to make these s'mores!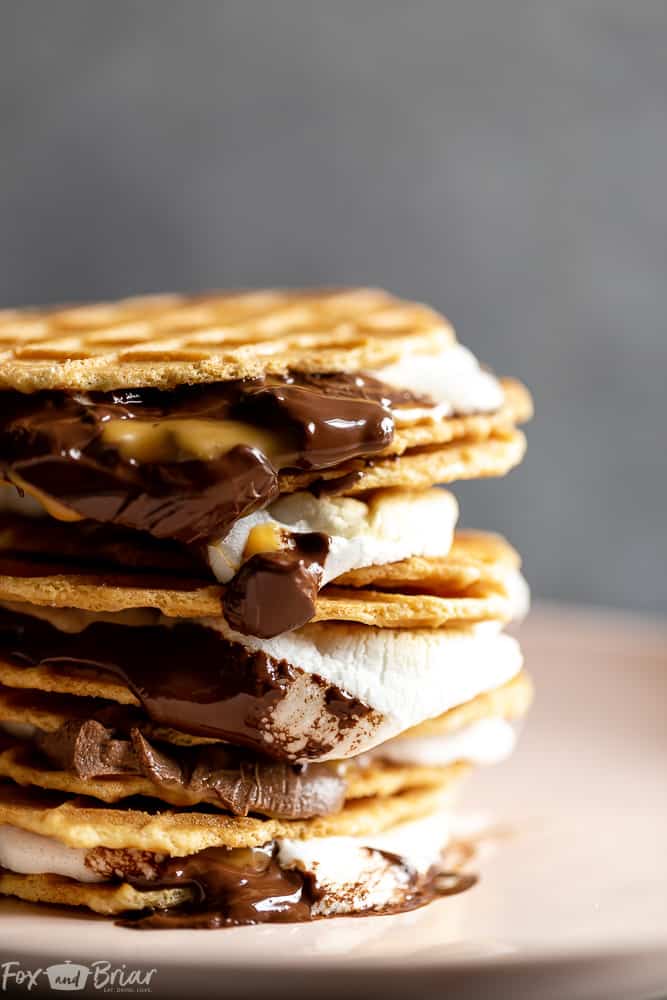 Disclosure: This post contains affiliate links, which means that if you purchase the items I recommend through the links I provide, I get a small commission at no extra cost to you. For more info, please see my disclosure policy. Thanks for supporting Fox and Briar!
So it looks like I missed National S'mores Day.  Whoops?  I also missed an important milestone – my THREE YEAR BLOGIVERSARY!  I realized I missed it when I realized it was National S'mores Day, because they are on the same day (August 10th, if you were wondering). Oh well, better late than never, right?
Warning:  I'm about to get a little personal here!  If that's not your thing, no worries, you can jump straight to the recipe  HERE.
When I first started my blog three years ago, I was not in the best place.  I had just gone through the devastating loss of my first baby.  Then six weeks later, still reeling, my husband and I moved from Portland to Seattle.
It took me a few months to even want to do anything. My daily goals were two things – take a walk and make dinner.  If I got those things done, I felt like I was doing OK. But eventually I decided it was the time to start this blog.  I had been wanting to do it for a long time, and I needed a creative outlet, something to focus on and be excited about.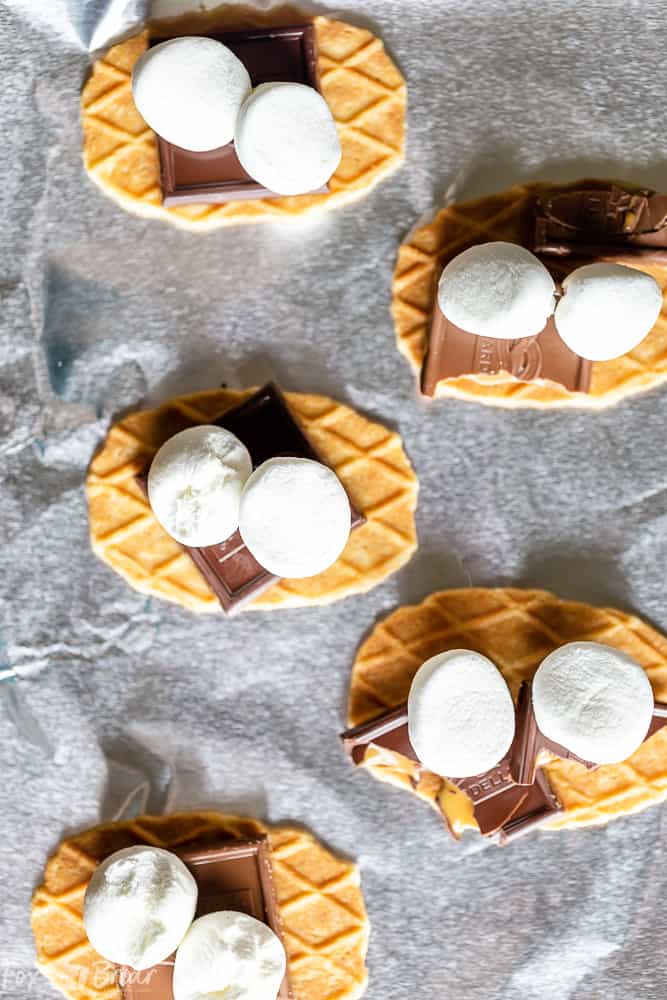 And guess what?  I DID get excited.  I did get motivated.  I found my passion, and I found a community of people who were just as passionate and excited as I was.
It may be a little dramatic to say "blogging saved my life".  But I will say that it changed my life, and it helped me get from a very dark place back to joy.  Thank you all for being a part of that.  And now – on to these SALTED CARAMEL S'MORES!

HOW DO YOU MAKE A S'MORE?
The traditional s'more recipe is one or two marshmallows roasted over a fire, sandwiched with a chocolate square between two graham crackers.
WHY DO THEY CALL IT S'MORES?
The first known published recipe was for "some mores", called that because everyone always wanted some more!  The recipe was published in a Girl Scout handbook in 1927, and S'mores and camping have been inseparable ever since.

HOW DO YOU MAKE S'MORES WITHOUT A CAMPFIRE?
So what if you want a s'more and you don't have a fire?  Can you make s'mores without a campfire?  Yes! You can make s'mores at home in the oven, microwave, or even on the stovetop!
CAN YOU MAKE S'MORES ON THE STOVE?
Yes!  If you have a gas stove, you can (carefully!) roast your marshmallows over the flame.  Watch carefully and if you are a kid, be sure that you have an adult help you!  Even if you are an adult, roast with caution.
CAN YOU MAKE S'MORES IN THE OVEN?
Yes!  Since I don't have a gas stove top, I prefer to make my s'mores in the oven.  What are the benefits of making s'mores in the oven? You can make multiple s'mores at once, and you still get a toasty "roasted" marshmallow.  To make s'mores in the oven, place your graham cracker on a baking sheet, top with a chocolate square, and then top with a marshmallow torn in half.  Place under the broiler for 30 seconds to 2 minutes, watching carefully until your marshmallows are toasted.  Remove from the oven, top with a second graham cracker and serve!
CAN YOU MAKE S'MORES IN THE MICROWAVE?
Yes!  To make s'mores in the microwave, place your graham cracker on a microwave safe plate, top with a chocolate square, and then top with a marshmallow torn in half.  Microwave for 10-15 seconds, until you see your marshmallow start to puff up.  Remove from microwave and top with a second graham cracker. And if you don't want to even fuss with that, check out my One Minute S'mores Dip For One.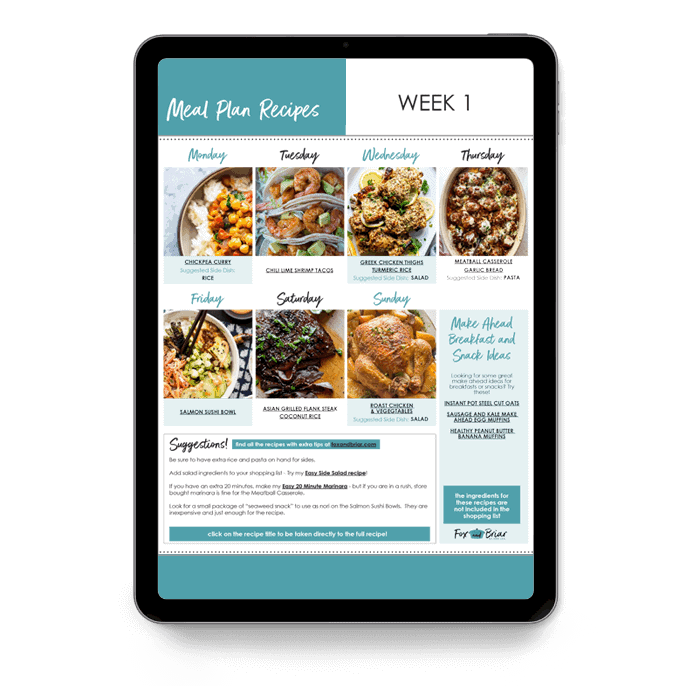 Salted Caramel S'Mores In the Oven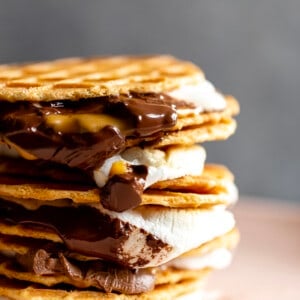 These Salted Caramel S'mores in the oven are a fancy version of the classic s'more!  You don't need a campfire to make these s'mores!
Ingredients
10

Belgian Waffle Butter Crisp Cookies

or you can use regular graham crackers if you prefer

5

salted caramel filled chocolate square, 1 ounce each

I used Ghirardelli

5

marshmallows

torn in half
Instructions
Set rack in oven to highest setting. Turn on broiler.

Line a baking sheet with foil for easy clean up. Place five cookie crisps on the baking sheet. 

Top each cookie with one chocolate square.

Tear each marshmallow in half, place two halves on top of the chocolate.

Place baking sheet in the oven under the broiler.  Watch carefully, allow to broil for

30

seconds to

2

minutes, until the marshmallows are golden brown and puffed up, and chocolate is starting to melt.

Remove from oven. Top each with another cookie and serve right away.
Nutrition
Serving:
1
S'more
|
Calories:
179
kcal
|
Carbohydrates:
20
g
|
Protein:
1
g
|
Fat:
4
g
|
Saturated Fat:
10
g
|
Cholesterol:
42
mg
|
Sodium:
71
mg
|
Fiber:
1
g
|
Sugar:
17
g
|
Calcium:
7
mg
|
Iron:
0.5
mg
Nutrition information is automatically calculated, so should only be used as an approximation.
Did you like this recipe?
Please comment, rate and share! And don't forget to tag me on Instagram @foxandbriar AND #foxandbriar so I can see what you made!
WHAT ARE SOME OTHER S'MORES VARIATIONS?
There are so many ways to make different kinds of s'mores!  For example:
Instead of a  regular graham cracker, try a chocolate chip cookie, chocolate graham cracker, cinnamon graham cracker, shortbread cookie, oreo, or pretzel crisp.
Add some peanut butter, nutella, dulce de leche or cookie butter.
Try different kinds of chocolate – white chocolate, a peanut butter cup, a chocolate mint, flavored chocolate (like orange chocolate), chocolate with add-ins such as rice crisps or peppermint.
Add fruit such as bananas or sliced strawberries.
Try adding something savory like bacon for a sweet and salty combo.
What combinations can you come up with?