These Slow Cooker Beef Burrito Bowls are a delicious and easy make ahead meal.  All ingredients can be prepared ahead of time and putting the burrito bowls together just takes a few minutes. Just like your favorite Chipotle burrito bowl, but better!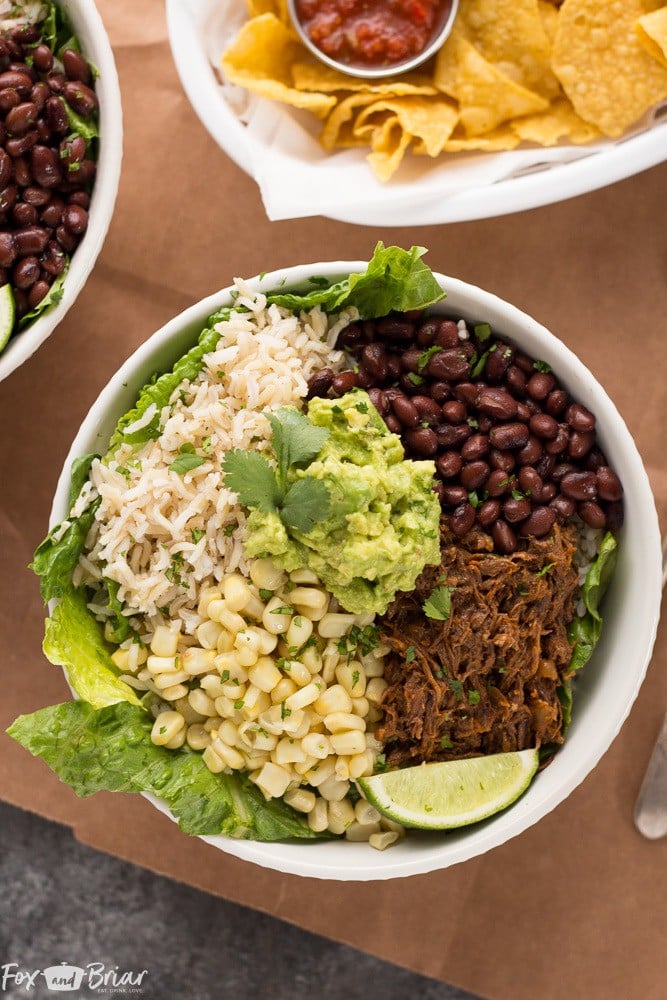 Let me introduce you to your new weeknight life saver.  The Slow Cooker Beef Burrito Bowl.  On Wednesday I shared my All Purpose Slow Cooker Mexican Shredded Beef, which works for all kinds of meals.  My favorite use so far though is this burrito bowl.  First of all, I've been a sucker for burrito bowls ever since I first tried them at Chipotle.  All those delicious flavors in a big bowl, how can you not love that?

To be honest, it has been a few years since I've found myself at a Chipotle, but that doesn't stop me from enjoying burrito bowls at home.  One reason I LOVE these is that they are so easy to throw together, especially if the ingredients have been prepared ahead of time.  I have been eating burrito bowls for breakfast lunch and dinner (OK, slight exaggeration, but lots of leftovers is the life of a food blogger) and I love that I can just open my fridge and grab the ingredients in their various storage containers, reheat the things I want reheated and have lunch ready a few minutes later.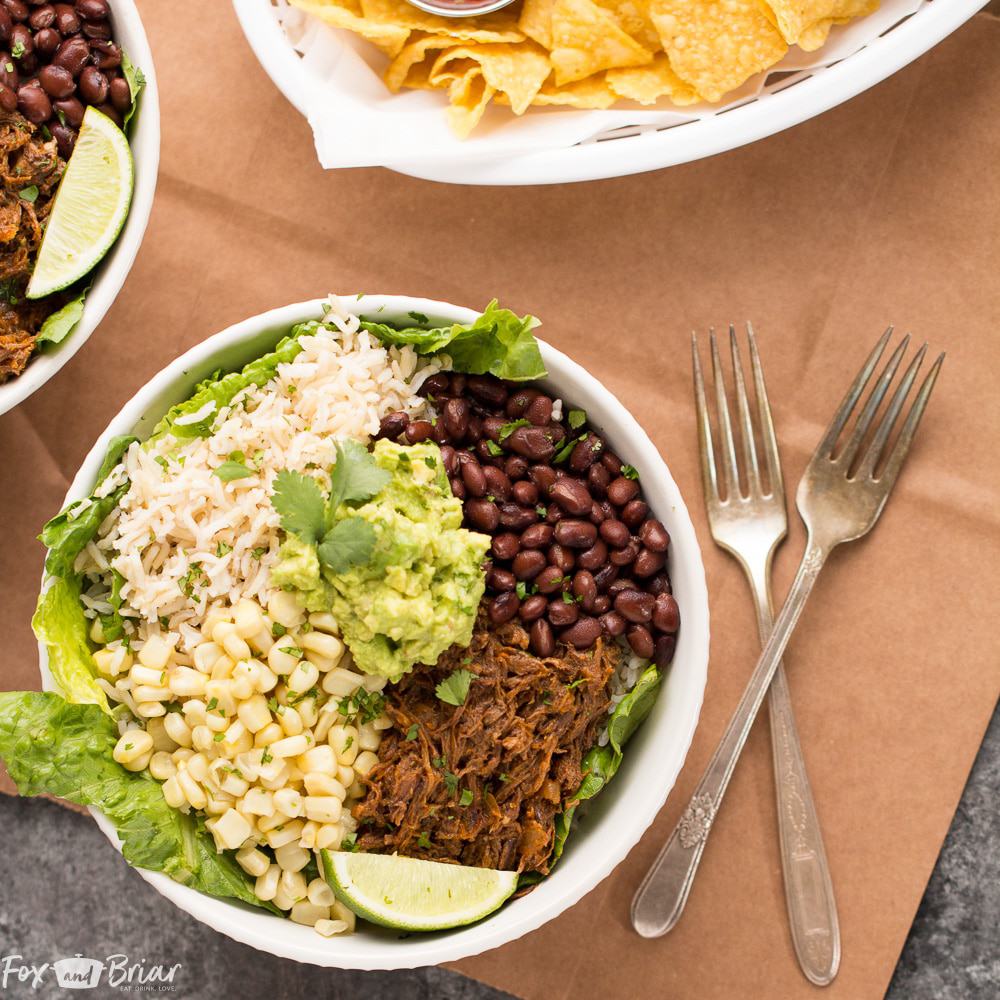 Even the preparation of this Slow Cooker Beef Burrito Bowl is super easy – the beef is made in the slow cooker, so it's mostly hands off.  Start a pot of rice, reheat a can of beans and some frozen corn, whip together my Super Easy Guacamole (only 4 ingredients!) and presto – have yourself a delicious burrito bowl.  Done and done.  To quote my BFF Ina , how easy is that?
Print
Slow Cooker Beef Burrito Bowl
Yield 4 Servings
Ingredients
6 cups romaine lettuce
2 cups cooked brown rice
2 cups cooked black beans
2 cups cooked corn kernels (I used frozen since it is not in season right now)
12-16 ounces Slow Cooker Mexican Shredded Beef (Click here for recipe)
1 cup Super Easy Guacamole (Click here for recipe or use your favorite guacamole)
1/2 cup of Salsa
lime slices
hot sauce (optional, to taste)
Cilantro (optional, for garnish)
Instructions
To make burrito bowls, evenly divide lettuce, rice, beans, corn and shredded beef between bowls.   Top with guacamole and salsa, garnish with cilantro if using.  Serve with lime slices and hot sauce if desired.
Notes
This is a great make ahead meal.  All ingredients can be prepared ahead of time and stored separately in the fridge.  Rice, beans, corn and meat can be reheated and the bowls can be put together in just a few minutes.
I didn't add cheese to my bowl to save on calories but feel free to add some of your favorite shredded cheese, I bet it is delicious!
Courses Dinner
If you make this recipe don't forget to tag it @foxandbriar and #foxandbriar on
instagram
and
facebook
! I really love to see what you make and you may be featured in our weekly Reader Feature!