This delicious Slow Cooker Pork Carnitas recipe is tender and juicy, yet simple to make.  Mexican pulled pork is great to have on hand for carnitas tacos, burrito bowls, salads, sandwiches and more.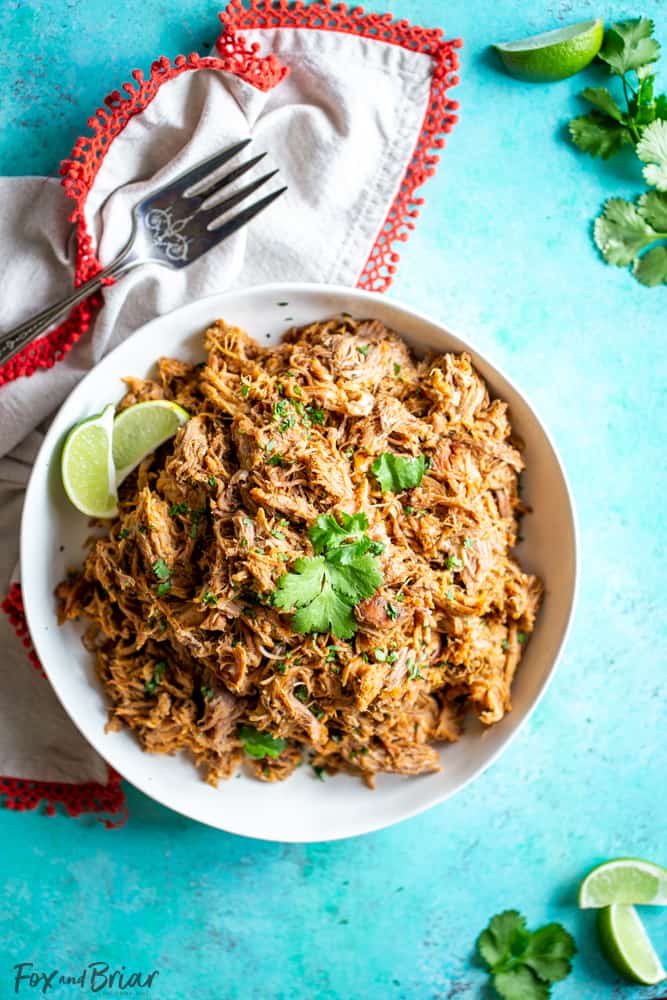 Slow Cooker Pork Carnitas Recipe
If you are looking for an easy but flavor packed Slow Cooker Pork Carnitas recipe, I have one for you!  Adapted from my popular Mexican Shredded Beef (Barbacoa) Recipe, these Slow Cooker Carnitas require minimal prep and are delicious in tacos, burrito bowls, and even on salads!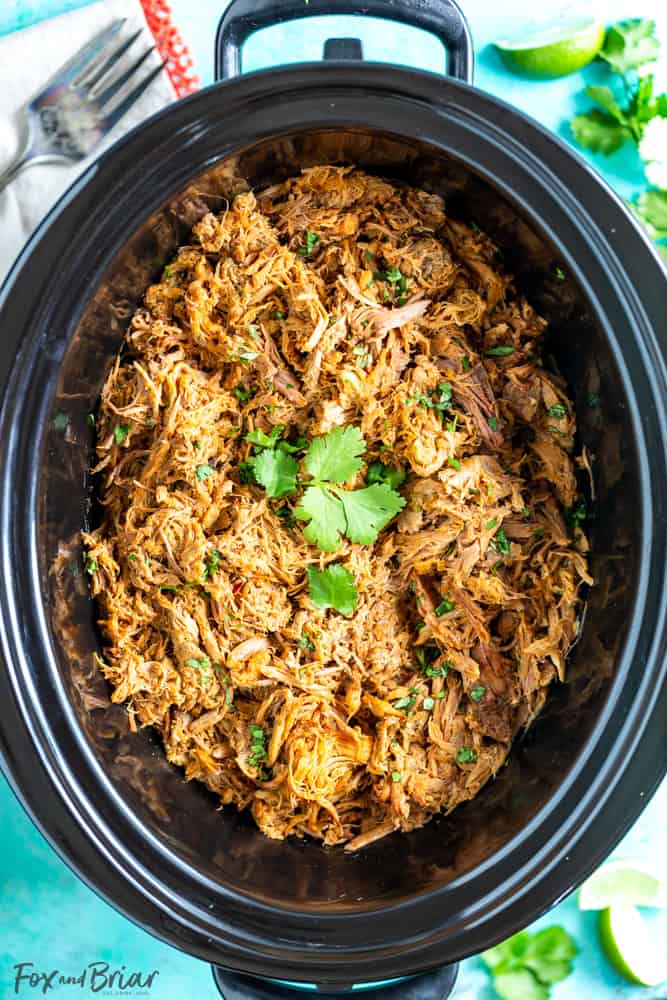 What Are Carnitas?
Pork Carnitas are traditional made like a confit (something cooked in its own fat), simmered in their own fat until very tender.  Then after they are very tender, they can be shredded and crisped up in the pan.   In this case, we are adapting the recipe for a modern kitchen by using the slow cooker.
Crock Pot Carnitas
Why use the slow cooker for carnitas?  We are using a tough cut of meat – the pork shoulder, or Pork Butt.  This is a muscle that works very hard, so it has lots of connective tissue, which makes it tough.  But, when cooked for a long time over low heat, that connective tissue breaks down and makes the meat very tender and juicy. With the Crock Pot, we can cook the pork low and slow without having to watch over it.  I use THIS Crock Pot (affiliate link).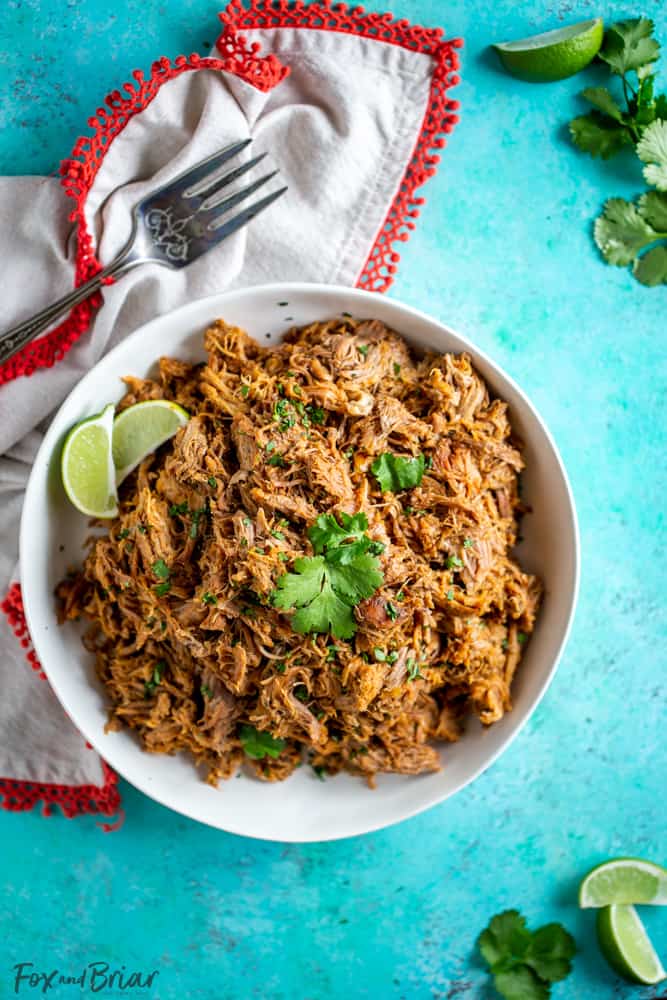 What Cut of Pork is Carnitas?
Carnitas are usually made from a cut of pork shoulder – the Boston Butt or Picnic Ham.  In the UK it is sometimes referred to as the Pork Hand.  This is a fatty, marbled piece of meat with lots of connective tissue.  It benefits from a long cooking time to break down the connective tissue and make it tender and juicy.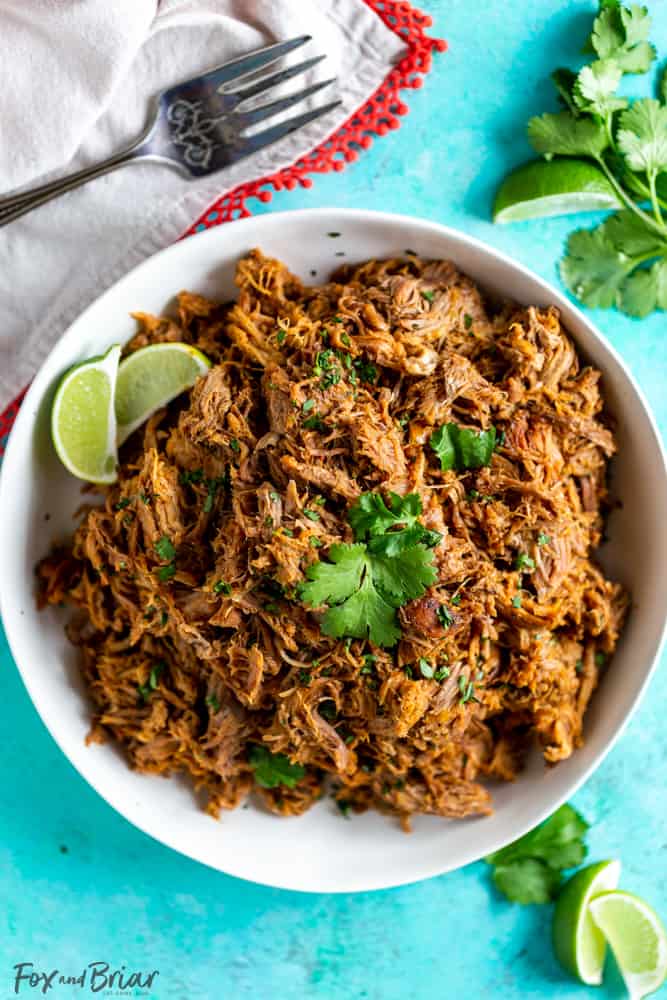 If you like this recipe, you will love:
Slow Cooker Mexican Shredded Beef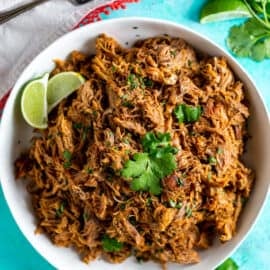 Slow Cooker Mexican Pulled Pork
Print
Pin
Rate
Total Time:
8
hours
10
minutes
Ingredients
3

pounds

Pork Shoulder Roast

1

onion

diced

4

garlic cloves

minced

2

tablespoons

tomato paste

Juice of one lime

1-2 tablespoons

1

Tablespoon

chili powder

1

teaspoon

cumin

1

teaspoon

paprika

1

teaspoon

dried oregano

1

teaspoon

kosher salt

plus more to taste

1/4

teaspoon

red chili flakes
Instructions
Mix together the chili powder, cumin, paprika, salt, oregano and red chili flakes, set aside.

Add the chopped onion and garlic to the slow cooker with the tomato paste, lime juice, and just 1-2 teaspoons of the spice mixture. Stir everything together until fully mixed.

Sprinkle the rest of the spices all over the chuck roast, patting to help it stick to the meat.

Place the meat on top of the onion mixture and set cook on low for 8-9 hours. Total cooking time will vary for different roasts.

After meat has cooked, use two forks to shred the meat, removing any large pieces of fat or gristle as you find them. (If the meat is still too tough to shred, it needs to be cooked a little longer. Cook for an additional 30-60 minutes and check it again.) Stir to mix well with the sauce. Cover and continue to cook on low for another 30-60 minutes.

Before serving stir well again to mix the meat with the sauce. Taste meat and season with more salt to taste.

Optional Step: To create crispy carnitas, heat a heavy skillet (cast iron is best) over medium high heat. When pan is hot, add 1 tablespoon of oil. Add the carnitas in batches, careful not to crowd the pan. Drizzle a few tablespoons of the cooking liquid from the crock pot over the meat as it fries. Once bottom is crispy, turn the meat, until desired crispiness is reached.
Notes
This type of meat will get tender by cooking low and slow. If it seems too tough when you think it is done, try cooking for another 30-60 minutes, then check again. The longer you cook it, the more tender it will get. You can also use a bone in pork roast, but it may take a few hours longer to get tender.
Nutritional information is an estimate for your convenience. If you have strict nutritional needs, please do your due diligence to make sure this recipe fits your needs.