These White Bean and Kale Patties are a quick and easy vegetarian meal!  This kid and toddler friendly recipe is perfect to make ahead and freeze for later.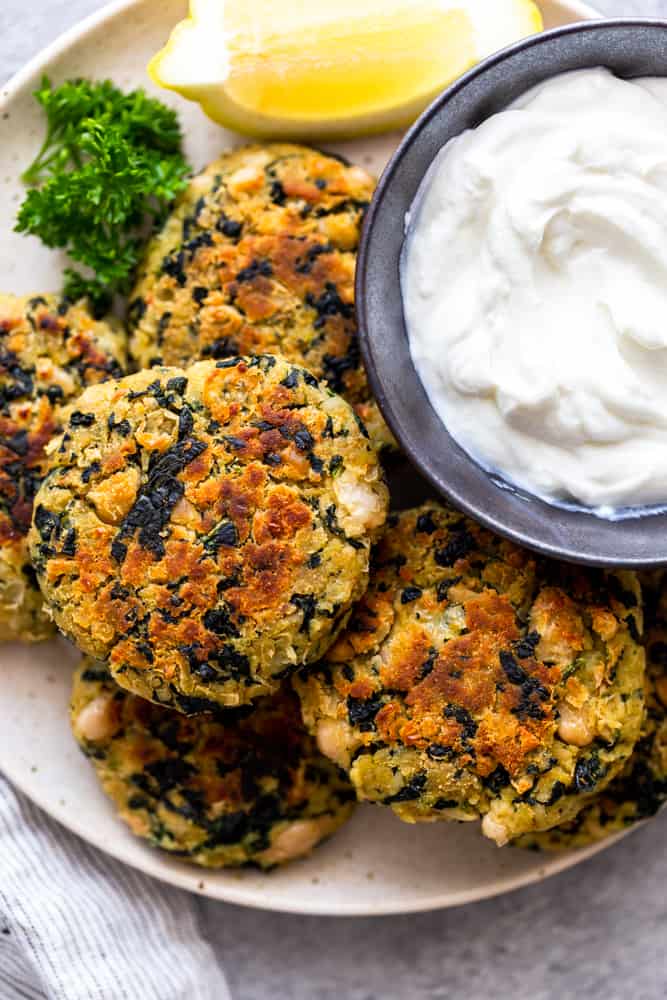 Hey friends!  Today I am sharing a brand new recipe that I created to help get my toddler to eat more calcium: White Bean and Kale Patties!  I have shared some other recipes perfect for babies and toddlers such as my Sweet Potato Kale Patties and my Healthy Peanut Butter Banana Muffins.  They all came to be out of necessity – I need to feed my kid!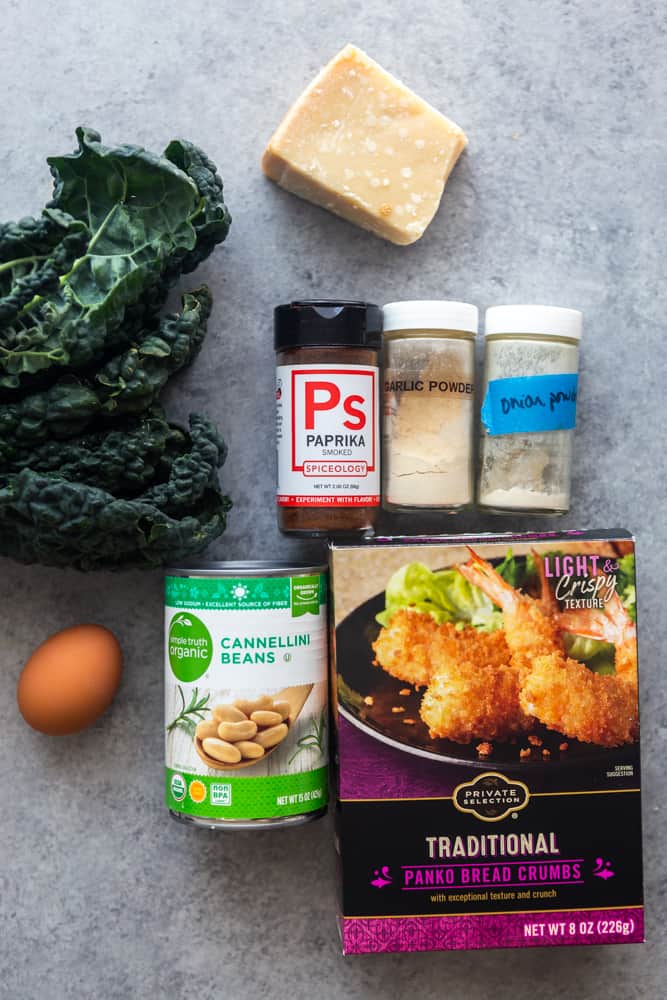 Before becoming a parent, I had NO IDEA that feeding a child would be so challenging!  I was sure that he would instantly inherit my foodie ways, especially since I worked so hard to feed him a variety of healthy, homemade baby foods when he was an infant.  Well, let me tell you, that isn't the case.  My child will only eat bread and fruit.  He won't even drink milk!  I was so worried that he wasn't getting enough calcium that I came up with this recipe which I lovingly refer to as a "calcium bomb".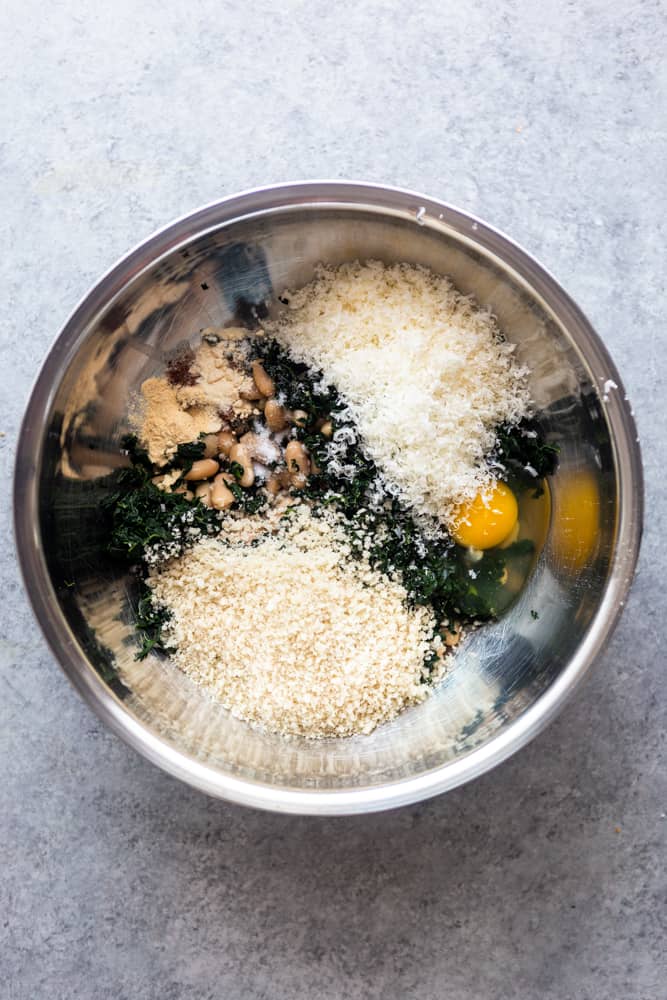 These White Bean and Kale Patties are full of high calcium foods!
After trying to get my son to drink milk to no avail, I started researching other high calcium foods.  I soon discovered that beans and leafy greens are both high in calcium.  I also read that Parmesan cheese has the highest calcium content of all types of cheese.  Who knew?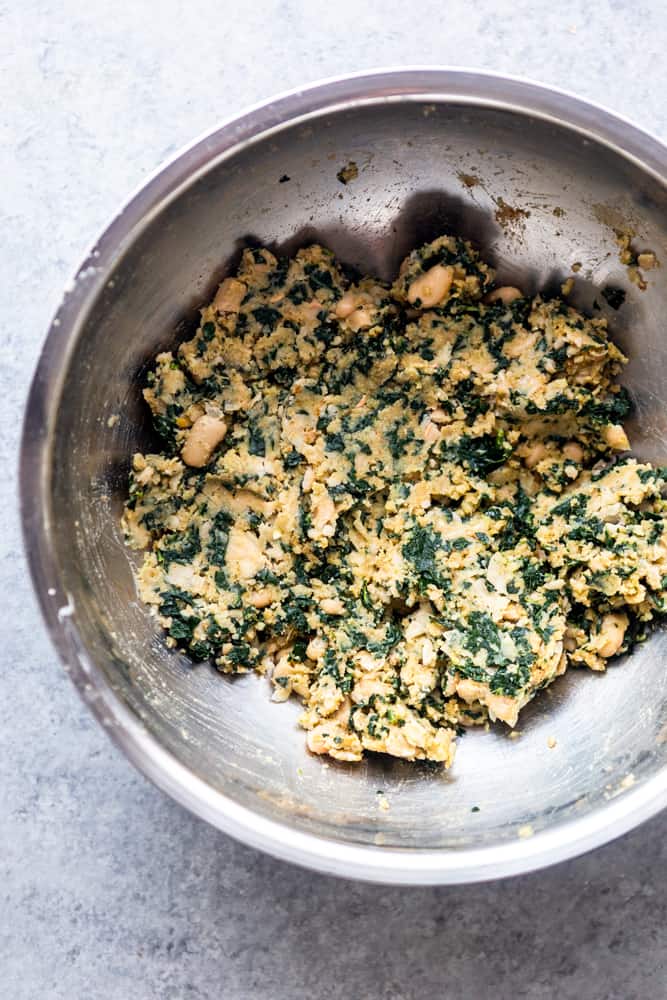 High calcium foods
Cannellini Beans – 54 mg per 100g
Kale – 150 mg in 100g
parmesan cheese – 1109 mg (!!!) in 100g
With all of these high calcium ingredients, each of these White Bean and Kale patties has about 168 mg of calcium.  They also have about 9 grams of protein and 3 grams of fiber.  So if you have a child that refuses to eat meat, veggies or drink milk – like I do – you might want to give these a try!
Please speak to your pediatrician if you have specific questions about your child's nutrition!  I am not a doctor or a nutritionist, just a mom sharing what I cook for my family.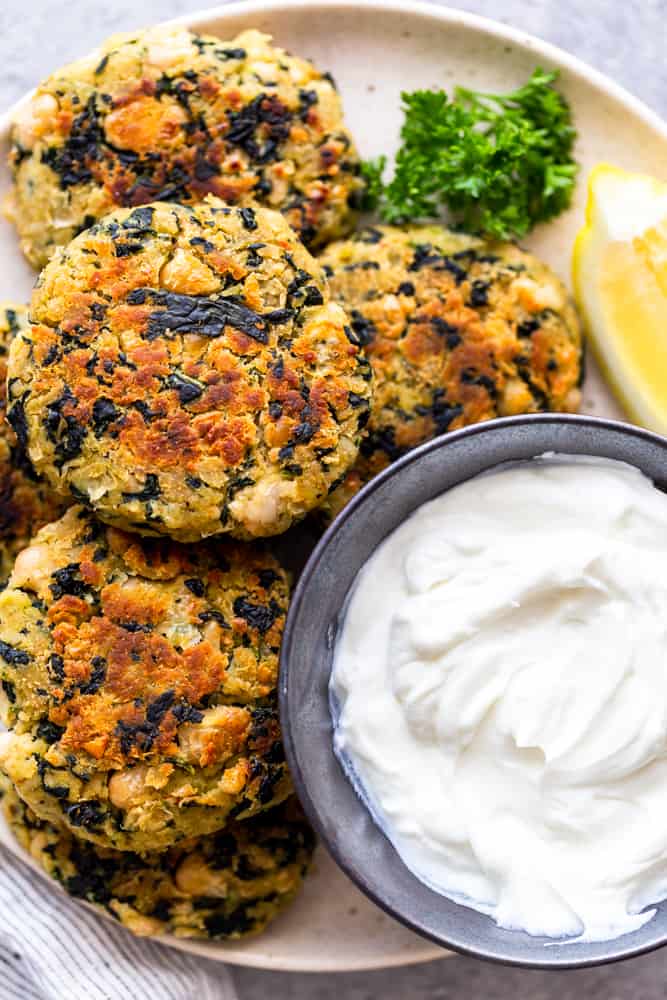 These White Bean and Kale Patties can be eaten on their own with your favorite dipping sauce, or served as a burger with your favorite toppings.  This vegetarian recipe is quick and easy, and also freezes very well.  I like to make a batch and then freeze some for easy meals.  To freeze, just allow them to cook completely, then individually wrap in plastic wrap and store in a freezer bag in the freezer for up to one month.  Reheat in the microwave for 30-60 seconds.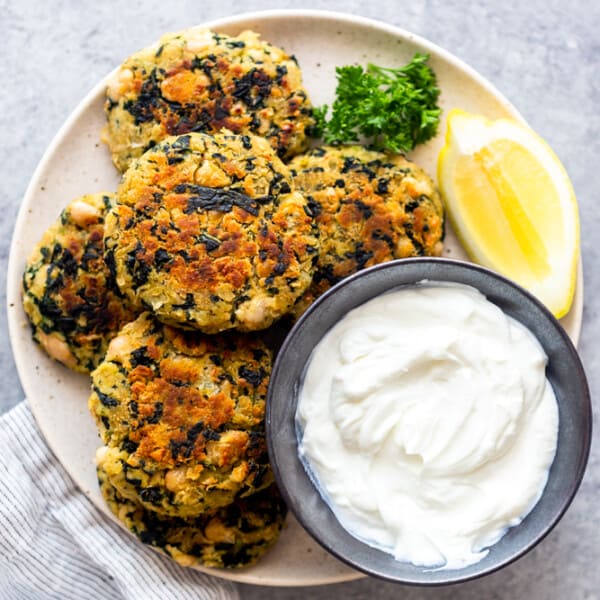 Ingredients
15

oz.

cannellini beans

canned, drained and rinsed

4-6

oz.

kale

one bunch, steamed and chopped

1

cup

panko breadcrumbs

2

eggs

½

cup

Parmesan cheese

grated

1/2

tsp

Onion powder

1/2

tsp

Garlic powder

1/2

tsp

paprika

1/2

teaspoon

kosher salt

2

TBSP

olive oil
Instructions
In a large bowl, mash the cannellini beans. Add the eggs and whisk until combined.

Whisk in Parmesan cheese, spices, salt and pepper, which to combine. Stir in Kale and finally breadcrumbs.

Heat olive oil in a skillet over medium heat. Shape the mixture into 6-8 patties.

Working in batches, add 3-4 patties to the skillet. Cook on one side for 4-6 minutes, until golden brown, then flip and repeat. Remove from skillet and repeat until all patties are cooked.

Serve right away, or allow to cool completely, then wrap in plastic wrap and store in a freezer bag in the freezer for up to one month.
Nutrition
Serving:
1
serving
|
Calories:
168
kcal
|
Carbohydrates:
18
g
|
Protein:
9
g
|
Fat:
8
g
|
Saturated Fat:
2
g
|
Cholesterol:
52
mg
|
Sodium:
498
mg
|
Potassium:
120
mg
|
Fiber:
3
g
|
Sugar:
1
g
|
Vitamin A:
1812
IU
|
Vitamin C:
19
mg
|
Calcium:
168
mg
|
Iron:
2
mg
Nutritional information is an estimate for your convenience. If you have strict nutritional needs, please do your due diligence to make sure this recipe fits your needs.
Did you like this recipe?
Please comment, rate and share! And don't forget to tag me on Instagram @foxandbriar AND #foxandbriar so I can see what you made!