These Grilled Lamb Kofta Kebabs are spiced middle eastern meatballs that you can grill or bake in the oven!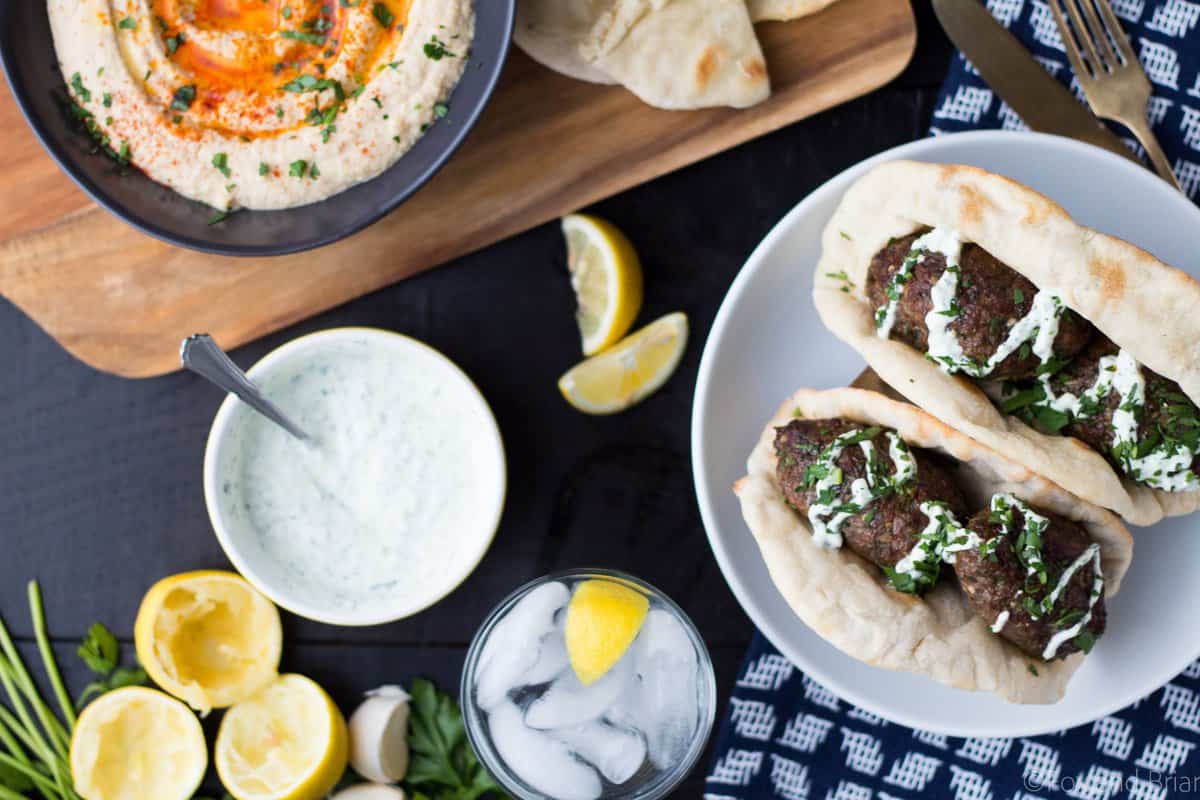 Are you noticing a new theme here?  Pita, hummus, now kofta!  Have you ever had kofta?  Kofta is basically spiced meatballs on a stick.  You add a bunch of spices and herbs to the meat and then grill them, and when done right they are amazing.  There is a middle eastern restaurant that Mr. Briar and I have been to a few times.  Twice now I have ordered the lamb kofta, and both times I was just a little dissapointed with it.  Don't get me wrong, the restaurant is great and I usually love everything I order there.  But for some reason the kofta is never quite as flavorful as I want.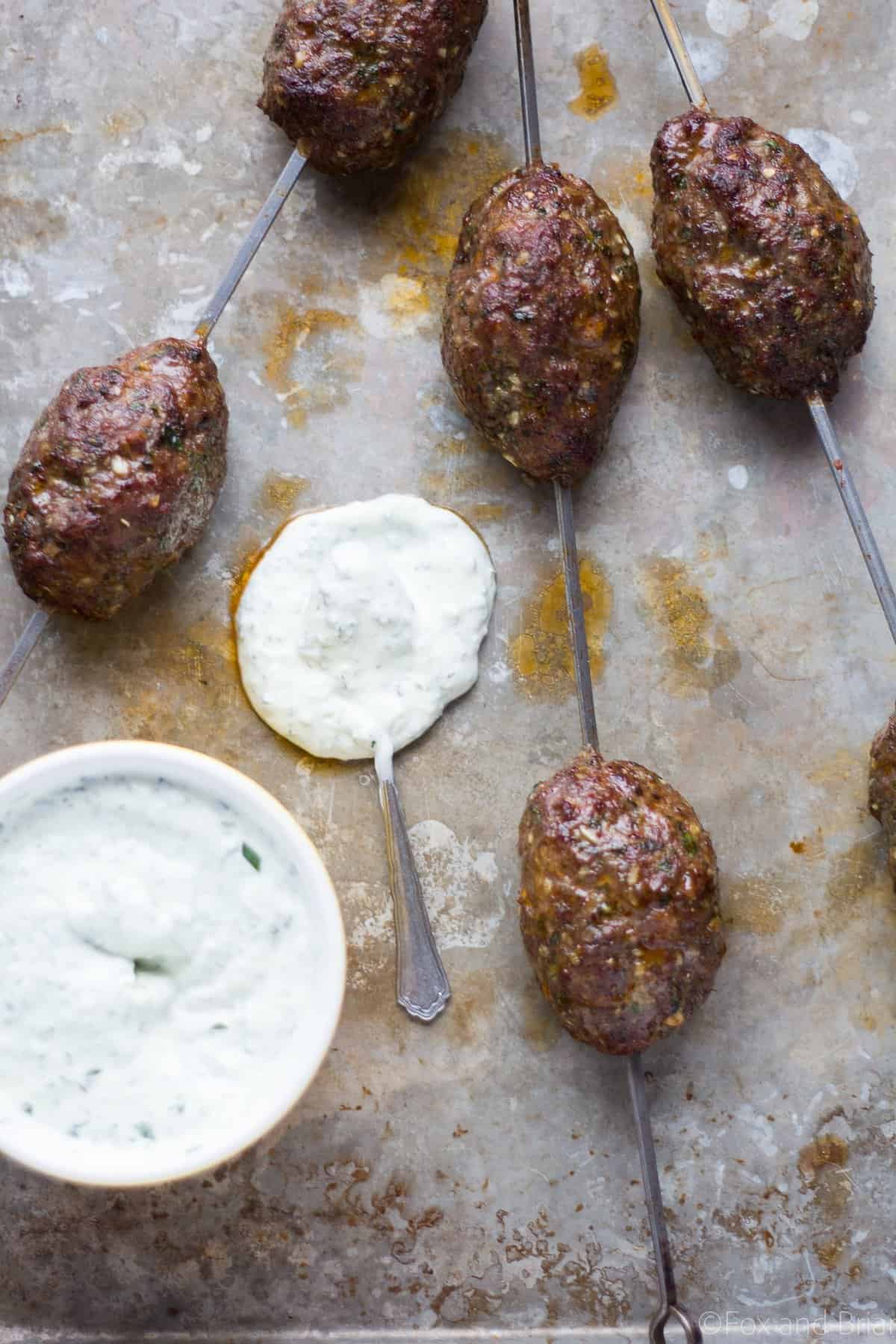 So when I was working on this recipe I wanted to get the spice mixture right, and also add lots of other flavor enhancers.  The first time I made them I added waaaay too much onion. They were far too wet to hold together on the skewer, and we ended up grilling them like burger patties.  They still tasted great, but in order to keep these firm enough to hold up on the skewer I reduced the onion and liquid going into the mixture.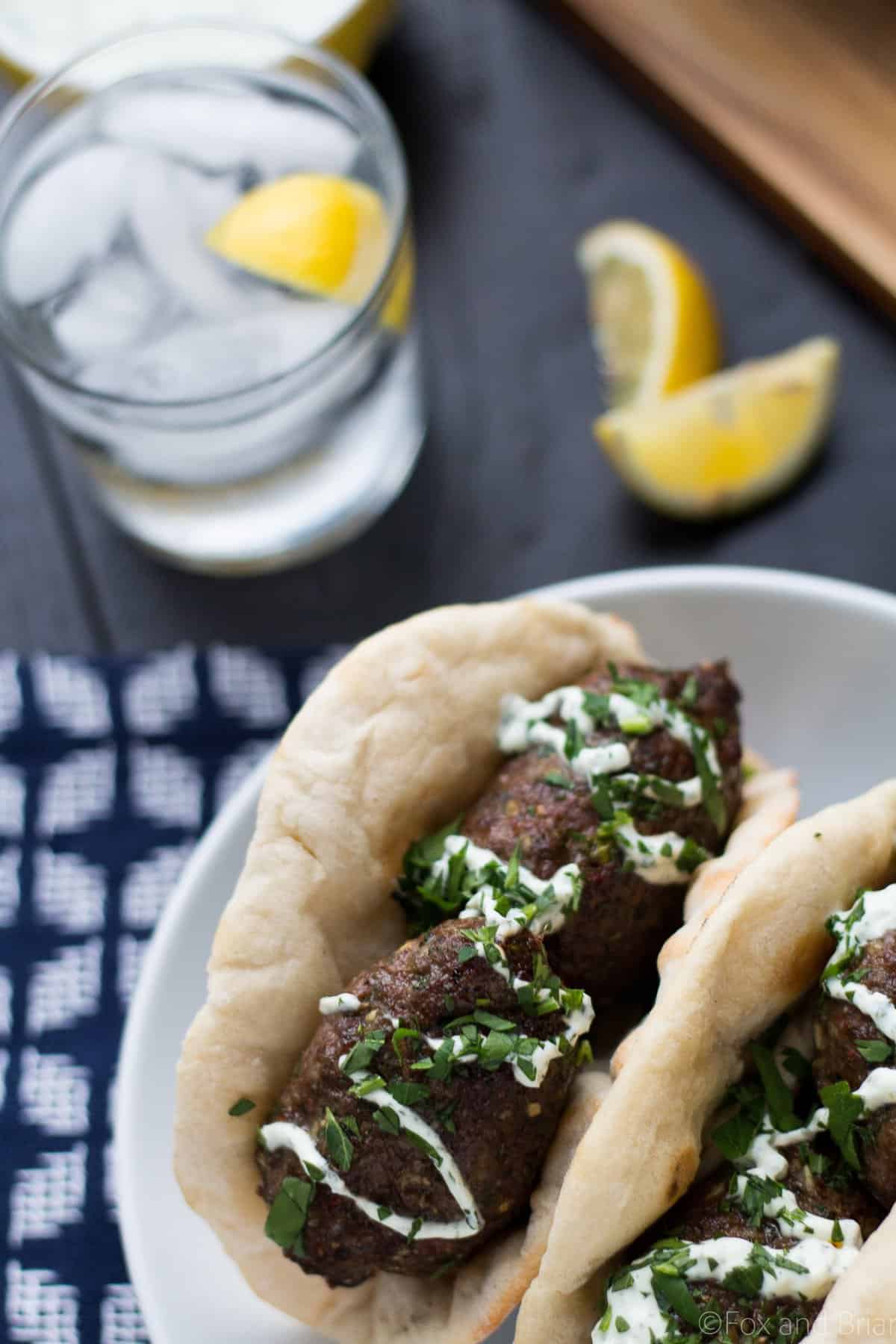 The other thing that helps these hold together is forming them and then letting them chill in the fridge for at least an hour.  This makes a huge difference.  After they chill, you thread them onto the skewers.  I use metal skewers on the grill, but if you use wooden ones be sure to soak them in water first so they don't burn.  If you don't want to grill these, you can also make them in the oven!  You just "grill" them under the broiler.  The smokey flavor from actually grilling them is of course the best, but sometimes you just can't get outside to grill so the broiler is the next choice.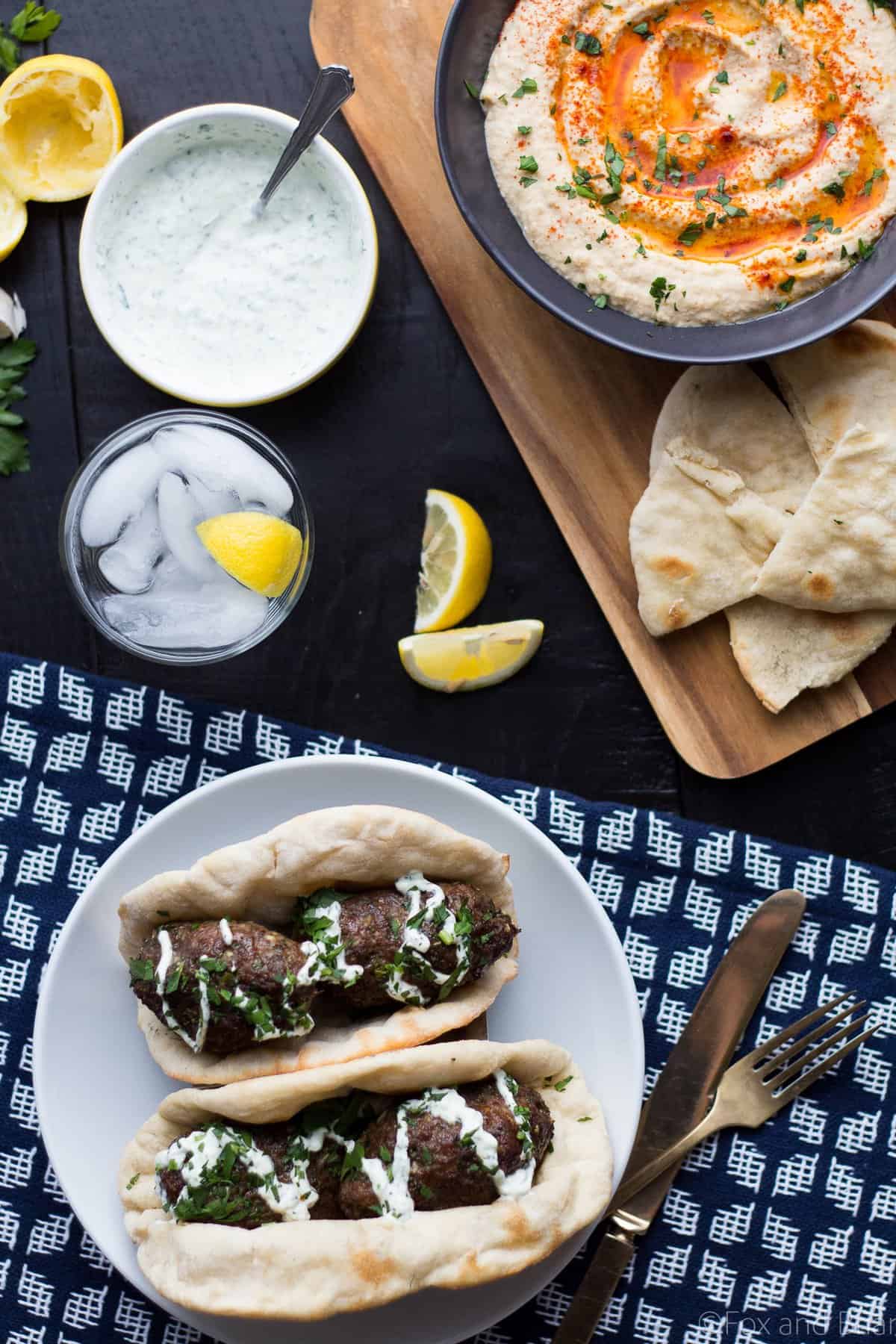 I served these with a yogurt mint sauce and of course some homemade pitas!  Now what are you waiting for?  Run down to your Fred Meyer (Kroger for you non PNW people!) and pick up these ingredients, then get grilling!
You may also like…
Prep time:
Cook time:
Total time:
These Grilled Lamb Kofta Kebabs are spiced middle eastern meatballs that you can grill or bake in the oven!
Ingredients
1 pound ground lamb
¼ cup grated onion, drained of extra liquid
4 garlic cloves, finely minced or pressed
¼ cup fresh mint leaves
¼ cup fresh flat leaf parsley
1 teaspoon cumin
1 teaspoon kosher salt
1 teaspoon allepo pepper* (see note)
½ teaspoon allspice
½ teaspoon black pepper
⅛ teaspoon ground ginger
½ cup plain greek yogurt
½ cup fresh mint
2 ounces feta cheese
1 tablespoon lemon juice
Instructions
Place onion, garlic, mint, and parsley in a food processor and pulse until finely minced. (if you don't have a food processor, you can just finely chop everything). Drain off any excess liquid.
In a large bowl, add meat, onion herb mixture, and all other ingredients. Mix until incorporated.
Divide meat mixture into six portions, form each into an oblong shaped ball.
Place on a lined baking sheet and chill in the fridge for at least an hour. (*this is important in order for them to hold up on the skewer)
After meatballs have chilled, thread onto skewers*. Leave plenty of space between each meatball, about two meatballs per skewer.
To make the mint yogurt sauce
Place all ingredients in food processor and pulse until smooth.
Place kebabs on hot side of the grill and cook 4-5 minutes per side, or until cooked through.
Move rack to the top position in the oven. Turn on broiler onto high.
Line a baking sheet with foil and fit with an oven safe rack. Place skewers on top of rack and place under the broiler. Broil for about 10 minutes or until cooked through.
Serve with mint yogurt sauce and pitas, if desired.
Notes
*Allepo pepper is a great flavor, but it can be hard to find sometimes. If you can't find it, you can substitute paprika with a pinch of cayenne.
**Chilling is very important in order for the kofta to hold their shape.
***You may be tempted to add more onion or not to drain the liquid, but this may result in kofta that are too wet and will not be able to stay on the skewer. If you do end up accidentally making them too wet, you may be able to just grill them like hamburger patties.
****I used metal skewers, but if you use wodden ones be sure to soak them in water before grilling so that they don't burn.
Mint Yogurt Sauce Adapted from
Martha Stewart
If you make this recipe don't forget to tag it @foxandbriar and #foxandbriar on instagram and facebook!  I really love to see what you make and you may be featured in our weekly Reader Feature!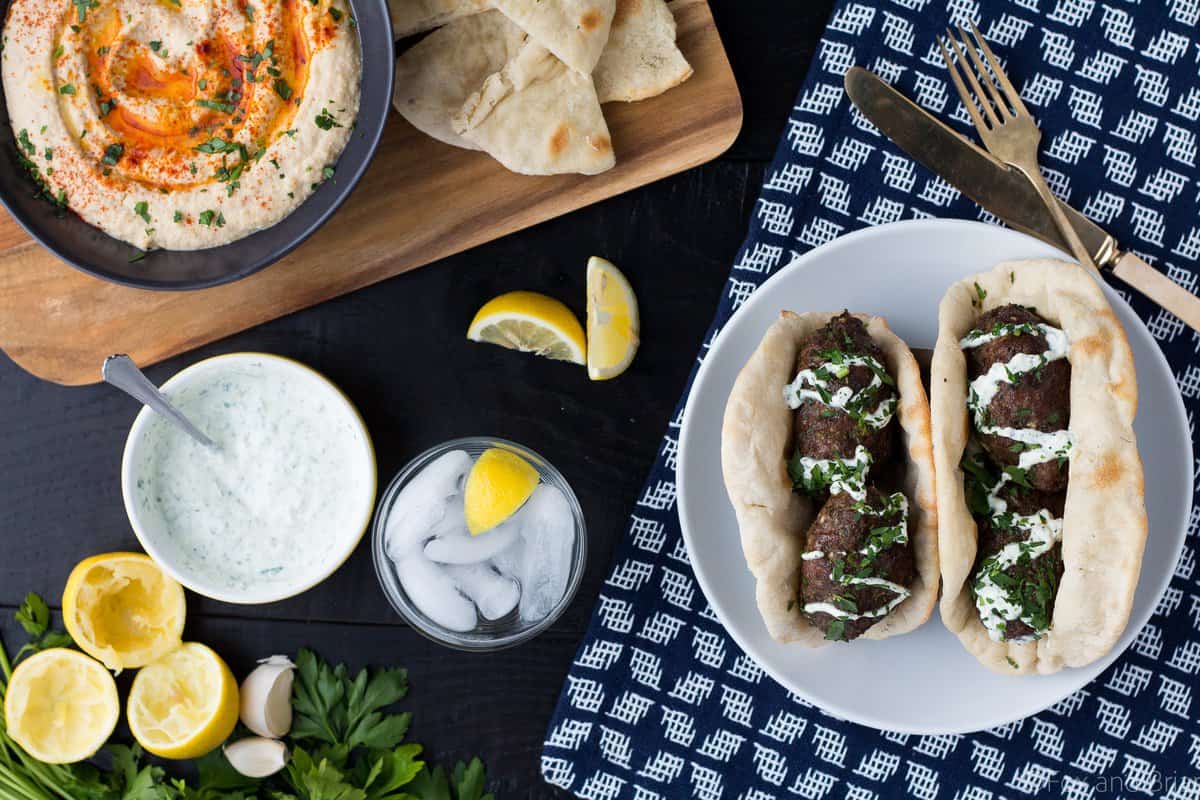 Disclaimer: I partnered Fred Meyer for this recipe, however, my opinions, as always, are 100% my own.  Integrity is important to me, and I only share brands and products that I think are awesome. Thank you for supporting Fox and Briar!