Lemon Butter Scallops Recipe.
You will never believe how easy and fast it is to make Pan Seared Scallops with a Lemon Butter Sauce.  Sweet, buttery and delicate Sea Scallops are quickly seared in a hot pan, then a simple lemon, butter and garlic sauce is made in the same pan.  Served on their own or over pasta, these seared scallops are perfect for date night at home.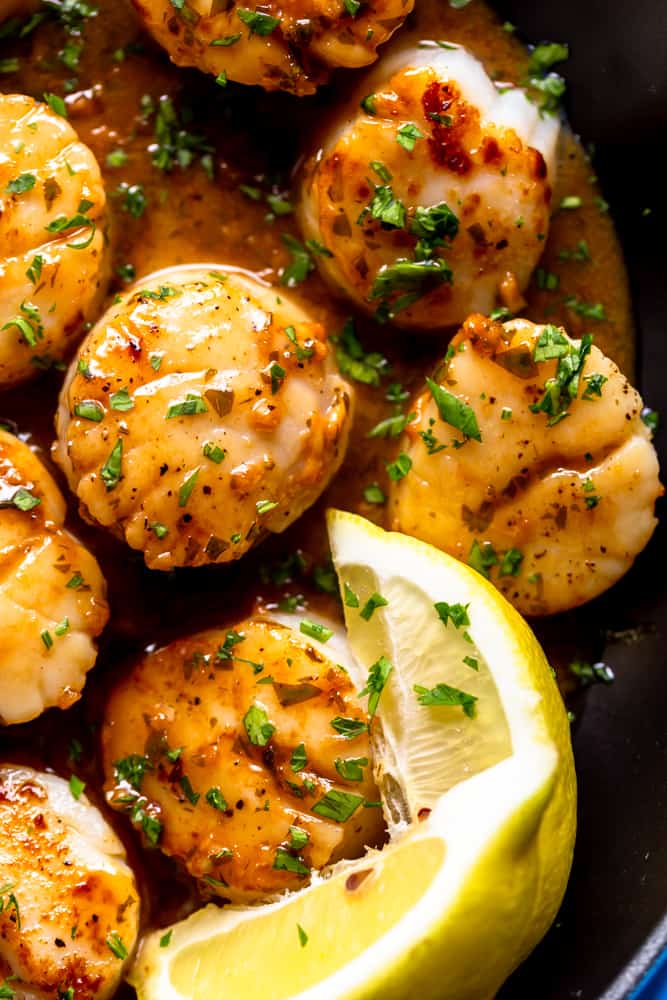 Have you ever cooked scallops?  I used to find them so intimidating, but once I gave it a shot, I realized it is so easy to cook scallops!  The key is to sear them hot and fast – you definitely don't want to overcook scallops!
How to cook scallops
Once your scallops are completely thawed, pat them dry with a paper towel.
Season the scallops with salt and pepper
Heat a skillet over medium high heat.
Add one tablespoon of oil to the pan.  When hot, add the scallops to the pan.  Be sure not to overcrowd the pan so that they can brown and not steam.  Cook them in batches if needed.  Allow to sear for 60-90 seconds, then flip and sear for another 60-90 seconds.  Remove from pan.
Reduce heat to low, add the butter, garlic, and lemon juice to the pan.  Stir, scraping up the brown bits on the bottom of the pan, 1-2 minutes.  Stir in parsley and red pepper flakes.  Remove from heat and pour over scallops.  Serve immediately.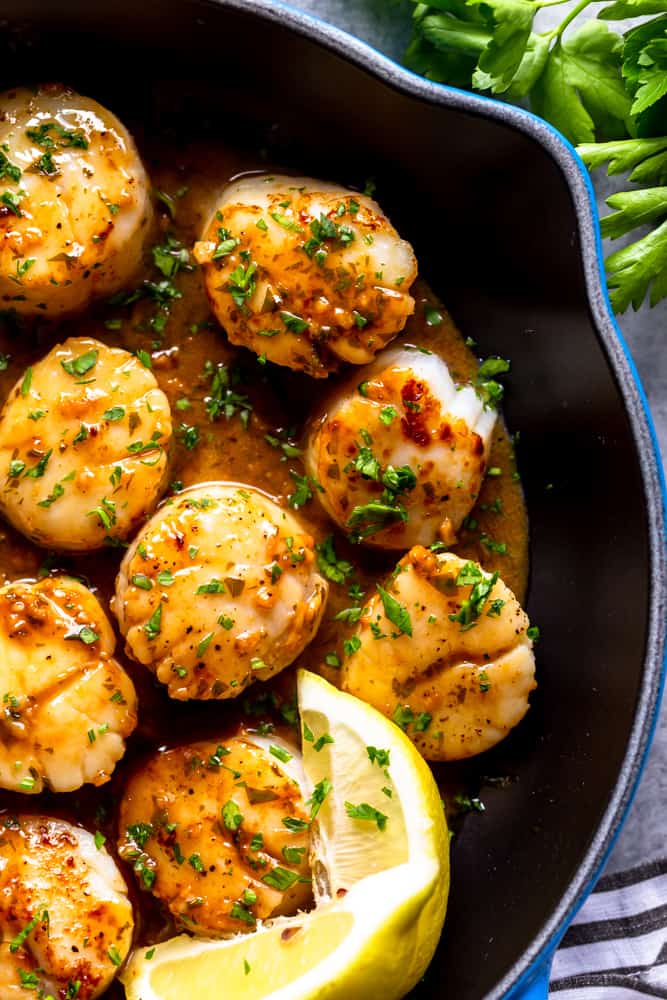 How to pick the best scallops
I recommend looking for wild caught U.S. Atlantic Sea scallops, as they are sustainability harvested.   I also recommend getting "dry" scallops instead of "wet" scallops.  What does this mean?  "Dry scallops" are packed without chemicals, and "wet scallops" have been treated with chemicals.  How can you tell the difference between wet scallops and dry scallops?  Dry scallops are usually cream colored or even pinkish, wet scallops are usually bright white.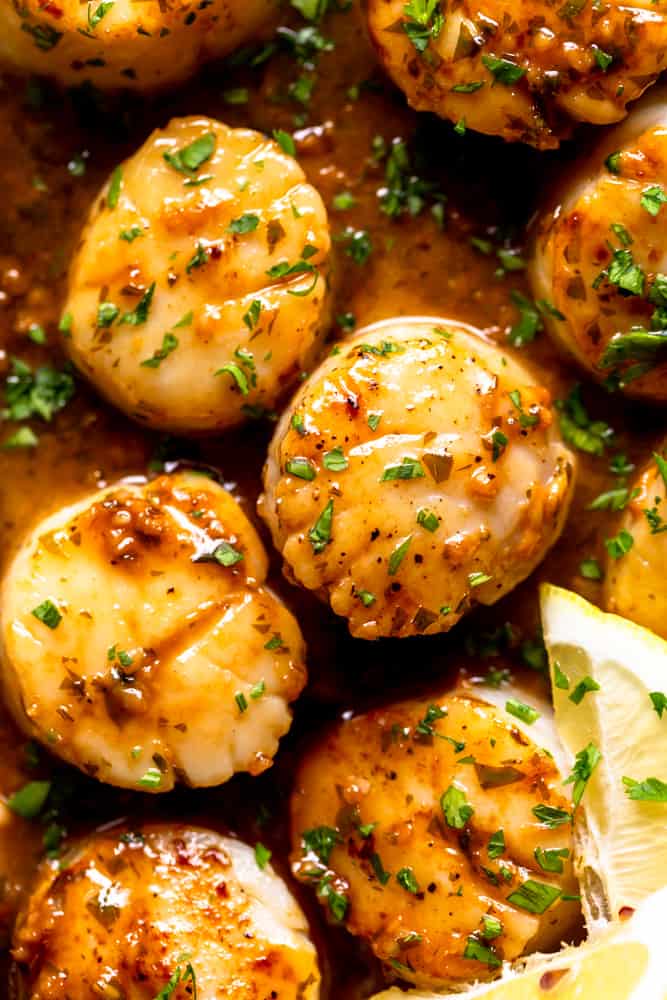 What are scallops?
Scallops are a type of bivalved mollusk related to oysters, clams and mussels. Two kinds of scallops are commonly eaten – the larger Sea Scallop and the smaller Bay Scallop.
Where do scallops come from?
The part of the scallop that we actually eat is the adductor muscle, which is used to open and close the shell.   The adductor muscle in Sea Scallops is quite large, up to two inches in diameter.
Sea Scallops are commonly harvested in the Northwest Atlantic Ocean, and Bay Scallops are harvested in bays and estuaries from New Jersey to the Gulf of Mexico.  U.S. harvested Wild Scallops are considered a smart choice because it is sustainable managed and responsibly harvested under U.S. regulations.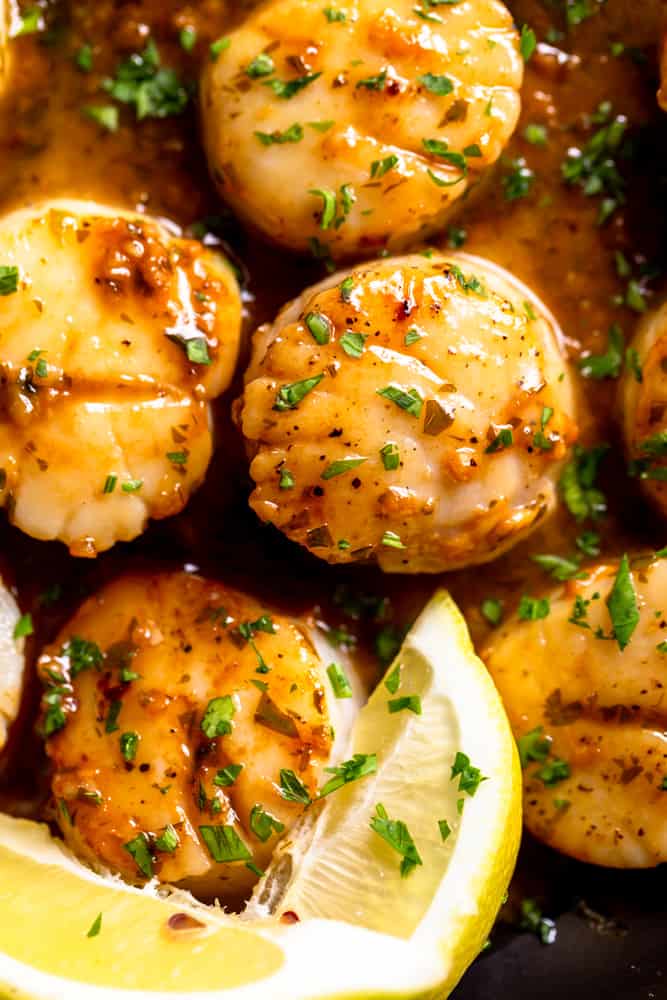 What does a scallop taste like?
Scallops are tender, buttery and sweet.  They taste similar to crab or lobster.  Scallops are firm but tender as long as they are cooked correctly.  If they are overcooked, they will become rubbery and tough.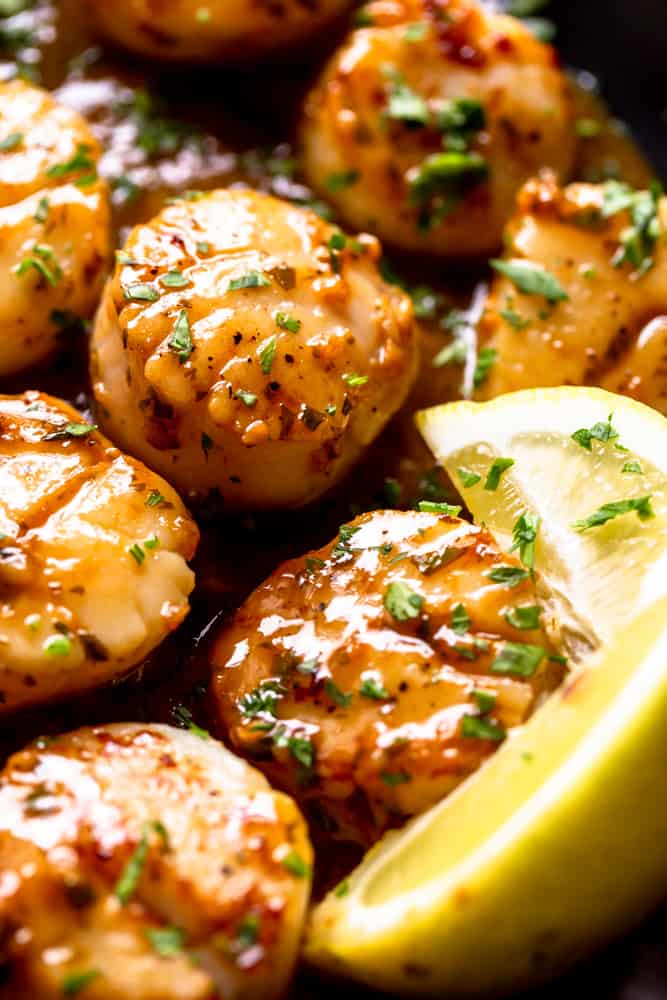 Are scallops healthy?
Scallops are healthy because they are very high in protein and low in fat and calories.  A three ounce serving of scallops has 90 calories, 0.5 grams of fat and 17 grams of protein.
Are scallops alive?
Scallops are usually sold shucked and frozen, and therefore are not alive when you buy them at the grocery store.
What to serve with scallops?
These Lemon Butter Scallops are perfect tossed with pasta.  You could also serve them with rice, such as my coconut rice, and vegetables like my lemon Parmesan broccoli.
If you love this recipe you will also love my Parmesan Basil Shrimp and my Lemon Butter Baked Tilapia.
Ingredients
2

lbs

sea scallops

thawed

2

TBSP

olive oil

4

TBSP

butter

4

garlic cloves

minced

2

TBSP

fresh lemon juice

2

TBSP

minced parsley

Pinch

red pepper flakes

Salt

fresh ground pepper
Instructions
Pat scallops dry with a paper towel. Season them with salt and pepper on both sides

Heat a pan over medium high heat. Add 1 tbsp oil to the pan. When hot, add the scallops to the pan - do not overcrowd the pan. Cook in batches if needed. Cook on one side, 60-90 seconds. Flip and cook for another 60-90 seconds. Remove from pan. Repeat until all scallops are cooked.

Reduce heat to low. Add butter, garlic, lemon juice to the pan. Stir, scraping up the brown bits on the bottom of the pan, 1-2 minutes. Stir in the red pepper flakes and chopped parsley, remove from heat.

Drizzle the sauce over the scallops and serve right away.
Nutrition
Serving:
1
serving
|
Calories:
327
kcal
|
Carbohydrates:
9
g
|
Protein:
28
g
|
Fat:
20
g
|
Saturated Fat:
9
g
|
Cholesterol:
85
mg
|
Sodium:
992
mg
|
Potassium:
487
mg
|
Fiber:
1
g
|
Sugar:
1
g
|
Vitamin A:
10.3
%
|
Vitamin C:
7.7
%
|
Calcium:
2.5
%
|
Iron:
5.7
%
Nutritional information is an estimate for your convenience. If you have strict nutritional needs, please do your due diligence to make sure this recipe fits your needs.
Did you like this recipe?
Please comment, rate and share! And don't forget to tag me on Instagram @foxandbriar AND #foxandbriar so I can see what you made!