These Mediterranean Lamb Bowls are an easy and healthy ground lamb recipe with exotic Mediterranean flavors to spice up dinner any night of the week!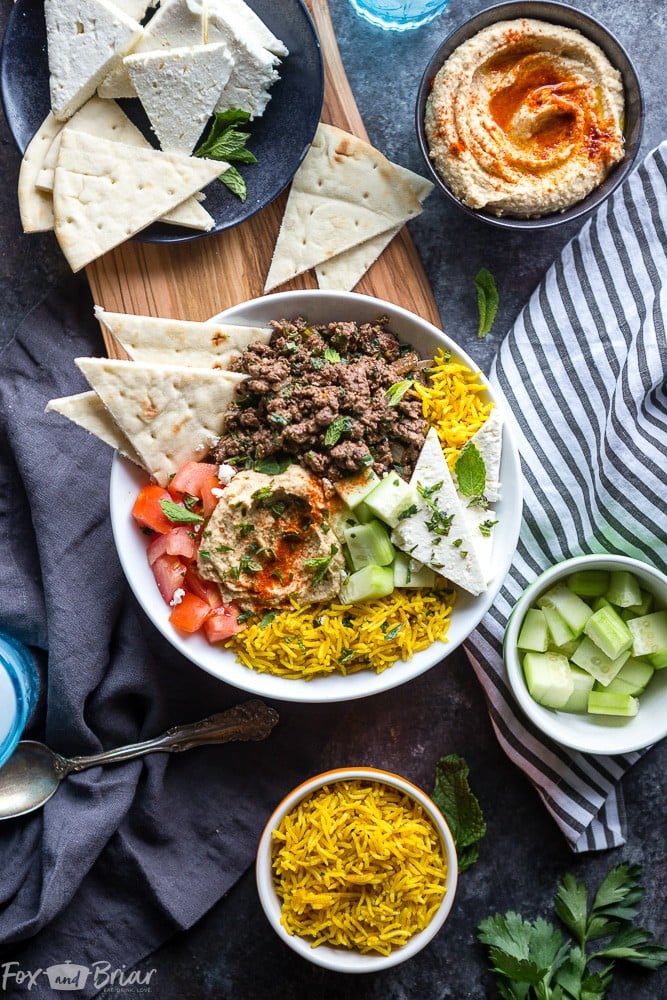 Have you ever tried to make a ground lamb recipe?  Lamb isn't as popular in the U.S. as it is in some other countries, but don't let that deter you! If you've never  tried it, you may be wondering what lamb tastes like.
What does ground lamb taste like?
Lamb has a great, meaty flavor – a stronger flavor than beef.  It really has a distinctive taste unlike anything else.  Some people would call it gamey, but not in an unpleasant way.
What spices and herbs go best with lamb?
The classic herb to mix with lamb is mint.  However, lamb is used in many different cuisines.  It is a popular choice in  Middle Eastern and Mediterranean foods. Because of that I decided to use the same spices I used in my Grilled Lamb Kofta Kebabs. In that recipe I used Aleppo Pepper, but due to the conflict in Syria, where Aleppo Pepper comes from, that spice hard to find.  Instead, I substituted paprika and red pepper flakes.  I also added allspice and ground ginger.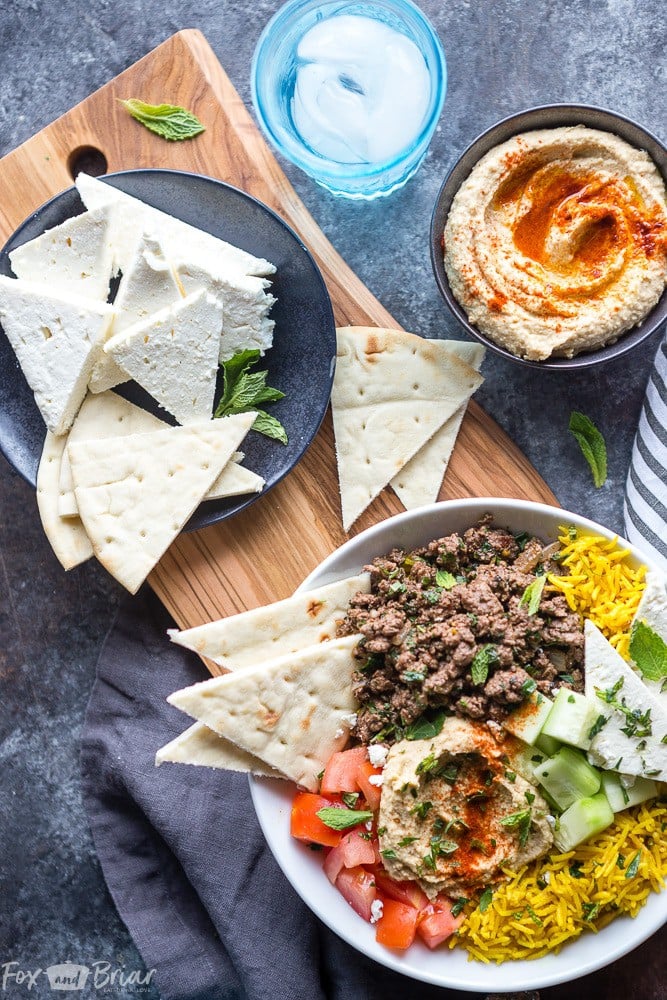 To make an easy dinner, the Mediterranean Lamb Bowls have vibrant Turmeric Rice, fresh tomatoes and cucumber, hummus, feta cheese and some pita bread on the side.  It's a complete meal in a bowl!
If you want to really go all out, you can make the hummus and pita from scratch using my Easy Hummus and Homemade Pita recipes.  But if you want to use store bought, that will work too.  This actually makes a quick dinner if the hummus and pita are already made!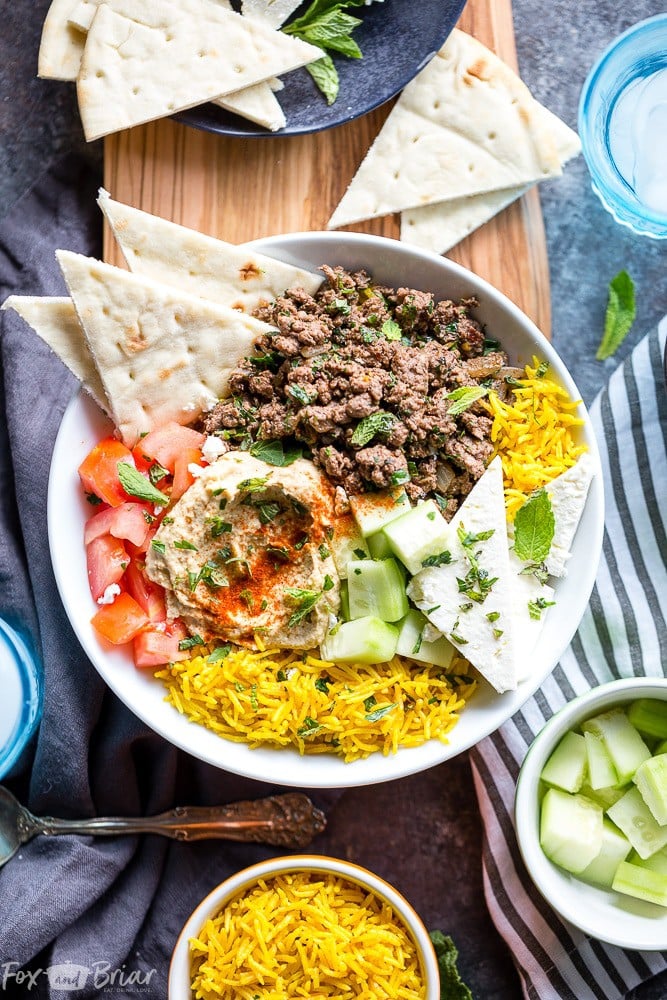 Ingredients
For Spiced Ground Lamb
1

lb

ground lamb

1

TBSP

olive oil

1/4

cup

finely diced onion

4

cloves

garlic, finely minced

1

tsp

paprika

1

tsp

allspice

1/2

tsp

red pepper flakes

1/4

tsp

ground ginger

salt

to taste

pepper

to taste

1/4

cup

fresh mint, chopped

plus more for garnish

1/4

cup

flat leaf parsley, chopped

plus more for garnish
Instructions
To make the Spiced Ground Lamb
Heat a large saute pan over medium heat. Add olive oil.

When oil is hot, add onions and garlic. Saute for 5 minutes, until starting to soften.

Add ground lamb. Brown lamb until cooked through.

Add paprika, allspice, red pepper flakes, ginger, salt and pepper. Mix until fully combined, cook for 1-2 minutes. Remove from heat and stir in fresh herbs.
To Assemble Bowls
In a bowl, layer Turmeric Rice, then top with some of the spiced ground lamb, tomatoes, cucumbers, hummus and feta. Sprinkle with more fresh mint and parsley if desired.
If you make this recipe don't forget to tag it @foxandbriar and #foxandbriar on instagram and facebook!  I really love to see what you make!