Nothing says summer like fresh corn on the cob.  Take advantage of its peak flavor by throwing it on the grill.  This Charred Grilled Corn is packed full of smoky summer flavor, perfect for your next BBQ!

I seriously can not get enough corn on the cob in the summertime.  I could probably eat it every day and never get sick of it.  I can't resist a big pile or fresh corn on the cob when I'm grocery shopping, it always ends up in my basket. Sure, there are a number of ways to enjoy corn, but eating it simply with a little butter and salt right off the cob is always my favorite way.  Although I grew up boiling corn on the cob, a few years ago I learned that you can grill it, which gives it an amazing smoky flavor.  Corn is a frequent guest on our grill during the summer.  You can really just throw the whole thing on the grill, husk and all, and it turns out great.  Sometimes I take an extra step and remove the silk, then rub the cob with softened butter, salt and pepper.  The corn turns out well seasoned, and because some of it is exposed to the heat, it gets nicely charred in some places.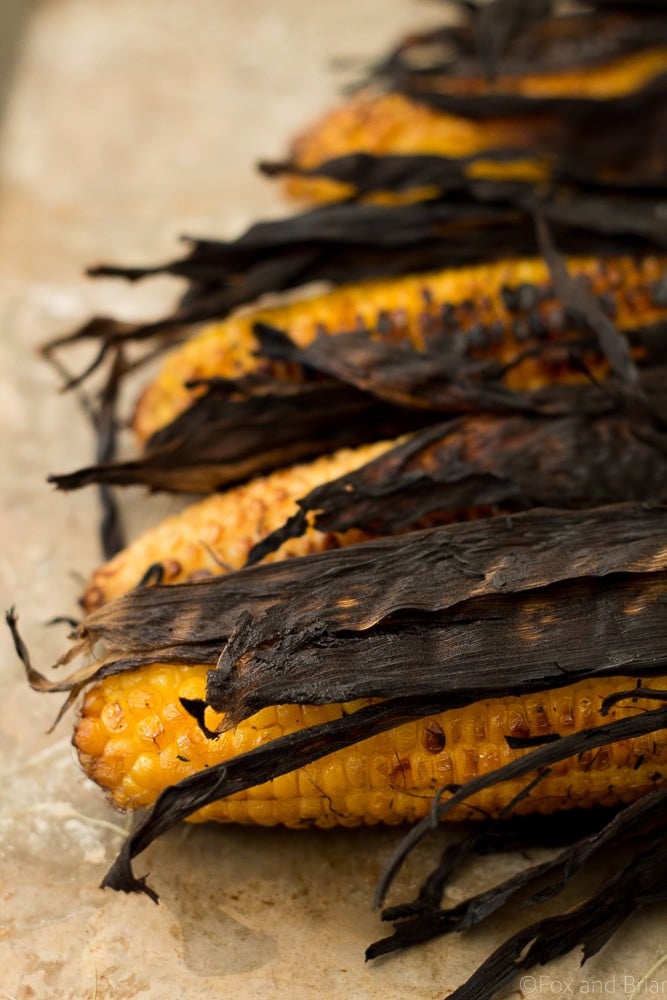 Of course, you can control just how charred the corn gets by where you put it on the grill.  If you like more char, grill over high heat.  If you want it to be less charred, grill over low heat for a little longer.  I find that high heat usually takes about 25 minutes and lower heat can be more like 40-45 minutes.  The husk will protect most of the kernels, but any exposed areas will get charred.  The husk will burn and lend its smoky flavor to the corn.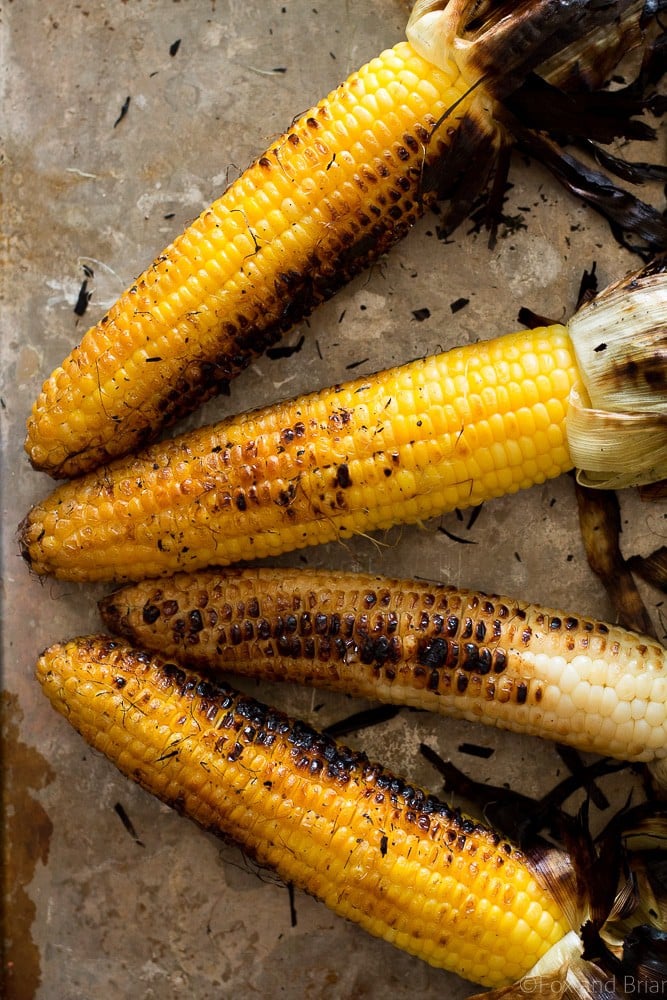 I usually prefer the sweet white corn over the yellow, but my Fred Meyer had both so I got some of each.  Which variety do you prefer? Although I normally just eat the corn right off the cob, I have another recipe coming to you on Wednesday that stars this Charred Grilled Corn, and it is a good one.  Be sure to sign up for my email notifications so you don't miss it!
| | | |
| --- | --- | --- |
| Charred Grilled Corn | | Print |
Prep time:
Cook time:
Total time:
Nothing says summer like than fresh corn on the cob. Take advantage of its peak flavor by throwing it on the grill. This Charred Grilled Corn is packed full of smoky summer flavor, perfect for your next BBQ!
Ingredients
4 ears of corn on the cob
2-3 Tablespoons softened butter
½ teaspoon kosher salt
½ teaspoon fresh ground pepper
Instructions
Mix together butter, salt and pepper until fully combined.
To prepare corn, carefully peel back husk, leaving it attached at the base. Remove the silk. Rub the butter/salt and pepper mixture evenly over the kernels.Fold the husk back up over the ear to cover the kernels.
Grill corn over the hot side of the grill, turning frequently, for about 25 minutes or until done. For less char, grill over cooler side of the grill for about 40 minutes, or until done.
Notes
Cooking time will vary depending on how hot your fire is. Be sure to turn the corn frequently to keep it from getting TOO charred.
If you make this recipe don't forget to tag it @foxandbriar and #foxandbriar on
instagram
and
facebook
! I really love to see what you make and you may be featured in our weekly Reader Feature!
Disclaimer: I partnered Fred Meyer for this recipe, however, my opinions, as always, are 100% my own.  Integrity is important to me, and I only share brands and products that I think are awesome. Thank you for supporting Fox and Briar!