This is a sponsored post written by me on behalf of Safeway. All opinions are 100% mine.
Five Easy Toddler Lunch ideas! These super quick and easy toddler meals can be prepared in under five minutes.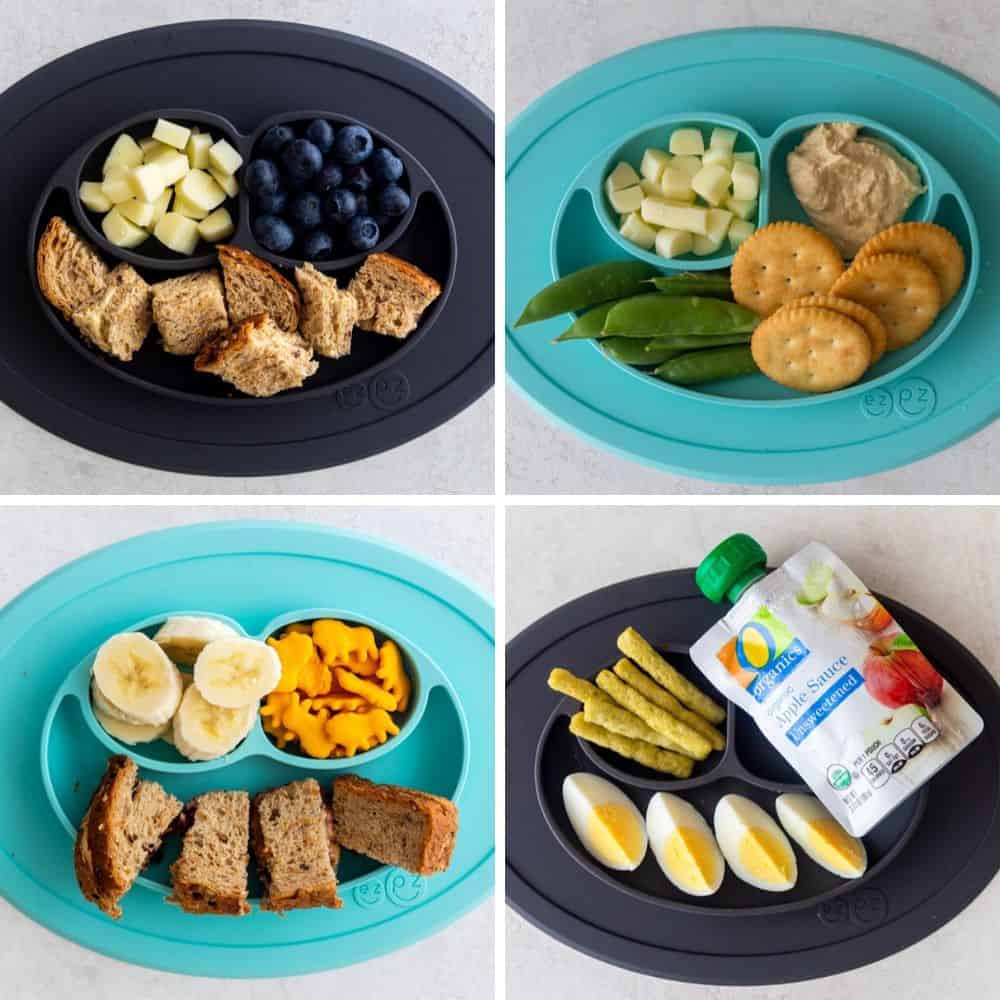 Who knew one of the hardest parts of parenting would be feeding their kids? As a food blogger and food lover, I expected feeding my child to be fun and easy. Boy was I wrong! Not only is it exhausting to come up with new and interesting meals 3+ times a day, but my toddler now has opinions about what he will and won't eat. It's enough to drive anyone crazy.
I know I am not the only parent that struggles with coming up with lunch ideas, so I am working with Safeway to share five easy toddler lunch ideas. This fall might be a different back to school season than what we are used to . Whether you are sending your kids to school, daycare or preschool, or trying to work from home while still being a parent, one thing will always be true: You need to feed your kids. Again.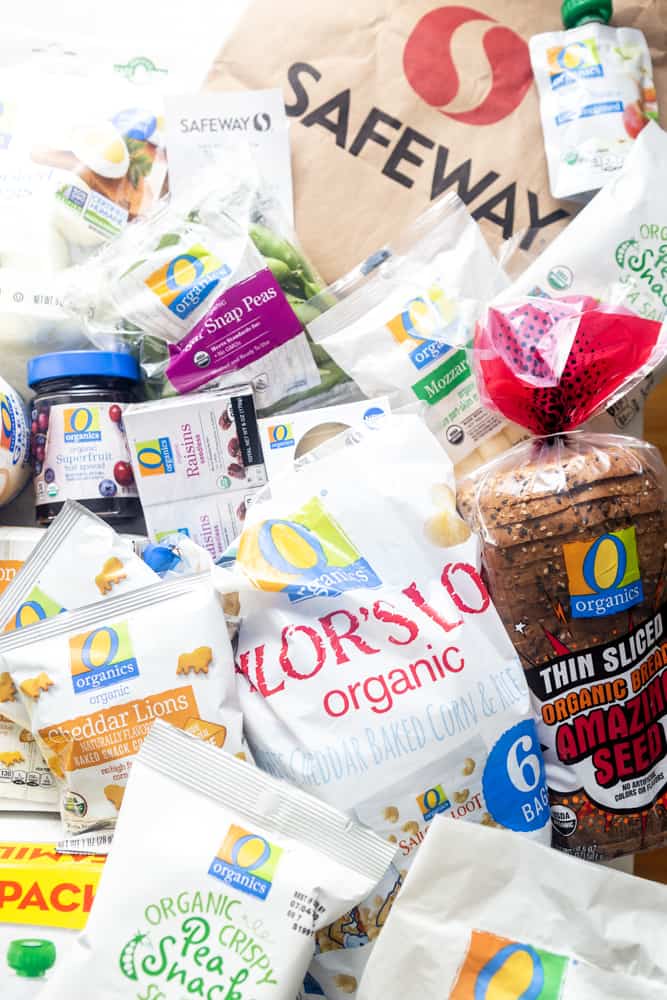 You may be packing lunches to send with your child to school, or you may be rushing to get them lunch between zoom calls – either way, we all need a little help with creating lunches sometimes. Over the last year I have started to rely on a formula to create super quick and easy meals for my son. I always try to include a fruit or vegetable, some protein, and something I know he will eat (read: carbs). I also try to provide variety to continue to expose him to different foods. I like to strike a balance between healthy and fun.
This is why I love Safeway's O Organics® line. O Organics® offers high-quality, USDA-certified organic products in every aisle of the store at a value. They really have such a huge variety of options for kids lunches, and I love having my pantry stocked with a variety of high quality, organic options to feed my son. Having these on hand makes last minute lunches incredibly easy, and we both end up happy.
I shopped at Safeway in my local area, but you can also find O Organics® products exclusively at the Albertsons Companies family of stores, including Albertsons, ACME Markets, Jewel-Osco, Vons, Randalls, Shaw's Supermarket, Star Market, and Tom Thumb.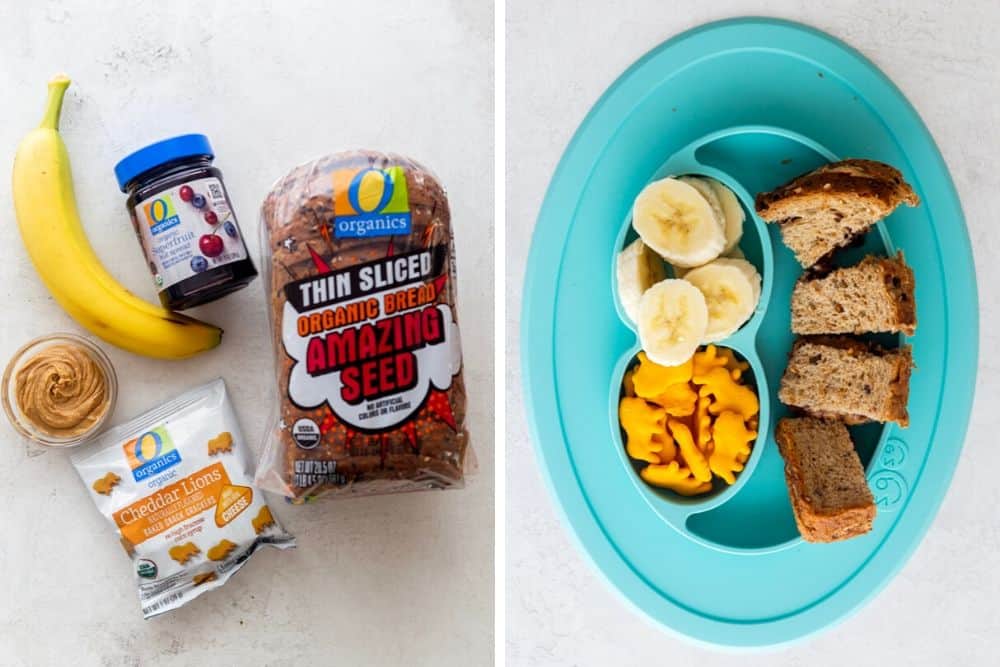 Toddler Lunch Idea #1
Peanut butter and jelly on whole grain bread, crackers, banana. It's a classic for a reason! My son loves peanut butter sandwiches, and I love them because they are quick, easy and a good source of protein.
O Organics Amazing Seed Bread
O Organics Natural Peanut Butter
O Organics Superfruit fruit spread
O Organics Cheddar lion crackers
Sliced Banana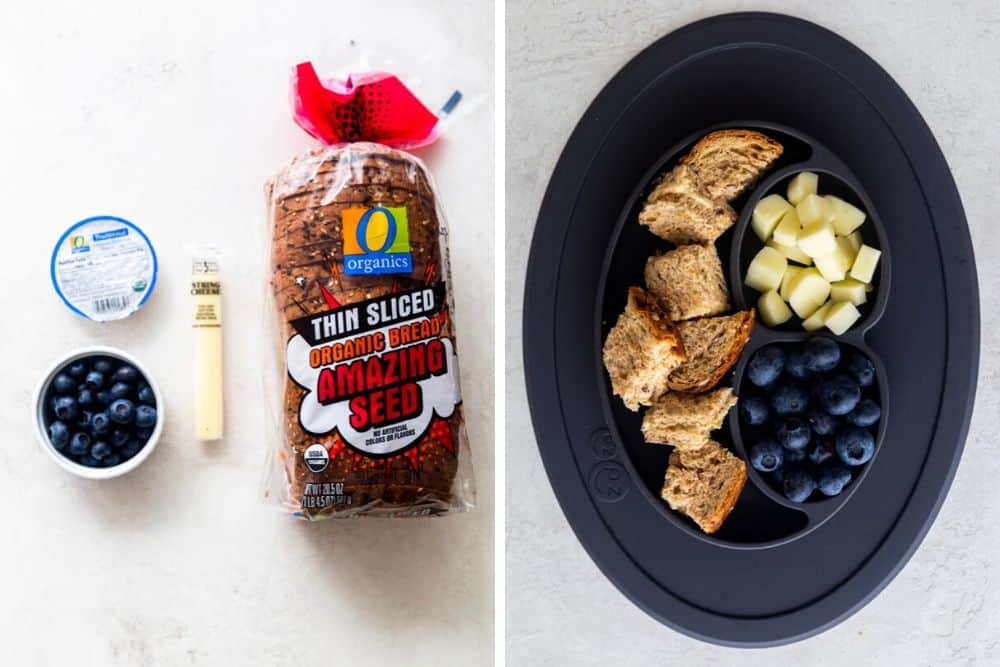 Toddler Lunch Idea #2
Hummus on whole grain bread, string cheese, fruit. This is a regular lunch for us. I like that the hummus provides protein and is a little different than the standard peanut butter sandwich. Be sure to slice berries for younger kids.
O Organics Amazing Seed Bread
O Organics hummus
O Organics String Cheese
blueberries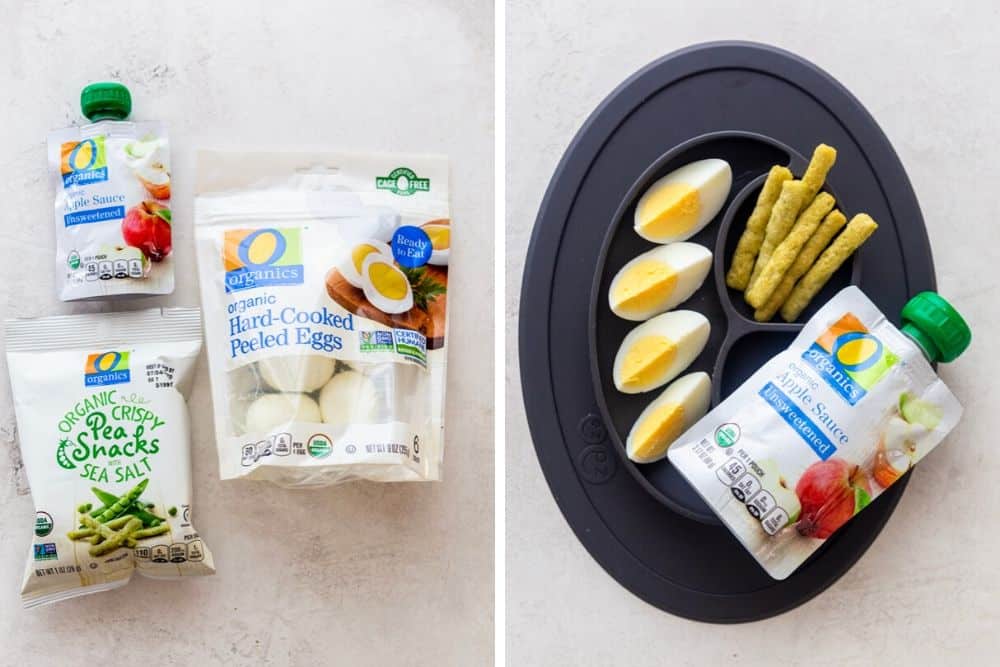 Toddler Lunch Idea # 3
Hard boiled egg, crispy pea snacks, applesauce. Talk about easy! These hard-cooked eggs are already peeled, so you just need to slice it up and serve.
O Organics Unsweetened Apple Sauce pouch
O Organics Hard-Cooked Peeled Eggs
O Organics Crispy Pea Snacks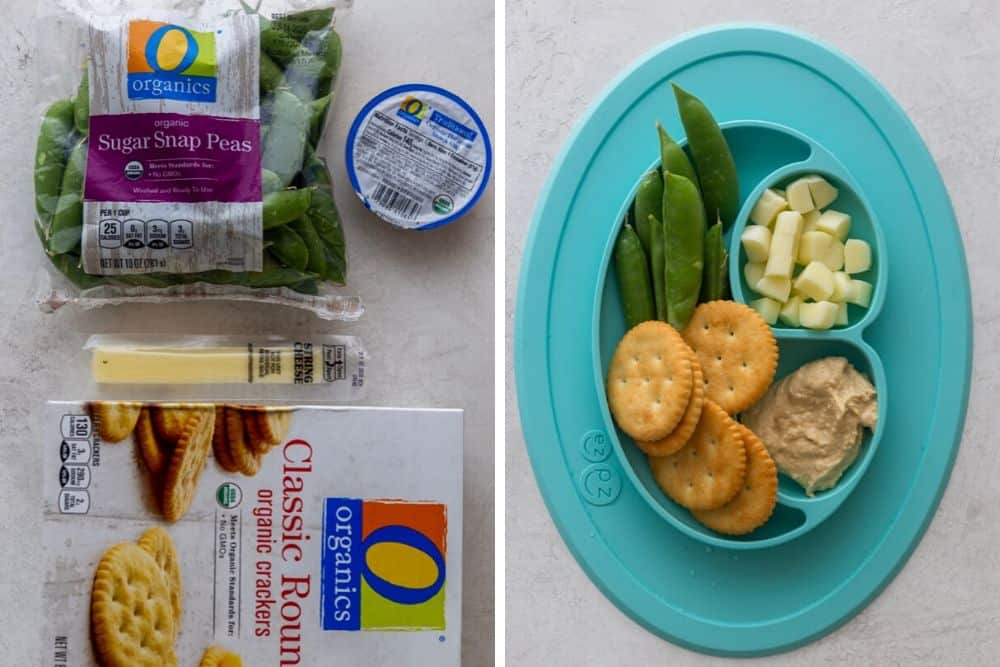 Toddler Lunch Idea #4
Crackers, hummus, snap peas, string cheese. Show me a toddler that doesn't like crackers! The hummus and cheese provide protein, and if you get lucky, they might even dip the snap peas in the hummus and actually eat a vegetable.
O Organics Classic Round Crackers
O Organics Hummus
O Organics Snap Peas
O Organics String Cheese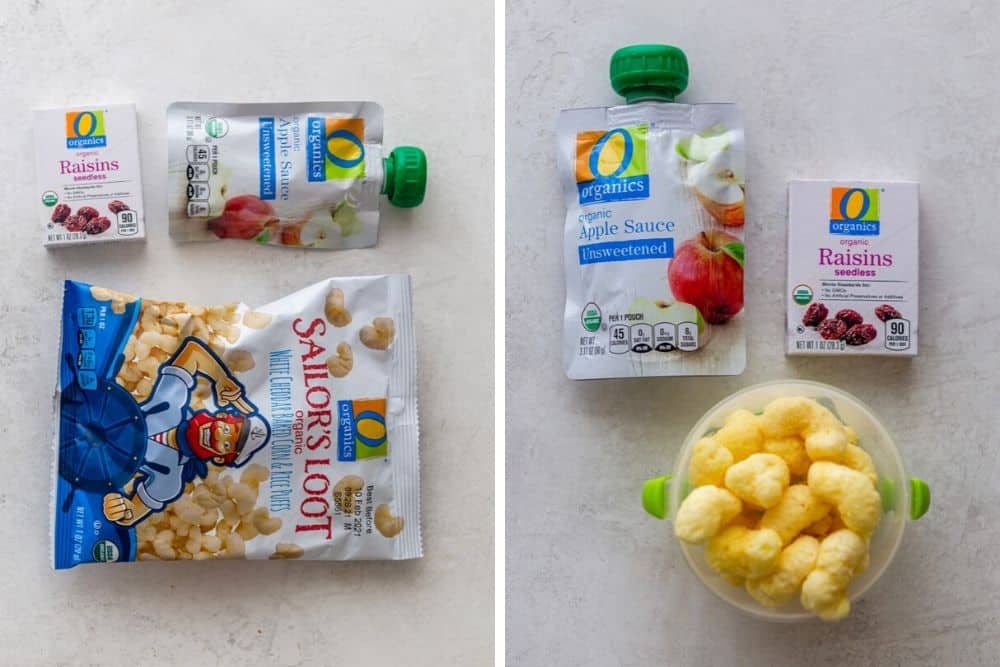 Toddler Lunch Idea #5 – on the go
Sometimes squeezing in lunch between errands, playdates and naps can be challenging. If I know we will getting home too close to naptime, I pack a lunch for my son to eat on the go. These are less messy and in general my toddler can eat these by himself. I like to use a snack catcher for items like the O Organics Sailors Loot, to keep them from getting spilled everywhere.
O Organics Unsweetened Apple Sauce pouch
O Organics Sailor's Loot
O Organics Raisins
This is a great combo to bring when you are out running errands. I don't like to bring my son into the grocery store anymore to avoid exposure to germs. But I do bring him with me to do a grocery store pickup. Being able to order groceries online and pick them up is so convenient for any parent. It also turns out that sometimes a car ride is just what we need to get out of the house. Safeway offers Grocery Delivery and Drive Up & Go™, which makes my life so much easier. Shop O Organics®
Did you like this recipe?Please comment, rate and share! And don't forget to tag me on Instagram @foxandbriar AND #foxandbriar so I can see what you made!