This Post Workout Smoothie is the perfect drink to recharge after a tough workout!  Chock full of ingredients to replenish your body.

You guys.  Have you ever been to a barre class?  OMG.  If you have been to one you know what I'm talking about.  If you've never been to one, let me give you a basic idea of what it's like.  Picture a bunch of ladies in leggings doing the HARDEST WORKOUT EVER.  I started going to barre classes a few weeks ago and it is probably the best (and hardest) workout I have ever done.  I end each class drenched in sweat, sore and STARVING.  

It doesn't help that I have to walk by a doughnut shop on my way home.  Last week I was only able to resist the doughnut because I knew I was making this Post Workout Smoothie when I got home from my workout.  Not that this smoothie is a doughnut, I mean, it's a smoothie, let's all be reasonable.  BUT, it is a really tasty smoothie filled with ingredients that replenish your body after a tough workout. The Mayo Clinic suggests that you eat a small meal with both protein and carbohydrates within two hours of a workout to help your muscles recover, and the other ingredients can help fight muscle soreness.

What ingredients are we talking about and why did I chose them for my post workout smoothie?  Let's take a look:
(Please note I'm not a nutritionist and all of this information came from good old google.  This information isn't meant to be used as a medical opinion, always talk to your doctor if you have health concerns!)
Not to mention, it tastes pretty amazing.  Be sure to use fruit that has not been sweetened, as well as coconut water with no added sugar – the fruit adds plenty of its own natural sweetness, and you don't want to load this Post Workout Smoothie up with unnecessary calories after you just worked so hard to burn them off!  Tell me, what is your favorite workout?
Don't forget to watch the video and let me know how you like it!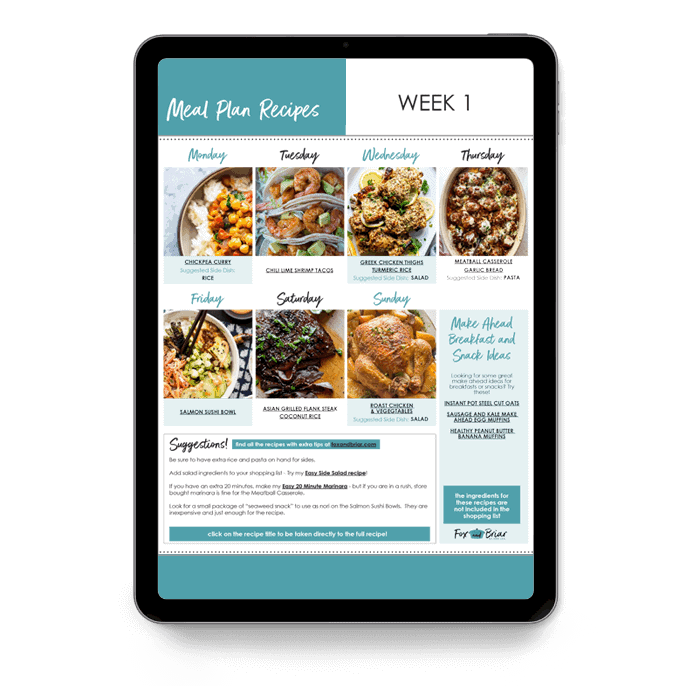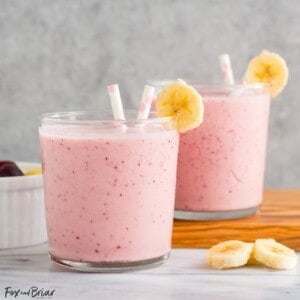 This Post Workout Smoothie is the perfect drink to recharge after a tough workout!  Chock full of ingredients to replenish your body.
Ingredients
1

frozen banana

1/2

heaping cup

frozen pineapple

1/2

heaping cup

frozen cherries

1/2

cup

nonfat Greek yogurt

1 ¼

cups

coconut water

I like Zico
Instructions
Place all ingredients in a blender and blend until smooth.  If smoothie is too thick, add more coconut water or plain water to reach desired consistency.  Drink immediately.
Notes
As always I recommend using frozen fruit in smoothies for the best taste and consistency. 
Each serving for the 21 Day Fix = 2/3 Red, 3 Purple and 1/2 Yellow.
Nutrition information is automatically calculated, so should only be used as an approximation.
Did you like this recipe?
Please comment, rate and share! And don't forget to tag me on Instagram @foxandbriar AND #foxandbriar so I can see what you made!
Thanks to my friend Stephanie at The Foodie and the Fix for providing 21 Day Fix info!