The Best Fluffy Buttermilk Pancakes – make the pancakes of your dreams with this easy recipe!  How to make buttermilk pancakes from scratch, plus how to freeze and reheat leftover pancakes!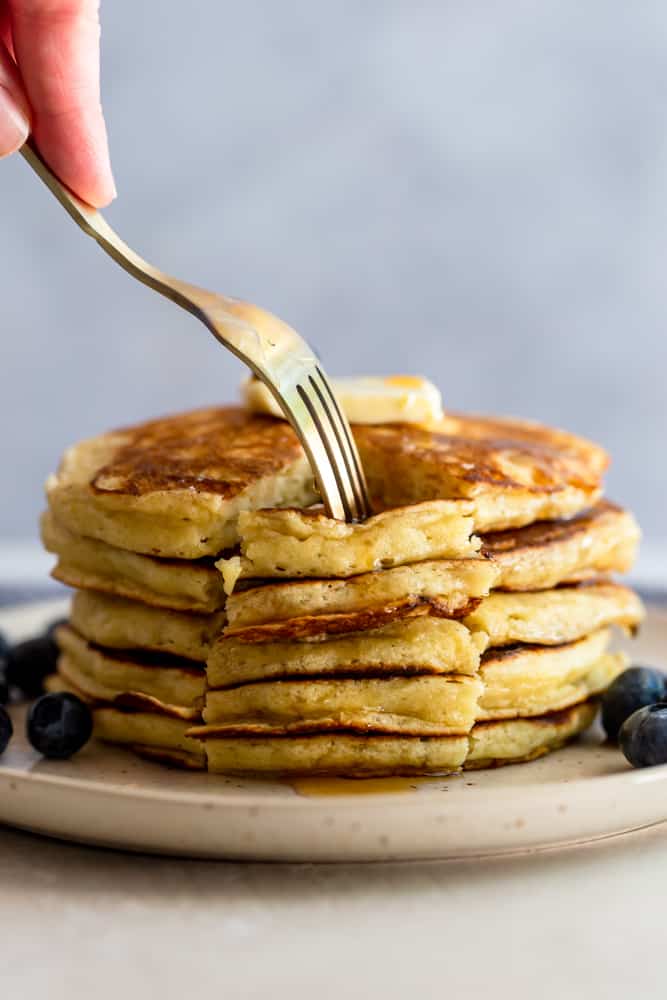 Are you a pancake person or a waffle person?  I've always been a waffle person – that is, until I finally developed the perfect Buttermilk Pancake Recipe. In the past I have had problems with pancakes being too dense, or burning on the outside while still being raw in the middle.  Has this happened to you? If so, read on to find out all the tricks to making light, fluffy, and golden pancakes.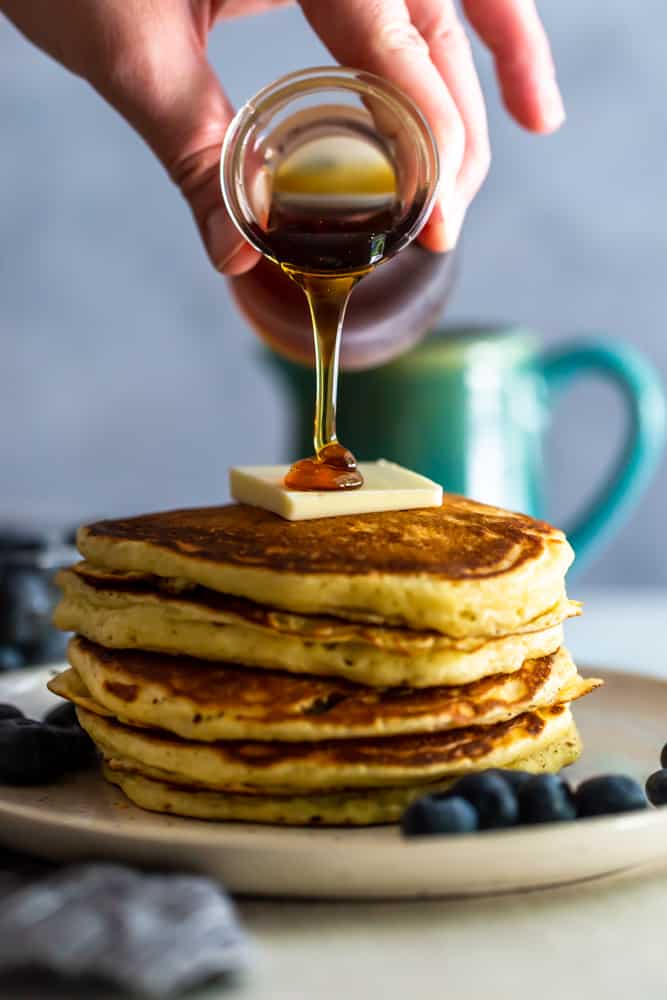 HOW TO MAKE THE BEST FLUFFY BUTTERMILK PANCAKES
Here are a few tips to make the best fluffy homemade pancakes:
Don't over-mix the batter!  This is very important.  Mixing the batter for too long will give you tough pancakes, and nobody wants tough pancakes! Just barely mix the wet ingredients with the dry ingredients and don't worry about the lumps
When measuring the flour, use the spoon and level method rather than the scoop method.  What that means is, spoon the flour into the measuring cup, then use a knife to level it off.  This will help keep you from adding too much flour to the batter, which makes the pancakes dense instead of fluffy.
Be sure your pan is not too hot.  I usually keep my pan at medium or just under medium.  If your pan is too hot, you will get a burned pancake that is raw in the middle.  Pay attention to this and adjust the heat as needed while cooking – you might need to turn it down.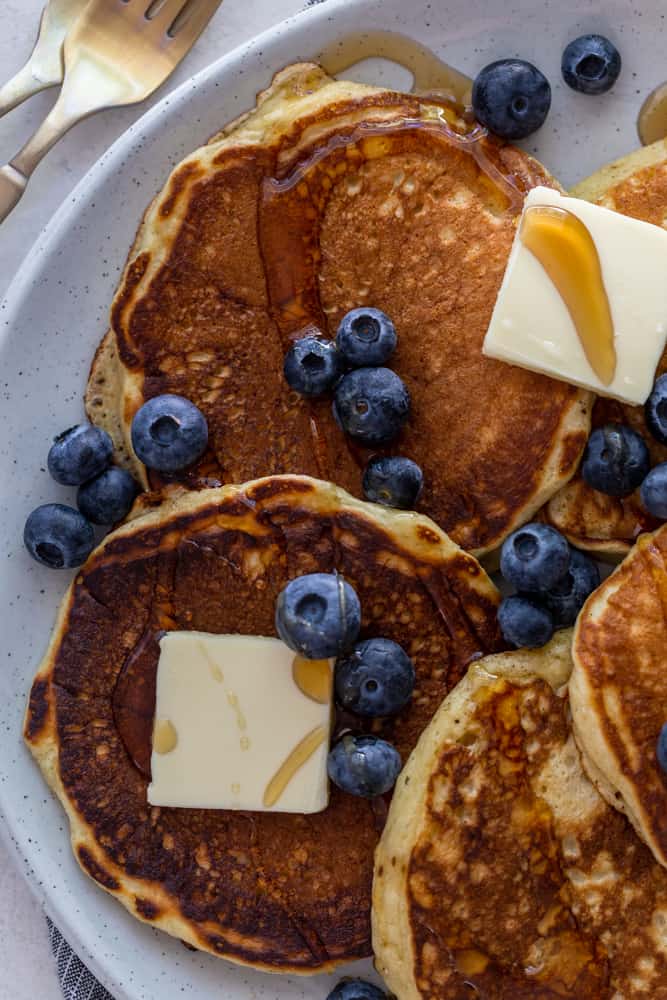 CAN YOU FREEZE AND REHEAT PANCAKES?
I often freeze our leftover pancakes for a quick breakfast another time.
Here is the best way to freeze pancakes: Let your pancakes cool completely in a single layer on a baking sheet fitted with a cooling rack to prevent them from getting soggy.  Then individually wrap them in plastic wrap and store in a freezer bag. Pancakes should be used in 1-2 months.
HOW TO REHEAT FROZEN PANCAKES
Here are three ways to reheat frozen pancakes:
HOW TO REHEAT PANCAKES IN THE OVEN.
Preheat the oven to 350 degrees, and warm up pancakes on a baking sheet covered in foil for about 10 minutes. Be sure to cover them or they will dry out.
HOW TO REHEAT PANCAKES IN THE MICROWAVE
This is the way I usually do it! Place up to 6 pancakes in a single layer on a microwave safe plate. Reheat for 20 seconds for 1-2 pancakes, and 60 seconds for 4-6 pancakes.
HOW TO REHEAT PANCAKES IN THE TOASTER.
Not the best method, but fast. Place one pancake in each slot and toast on the light setting.  This method is more likely to dry out your pancakes.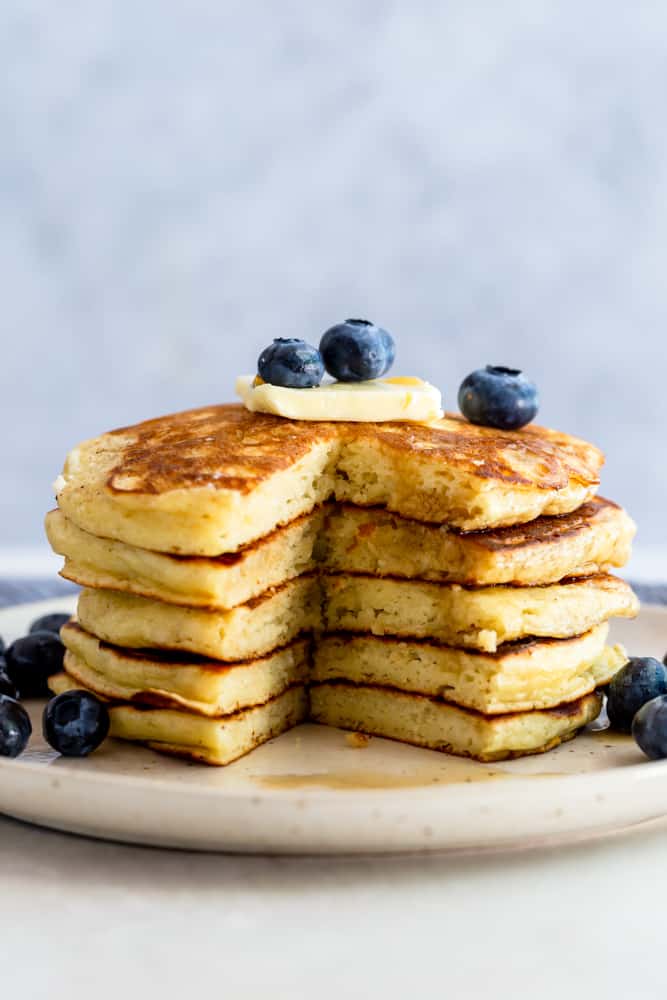 This recipe was adapted from my Buttermilk Blueberry Pancake recipe! If you want to add blueberries to your pancakes, check out that recipe for some extra tips.
What to serve with Buttermilk Pancakes?
I like to serve bacon with these buttermilk pancakes because the salty bacon balances the sweet pancakes.  Here is my post on how to make the best bacon!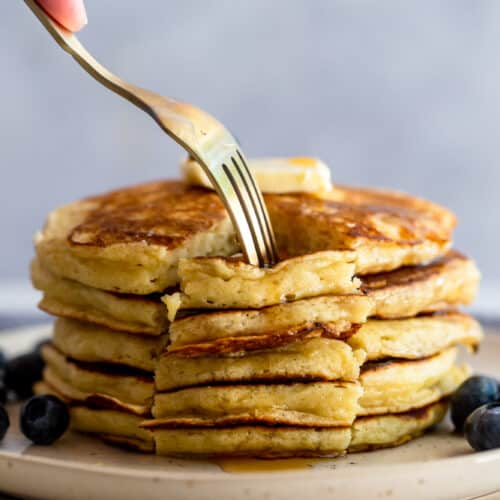 Ingredients
2

eggs large

1 and 1/2

cups

buttermilk

2

teaspoons

vanilla extract optional

3

tablespoons

melted butter

1 and 1/2

cups

all-purpose flour

1/2

teaspoon

salt

2

teaspoons

baking powder

1/2

teaspoon

baking soda

2

tablespoons

sugar
Instructions
Heat a large frying pan over medium-low to medium heat . When it's hot enough, a drop of water will skitter across the surface, evaporating immediately. Grease the pan with oil or butter.

Whisk together the flour, salt, baking powder, baking soda and sugar, set aside.

Whisk together the eggs, buttermilk and vanilla until light and foamy. Whisk in the melted butter.

Add the dry ingredients to the wet ingredients, stirring just to combined. It is very important not to over mix, or your pancakes will be tough.

Pour the batter in 1/4 cupfuls onto prepared pan.

Cook the pancakes until bubbles start to form on top and the sides start to set, 2-3 minutes. Flip and cook for another 2 minutes, or until golden brown.

Serve right away, or keep on a baking sheet fitted with a cooling rack in a 200 degree oven. Serve with butter and maple syrup.
Notes
Batter will be thick.  If it is too thick to pour, thin with 1-2 tablespoons of milk.
Nutrition
Serving:
1
pancake
|
Calories:
121
kcal
|
Carbohydrates:
16
g
|
Protein:
4
g
|
Fat:
5
g
|
Saturated Fat:
3
g
|
Cholesterol:
38
mg
|
Sodium:
210
mg
|
Potassium:
135
mg
|
Fiber:
1
g
|
Sugar:
4
g
|
Vitamin A:
177
IU
|
Calcium:
71
mg
|
Iron:
1
mg
Nutritional information is an estimate for your convenience. If you have strict nutritional needs, please do your due diligence to make sure this recipe fits your needs.
Did you like this recipe?
Please comment, rate and share! And don't forget to tag me on Instagram @foxandbriar AND #foxandbriar so I can see what you made!