The Apple Old Fashioned is a twist on the classic Old Fashioned. It uses apple whiskey to make a totally enjoyable cocktail. Whether you are a new or experienced whiskey drinker, you will love this cocktail! Make one today or set up your make-your-own-old-fashioned bar for your next party!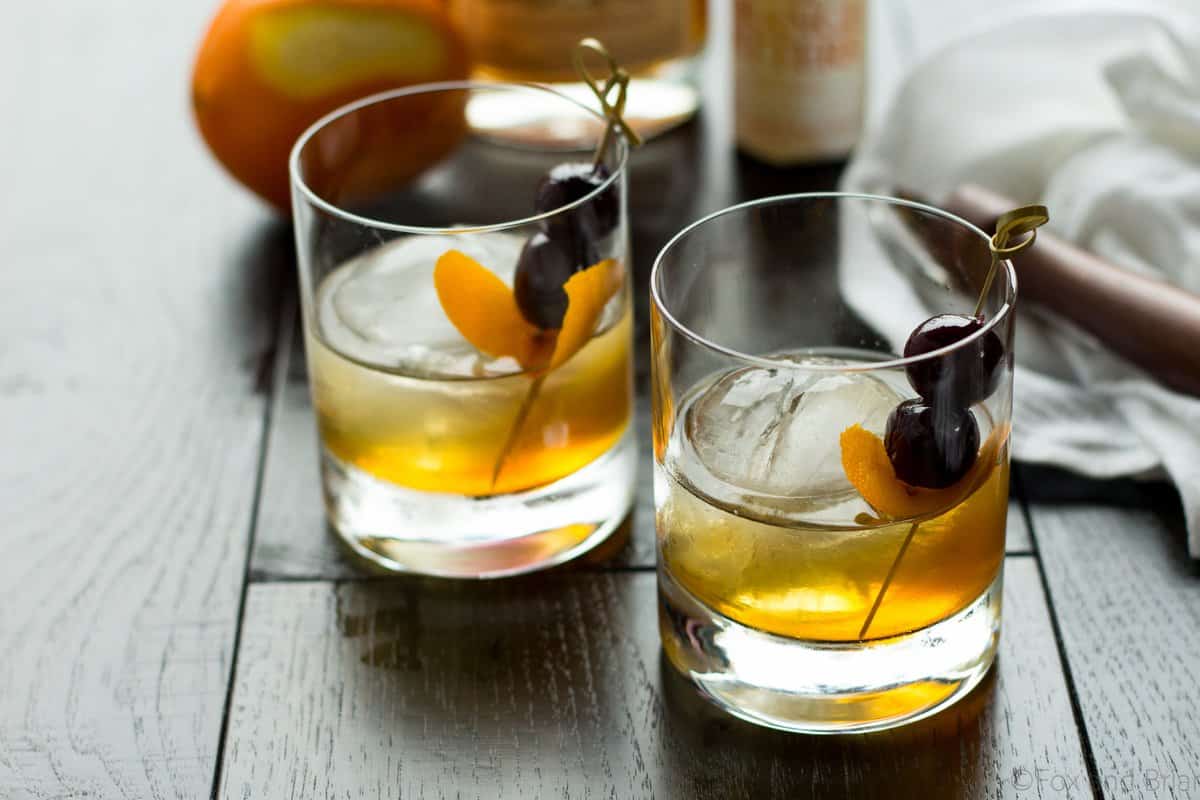 For some reason I always think of an Old Fashioned as…well, old-fashioned. Like an old guy drink that tastes terrible. But it turns out that there is a reason that this is a classic cocktail. The first time I had this drink was when Mr. Briar and I were visiting Bend, Oregon. It was a crisp, clear autumn day and I was sitting on a patio with a fire pit, fire roaring and crackling, the golden aspen leaves popping against a bright blue sky. On the menu I spied a drink called an Orchard Old Fashioned, and it just seemed like the perfect drink for the day.
How do you make a traditional old fashioned?
To make a traditional Old Fashioned, muddle a sugar cube with some bitters and a dash of water before adding the whiskey. Then you add ice, stir for a minute, garnish with orange peel, and serve.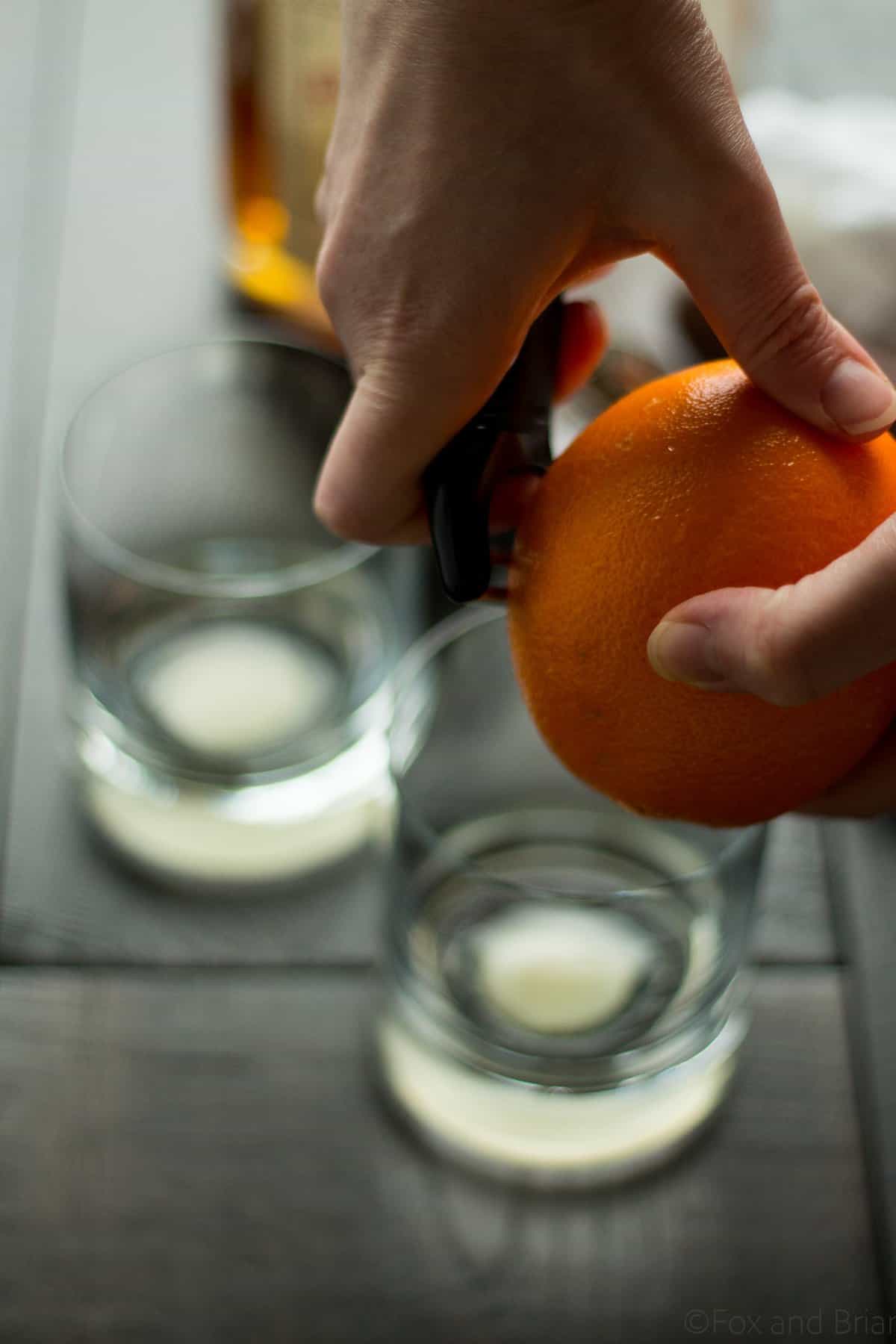 Simple Syrup in Old Fashioned
I don't keep sugar cubes on hand, so I used a half teaspoon of sugar, saturated it with orange bitters, then added a 1/2 teaspoon of water and a strip of orange zest. They were muddled together until the sugar was dissolved, and then I added the whiskey. If you have simple syrup on hand, that could take the place of the sugar and water. You can adjust the amount of sugar to your tastes, but I found that 1/2 teaspoon was plenty sweet enough for me.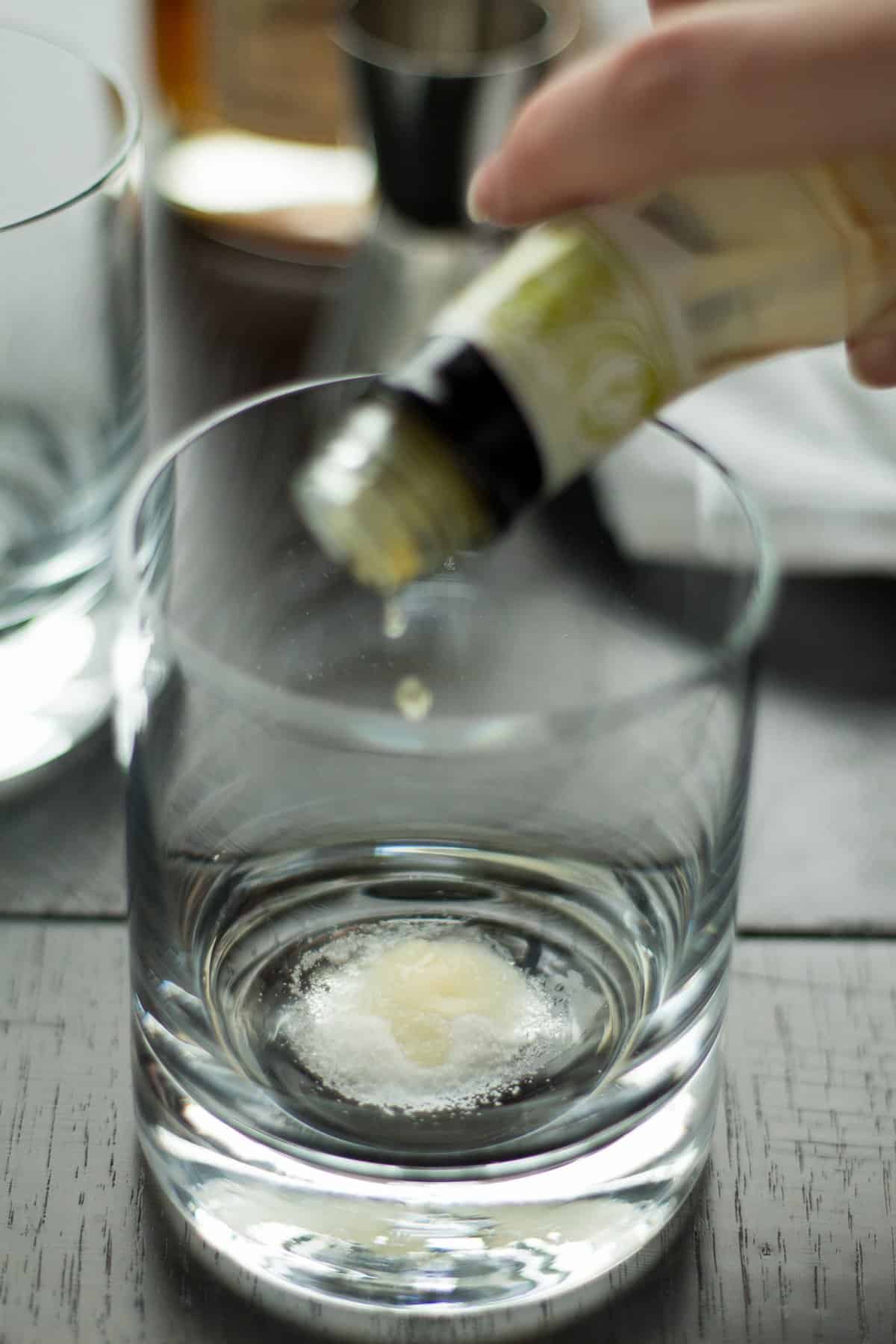 Apple Whiskey for Apple Old Fashioned
The timeless cocktail that is the Old Fashioned is made with whiskey. The thing about this drink that makes it a little different is that it uses apple whiskey instead of Rye or Bourbon. If you are wary of whiskey, or you think that you are not a whiskey drinker, this may be the way to ease yourself into becoming one. The fruitiness from the apple whiskey and the orange peel makes this drink very palatable, and something you would want to sip on all night.
Zesty Garnish
Speaking of the orange peel, an Old Fashioned is typically garnished with an orange peel or wedge and a cocktail cherry or two. In my opinion, the cherry is optional but the orange peel is not. It gives a very important flavor that, as far as I'm concerned, makes this drink.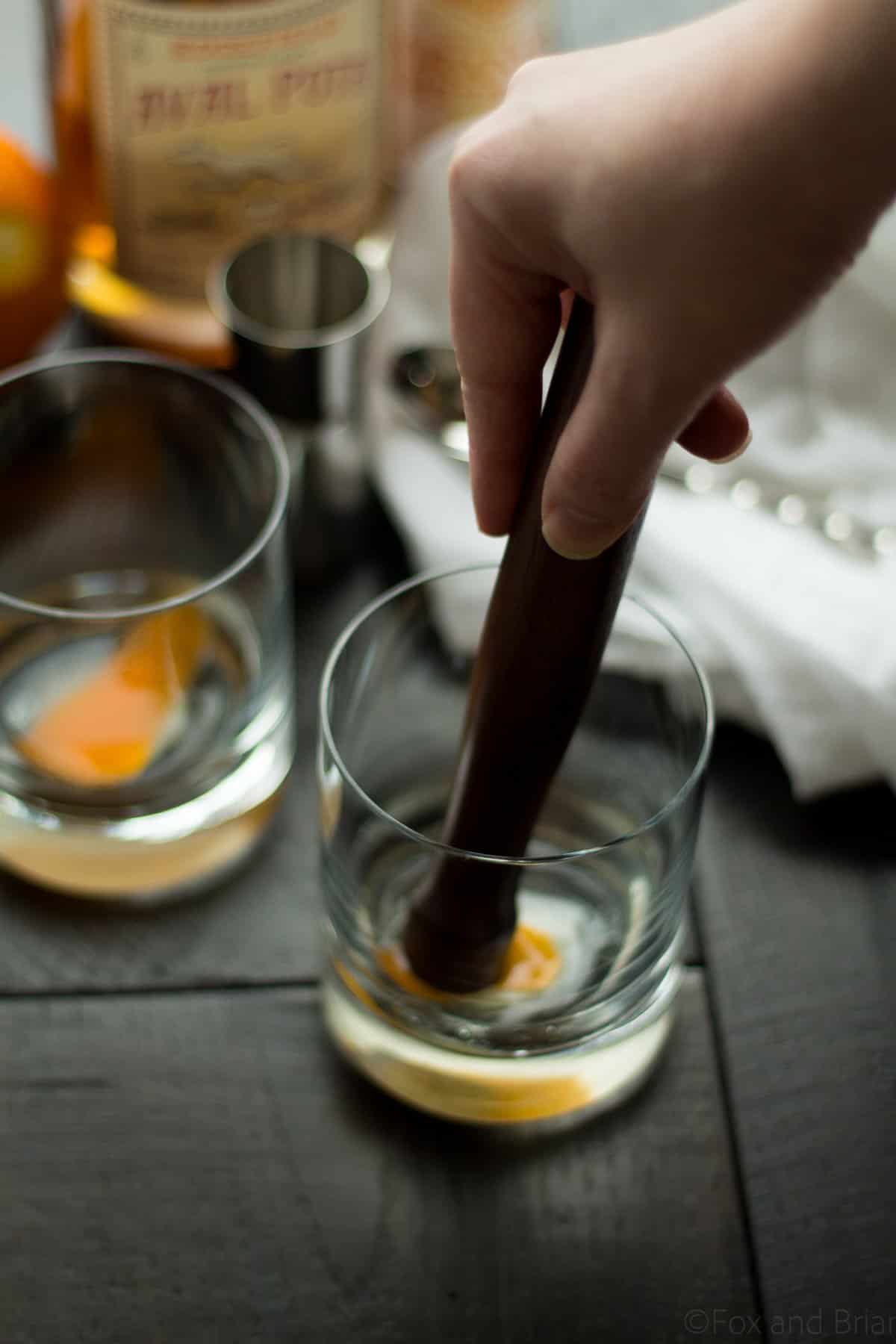 Back to that crisp fall day on the patio in Bend. I was at a McMenamins, which is an Oregon based chain of brewpubs and hotels. Portlanders love to hate McMenamins, saying that their food and service are a bit low quality. But deep down, everyone really loves McMenamins. My husband and I are pretty fond of them. In fact, we got married at one of their locations. In addition to brewing beer, they also have a winery and a distillery. Their apple whiskey, called Aval Pota, is what is used in their Orchard Old Fashioned. I had been wanting a bottle of my own, and recently we stopped at a new McMenamins location that recently opened in Washington. I had to pick up a bottle so I could make a version of this drink at home.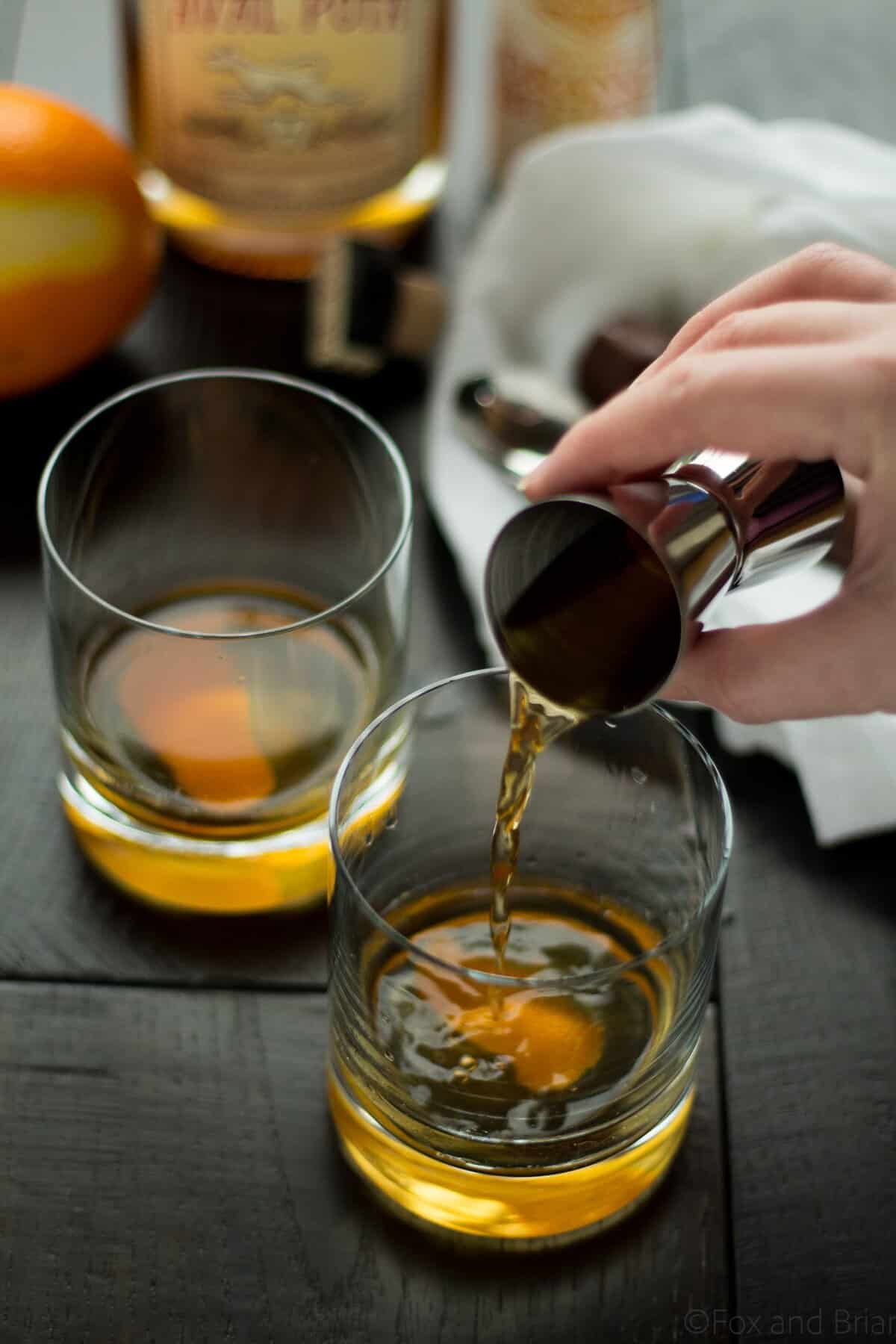 I'm not saying that you need to use Aval Pota in this drink. I am assuming that most good quality apple whiskies will do. But it is the only spirit I have used in this cocktail, and if you can get your hands on it, I highly recommend it.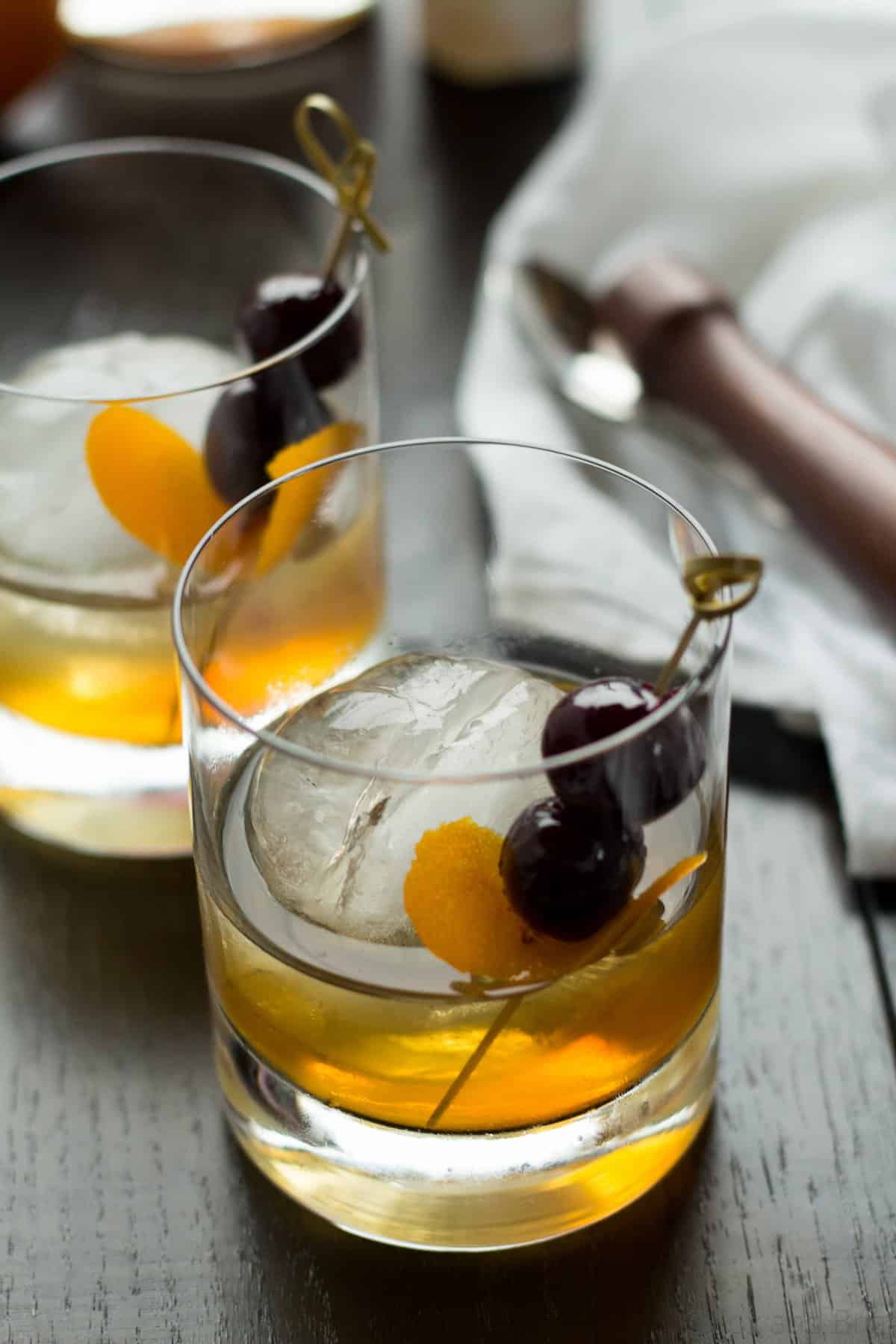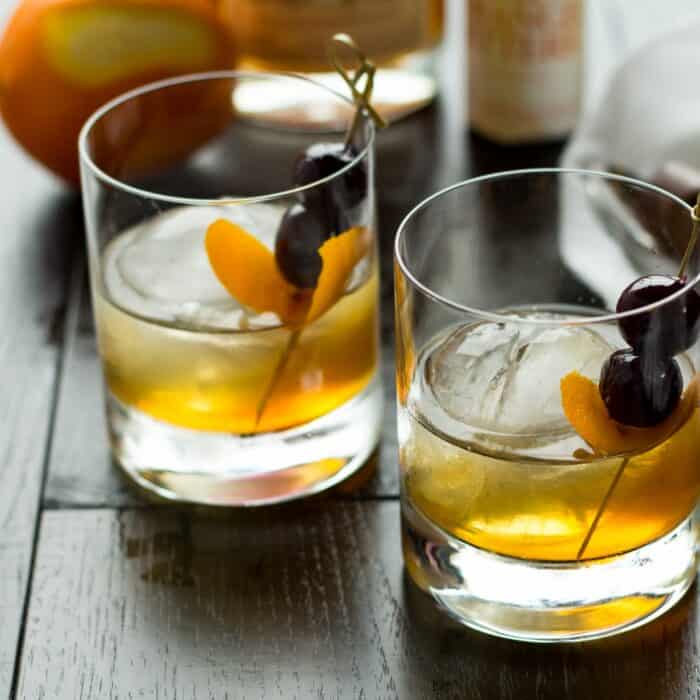 Apple Old Fashioned
This twist on the classic old fashioned uses apple whiskey to make a totally enjoyable cocktail. Whether you are a new or experienced whiskey drinker, you will love this cocktail!
Print
Pin
Rate
Ingredients
2

ounces

apple whiskey

I used Aval Pota from McMenamins

1/2

teaspoon

sugar or 1 sugar cube

1/2

teaspoon

water

5-10

dashes

orange bitters

I used Fee Brothers

1

strip

of orange zest

2

cocktail cherries

for garnish
Instructions
In a lowball glass, place sugar or sugar cube. Douse with bitters to completely saturate. Add one thick strip of orange zest. Muddle together with a muddler or spoon for about a minute, until sugar is completely dissolved.

Add apple whiskey, stir to combine, then add ice and garnish with cocktail cherries.
Nutritional information is an estimate for your convenience. If you have strict nutritional needs, please do your due diligence to make sure this recipe fits your needs.
Did you like this recipe?
Please comment, rate and share! And don't forget to tag me on Instagram @foxandbriar AND #foxandbriar so I can see what you made!
Recipe adapted from McMenamins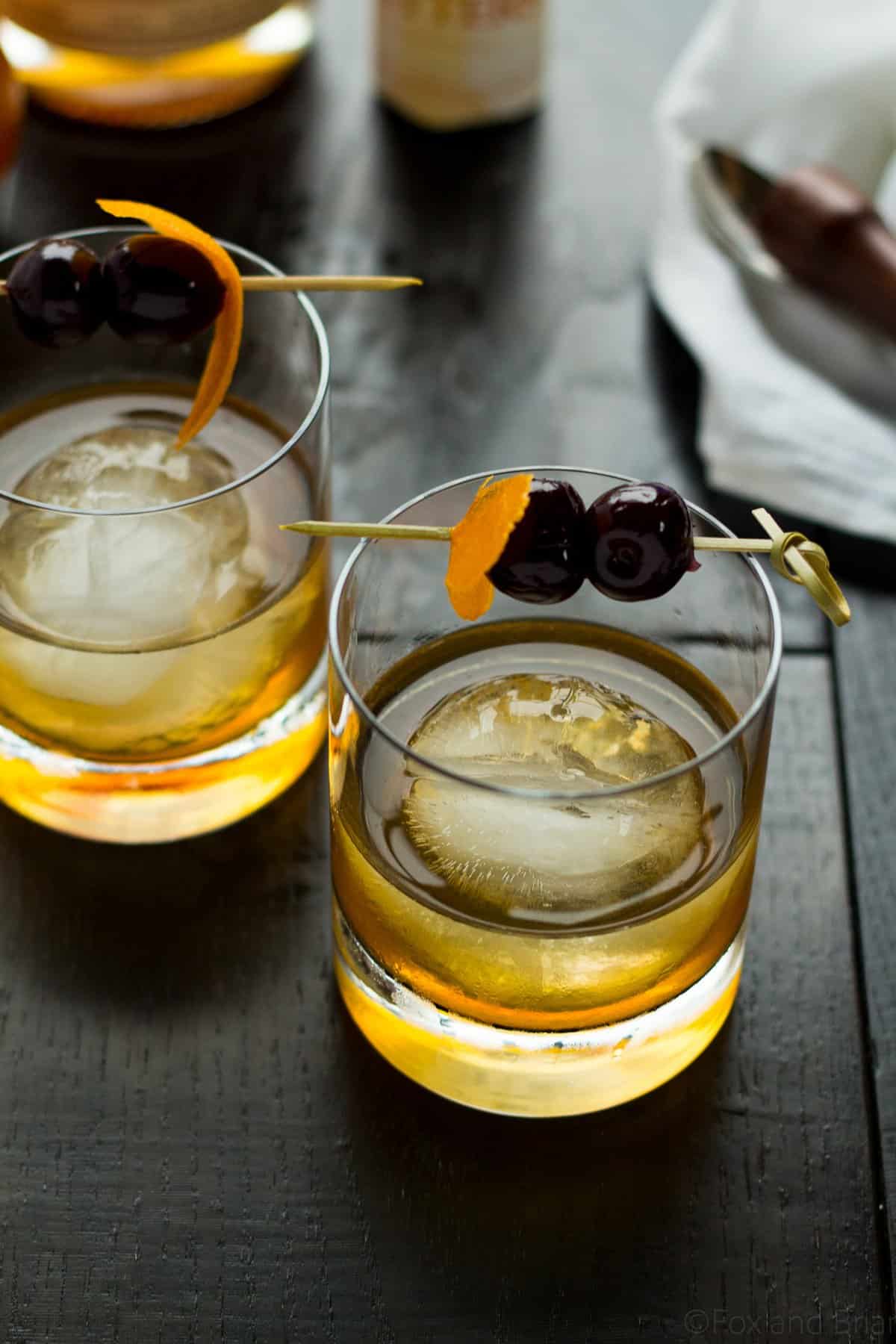 Items I used in this post (Affiliate Links)

So tell me, have you ever been to a McMenamins? Have you ever been to Bend on a clear fall day? (If not, you should).
If you like this, you may also like…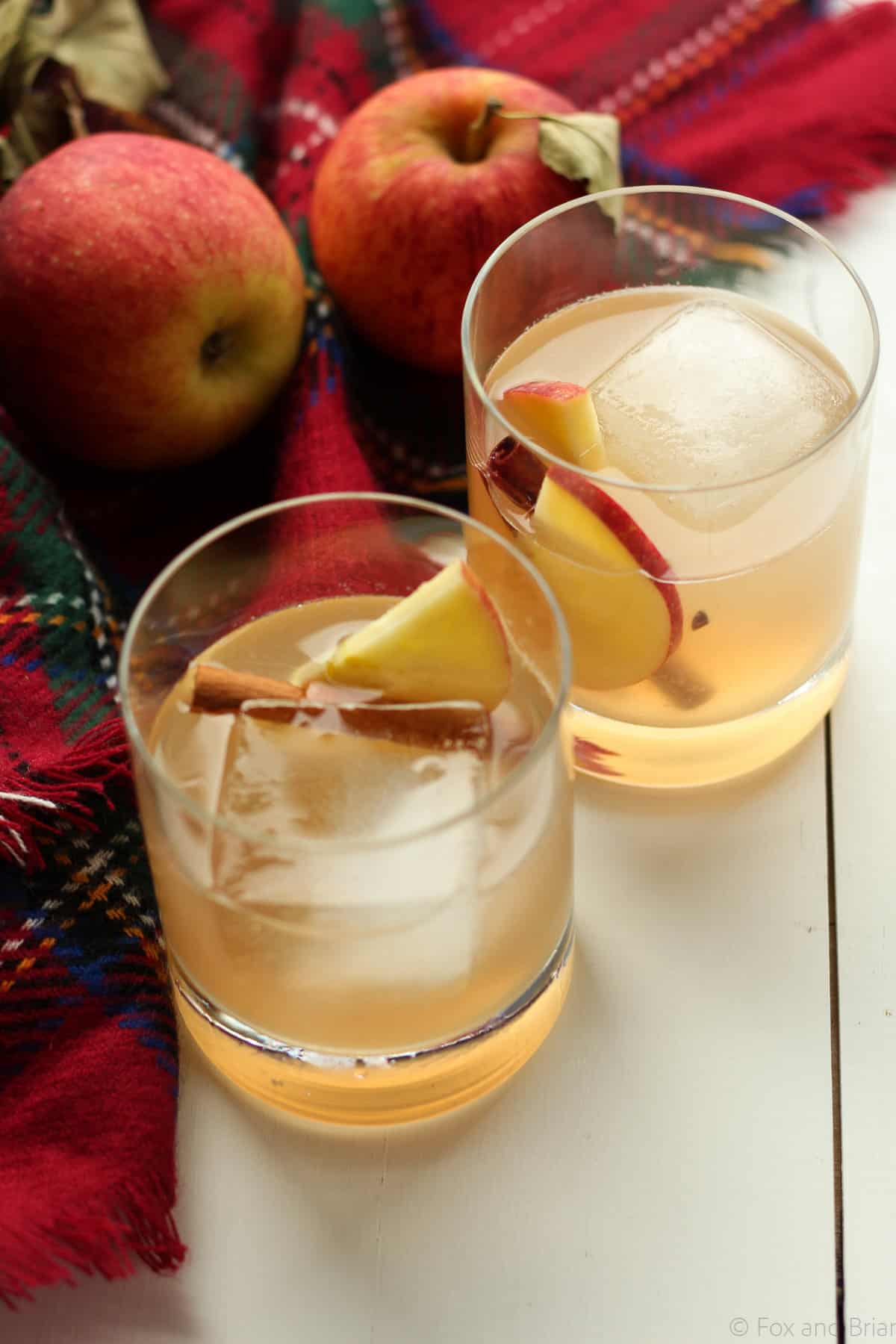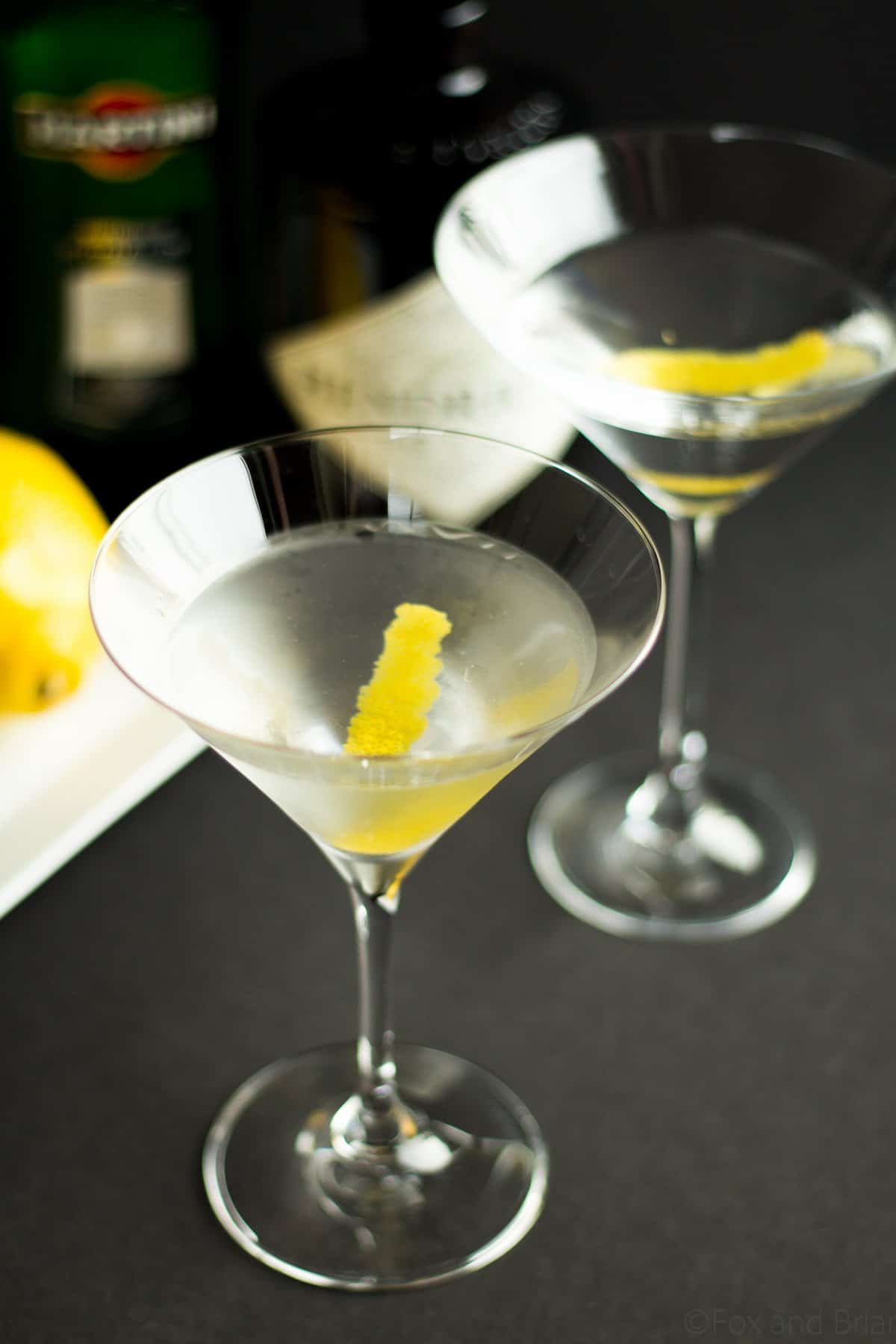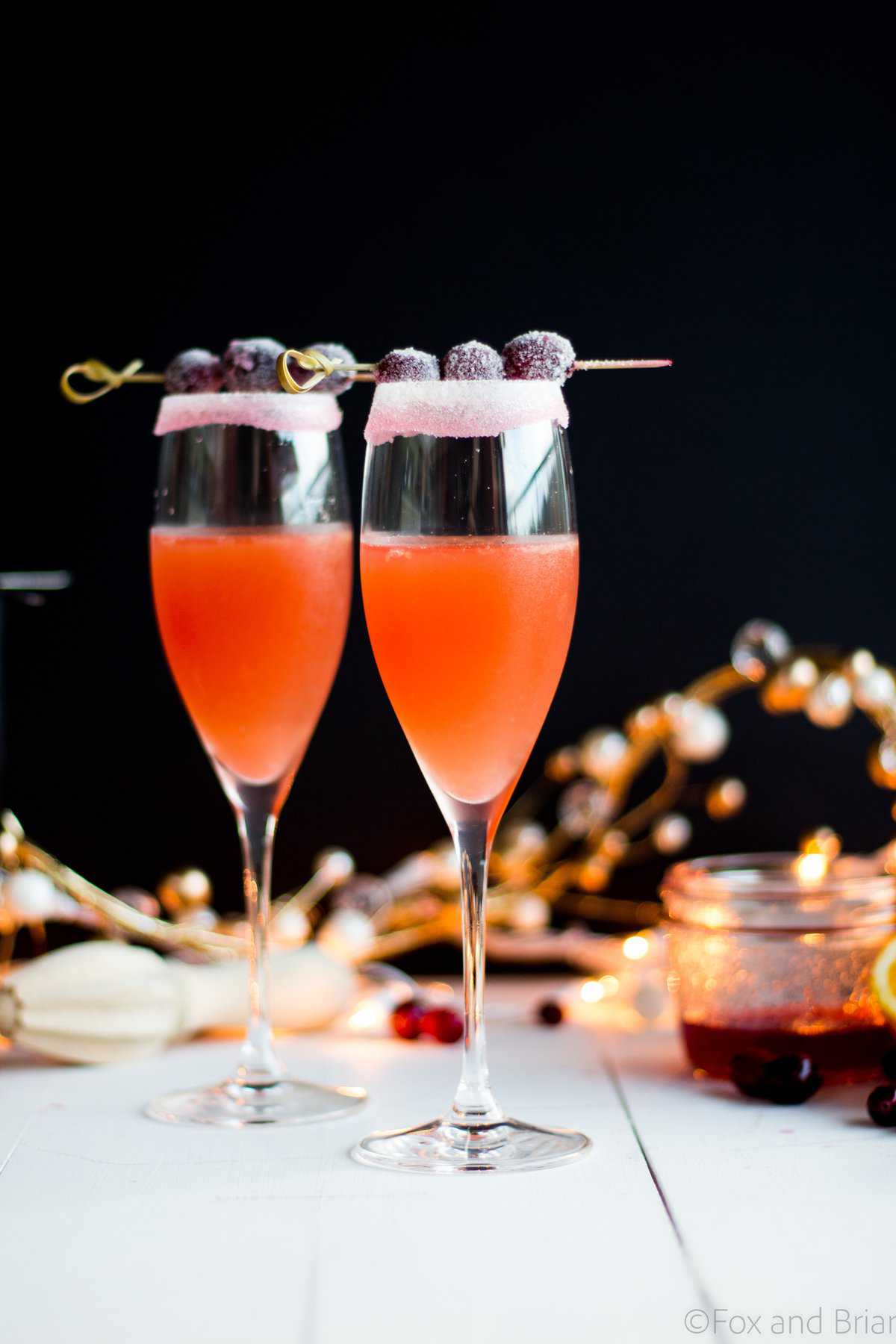 Disclosure: This post contains affiliate links, which means that if you purchase the items I recommend through the links I provide, I get a small commission. For more info, please see my disclosure policy. Thanks for supporting Fox and Briar!