Thanksgiving Leftover Sliders are the perfect way to use your thanksgiving leftovers!  Use your leftover turkey, stuffing and cranberry sauce in these cute and delicious sliders!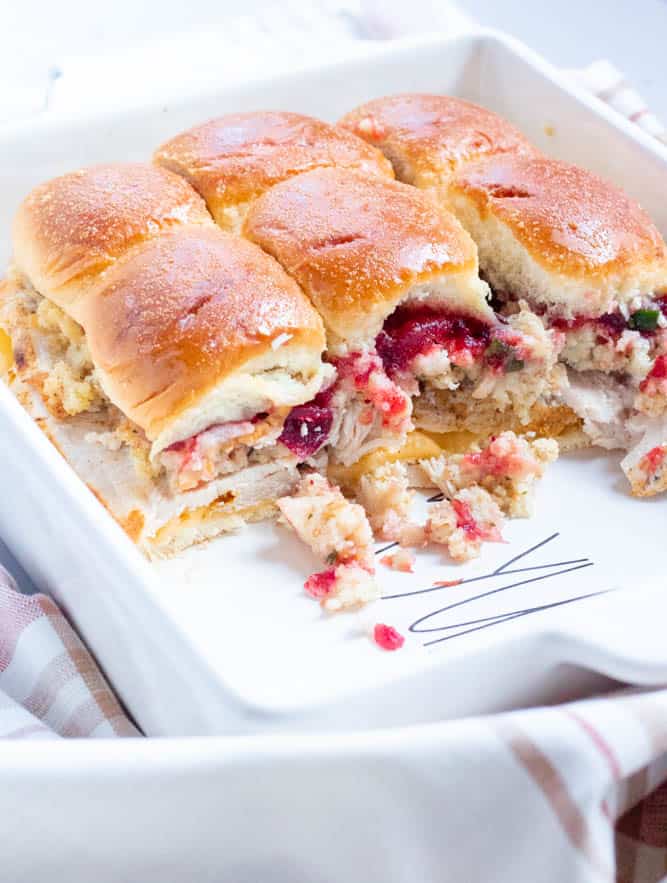 Hi all! I'm Katie Kelly, normally you can catch me over on Bits + Bites, but occasionally you'll see me over here on Fox and Briar! Can't wait to share some delicious recipes with you all.
These leftover Thanksgiving dinner sliders are everything you need to use up your leftover turkey, stuffing and cranberry sauce. Put all your Thanksgiving leftovers to the best use, make sandwiches out of them! I'm such a fan of recreating dishes using leftovers, and this is exactly that dish. When else are you ever going to put stuffing on a sandwich? 'Tis the season!
After you host Thanksgiving dinner, you could be eating the same Thanksgiving dinner for so many meals… as much as I love Thanksgiving… that gets old. There are lots of leftover turkey. recipes out there.  But how do you use leftover stuffing?  And what to do with leftover cranberry sauce?
These sliders are perfect for not wasting any food and making something completely different out of your leftovers. You'd be surprised at how different all the leftovers taste together on the sandwich. Plus, you have gouda cheese. Gotta love gouda.
I also added diced jalapenos to the cranberry sauce. It gives the sandwich a little extra added spice and crunch.
Between the turkey and the cranberries, these sliders will need to be cooked for a bit longer so the bread doesn't get too soggy. You can also use whatever cheese you like, but I mean, the Gouda is absolutely perfect in this slider. White cheddar would also be tasty. When it comes to layering your sliders, I would suggest you do (from bottom to top); bottom bun, cheese, turkey, stuffing, cranberries, top bun. You definitely need to break up the turkey and the cranberries so things don't get too messy in the middle.
Looking for more ways to use your Thanksgiving Leftovers? Try these:
Leftover Turkey Citrus and Kale Salad
Cranberry Brie Tear Apart Bread Bowl
Ingredients
1

12 pack

Hawaiian Rolls

6

slices

of Gouda

12

slices

Turkey Slices

or enough to cover all sliders

2

cups

Stuffing

or enough to cover all sliders

3/4

cups

Cranberry Sauce

4

tbsp

butter

melted

1-2

cloves

garlic

diced
Instructions
Preheat your oven to 375°F

Slice your Hawaiian Rolls in half

Place your cheese slices, turkey slices, stuffing, and cranberry sauce

Place your top bun on top, and brush your melted butter and garlic mix over the top

Bake for 20-25 minutes, or until buns are crispy and golden brown

Let cool, slice and enjoy!